Learn from Home Offer TAKE THIS BUNDLE
UiPath Training in Bangalore (2 Courses, 3+ Projects)
2 Online Courses
3 Hands-on Project
8+ Hours
Verifiable Certificate of Completion
Lifetime Access
UiPath RPA Developer Course - Beginners to Beyond
Project on UiPath - Stock Market Data
UiPath RPA Developer Course - Intermediate
Offer ends in:
TAKE THIS BUNDLE
* One Time Payment & Get Lifetime Access
What you get in this UiPath Training in Bangalore?
Online Classes
Technical Support
Mobile App Access
Case Studies
About UiPath Training in Bangalore
| Course | | No. of Hours |
| --- | --- | --- |
| UiPath RPA Developer Course - Beginners to Beyond | | 2h 23m |
| Project on UiPath RPA - Stock Market Data | | 1h 08m |
| UiPath RPA Developer Course - Intermediate to Advanced | | 4h 08m |
| Project on UiPath RPA | | 1h 3m |
| Project on Robotic Process Automation - HR Process Automation | | 2h 33m |
| | |
| --- | --- |
| Course Name | UiPath Training in Bangalore |
| Deal | You get access to all videos for the lifetime |
| Hours | 8+ Video Hours |
| Core Coverage | This training will help you learn Robotic Process Automation Technology Insights, basic UI Automation concepts, and skills to build UiPath workflows from scratch. |
| Course Validity | Lifetime Access |
| Eligibility | Anyone who is serious about learning the robotic process automation and wants to make a career in this Field |
| Pre-Requisites | Basic knowledge about RPA would be preferable |
| What do you get? | Certificate of Completion for the course |
| Certification Type | Course Completion Certificates |
| Verifiable Certificates? | Yes, you get verifiable certificates for each2 course, 3 Projects with a unique link. These link can be included in your resume/Linkedin profile to showcase your enhanced skills |
| Type of Training | Video Course – Self Paced Learning |
| Software Required | None |
| System Requirement | 1 GB RAM or higher |
| Other Requirement | Speaker / Headphone |
UiPath Training in Bangalore Curriculum
---
The course has been designed and developed very carefully to meet the expectation of all the folks who are interested to master the skills required to work with UiPath. All the modules in this course have been comprised of the examples that have been detailed or explained in a very simple way to make things very clear to the trainees. The course is comprised of three units where each unit holds very different information and they are collectively ample to cover all the concepts of UiPath. UiPath RPA Developer Course-Beginners to Beyond is the first unit in this tutorial. In this UiPath Training in Bangalore, you will be learning about UiPath RPA in this course from the very beginning to the advanced level. The examples explained here will be explaining how UiPath RPA development has been facilitated. In this unit, you will be getting exposure to the environment of the tool where all the automation process happens. The educator will explain to you the role of all the drag and drop features that are used to automate the process.
Project on UiPath – Stock Market Data will be the second unit where you will be doing a live project using this tool or technology. You will be learning how to facilitate the development of the automation approach from scratch. At the beginning of this unit, you will get to learn how to understand the requirements so that you can have a deep idea of what the requirement is. Once you are done with understanding what exactly is required, you will begin with implementing the process in the automated form. While working on the project, you will be getting some usual error that you will be handling, and this way you will learn how to manage the actual automation process. By the end of this project, you will learn how to begin a project to automate the manual process and will eventually get to learn everything that is required to work with UiPath.
UiPath RPA Developer Course – Intermediate is the third unit that has been developed by considering the intermediate level of this tool. The purpose of this unit is to cover the broad range of topics that are considered as of intermediate level but have a huge impact on facilitating the UiPath RPA development. In this unit, you will get to know about all the features that are provided by the drag and drop elements. For the one who is preparing for an interview, this UiPath Training in Bangalore will give them huge exposure to how UiPath works so that they can answer even the trickiest question related to this topic. As this is the last unit of the course, you will be all set to work in this tool right after completing this unit.
UiPath Training – Certificate of Completion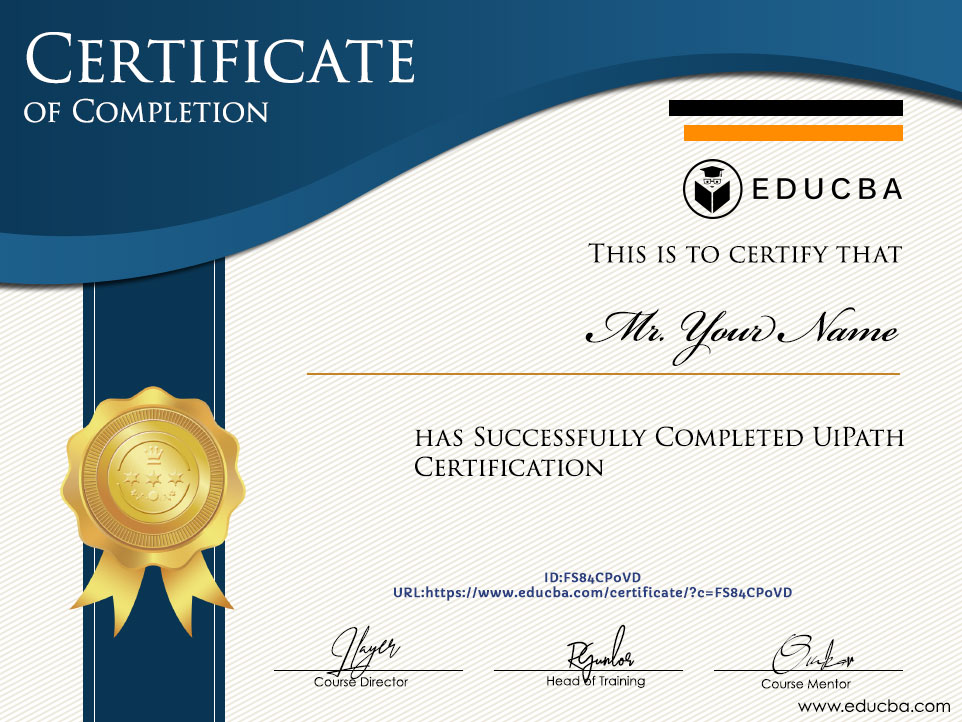 What is UiPath?
UiPath can be defined as the robotic process automation software that is used to automate repetitive tasks. It can also be defined as a tool that provides the platform to automate the process that is being repeated over and over. It provides the drag and drops environment where the user can simply leverage the predefined functionalities to automate the particular scenario. It is mainly used for Windows desktop automation and eventually helps in removing human intervention. It is very easy to work with due to the visual environment it provides that gives a precise idea about what kind of functionality is possessed by the drag and drop element. It does not require programming skills to work with this and anyone who understands the requirements of automation can use this RPA tool to automate the process.

Industry Growth Trend
The rapid application development market size is expected to grow from USD 7.8 billion in 2018 to USD 46.2 billion by 2023, at a Compound Annual Growth Rate (CAGR) of 42.9% during the forecast period.
[Source - MarketsandMarkets]
Average Salary
Average Salary
$70,798 per year
The average salary for a Web Developer is $70,798 per year in the United States. Salary estimates are based on 3,164 salaries. The typical tenure for a Web Developer is less than 1 year.
[Source - Indeed]
Which Skills will you learn in this Training
?
This course has been developed by keeping all the requirements of trainees in mind. After completing this course, you will have all the skills that have been required to work efficiently with this tool. You will be learning how to understand the urge of automation to ensure how the automating process should be conducted. You will get to learn the functionality of the drag and drop elements so that you can automate the process effectively. To help you in getting the real exposure of working with UiPath, we have included some projects in the course which will help you understand the working of the tool in depth. After completing this UiPath Training in Bangalore, you will be able to work with this software in the production to help organizations automating their processes.
Pre-requisites
To learn any, of course, there are some secondary technologies that one should know to master that particular course. The case is the same with UiPath also and we do have other tools and technology on which UiPath relies directly or indirectly. You should be having a good idea about how automation works and how the outcome of automation could be implemented on the ground level. If you understand this, you may find it very interesting and easy to learn UiPath. You should also be having an idea about working with the IDEA that offers a simple visual interface for drag and drops functionality. Though we have already added details about these in our course, it will be very helpful for you if you can get the basic idea about these before starting to lean UiPath.
Target Audience
Folks are interested in mastering the skill of robotics processes automation or willing to learn UiPath can be the best target audience. Being more specific, the professionals who are working in other technology and wants to jump in UiPath can be the best target audience for this course. They will be learning the entire thing from scratch to the sheer advanced level. The professionals who are working in automation and want to learn to automate Windows desktop can also be the best target audience for this course. They will be learning how to implement automation in Windows. The students who are curious to be part of a technology that is in demand at the current time and will be in demand in the future as well can be the audience for this UiPath Training in Bangalore. The trainers who are willing to expand the domain of their training and want to jump in UiPath training.
UiPath Training in Bangalore – FAQ's
---
Why should you take up the UiPath Training in Bangalore?
This course can be opted by anyone throughout the country or anywhere but taking this UiPath Training in Bangalore adds an advantage for the trainees. Bangalore is one of the best cities where anyone with good skills in automation can find a decent job. Taking this course in Bangalore will help you get a good job in this technology as soon as you complete the training where you will get the opportunity to work on automating processes which will improve your proficiency in this course. If you get the chance to take this course in Bangalore, make sure you are not missing it.
What is the UiPath market trend in Bangalore?
The trend of the UiPath market has always been going up in Bangalore. This city has always given room to the technologies to grow which are helping businesses to reduce load and achieve efficiency in any sense. UiPath is very useful for any of the organizations that are willing to automate some of its manual functions. The demand for the UiPath professional has always been increasing in Bangalore since long back and the same is expected to grow in the future as well. Anyone willing to take advantage of the wave of opportunities can move to Bangalore to start a lucrative future in this technology.
Career Benefits
UiPath is one of the best tools present in the market to facilitate the automation of repetitive manual tasks. In the current job market, there are lots of open positions for the UiPath professional and the number of positions will keep on increasing due to the high demand for automation in the market. The organizations are moving towards automation which helps in cost operational cost reduction and meanwhile, makes the process more efficient and due to this reason almost all of the organizations are willing to bring automation in their processes. UiPath is an evergreen tool that is going to be used in the future also for longer. If you enjoy working with the tools and also find it interesting to automate things, you might want to opt for this UiPath Training in Bangalore to dive deep into learning UiPath and begin your career right away.
Reviews
---
UiPath RPA training
According to me, this course is really good for beginners. I learned robotic process automation and got great insights into this technology. I liked the course. Thank you educba!
Iván Selvi
Nice learning experience
The course is designed by considering the ease of learner and the given flexibility adds the required comfort in the learning process. The course is quite comprehensive and well explained. All the features of the UiPath RPA Suite are well covered and beautifully explained.
Nikola Atunwa
UiPath RPA certification
A great course or module designed by educba to enhance knowledge in the field of UiPath. Those who are interested in learning about robotic process automation will be very benefited from this course. Great examples are provided so that they could be easily understood.
Cindey Mcbride