Learn from Home Offer TAKE THIS BUNDLE
PYTHON Course Bundle - 81 Courses in 1 | 59 Mock Tests
257+ Hours of HD Videos
81 Courses
59 Mock Tests & Quizzes
Verifiable Certificate of Completion
Lifetime Access
TAKE THIS BUNDLE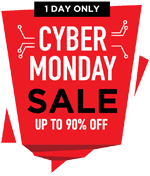 * One Time Payment & Get Lifetime Access
What you get in this PYTHON Course Bundle - 81 Courses in 1 | 59 Mock Tests?
257+ Hours
81 Courses
Mock Tests
Course Completion Certificates
Lifetime Access
Self-paced Courses
Technical Support
Mobile App Access
Case Studies
About Python Training in Kolkata
| | |
| --- | --- |
| Course Name | Python Training in Kolkata |
| Deal | You get access to all videos for the lifetime |
| Hours | 257+ Video Hours |
| Core Coverage | Python Fundamentals, Linux System Administration with Python, Cryptography, Django Unchained with Python, Python GUI Programming using Tkinter, Rest API with Flask and Python, Python Pyramid Jupyter-IPython Notebook, Violent Python. |
| Course Validity | Lifetime Access |
| Eligibility | Anyone serious about Python. |
| Pre-Requisites | Knowledge of Basics in Any Programming Language would be useful. |
| What do you get? | Certificate of Completion for the course |
| Certification Type | Course Completion Certificates |
| Verifiable Certificates? | Yes, you get verifiable certificates for each81 course, Projects with a unique link. These link can be included in your resume/Linkedin profile to showcase your enhanced skills |
| Type of Training | Video Course – Self Paced Learning |
| Software Required | None |
| System Requirement | 1 GB RAM or higher |
| Other Requirement | Speaker / Headphone |
Python Training in Kolkata Curriculum
---
Python has expanded its stronghold to a myriad of aspects around the software domain. This Python Training in Kolkata will not only teach you the core fundamentals of python language, and some of its key libraries and frameworks, but will also imprint knowledge of surrounding eco-systems including Linux, Design Patterns, Cryptography, Web-APIs and REST interface, as well as talk about data science, data analysis, and data visualization.
The course will take off with discussing the core fundamentals of python, and setting up a python environment using VMware. It will also give an overview of iPython utility, networking, packet and data management, core concepts of OS, using command line interfaces, etc.
The next few modules discuss the core data structures and programming constructs. It also showcases some helper scripts elaborating some of the better ways of interacting with objects and designs to ensures a long-term project remains maintainable throughout its lifetime. These concepts have proceeded with higher-level concepts such as abstraction, exception handling, looping, conditional logic, and dealing with the custom initialization process.
The next few modules introduce some of the popular libraries in python, which makes it powerful in the respective areas. Concepts revolving importing and creating libraries, GUI creation, databases, networking, and some helper libraries empowering python's data structures even further are taught. We then proceed to teach libraries helping in server or Linux administration, cryptography, and other ways of using python in ad-hoc utility script creation.
Finally, the two-most wide use cases tend to be long term, and often large-scale projects are discussed. Various libraries supporting the complete data ecosystem are discussed. These enable one to perform tasks requiring, data visualization, data science, data processing and curation, data storage and wrangling, machine learning, and data science. The second large-scale use-case python is popular in is web-development. The two libraries mostly used in python, Django, and Flask are discussed. Projects in both are worked upon to gain hands-on experience.
Python Training – Certificate of Completion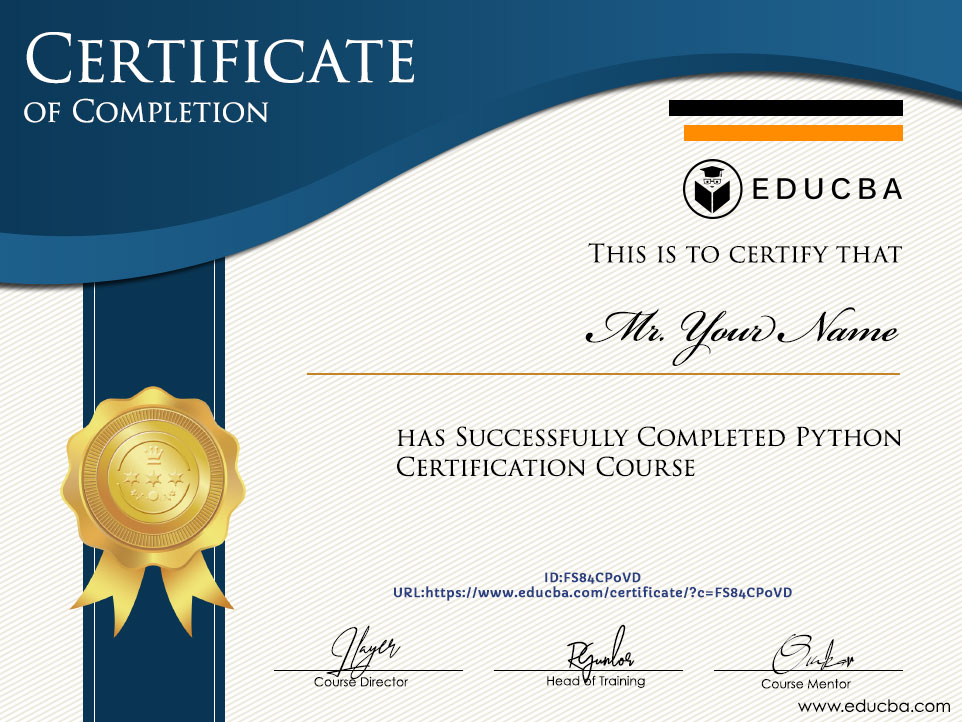 What is Python?
Python is an interpreted, scripting language created in the 1980s, with a strong emphasis on code readability. Python 2 was released in 2000, and Python 3 in 2008. Python 3 had serious changes in the core libraries and system, causing a lack of backward compatibility. Irrespective of this, python 2 gained a lot of traction upon maturing and could have been the reason python remains a universal favorite leading to open-hearted adoption of version 3.
Python has evolved to be a very powerful, multi-paradigm language. It supports all features of object-oriented programming, structural programming. Additionally, it gives access to some flavors of functional and logical programming. Due to its flexibility, and user-friendly nature, python is supported by a huge open-source community, permitting it to span across a vast number of domains.
A few of the domains python is used very-popularly are web-site development, automation of operational work, creating bots, data science, data analysis, machine learning, application development, utility scripts, browser automation, testing and deployment pipeline creation.

Industry Growth Trend
The rapid application development market size is expected to grow from USD 7.8 billion in 2018 to USD 46.2 billion by 2023, at a Compound Annual Growth Rate (CAGR) of 42.9% during the forecast period.
[Source - MarketsandMarkets]
Average Salary
Average Salary
$117,822 per year
The average salary for a Python Developer is $117,822 per year in the United States.
[Source - Indeed]
Which Skills will you learn in this Course

?
Python, being an ever-growing giant, could cause a headache just deciding how to approach it. This Python Training in Kolkata will get you started from the core basics, get you comfortable with its' syntax, command-line usage, GUI, Linux commands. Then impart on one with the knowledge about Design Patterns, Cryptography, Django Framework, web development technologies, Flask, and RESTful API creation. One would also get familiar with using python, jupyter notebooks, doing data analysis, data visualization, and machine learning using python libraries. Networking and advancement GUI creation will also get covered. Tangible skills also include installation process, looping, and conditional constructs, complex programming, scripting for automation purposes, etc.
Pre-requisites
Although this Python Training in Kolkata can be pursued by anyone with interest, it helps to have some basic programming or shell scripting experience. He helps to be familiar with basics such as looping and conditional constructs, defining, and using variables. Also possessing basic knowledge of computer systems and using the command-line goes a long way.
Apart from these, there is some desirable knowledge, which can speed up the learning curve, though not necessarily required to pick up this course. Knowing how assembly level languages work and knowing one such machine level or another high-level language will enable you to finish this Python Training in Kolkata in no time.
Target Audience
The training will professionally help people aspiring to grow in the roles of software development, software engineering, IT developers & Sysops administrator, but can be taken up by anyone interested in picking up this useful language. It can be taken up by someone with basic knowledge in any programming language.
Professionally it would be most beneficial to folks currently pursuing their Bachelor's or Master's education in the field of computer science. Or for anyone looking to get into the fields related to Data Analysis, python-developer, Full Stack Developer, Jenkins Developer, Data Scientist, Integration Engineer, etc.
Python Training in Kolkata – FAQ's
---
Why should you take up the Python training in Kolkata?
The course is designed in a crisp manner, suitable for people with any experience levels. The testimonials have given proof of its utility to beginners as well as advanced experienced professionals. The various tradeoffs between python 2 and 3 and other doubts are all answered, leaving a person very clear on what they take away from this Python Training in Kolkata at the end. The training is created to be a one-stop solution for anyone aspiring to learn this powerful skill and grow.
What is the Python market trend in Kolkata?
There's a global shortage of skilled professionals comfortable with python and its related ecosystem. Folks with this skill entering domains of data science and data engineering are being paid the highest currently. One doesn't even need to be present in a certain location with remote working being encouraged by large as well as small and mid-scale organization.
It can be unarguably stated that there has been a significant increase in demand for this skill, and it's nowhere to go any time soon.
Sample Preview
---
Career Benefits
There's an ever-growing demand for skilled staff in python, especially in the areas related to Data Analysis and Data Science, in Data Engineering, in network administration, and Django based web development. This Python Training in Kolkata will give you an ever-green skill to grow upon.
Those who have previous experience in software development can quickly finish this training consisting of 36 online courses and 12 projects and keep themselves relevant for the next few decades.
Reviews
---
Good course
The lessons mentioned here were exhaustive and interactive in their way. The largest and most eclectic catalog for online higher education. Verified certificates and specializations provide proof of participation, which can be shared via LinkedIn.
Linked
Rishav Raj
Python Training
The course was good and had all the basic features. It was good to see that all the data structures were considered in the tutorial. It would have been more good if we had oops and files in it. I have been looking for GUI development. But overall the course was good for beginners as it contains the most concerned topic and one can learn easily how to write a program in python.
Amit Singh Sanya
Python is an easy way
The course was designed nicely anyone can understand easily, each step was specified clearly which made understand course well. After each chapter examples helped a lot to practice & remember the things easily. Strings, Loop methods, and dictionaries of the method described very simply which strengthens the knowledge.
Linked
Arpit Shukla
Best Basic Course For Python
This course is awesome for those who just started the coding journey. Method of teaching is not complex and it's just like learning with a teacher near you. This course not only helps to learn Python but it also helps to develop a good understanding of coding and programming environment. Overall this course is awesome for beginners.
Linked
NIKHIL KUMAR
A great course indeed
The course was aimed to teach everyone about programming. The course was clear and easy to understand and learn. The language is very easy to follow. This course encouraged me to work from my environment. While being able to learn to code in a browser, it is fun and interesting, using my machine and my terminal to execute Python. I feel like a real programmer. It is cool when you just start doing it out on your own after learning. It gives me the motivation to keep going. It did for me anyway. Thus this was a great course.
Linked
ARIVOLI SUNDARAMURTHY