Learn from Home Offer TAKE THIS BUNDLE
PySide Course (1 Courses, 2+ Projects)
This PySide Training includes 1 courses , 2 Projects with 4+ hours of video tutorials and Lifetime Access.
In this course, we are going to learn about one of the libraries of Python that allows us to develop the graphical user interface of the application which will be platform independent. Here we will be learning about one of the python extensions, PySide that provides the access to Qt libraries that allows development of cross-platform GUIs.
PySide2 Project – Employee Management Application
PySide2 Project - Data Fetching Application
Offer ends in:
TAKE THIS BUNDLE
* One Time Payment & Get Lifetime Access
What you get in this PySide Course?
Online Classes
Technical Support
Mobile App Access
Case Studies
About PySide Course
| Course | | No. of Hours |
| --- | --- | --- |
| PySide2 Training | | 3h 14m |
| PySide2 Project - Employee Management Application | | 54m |
| PySide2 Project - Data Fetching Application | | 37m |
---
| | |
| --- | --- |
| Course Name | Online PySide Course |
| Deal | You get access to all 1 courses, 2 Projects bundle. You do not need to purchase each course separately. |
| Hours | 4+ Video Hours |
| Core Coverage | Learn to develop the graphical user interface of the application using PySide |
| Course Validity | Lifetime Access |
| Eligibility | Anyone serious about PySide Course |
| Pre-Requisites | Basic knowledge about Python |
| What do you get? | Certificate of Completion for each of the 1 courses, 2 Projects |
| Certification Type | Course Completion Certificates |
| Verifiable Certificates? | Yes, you get verifiable certificates for each course with a unique link. These link can be included in your resume/Linkedin profile to showcase your enhanced skills |
| Type of Training | Video Course – Self Paced Learning |
| Software Required | None |
| System Requirement | 1 GB RAM or higher |
| Other Requirement | Speaker / Headphone |
PySide Course Curriculum
This course has been designed to include all the topics that fall under the domain of Pyside. This training comprises all concepts that one is willing to master by the virtue of this course. To deliver a good user experience, we have added examples against each topic so that the idea behind the concepts could be delivered precisely. All the modules covered in the course are very unique and consist of different topics. This PySide training will cover things in three units and it will be around a six hours long video tutorial. In the below sections, we have detailed the goal, objective, course, and project highlights.
Goals
The goal of this training is to make the trainees proficient in working with Pyside and help them to achieve expertise in developing the cross-platform GUI by following the Qt standard. This course will also help the trainees to dig into some of the advanced level concepts of Python which revolve around GUI development.
Objectives
The objective of this course is very clear. It is intended to make the trainees expert on Pyside and Qt libraries. Trainees will learn every single topic that falls under the court of Pyside. After completing this course, the trainees will be able to support the project on python that requires cross-platform GUI development.
Course Highlights
This course comprises a total of three units where one unit has been devoted to training folks on actual working and implementation using Pyside while the rest of the two units are the project that will help you to reinforce your command on this Pyside. The first unit has been named Pyside2. In this unit, we will be learning about every topic related to Pyside. At the starting of this PySide training, there will be a brief explanation of Pyside so that one could understand the purpose of its existence and how it helps the python developers. After the explanation, we will begin covering the concepts that will be used while implementation. Educator will be explaining all the topics with the help of precise examples and meanwhile also show you how to implement PySide in the application. The unit will be completed after learning about the advanced aspect of PySide in the last hour of the course. Once the first unit is completed, you will be jumping into the project section. Below are the project highlights.
Project Highlights
This unit has two projects where both of the projects are approximately two hours long video. You will get to learn about various new and complex concepts in these units. PySide2 Project – Employee Management Application will be the first project in this course. As the name suggests, we will be developing the employee management application in this project by leveraging all the concepts that we would have learned in the first unit. PySide2 Project – Data Fetching Application will be the second project which will be around one and a half hours long video. In this course, you will get to learn about various new concepts including error handling and implementing PySide. After completion of this project, you will be able to work very effectively with Pyside to develop the GUI that will be cross-platform and will also be able to draft solutions for the businesses that need GUI developed for their application that follows Qt standard.
PySide Course – Certificate of Completion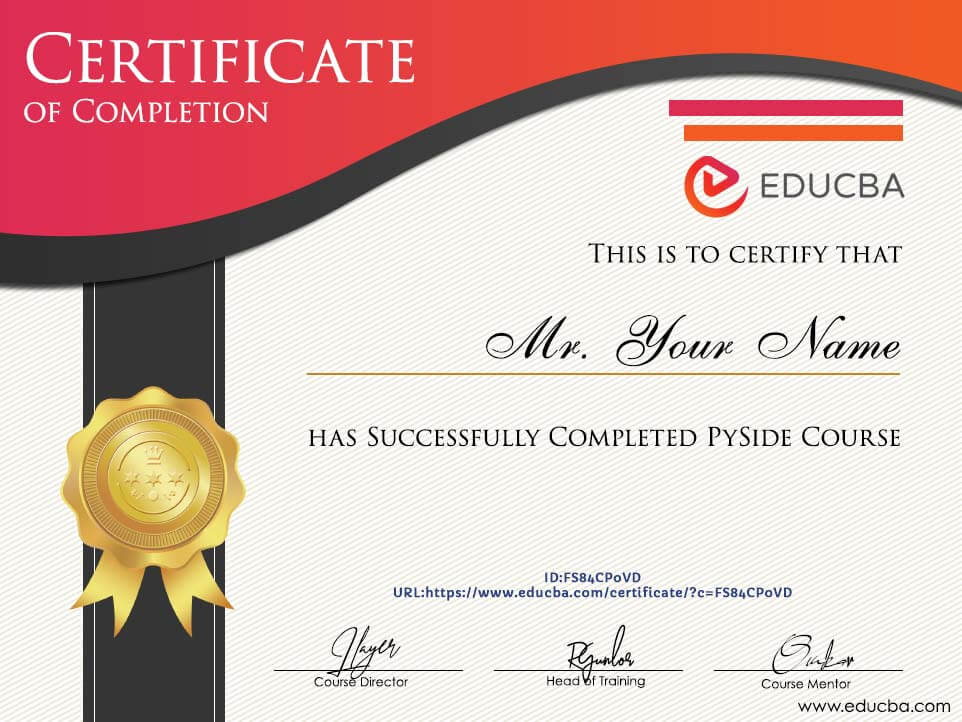 What is PySide?
Pyside can be defined as the python extension that facilitates application development by allowing access to Qt libraries. It can also be defined as the module of python that helps the developers to develop the cross-platform GUI that follows the Qt standard. It is one of the most important topics in python which is leveraged when there is an urge to develop the application's UI which could work fine in any of the platforms. The sole purpose of PySide is to endorse the application UI development where the application is intended to serve a large set of audience and its platform that could be used by the user is unknown to the organization. It doesn't take too much effort to get implemented. Its primary objective is to help one in accessing the Qt libraries that work as the base while developing the cross-platform applications.
What skills will you learn in this Course?
To work with PySide, there are some concepts that one must master. In this course, we have ensured to cover all such concepts that we want our trainees to become expert in so that they can work effectively with Pyside. At the beginning of this PySide training, the trainees will get to learn about how PySide helps in solving the business problems and will also learn how to determine if the solution could be drafted using it. Later in the course, they will be covering the advanced level concepts which will help them to dive deep into the core concepts that are used when there is an urge to bring some complex level functionalities in the application. We have also added two projects in this course where the project's topics have been decided in a way so that it covers all the topics that they would have walked through in this course. Trainees will also learn about error handling in this course which will help them while they will need to implement things while developing the critical application
Pre-requisites
To learn Pyside, there are some of the concepts or technologies you should have a basic understanding of to learn this. The very first thing is the basics of python. As PySide is entirely based on python, you just need a
basic understanding of the Python programming language
If you are hands-on in python, you will be able to focus on learning the complex concepts rather than struggling to learn the basics. The second thing is the Libraries. If you are having an idea about how the libraries are built and used, you will find it very easy to learn the concepts where different libraries will be used. These prerequisites have been included at the beginning of the course so that you can find everything in one place. However, it is always recommended that trainees should be having a basic understanding of these concepts before
Target Audience
The target audience for this course can be anyone willing to master PySide and learn all the concepts linked with it. The developers who are working on python or any other programming language and want to learn this can be the best target audience for this course. They will be learning about PySide from scratch which will help them to learn how to implement it. The students who are willing to dive into advanced level aspects of python can also be the best target audience for this course. They will be learning how to implement PySide and the Qt libraries while developing the application. The educators who are already training folks in python and want to cover the advanced aspects can also be the best target audience for this PySide training. They will be able to train their students about PySide once they are done with this training.
FAQ's- General Questions
---
How long it may take to complete this PySide course?
There are three units in this course and collectively their length is around six hours. Though this course could be completed within two to three days, it may take much more time if one is willing to master these concepts. Folks who are having good experience with python and also have a good understanding of libraries will be able to master PySide within a month while the folks who are new to these concepts may take around two months to master it. Once you have mastered the concepts, you will be able to work very effectively to implement the library.
Why should I take this PySide training?
This course comprises all the topics that fall under the umbrella of PySide. For anyone willing to master working with Pyside, this course has everything they need to meet their expectations. The way topics have been detailed in the course is very easy and things have been kept short and precise to improve the efficiency of the course. If you are willing to dive deep into the concepts of python, you may want to take this course and help yourself in mastering the Qt standard application GUI development.
Career Benefits
Pyside is one of the popular concepts in python. It enables access to Qt libraries which facilitates the development of cross-platform user interface-based applications. Various businesses all across the world are getting the kind of application developed that could be used through either of the platforms. Due to this, the count of job opportunities for the position of python developer with a good understanding of Pyside has been increasing since long back. If you find it interesting to work with python or to dive deep into the concepts of python that endorse the development of complex applications, you may want to take this course. The interesting thing is, the compensation paid to the python developers with hands-on Qt libraries and Pyside is pretty high as compared to the developers who have only a basic understanding of the concepts and it is something that attracts the talents towards python. If you find it something that you want to work on, you can opt for this course and begin learning right away.
Reviews
---
Perfect Pandas Primer
I enjoyed this tutorial. It seemed to be very up-to-date. The instructors were clear, concise, and thorough. The structure was intuitive and presented understandably, building on each step and using data frames and sets that avoided confusion by using names that didn't sound like operational commands and vice versa. Grammar and logic were exceptional, with very little wasted time. A great introduction to using Pandas.
Michael Williams
Good course to kickstart
Good course to kickstart with Python & Pandas. Very well explained by the trainer. The practical aspect is very well covered along with the basics. Although it is a bit slow, it helps in a better understanding of the concept. I would certainly recommend this to the ones who are willing to learn kick-start Python & Pandas.
Prashant Nookala
It is excellent. I have a great time
It would be useful for me
Şhahin Yusifli