New Year '20 Offer TAKE THIS BUNDLE
Programming Languages Training (41 Courses, 13+ Projects)
41 Online Courses
13 Hands-on Projects
322+ Hours
Verifiable Certificate of Completion
Lifetime Access
The Ultimate Python Programming - Novice to Ninja
Core Java Programming for Beginners
C# Training - C Sharp Training Courses for Beginners
Data Structures with Javascript
Offer ends in:
TAKE THIS BUNDLE
What you get
Online Classes
Technical Support
Mobile App Access
Case Studies
Online Programming Languages Course
This Programming Languages Training Certification includes comprehensive 41 programming languages courses, 13 Projects with 322+ hours of video tutorials and Lifetime Access. You will also get verifiable certificates (unique certification number and your unique URL) when you complete each of the courses.
This Programming Languages certification is a package of many courses and chapters under each course in the Programming Languages course and its related fundamentals and core concepts of several General-Purpose Programming Languages and developing several applications using them whether it is a scripting language or object-oriented programming language.
Industry Growth Trend
The rapid application development market size is expected to grow from USD 7.8 billion in 2018 to USD 46.2 billion by 2023, at a Compound Annual Growth Rate (CAGR) of 42.9% during the forecast period.
[Source - MarketsandMarkets]
Average Salary
Average Salary
$72,155 per year
The average salary for a Web Developer is $72,155 per year in the United States.
[Source - Indeed]
About Programming Languages Course
| Courses | | No. of Hours |
| --- | --- | --- |
| The Ultimate Python Programming - Novice to Ninja | | 21h 08m |
| Project on Python Django MySQL - Creating a Blog | | 52m |
| Java Essentials | | 2h 21m |
| Core Java Programming Revisited | | 9h 1m |
| Project on Spring - Creating Online Shopping App | | 3h 22m |
| C# Training - C Sharp Training Courses for Beginners | | 11h 17m |
| C# - C Sharp Advanced | | 11h 14m |
| C Programming Course | | 8h 16m |
| Comprehensive C++ Training | | 3h 32m |
| Project on C Programming - Payroll Processing | | 44m |
| JavaScript | | 2h 28m |
| Project on JavaScript - Beware of the Jolly Roger Game | | 2h 12m |
| Project on Javascript - Developing a Quiz | | 2h 08m |
| JavaScript Concepts Hands-on! | | 5h 16m |
| JavaScript Advanced Concepts | | 2h 53m |
| Data Structures with Javascript | | 8h 02m |
| Ruby Tutorial | | 19h 39m |
| Project on Ruby - Apps Creation in Ruby | | 6h 13m |
| VB.NET - A Guide to Visual Basics .NET Programming | | 16h 24m |
| Project on VB.NET - Hotel Management System | | 3h 29m |
| Mastering ASP.NET Courses- Comprehensive Courses from Scratch | | 20h 12m |
| Web Services Project with ASP.NET - Creating a Currency Converter | | 32m |
| R Programming for Data Science | A Complete Courses to Learn | | 6h 22m |
| R Studio UI and R Script Basics | | 4h 11m |
| Data Science with R | | 5h 8m |
| Project on ML - Churn Prediction Model using R Studio | | 1h 26m |
| PHP & MySQL - The Ultimate Web Development Training | | 12h 36m |
| CakePHP - Web Application Development with CakePHP | | 2h 25m |
| MATLAB - Advance Your Career with MATLAB Programming | | 7h 19m |
| SWIFT Intermediate to Advanced | | 6h 11m |
| Swift Programming Tutorial | | 7h 17m |
| Project on iOS - In-App Purchase using Swift | | 2h 24m |
| Objective C - Beginners | | 2h 27m |
| Objective C - Intermediate | | 1h 32m |
| PERL Programming | | 5h 13m |
| Online Courses To Learn Go programming Language- Golang Programming | | 9h 23m |
| Scala Programming | | 8h 45m |
| Oracle SQL | | 18h 6m |
| Oracle PLSQL | | 13h 21m |
| Node JS | | 3h 51m |
| Project - Movie App on Node JS and MongoDB | | 8h 53m |
| Express JS | | 4h 17m |
| Angular JS | | 3h 07m |
| Project on Angular JS - Social Blogging App | | 6h 23m |
| Haskell Programming | | 7h 05m |
| Django Unchained with Python | | 8h 11m |
| CSS Training Courses | CSS Tutorials for Web Development | | 6h 07m |
| Linux Bash Scripting Training | | 3h 15m |
| Shell Programming on Cygwin | | 4h 42m |
| Shell Scripting on Linux | | 2h 25m |
| VBScript - Microsoft Visual Basic Script Beginners | | 8h 32m |
| VBScript - Microsoft Visual Basic Script Advanced | | 2h 59m |
| Typescript | | 4h 11m |
| TypeScript 2.x | | 4h 1m |
---
| | |
| --- | --- |
| Course Name | Online Programming Languages Course Bundle |
| Deal | You get access to both the 41 courses, 13 Projects. You do not need to purchase each course separately. |
| Hours | 322+ Video Hours |
| Core Coverage | A comprehensive guide to learning the best and popular programming languages such as Python, Java, C#, C++, C, JavaScript, VB.net, R, PHP, Matlab, Swift, Objective C, Perl, Ruby, Go, PL/SQL, Scala, SQL, Node.js, MongoDB, ExpressJS, AngularJS, Haskell, Django, CSS, Bash Script, Shell Script, Typescript |
| Course Validity | Lifetime Access |
| Eligibility | Anyone who is serious about programming languages and wants to make a career in web development |
| Pre-Requisites | A basic idea of programming, passion to learn and apply |
| What do you get? | Certificate of Completion for each of the courses |
| Certification Type | Course Completion Certificates |
| Verifiable Certificates? | Yes, you get verifiable certificates for each course with a unique link. These link can be included in your Resume/Linkedin profile to showcase your enhanced skills |
| Type of Training | Video Course – Self Paced Learning |
| System Requirement | 2GB RAM |
| Other Requirement | Speaker / Headphone |
Online Programming Languages Course Curriculum
---
To enable great learning experience to all the learners, the course called Programming Languages has been designed in such a way that it contains the complete list of courses and all the chapters listed in the form of course curriculum for the course with the complete course description of each and every course and contents in the format of separate chapters.
The below table gives you a complete overview of all the courses and the list of chapters covered in this programming languages training content –

The Ultimate Python Programming - Novice to Ninja
In this programming languages course, the topics are Introduction to C, Structure of C program, Functions, Loops, Operators, Arrays etc.
Core Java Programming Revisited
The topics in this programming languages course are Introduction and Structure of C#, Variables, Operators, Conditional and Looping Constructs, polymorphism and multi-threading.
C# Training - C Sharp Training Courses for Beginners
The topics in this course are CSS, CSS3 basics, advanced CSS.
C# - C Sharp Advanced
The topics in this course are Introduction, installation guide, and all core concepts and advanced PHP.
C Programming Course
The topics in this course are OOPS, C++ advanced topics, VB.NET concepts, and practical examples.
Comprehensive C++ Training
The topics in this course are basic and all the core concepts.
JavaScript Concepts Hands-on!
The topics in this programming languages course are basics, getting started and application architecture of Angular JS
JavaScript Advanced Concepts
Overview, History, datatypes, basics, operators, Looping, classes & methods.
Data Structures with Javascript
SQL and PLSQL environment and benefits, declaring variables, control structures, managing dependencies.
Ruby Tutorial
Introduction, Loops, operators, Perl Regular Expressions.
VB.NET - A Guide to Visual Basics .NET Programming
Introduction, ADO.NET, Data sources, Error handling, Security, Debugging.
Mastering ASP.NET Courses- Comprehensive Courses from Scratch
Introduction, installing, running server, creating a project, Setup tools.
R Programming for Data Science | A Complete Courses to Learn
Introduction, writing scripts, Functional objects, control structures, Composition.
R Studio UI and R Script Basics
Introduction, mathematical objects, Functions, Logics & proofs, Successions.
Data Science with R
Introduction, basics, Core constructs, operators, Slices and Arrays, Maps, Packages.
PHP & MySQL - The Ultimate Web Development Training
Basics of Swift, Objects and Classes, UI controls, UI collection view.
MATLAB - Advance Your Career with MATLAB Programming
Node.js framework, concepts, callbacks, class methods, events, buffers, streams, file systems.
SWIFT Intermediate to Advanced
Basic scripting introduction, Linux Uses, Bash variables.
Swift Programming Tutorial
Introduction, Intermediate and advanced lessons.
Objective C - Beginners
Introduction & features, syntax, Statements & Events.
Objective C - Intermediate
In this programming languages training of Objective C we shall see Introduction, installation, getting started, design pattern, Polymorphism, concurrency, Data Encapsulation, iOS Apps Life Cycle, Map kit.
PERL Programming
Introduction, Array Data Types, advanced types, modules and namespaces, functions, generics and enums.
Online Courses To Learn Go programming Language- Golang Programming
Core Java concepts, Eclipse IDE for Java development environment, operators, Classes and Objects, best practices, Lab, Exploring libraries, exception handling.
Scala Programming
Introduction, setup, Routers, Templating, URL building, Form Data, Cookie Parser, Authentication, Scaffolding, REST API, MongoDB, Image Upload, Front View, Edit data, menu in page, Review.
Oracle SQL
Introduction to Ruby, Ruby Literacy, Control Flow, Fundamental Classes, File I/O, Enumerable Boolean Queries, The Map method, Sorting Enumerables, building a pattern, Ruby Dynamics, The Singleton class, defining class methods with class, modifying ruby core classes, pass through overrides, The Proc class, Using symbols, methods as objects, Chat Server.
Certificate of Completion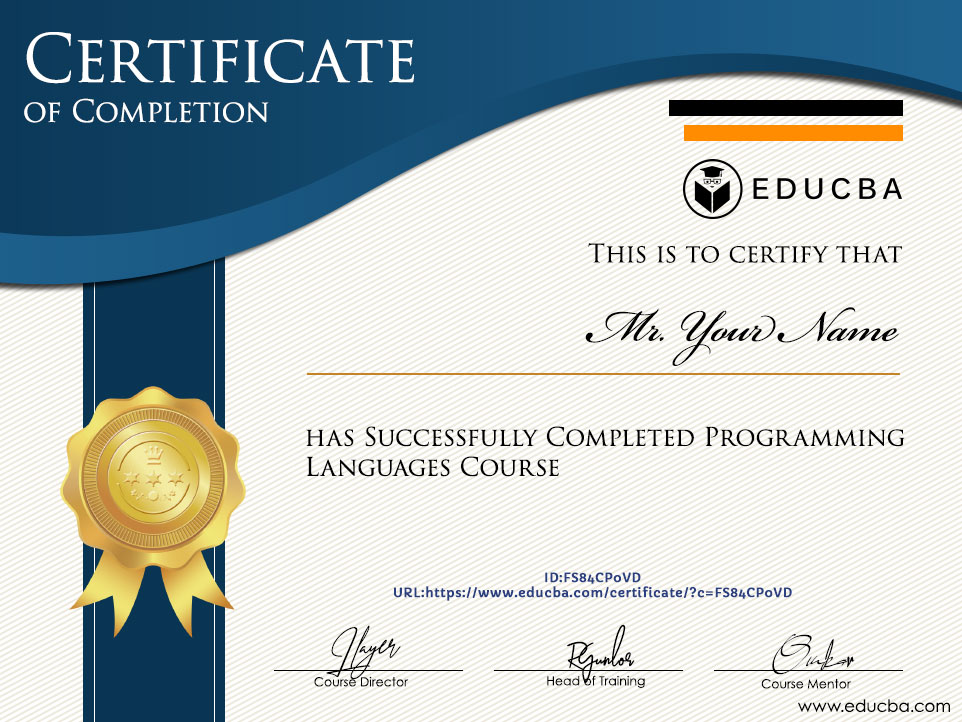 ---
What is a Programming Language?
Programming Language is a set of instructions written in a formal manner to fulfill a task by taking some inputs and producing outputs based on the problem set. Programming Languages can be used to implement algorithms for computers. Programming Languages contain several sub-languages such as scripting languages, object-oriented languages, procedural languages etc. A Programming Language can be either a High-Level Programming Language or Low-Level Programming Language such as C, C++, BASIC, COBOL, FORTRAN, Ada, Pascal, R, PHP, VB.NET, Matlab, Swift, Objective C, Perl, Go, PL/SQL, Scala, SQL, Node.js, MongoDB, Express JS, AngularJS, Haskell, Django, CSS, TypeScript, Bash Script, Shell Script etc.
Programming Language applications differ based on the type of applications and functional requirements. For example, JavaScript can be used for Front end web development, Java, Python, PHP, Ruby etc. for Back-end development, C++, C# for Gaming development, Java, C++, Python etc. for Desktop applications, C language for Systems programming.
What tangible skills will I learn from this Programming Languages course?
The set of skills which can be acquired upon completion of this course are Python Programming, Lists & Tuples, Strings, Dictionaries, Abstraction, Exceptions, Graphic User Interface, Database Support, Network Programming, Python and the Web Testing, Extending Python, Packaging Programs and Java etc.
Programming Languages course has many other excellent courses within it and chapters under each course which were covered in the course curriculum are very useful in obtaining the knowledge on several types of Programming Languages such as ava Servlets, Java AWT, Java OOPs Concepts, C#, Multithreading, C, C++, JavaScript, Data Structures, VB.NET, ASP.NET, Visual Basics, R and Data Science.
There are also some other skills which can be added upon completion of this course are such as PHP, MySQL, Web Development, MATLAB, SWIFT, Objective C, Perl, Go programming Language, Scala Programming, Oracle SQL, PLSQL Developer etc.
The Programming Languages course training also has a set of tangible skills which are Node JS, Web Development, MongoDB, Express JS, Angular JS, Django, CSS, Linux Bash Scripting, Shell Programming on Cygwin, VBScript Language, VB.NET, Procedures, Functions, Arrays, OOPs, Overloading, Interfaces, Inheritance and its advanced concepts etc.
This training is very useful for the prospective Programmers, Developers, Application Developers, Product Developers, Full Stack Developers in the larger organizations to develop web-based or desktop based or cloud-based or any UI applications using Programming Languages to deliver a large number of customers.
Pre-requisites
Willingness to pursue career as Software Developer or Application Developer or Programmer: The Programming Languages certification course has a set of prerequisites which are required to be fulfilled in order to complete the course contents such as basic knowledge of core programming languages such as C, C++, Java, JavaScript, C#, VB.NET, and its advanced concepts and functionalities are recommended to easily learn contents of this Programming Languages course. This course is easier to learn if one has intermediate or basic knowledge on any Programming Language or computer basics knowledge, or core concepts of any computer machine knowledge, and also any hands-on experience is an added advantage in learning this Programming Languages course and related core elements of general programming languages to complete this course.
Knowledge in any Programming Language or General Purpose computer Language: Any relevant experience or basic knowledge in the areas of Programming Languages or its related computer languages concepts such as Assembly language programming, or high level programming language or low level programming language, will help a lot in learning the Programming Languages course which will be an added advantage and using the Programming Languages basics and its advanced concepts or will be of greater benefit in further learning the concepts of this programming languages training course in an easier manner.
Target Audience
Students of Engineering in Computers or CS: Any learner or a student of engineering in computer science or degree in computer engineering and having a good knowledge in any computer programming along with any high level or low-level programming, then this Programming Languages course is an added advantage to the academics, career or professional success of the learner and also to obtain more knowledge on several Programming Languages from this course concepts. Programming Languages has different programming languages from high level to level and many other complex languages which can be used to develop several applications based upon the requirement. This course is well recommended to any student or Software professional. This Programming Languages course has been designed in order to advance the career of the learners as a Software Developer or Programmer or Web Developer.
Developer or Programmer or Web Engineer: This course learners will be able to learn a multiple number of programming languages from the contents of this course which will further enhance in getting the learners career advanced such as a Data Analyst, Python Developer, Software Developer, Software Development Engineer, System Engineer, Perl Developer, Member Technical Staff, Project Engineer, Java Trainer, Python Automation Engineer, AWS Developer, Blockchain Developer, Business Analyst, Data Scientist, Python Architect, Jenkins Developer, Full Stack Developer etc. This course can be opted without any single thought because of the better career opportunities in the area of any application development in the current industry.
Bachelors or Masters of Computers in Engineering/Science: Any Bachelor or Master in Computers Science Engineering can choose this EduCBA Programming Languages course to obtain a Developer or Programmer or UI Engineer or Any Web Designer or Developer job in any Web application or apps development-related or developer roles in the larger organizations or Product based companies.
FAQ's- General Questions
---
Why should I choose this Programming Languages certification course?
Any Developer or Programmer or Engineer working on the apps development or web-based apps development and are willing to learn any Programming Language and core concepts & advanced concepts should choose this Programming Languages course.
I don't have a background in computer science or web development technologies or technical engineering, can this Programming Languages training course still be considered a good option?
YES, this course can still be considered as an option without any knowledge of computer or JavaScript concepts as this course does not have any pre-requisites of Programming Languages or Core knowledge in computer programming. Any freshers who are interested in learning the Programming Languages and its core concepts can opt this Programming Languages course directly without any previous knowledge. The concepts in this Programming Languages certification can be easily learned because of the comprehensive content and detailed explanation of different complex programming languages.
Would this programming languages certification add value to my profession?
Yes. this course would definitely add some value to the learners' profile and also verifiable certifications including different valuable programming languages.
Is this a quick-fix to clear interview or do I still need to practice continuously while learning this Programming Languages certification training?
Yes, this is really a quick-fix without any previous knowledge or experience in computers or any programming language but any other programming language knowledge is highly benefited and added advantage for this course. This Programming Languages course needs a minimum of 322+ hours to be spent in order to complete the same.
Career Benefits
There are several career benefits upon learning this course and curriculum which are mentioned below:
This course is a package of 41 online courses, 13 Projects for the Programming Languages and its advanced concepts that provides deep knowledge of different programming languages and topics with hands-on content and its functionalities.
Any Developer or Programmer can choose this Programming Languages course in order to master the several procedural and object-oriented programming languages and its advanced concepts to get their career elevated to next level such as Backend Developer, Django Developer, Integration Engineer, Java Programmer, Core Java Developer, Java J2Ee Developer, Java Consultant, JAVA Architect, Java Big Data Developer, Solution Architect, Android Mobile Application Developer, etc.
There are also several other benefits in the career upon choosing this Programming Languages training course are such as the certification which can be part of your profile as a verifiable qualification for all the learners.