Learn from Home Offer TAKE THIS BUNDLE
PHP Course Bundle - 8 Courses in 1 | 3 Mock Tests
This PHP Training in Kochi includes 8 courses with 28+ hours of video tutorials and Lifetime Access.
The sole purpose of this course is to train all the interested folks on PHP so that they could develop either of complicated applications right from scratch leveraging this programming language. PHP & MySQL - The Ultimate Web Development Training, Advanced Laravel PHP Framework Training, Laravel PHP Framework Training, XHTML Server Side Programming and so on are some of the modules that you will be covering in this course.
TAKE THIS BUNDLE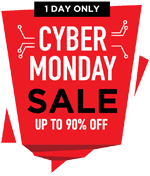 * One Time Payment & Get Lifetime Access
What you get in this PHP Course Bundle - 8 Courses in 1 | 3 Mock Tests?
28+ Hours
8 Courses
Mock Tests
Course Completion Certificates
Lifetime Access
Self-paced Courses
Technical Support
Mobile App Access
Case Studies
Online PHP Training in Kochi
This PHP Training in Kochi includes 8 comprehensive PHP Training , Projects with 28+ hours of video tutorials and Lifetime Access. You get to learn concepts about Web Development using PHP and MYSQL, Cake PHP, Laravel Framework, Yii Framework.
India, the land of opportunities, has its IT sector contribute almost 8% to GDP and it adds lakhs of new jobs every year. Under these conditions, it sounds a perfect field to pursue a career, right?
Think again! Around 56000 people were laid off in the Indian IT sector between 2017 to 2019 and the reason for this was simple, the inability of professionals to continuously learn emerging skills and stay relevant and valuable in the market. Under these demanding and challenging times in the IT service industry, one thing is sure that there is no dearth of opportunities, but an individual must be ready to learn continuously and adapt to new technological changes to stay competitive and in demand.
But the road to learning is not easy as there are plenty of roadblocks that an individual faces when trying to learn the latest technologies.
A few of these roadblocks are "individuals are not able to part-time from their hectic schedules to attend classes for acquiring latest skills", "they find it difficult to pace learning at their own convenience", "even after attending classes, they don't get any practical experience", "companies and recruiters demand certificate of new skills as a proof of learning, however, most of these classes or self-learning process fails to provide any such certificate", "amount of information on internet is huge, but it is difficult to understand, what all information is actually relevant and currently used in organizations"
EduCba's PHP training course comprises 7 comprehensive and detailed courses in PHP, 28 plus hours of learning through videos, industry-relevant hands-on projects and lifetime access to this training material. You will also get a certificate of completion from EduCba, which will have a unique verifiable link. This certificate will supplement your resume as it is the thing that HR recruiters sought for in profiles while shortlisting candidates.
About PHP Training in Kochi
| | |
| --- | --- |
| Course Name | PHP Training in Kochi |
| Deal | You get access to all videos for the lifetime |
| Hours | 28+ Video Hours |
| Core Coverage | Web Development using PHP and MYSQL, Cake PHP, Laravel Framework, Yii Framework. |
| Course Validity | Lifetime Access |
| Eligibility | Anyone who is serious about learning PHP Language and wants to make a career in web development |
| Pre-Requisites | It is advisable to have any scripting knowledge prior to learning this course |
| What do you get? | Certificate of Completion for the course |
| Certification Type | Course Completion Certificates |
| Verifiable Certificates? | Yes, you get verifiable certificates for each8 course, Projects with a unique link. These link can be included in your Resume/Linkedin profile to showcase your enhanced skills |
| Type of Training | Video Course – Self Paced Learning |
| Software Required | None |
| System Requirement | 1 GB RAM or higher |
| Other Requirement | Speaker / Headphone |
PHP Training in Kochi Curriculum
---
MODULE 1: PHP Essentials Training

| Courses | No. of Hours | Certificates | Details |
| --- | --- | --- | --- |
| PHP & MySQL - The Ultimate Web Development Training | 12h 7m | ✔ | |
| Project - Web Application Development with CakePHP | 2h 21m | ✔ | |
| Project - Web Application Development with Yii PHP | 3h 28m | ✔ | |
| Project on PHP - Developing Web Applications | 2h 9m | ✔ | |

MODULE 2: Learning from Practicals

| Courses | No. of Hours | Certificates | Details |
| --- | --- | --- | --- |
| Laravel PHP Framework Training | 2h 28m | ✔ | |
| Advanced Laravel PHP Framework Training | 2h 25m | ✔ | |
| XHTML - Server Side Programming with PHP | 3h 07m | ✔ | |
| XHTML - Advanced Server Side Programming with PHP | 2h 21m | ✔ | |

MODULE 3: Mock Tests & Quizzes

Courses
No. of Hours
Certificates
Details
Test - PHP Assessment Exam
Test - PHP Mock Test
Test - PHP Complete Assessment Test
This online course is created to train you in PHP, whose trained professionals are in huge demand for years. This course not only helps proactive learners to utilize their free time by learning PHP but also those professionals who find it tricky to commit time at fixed slots due to their tight schedule. The flexibility offered by this PHP Training in Kochi helps professionals to master this in-demand and evergreen skill.
The curriculum of this PHP course is designed by PHP experts in a manner that covers all the relevant and latest concepts of PHP, ranging from beginner to expert level of CakePHP, PHP and MySQL and developing a web application using cake PHP.
This training is designed by PHP experts with the belief that no learning is complete without the practical, hands-on experience. So, to supplement the learning and keep it industry-relevant a hands-on project is also included in this PHP Training in Kochi. Due to its relevance and value, this PHP training has been able to establish itself as a respected course amongst the PHP learners.
PHP Training – Certificate of Completion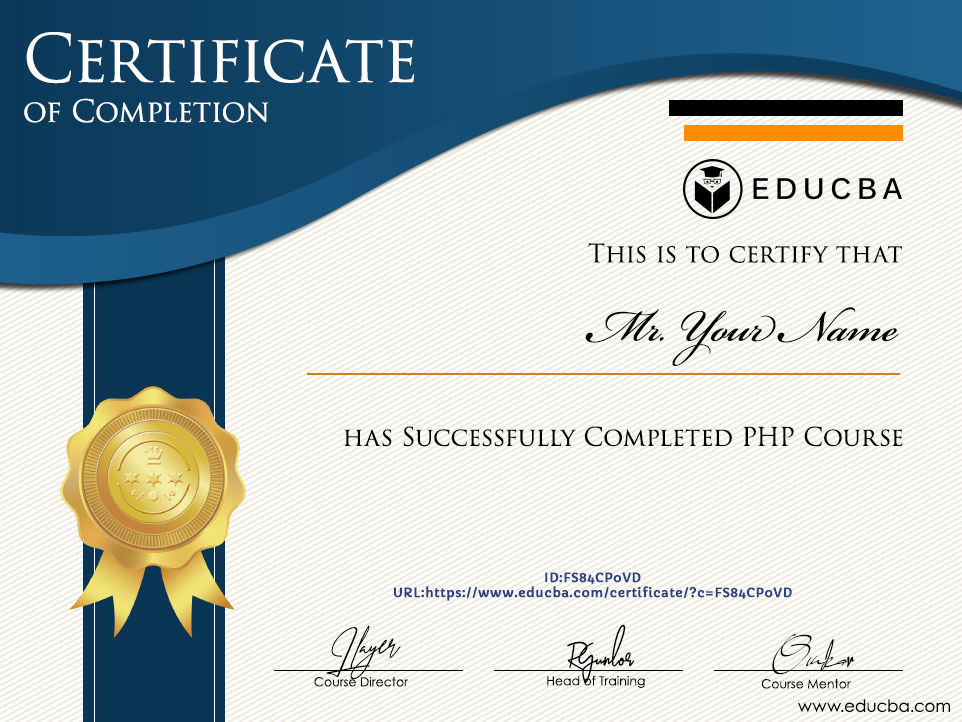 What is PHP?
PHP was earlier called a personal home page, today, PHP stands for Hypertext Pre-processor. It is a scripting language and is server-side. PHP is used to develop static websites, dynamic websites and Web applications. To interpret PHP scripts, we need a server that has PHP installed in it. The client computers that are accessing PHP scripts will only require a web browser. A PHP file has PHP tags and they end with the extension 'dot php' i.e '.php'.
PHP code can also be embedded into an HTML code. It can also be used in combination with a variety of web CMS (content management systems), web template systems and web frameworks.
Which Skills will you learn in this Course

?
This PHP training is crafted meticulously to cover all the latest and relevant topics of PHP. Anyone who is abecedarian in PHP, to any professional, well trained with the PHP concepts but is looking to take his skills to the next level, can benefit from this PHP training.
This PHP training makes individuals adept in the latest concepts and technologies including but not limited to PHP and MySQL, CakePHP, Yii PHP framework, application development using Yii, Laravel PHP framework both beginner and advanced level, XHTML, server-side programming using PHP. And that's not all, there is also a hands-on, industry-relevant project to enhance the learning process.
Pre-requisites
This PHP training is crafted by our PHP experts in a manner that the learning aspirations of PHP professionals are fully satisfied. Whether you have no exposure to PHP or have some initial understanding, in both cases you can take optimum advantage of this PHP Training in Kochi. However, some basic understanding of scripting concepts will definitely support and ensure easy learning.
Target Audience
PHP training is for everyone who holds a zeal to learn PHP related concepts. This PHP course is for people who are striving to stay relevant or take a leap in their career by up-skilling or re-skilling themselves. PHP training is equally beneficial for students who want to explore new career opportunities in PHP.
The wide range of concepts and latest topics included in this PHP training provides much needed competitive advantage to all its learners. This competitive advantage is a must to grab the desired role in India's extremely competitive Information Technology market. This PHP course must be a top priority of all the students who are undergoing professional courses and are trying to learn scripting languages. This PHP Training in Kochi makes students extremely employable by removing gaps between industry requirements and college curriculums.
PHP Training in Kochi – FAQ's
---
Where can I access the course from?
The freedom and choice to access this PHP course at your own ease and pace lie in your own pocket. All you require is a mobile or a laptop and a decent internet connection.
How much should I expect to spend weekly for this PHP Training in Kochi?
We advise 2-3 hours per week as an optimal time to get maximum benefits out of this PHP course. The entire training usually takes around 2 months of time for completion.
Is there any assistance provided in terms of resume building or other similar services?
Our team of experts will help you in resume building and interview preparation.
What is the profile of instructors in this PHP Training in Kochi?
The instructors of this PHP course are adept and have years of industry experience. They also possess valuable experience in creating and delivering similar online learning courses. Every topic and concept is carefully selected and included in this PHP course by them to ensure that the latest trends and skills that the industry demands are met.
Why should you take up the PHP training in Kochi?
Kochi, the capital of the most educated state of India, is the hub for major IT companies and so provides a great land of opportunity to students and professionals in Kochi, to learn PHP and take their career to great heights.
What is the PHP market trend in Kochi?
The scope of PHP as a career in Kochi is very lucrative. When it comes to career options in India, Kochi needs no introduction. Kochi is the capital of India's most educated state with home to a large number of IT organizations. Kochi also being home to a large number of top schools, institutes, colleges, and universities shine bright when it comes to opportunities for PHP professionals. Companies have long realized the expertise of PHP developer's in harnessing different web-oriented tools and techniques for the development of portals and websites from scratch. This gives PHP developers the chance to enjoy huge demand from employers.
Sample Preview
---
Career Benefits
This PHP Training in Kochi is crucial for a professional looking to make a career in PHP. This PHP certification course will help professionals in securing credible roles in areas of:
PHP
JavaScript
MySQL
HTML
CSS
With PHP professionals enjoying ever-increasing and exponential demand, this is a must course for everyone looking to excel in their careers.
Reviews
---
PHP and MySQL Training
PHP and MySQL Training. This course for me was useful because I would like to learn to develop dynamic and static websites. There I fond knowledge about Web development, design, architecture, publishing website, database with ODBC. Now I can start to develop websites using PHP and Mys SQL. Thank you!
Linked
Lina Kankevičienė
Nice Experience
I enjoyed the course and learned a lot. The videos were amazing.
Linked
George Kwofie
Helpful
I came to know about the course from facebook. I enrolled for this, and I liked the course content. It provided me a healthy sum of information about cakePHP. Which may be scattered all over the internet. It was good experience taking this cakePHP course.
Linked
Amiangshu Dutta
PHP and MySQL Training
The course covers topics such as File Handling, Cookies and Sessions. Detailed explanation is provided by the instructor. The slides were really good. With the lessons I learned, now I can build more dynamic web applications using php.
Linked
Tafadzwa Makuyana
My PHP course experience
This is one of the best courses and quality courses available with EduCBA IT Academy in the area of Web development using PHP programming language for any Web or PHP developer aspirants in the web development stream. This PHP course also contains hands-on training including video lectures which is the best to be chosen in order to gain maximum knowledge out of the course contents and its curriculum.
Sushen Pandey
PHP Course experience
This is an excellent course content with videos and hands-on training for PHP from EduCBA Academy. I would prefer this PHP course as it has been well designed and articulated for even freshers and new IT engineers to understand easily without any hassles.
TAMER