Learn from Home Offer TAKE THIS BUNDLE
Oracle Training in Bangalore (17 Courses, 8+ Projects)
This Online Ethical Hacking Certification includes 17 courses, 8 Projects with 140+ hours of video tutorials and Lifetime access.
This training covers all the essentials concepts of Ethical hacking that one must master in order to work effectively as a white hat hacker. Complete Ethical Hacking Course with Case Studies, Ethical Hacking and Penetration Testing for Beginners, Meterpreter, DNS and ICMP are some of the modules included in the course which will help students to become cognizant in this technology.
Project on Oracle SQL - Displaying and Aggregating Data
Project on Oracle SQL - Output with iSQL
Project on Oracle SQL - SQL Workshop
Project on Oracle SQL - DML Operations
Offer ends in:
TAKE THIS BUNDLE
* One Time Payment & Get Lifetime Access
What you get in this Oracle Training in Bangalore?
Online Classes
Technical Support
Mobile App Access
Case Studies
About Oracle Training in Bangalore
Further details are provided below.
| Course | | No. of Hours |
| --- | --- | --- |
| Oracle SQL 21c | | 1h 39m |
| Introduction to Oracle PLSQL 21c | | 1h 11m |
| Introduction to Oracle DBA 21c | | 58m |
| Oracle SQL for Beginners | | 2h 13m |
| SQL Case Study - Displaying and Aggregating Data | | 2h 9m |
| SQL Case Study - Output with iSQL | | 3h 43m |
| SQL Case Study - SQL Workshop | | 4h 1m |
| SQL Case Study - DML Operations | | 3h 37m |
| SQL Case Study - Creating Database and Tables | | 3h 06m |
| SQL Case Study - Case Study on Various Functions | | 2h 13m |
| Oracle - Oracle Forms Developer 10g | | 1h 33m |
| Comprehensive Course on Oracle SQL Concepts and Commands | | 8h 7m |
| Oracle PLSQL for Beginners | | 3h 24m |
| Oracle PLSQL - Procedures and Functions | | 3h 15m |
| Oracle PLSQL - Subprograms | | 3h 52m |
| Oracle PLSQL - Database Triggers | | 3h 15m |
| Project on PLSQL Developer - Case Study on Various Functions | | 3h 05m |
| Project on PLSQL Developer - Case Study | | 5h 26m |
| Oracle DATABASE Admin DBA 1 Course | | 9h 27m |
| Oracle RMAN | | 8h 33m |
| Oracle APEX | | 4h 09m |
| Oracle FLASHBACK | | 3h 22m |
| Oracle CLONING | | 5h 48m |
| Oracle SOA | | 33h 9m |
| Toad 12.6 for Oracle | | 1h 09m |
---
| | |
| --- | --- |
| Course Name | Oracle Training in Bangalore |
| Deal | You get access to all videos for the lifetime |
| Hours | 140+ Video Hours |
| Core Coverage | Oracle Database, RMAN, Oracle APEX, Toad 12.6 for Oracle, Oracle SOA Suite, PLSQL |
| Course Validity | Lifetime Access |
| Eligibility | Anyone serious about learning Oracle |
| Pre-Requisites | Basic Knowledge in SQL and UNIX/LINUX commands |
| What do you get? | Certificate of Completion for the course |
| Certification Type | Course Completion Certificates |
| Verifiable Certificates? | Yes, you get verifiable certificates for each17 course, 8 Projects with a unique link. These link can be included in your resume/Linkedin profile to showcase your enhanced skills |
| Type of Training | Video Course – Self Paced Learning |
| Software Required | None |
| System Requirement | 1 GB RAM or higher |
| Other Requirement | Speaker / Headphone |
Oracle Training in Bangalore Curriculum
---
The main objective of this course is to make the students or candidates employable in oracle. As we know Oracle has various job roles such as oracle administrator, developer, database administrator, finance analyst so the objective of this training is to prepare a student in such a way students can go for any field comfortably.
Oracle training learners will get to know how to install particular software, how to design the software's system, how to configure and troubleshoot the problem statements. Training also covered the deployment of architecture. The main part of this Oracle Training in Bangalore is the oracle database. It includes administration where a candidate will get to what exactly happens in the administration domain. Along with these various features of oracle are also covered in the curriculum. Oracle is one of the most secure platforms so how it is secure is also part of the training.
It also includes data warehouse and availability of data systems. This training has different modules such as Oracle PLSQL, Oracle SQL, Oracle database admin DBA 1 course, Oracle Apex, Oracle Ramen, Toad 12.6 for oracle, oracle concepts and commands, oracle flashback, oracle cloning, oracle SOA, oracle administrations, oracle database 11g, oracle database 12c and many more. After the course curriculum, there are case studies on sessions. A case study will help the learner to analyze the problem statements, then to find what is objective of a particular problem, how to design a particular problem, and how to inherit the same in oracle.
Oracle Training – Certificate of Completion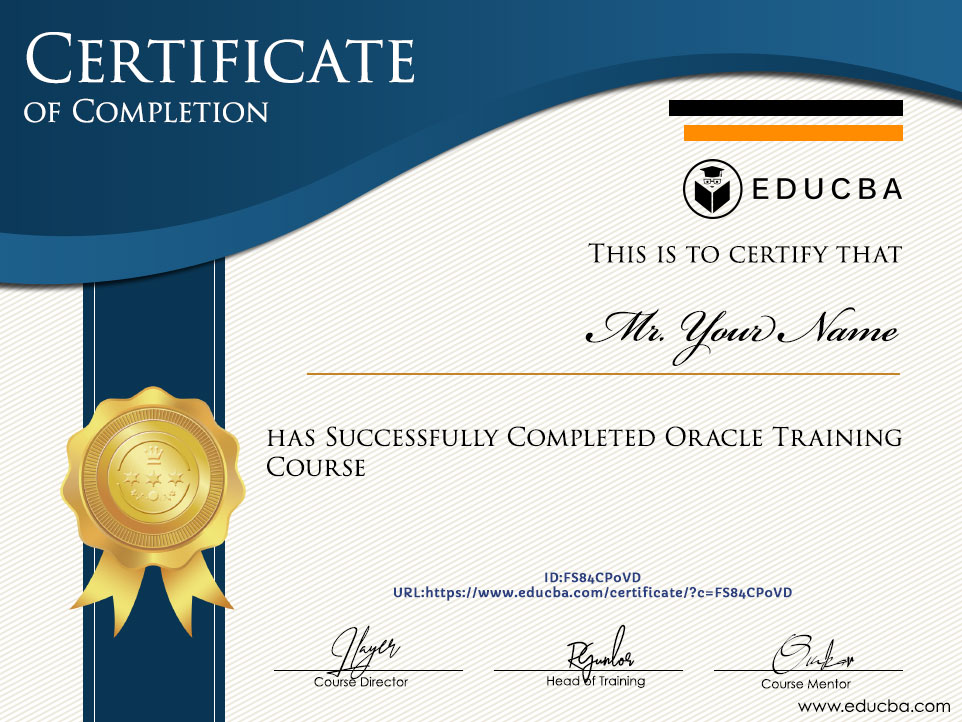 ---
What is Oracle?
It is an American computer technology. The specialization of the oracle is that it develops software's in database cloud, and software's in enterprises as well as it is also used for marketing purposes. Oracle corporate is on 82 rank position in fortune 500. In software making, Microsoft has the highest revenue after Microsoft's second position is an alphabet and after the alphabet, the third rank is an oracle. The revenue of oracle is 40 billion USD. There is a total of 430 k users associated with oracle. In the market trend, oracle has a forty-six percent share in the database. Oracle founded in 1977 and it is named as software development laboratory. In 1979 they launched the first commercial SQL which is relational software. Again in 1982, it is named as oracle system corporation with additional features. In 1986 the company has launched a client-server database management system. And in 1987 this was the largest company in the world in the field of database management. After that in 1995 and 1996, they developed web-enabled architecture, and then oracle acquired PeopleSoft for 10.3 billion USD in 2005. In 2010 oracle acquired sun Microsystems which is MySQL with the sun. After that in 2016 oracle acquired a net suite for 9.3 billion USD.

Which Skills will you learn in this Training
?
In this oracle training, you will learn initially basic concepts of SQL, then directly students will start to learn on projects of Oracle SQL.Sql projects will help the student to access and understand the database in form of tables, along with these projects includes Displaying and Aggregating Data, Isql output, a workshop on SQL, Dmsql operations, basic of plsql, procedures, and functions in plsql, subprograms in plsql, database triggers, Database Dba, Oracle cloning, Oracle SOA, Oracle flashback, Oracle Apex, oracle toad 12.6, Oracle development( creating database and tables, case studies, functions, case studies on functions), development in plsql.
Pre-requisites
The prerequisite for this Oracle Training in Bangalore is the basics of SQL (structured query language). There is no need for any extra knowledge for this course if students are aware of only basic concepts of SQL that are also sufficient to go for this training. In the course curriculum, every small and basic thing will be covered so anyone willing to learn oracle can opt for this course.
Target Audience
Students who are pursuing their education in Engineering, Diploma, Science, statistics, commerce and want to build their career in the computer domain and looking for a great opportunity to start their career in the database domain. Experienced employees from Non-IT background those who want to change their work profile. Especially for teachers who want to switch into the industry with existing experience. This Oracle Training in Bangalore is the best match for those who are fresher they can start their
this field will give them a very bright future. Those who are already in the industry but different job roles, it is very easy for them to learn Data science terminologies because they might be already aware of implementation skills and programming.
Oracle Training in Bangalore – FAQ's
---
Which is the oracle products domain?
Oracle has various products in various domains such as development tools, cloud-based products,mobile-based products, servers, and many more.
Is Linux knowledge is necessary to complete this Oracle Training in Bangalore?
Yes, you must know at list basic commands of Linux, otherwise, this will also be covered in the curriculum.
SQL Server and Oracle are the same or different?
Oracle includes SQL and plsql language in designing and SQL servers include transact SQL.
In which field is more useful or popular?
Oracle is trending in finance, banking sector, insurance companies.
Is Computer degree compulsory for the oracle Course?
No, a Computer degree is not compulsory for the oracle course. Anyone can apply for the course.
Who is the instructor for this Oracle Training in Bangalore?
The instructors for this course are industry professionals, have wide experience in the field of Application development. Depending on the domain in curriculum expert trainers will be different.
Is SQL or database management part of the syllabus?
Yes, SQL is part of the curriculum, whatever database knowledge required for oracle will be covered in the syllabus.
Why should you take up Oracle Training in Bangalore?
As everyone knows Bangalore is the hub for all job oriented training. Every training course is available in Bangalore with the best and multiple options in various ways. Along with training programs Hyderabad has a big IT industry network, where all MNC industry situated and they offer various job opportunities in different -different domains .there are wide chances to get placed in Bangalore only once you finished this training as this city has the number of opening for oracle professionals.
What is the Oracle market trend in Bangalore?
In India, Bangalore is the origin of ' Trainings and Jobs', Bangalore is the first city in India where this Oracle Training in Bangalore started for the first time and gradually it spreads all over India. And as we know oracle is the very big domain were several other domains like administration, development, finance analyst involved in it, Bangalore has every computer course trend, therefore, all the aspects of oracle covered in one geographical area.
Career Benefits
Oracle has 137 k employees all over the world. In this distribution in America 60000 employees associated with oracle, after America's largest distribution is in India. In India total, approximately 40 k employees are associated with oracle.182 billion euros is the market of the oracle. There are various job roles for which you can apply once you finished this Oracle Training in Bangalore like general administration finance, developer, support and service, legal, finance, product development, production and training, and many more. The big companies Dell, JP Morgan, Google, and net tracker mainly working on oracle SQL, therefore this is one of the highest-paid jobs in India.
Reviews
---
Oracle SQL Training review.
The training for Oracle SQL was full of detailed training. It helped me to learn everything from basic syntax to more complex syntax. It is best for new students that want to learn Oracle SQL. All the videos were very helpful since they contain also the practical examples. The lectures have all the theory part and the practical parts. The trainer tries to explain everything in detail. I learned a lot. English was understandable.
Sadik Kalia
Oracle Course Experience
It is a Comprehensive Oracle Training course designed by industry experts considering current market trends to help you learn. This Oracle training prepares you for an in-depth understanding of the Oracle database server administration.  The main benefits are it has high-quality content with complete student support throughout the course. Students will go through real-time technical challenges and will learn how to face it; they also learn the design of a system of all sizes.
Elizabeth
Great Oracle Course
I recommend this Oracle training to anyone in my circle who is moving up in their career to gain knowledge and look out the profits. This is the best Online Oracle training at a reasonable rate. This course is a useful software that enables an organization to work with data warehouse and also to do online transactions. We use Oracle as a  back – end for enterprise applications. The training is delivered through secure, privacy so you can jump into any course. Through this course certification, you will be powerful working with SQL  programming language with the concepts of a relational database.
Sean
SQL Course Experience.
Oracle certification allows you to deliver fast performance for databases and applications in the critical workplace. Through this Oracle training, you will be able to manage, design secure leading open source and commercial database.
Neelam Shah