Learn from Home Offer TAKE THIS BUNDLE
ORACLE DBA Database Management System Course Bundle - 2 Courses in 1
20+ Hours of HD Videos
2 Courses
Verifiable Certificate of Completion
Lifetime Access
TAKE THIS BUNDLE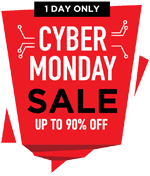 * One Time Payment & Get Lifetime Access
What you get in this ORACLE DBA Database Management System Course Bundle - 2 Courses in 1?
20+ Hours
2 Courses
Course Completion Certificates
Lifetime Access
Self-paced Courses
Technical Support
Mobile App Access
Case Studies
About Oracle DBA Training in Bangalore
---
| | |
| --- | --- |
| Course Name | Oracle DBA Training in Bangalore |
| Deal | You get access to all videos for the lifetime |
| Hours | 20+ Video Hours |
| Core Coverage | Learn Oracle Database architecture, the database processes, memory structures & resources, schema objects, security, data recovery, and other concepts through hands-on practical sessions in this course. |
| Course Validity | Lifetime Access |
| Eligibility | Anyone serious about learning Oracle Database administration and wants to make a career in this Field |
| Pre-Requisites | Basic knowledge about Databases would be preferable |
| What do you get? | Certificate of Completion for the course |
| Certification Type | Course Completion Certificates |
| Verifiable Certificates? | Yes, you get verifiable certificates for each2 course, Projects with a unique link. These link can be included in your resume/Linkedin profile to showcase your enhanced skills |
| Type of Training | Video Course – Self Paced Learning |
| Software Required | None |
| System Requirement | 1 GB RAM or higher |
| Other Requirement | Speaker / Headphone |
Oracle DBA Training in Bangalore Curriculum
---
MODULE 1: DBA 1

| Courses | No. of Hours | Certificates | Details |
| --- | --- | --- | --- |
| Oracle DATABASE Admin DBA 1 Course | 9h 27m | ✔ | |

MODULE 2: DBA 2

| Courses | No. of Hours | Certificates | Details |
| --- | --- | --- | --- |
| Oracle: Administration Workshop II | 11h 37m | ✔ | |
In This Oracle DBA training, you will learn the fundamentals of Oracle database, it's architecture, how to Implement the Oracle Architecture, basic concepts of Process and Memory Architecture. This module also focuses on the core to advanced guide on how to Implement data structures, to Improve problem-solving skills, and become an Oracle database administrator and other widespread use of important concepts.
There are various modules which are designed to achieve expertise in Oracle Database administration are as follows
Oracle Database Admin DBA 1 Course
In this Oracle DBA course module, you will get to understand the basic to advanced concepts of Oracle Database Administration, functionalities, key characteristics of Oracle database, how to manage Tablespace for storing the data, how to create Tablespace, how to Manage Datafiles, Temp Tablespace, undo Tablespace.
This module will also focus on How to update server files, how to Map users, tablespaces, how to set up privileges to other users. Along with this, you will get in-depth knowledge of how to manage users and security, basics of networking such as Configuring Listeners. how to manage tables and views, how to generate packages for Oracle Support, and diagnose data. Topics such as Backup and Recovery, Table Partitioning, Materializing Views, etc. will be covered. In this Oracle DBA Training in Bangalore module, you will also learn how to setup Linux on Oracle Virtual Machine where you will understand how to use Virtual Machine, how to import Linux image into Virtual Machine, some basic Linux Commands df, ls, top, ps which are important and used for the DBA, How to install Oracle Database Server on Linux VM, In this tutorial, you will learn how to Install Oracle 18c XE DB through rpm, how to set up bash profiles.
Along with this Oracle Database Architecture is also covered in this module in which you will be getting in-depth knowledge of architectural Components, Memory structures like PGA, shared pool, SGA, large pool as well as background Process. While you are doing Oracle DBA course you must learn Oracle Database Instance where you will get go learn parameter changes, dictionary views, SFILE, PFILE, Alert.log, modes of database startup and shutdown, dynamic performance views
After understanding the detailed database administration, this module will focus on the hands-on experience of the oracle database so you will be the professional in the oracle database administration field right after completing this Oracle DBA Training Certification. In this module, you will have a project in which you have to implement the oracle database the same way as done in the previous course of the production environment. You will understand and get practical knowledge of handling errors to occur during the process.
This Oracle DBA Training in Bangalore module consists of project work hence you will be learning all the concepts in a database such as creating a table, modifying table, changing the data, rows, columns in the table, how to create views, records, how to manage users, grant or deny the permissions to other users for accessing the database, how to delete the table or views, how to change access permissions or manage access permissions for a specific task, allow or prohibit the use of tables, how to create files, folders, how to move data from one table to other, copying, pasting the data to other views or records, How to use SQL schemas for managing the Database, Various Linux or Unix commands to maintain the database or how to run command-line interface for specific tasks, etc.
While working on the project you will learn how Database Storage Structures works where you will learn Blocks, Segments, extents in the database, how to perform CRUD operations, how to manage tables available in the database. Along with this, you will master the skills in Database administration by performing tasks such as Creating Users, Managing Profiles, creating roles and assigning Roles, etc.
Oracle DBA Training – Certificate of Completion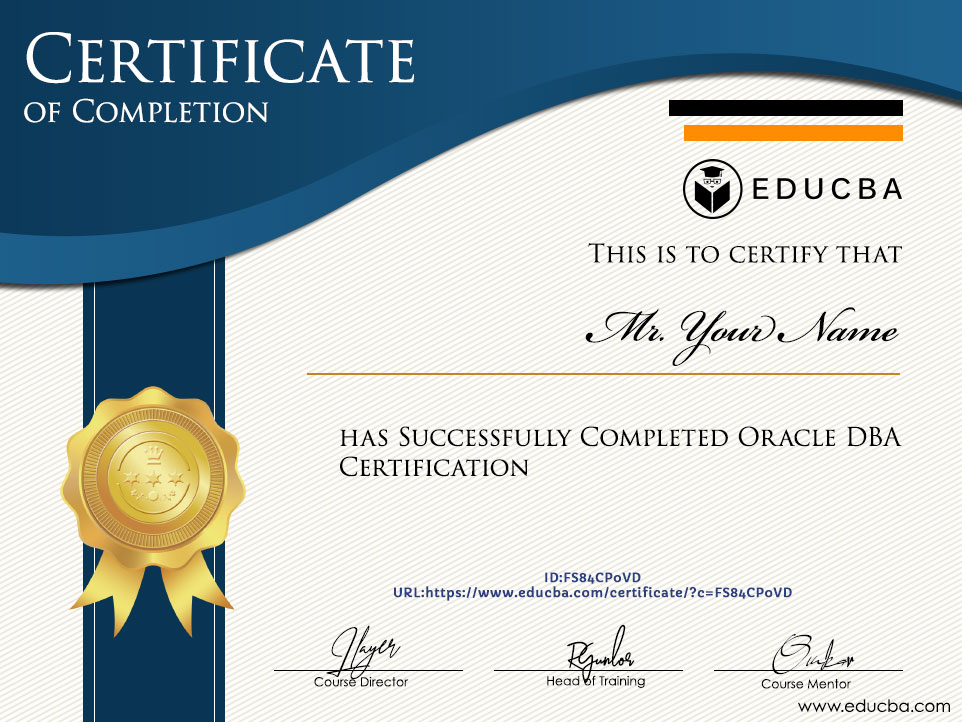 What is Oracle DBA?
Oracle Database is developed by Oracle Corporation. Oracle Database Administration can be termed as a technique of managing and maintaining the database with all the privileges as admin or user. The person who has access to the database administration is known as database admin or database administrator. The database administrator has all the rights to perform actions in the database such adding, creating, deleting, sorting the data, access to store the data in specific files, grant or deny permissions to users, etc.. database admin can allow or prohibit the users to access some kind of functions or files.

Which Skills will you learn in this Training
?
Oracle DBA Training in Bangalore has many modules where each course helps acquire knowledge of Oracle database architecture, administration well as its components. In this Oracle DBA Training in Bangalore, you will be learning Oracle DBA from basic to advance levels. Along with This Oracle DBA course, you will also master the skills such as with Tables, views, schemas in databases, the complete architecture of Oracle Database, its components, admin functionalities such as creating, adding, deleting users, adding, modifying or deleting of username, grant or deny permissions to other users for using databases, creation, deletion, modification of database tables or views, managing schemas, security, users, etc.
Pre-requisites
You need to have a basic understanding of basic concepts in computers such as accessing the internet, fundamentals of operating Systems, handling files and manage databases, and strong analytical skills, etc. Also, prior knowledge of creating or adding tables, schemas in a database, basic SQL Knowledge, basic Linux, or Unix commands will be beneficial for Oracle DBA training. Software requirements are an Oracle database of Oracle enterprise. You should be able to diagnose the problems and should able to work on Oracle Support.
Target Audience
If you want to become an Oracle Database Administrator, you must do this oracle database administration course. Engineering students whose stream is computer science or bachelors' degree in computers and have an interest and basic knowledge of the tables or schemas in Oracle database app development along with basic SQL commands, LINUX, or UNIX commands then this Oracle DBA Training course will be surely beneficial for them. Students from bachelor courses such as BCA, B.Sc. Information Technology or B Sc in computer science. Also database administrators, database architectures, SQL developers, SQL schema professionals, database managers, etc. Oracle DBA Training in Bangalore is designed to enhance the career of the candidate as database architects, admins, and freelancers who want to start their career as Oracle DBA developers, administrators, etc. Working working professionals who want to do more professional tasks into their existing t job as well as for the company.
Oracle DBA Training in Bangalore – FAQ's
---
Would this Oracle DBA training certification help me in my career advancement?
This Oracle DBA course is consists of best Oracle DB administration t training as well as important Oracle DBA architecture which are highly demanding nowadays. Hence doing Oracle DBA certification will help in your IT Career.
Can I learn Oracle DBA without prior knowledge of Networking?
No. You have to know the basics of networking. However, it is included in this Oracle DBA Training in Bangalore.
Sample Preview
---
Career Benefits
In this Oracle DBA course, you will learn from basics of Oracle DBA and other various resources which will help you to deal with how to manage and run the database using Oracle DBA distributions as well as it will help you to crack your interview of the dream job profile of Oracle DB administrator, oracle database architect in the Company.
Why should you take up the Oracle DBA Training in Bangalore?
The Educba experts are employed for this Oracle DBA training course. Educba institute is very highly ranked in Bangalore and great for anyone who wants the best institute to learn Oracle DBA.
What is the Oracle DBA market trend in Bangalore?
If you want to build a remarkable career in the Oracle DBA development in Bangalore it is suggested by surveys that you can opt for a career in Oracle DBA. The IT industry is realizing that developers and administrators want to use Oracle DBA and each successive update of the Oracle DBA development is lacking. So be ready for your dream job in the Oracle DBA field by taking this comprehensive course of Oracle DBA with Educba.
Reviews
---
Oracle 9i Master Series (Module #4) – Mastering Views and Database Objects
This was a good course for the beginner up to expert – was able to follow along in several parts. The training was split into a good size and easy to follow. I also found the material very useful in small in a short period.
It would be nice to have a system to follow with as they work. Also, like the selection of courses.
Linked
Carol Duffy
Oracle 9i PL/SQL:04 – Database Triggers
The course started with a simplistic approach. As the course progressed, the course became wider and more holistic. He approached themes with great ease, which made it easy for me to understand the subject. There was no need to cheat my brain and that was the best part. So I recommend this course for all those who want to learn and become an expert on the subject.
Linked
BRUNO RAMALHO DE ALMEIDA SANTOS
Good course
Very detailed and informative. I will recommend taking it. The time for this course is long. It will be useful if the course has a test, or and attending with a group of training classes. While I see it very informative, but some of the areas are very detailed and might not be good to have this in one course.
Linked
Mohamad Ballan