$99$29965% Off TAKE THIS BUNDLE
Kali Linux Training
6 Online Courses
21+ Hours
Verifiable Certificate of Completion
Lifetime Access
Ethical Hacking & Penetration Testing Fundamentals

3h 52m

Penetration Testing Social Engineering and Trojans

3h 34m

Penetration Testing Meterpreter, DNS and ICMP

5h 28m

Penetration Testing Hacking

3h 2m

Penetration Testing Metasploit, SQL Injection and Cryptography

3h 21m
Offer ends in:
$99
$29965% Off
TAKE THIS BUNDLE
Skills you will master
Ethical hacking
Penetration testing
Footprinting
Reconnaisance
Phishing Attacks
Trojans
Backdoors
Meterpreter
DNS Spoofing
ICMP
Hacking Android
Password Cracking
Wireless Hacking
Metasploit
SQL injection
Cryptography
Pentesting
NMAP
Python Port Scanner
Android Exploitation
Online Kali Linux Training Course
This Kali Linux Training Certification includes 6 comprehensive Kali Linux Course with 21+ hours of video tutorials and Lifetime Access. You get to learn everything about ethical hacking and penetration testing in Kali Linux right from scratch to the advanced level. It includes understanding the fundamentals, social engineering and trojans, Meterpreters, hacking, Metasploit, Cryptography and other ethical hacking concepts.
There are numerous off operating systems available in the market and each one of them has their own advantage. If we talk about the window, people prefer it due to its user-friendly interface, if we talk about macOS, it has amazing speed and security features. In the same way, we have a special operating system that belongs to Linux family and considered as very amazing Linux distribution, called Kali Linux. People think the word "Hacking" as something very interesting, and Kali Linux is the operating system to endorse hacking or ethical hacking.
Due to the exponential growth of the Internet user, the fear of being secure while online is also increasing. There are lots of malicious users sitting behind the internet with a mask on their face to abuse the Internet system. Using Kali Linux in an ethical way is all about being secure or to keep your network protected from those malicious elements. Here we will see how organization allow their ethical hacker to hack their system to get actual insight into the weak point of their network so that it could be remediated to protect it against the actual attack.
About Kali Linux Certification Course
---
| | | |
| --- | --- | --- |
| Course Name | | Online Kali Linux Training Certification |
| Deal | | You get access to all 6 courses bundle. You do not need to purchase each course separately. |
| Hours | | 21+ Video Hours |
| Core Coverage | | You get to learn everything about ethical hacking and penetration testing in Kali Linux right from scratch to the advanced level. |
| Course Validity | | Lifetime Access |
| Eligibility | | Anyone who is serious about learning Ethical Hacking and wants to make a career in this Field |
| Pre-Requisites | | Basic knowledge about ethical hacking would be preferable |
| What do you get? | | Certificate of Completion for each of the 6 courses |
| Certification Type | | Course Completion Certificates |
| Verifiable Certificates? | | Yes, you get verifiable certificates for each course with a unique link. These link can be included in your Resume/Linkedin profile to showcase your enhanced skills |
| Type of Training | | Video Course – Self Paced Learning |
| Software Required | | None |
| System Requirement | | 1 GB RAM or higher |
| Other Requirement | | Speaker / Headphone |
Kali Linux Certification Course Curriculum
---
In this section, each module of the Kali Linux Training is explained.
| | | | |
| --- | --- | --- | --- |
| Sr.No. | Course Name | No of Hours | Course Description |
| 1 | Ethical Hacking & Penetration Testing Fundamentals | 4 | In this Kali Linux Training Certification module, you will learn the fundamental of Ethical hacking or penetration testing. There are lots of Jargons that we must know before getting our hand in the vast world of ethical hacking. We will be understanding the topics like network, ports, services and several other terms that will support our learning. It's an almost four hours long Kali Linux Training video tutorial where we will show you how things are related to each other as understanding things from scratch is very important when it comes on performing the extra activity on that. There will be a graphical representation of included in various topics to give you the precise insight of them. The educator has tried a very easy and simple way to explain things making it easy for beginners to grab the topic easily. |
| 2 | Penetration Testing Social Engineering and Trojans | 3 | This Kali Linux Course will cover a very essential and interesting part of ethical hacking called Social engineering. You will learn how to trick the weakest point of an organization, the employees, to share confidential details like a user ID or password with you. Things like phishing, social media interaction will be covered under this section. Together with Social engineering, we will also have a detail on Trojans and its working, how it resides in the target system as a backdoor to access the target over and over. You will also be taught how you can recognize such attacks so that you can prevent your system from the hackers. |
| 3 | Penetration Testing Meterpreter, DNS and ICMP | 5 | This Kali Linux Certification tutorial shows you how you can gain access to another system in a stealth way, perform actions of your choice to obtain the crucial details and so on. We will be focusing on Meterpreter, Domain name server and internet control message protocol in details. All the topics covered here are actually used to launch the attack. In the video of this Kali Linux Training, you will see how these can be used to gain access to other system or to perform some actions that will be helpful to attack the target. Each topic here has been detailed with examples so that you can understand their working easily. While this unit, you will be supposed to do things on your own to check how much you understood so far. The examples used in this unit is very precise and you can consider performing the same task in your own system as well. |
| 4 | Penetration Testing Hacking | 3 | Hacking comprises of various steps like reconnaissance, footprinting, social engineering and so on before the actual attack could be performed. In this unit, you will get exposure to all those steps that are very important to attack any system. The educator has tried to explain each and every step in simple terms to make it easy for you to grab the topics. In some of the topics, we have included the live example to give you real taste to working with automated tools in Kali Linux that you can leverage to hack the target. There are tools available in Kali Linux environments like Nmap, Metasploit, sqlmap and others that are used to perform an attack or actual hacking, and throughout this section, you will go through all those tools. You can also try them in your own kali system as those are free to use. |
| 5 | Penetration Testing Metasploit, SQL Injection and Cryptography | 3 | This Kali Linux Training Certification unit covers some of the important topics that play a vital role in hacking or system prevention from getting hacked. You will learn what SQL injection is, how to check if the web application is vulnerable to SQL injection, how to launch SQL injection attack manually and how to use SQLmap to launch automated SQL injection attack. In this unit, you will be covering both the way to hack: hacking network and hacking through the web application. The Metasploit tool will be used here to show you how the automated tools in Kali Linux make hacking very easy and efficient. The topic cryptography has been included here to explain some strong remedy to prevent such attacks. You will see how cryptography encrypts your crucial data to ensure the secure transaction of your data through the network or internet. |
| 6 | Advanced Penetration Testing | 3 | This Kali Linux Training module is intended to make you a complete ethical hacker with all the knowledge of working with automated tools in Kali Linux, who know all the steps that have to be performed before launching the attack and can compromise the target. This unit will give you taste of the advance ethical hacking or penetration testing methods that could be leveraged to destroy the security of network or web application. Being the last module of the Kali Linux Training Course, it will show how you can launch attacks using all the topics that you understood in the previous modules. You will be asked to perform the hacking on your own or you can also follow the illustration shown here you get an insight into the advanced approach to launch the attack. |
| 7 | Total No of Hours | 21+ Hours | |
---
Kali Linux Course – Certificate of Completion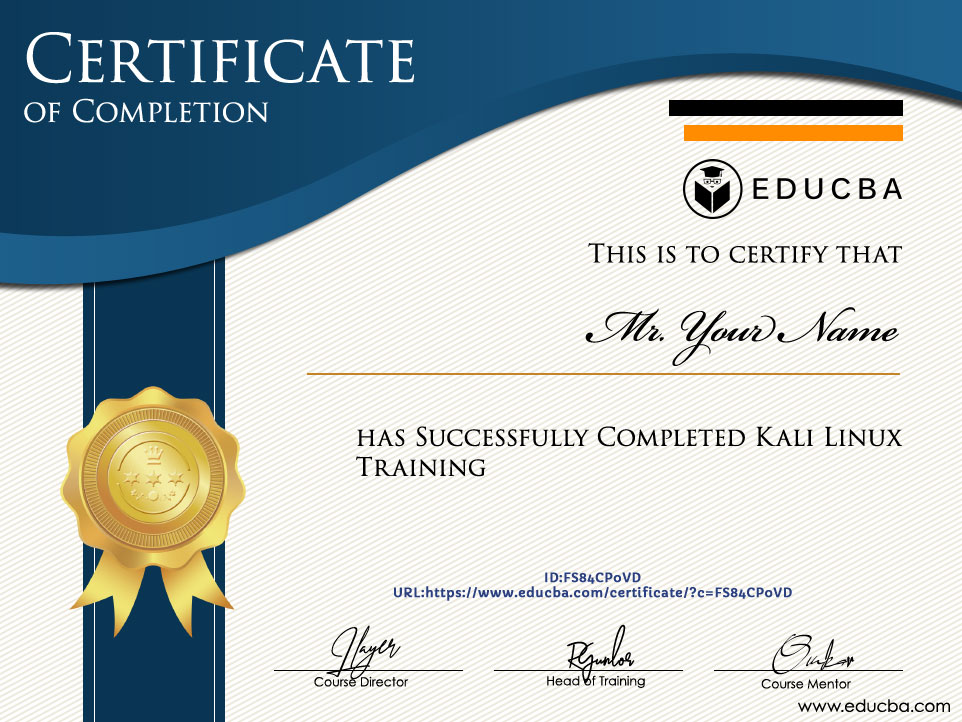 ---
What is Kali Linux?
Kali Linux can be defined as the special distribution of the Linux operating system that is used to perform penetration testing. The main purpose of the introduction of this distribution is to make the tools available at one place that can be used to launch an attack on the target. There are several free to use the automated tool available in Kali Linux that makes it very easy for the hacker or the ethical hacker to intrude in any system either to abuse it or to protect it. It is an open source operating system and can be used by any of the party for free.
In an ethical way, it is can be leveraged to break your own system to get the insight of flaws present in it that could be used by the malicious users or hacker to compromise your system. It is a compromise of terminal, kenral and some inbuilt applications. Though the pentesters prefer to use the command line interface, it also supports the graphic user interface making it easy for the user to interact with the applications who like to work with a graphical interface. Together with providing the best hacking environment, it also works very fast as compared to other operating systems.
Which skill you will learn in this Kali Linux Training?
In this Kali Linux Training, you will get a deep view of working with Kali Linux to strengthen the security of your network. Throughout the course, you will come across several topics which will enhance your understanding about Kali Linux and also make you familiar with the working of Kali Linux. As all the examples will be shown to you through the video, you will observe the output of your every action very closely making it very easy for you to understand things. You will learn to work through CLI and GUI as well.
There are some of the CLI automated tools like sqlmap, meterpreter, hydra which will be explained to you with live examples. The GUI tools are also available like burpsuite, armitage and so on which will be explained to you as well. The interesting part is, all the topics covered here will be followed by an example as it becomes very easy to learn when the subjects or topics are followed by illustrations. By the end of the Kali Linux Training, you will be able to interact with Kali Linux in a very efficient manner to perform penetration testing.
Prerequisites
---
Anyone who wants to learn Kali Linux should have basic knowledge about the operating system. It is not necessary for you to have an in-depth idea about working of OS but some idea of basic things like file, folders, file extensions, system applications will help you learn things quickly. All you need is just a dedicated mind that wants to explore more about the penetration testing part using Kali Linux.
As this operating system is comprised of the CLI and GUI, it will be highly supportive to you if you have an idea or hands-on working experience with any of the CLI OS. You should feel comfortable with the command line interface as all of the automated tools that will be used for penetration testing are base on CLI. If you prefer to work with graphical interface tools, you will get several in this operating system but be informed that every graphical tool is based on CLI only.
Target Audience
---
The target audience for this Kali Linux Training Certification is professionals who are working in cybersecurity and wants to explore the area more, the students having interest in hacking and the educator who wants to broaden the area of their learning. Cybersecurity is a very vast domain and has various roles in it. The professional who is working in defensive security and wants the exposure of offensive security will find it very interesting to learn Kali Linux to become an ethical hacker or pentester.
Students really find it very interesting to play with new tools and to explore more about technology and hence they are the perfect audience for this Kali Linux Training. In addition to learning, students will also open the door for various opportunities after learning Kali Linux. The trainers who are in cybersecurity can get their hands in Kali Linux to broad the subject they are training students on so far.
FAQ's
---
Why should I learn Kali Linux?
Kali Linux is the only operating system to satisfy the need for network security. It is comprised of several automated tools that are used to launch attacks on the target to detect its weak point that could be leveraged by hackers to compromise the system.
How long it may take to learn Kali Linux?
Kali Linux is a very vast operating system. It makes take you around a month to go through the fundamental of this OS while to learn its advanced features, you will require to devote two more months. Rest of the things depends upon how quickly you learn things. It's very simple and easy and can be mastered by anyone who is willing to learn this.
Career Benefits
---
This Kali Linux Training Certification has been designed very carefully to transform you from a normal system user to the ethical hacker. You will learn things about Kali Linux from scratch to the advanced level. All the organizations these days have a huge number of ethical hacker who contributes to protecting their network. Regardless of the size of the company, every organization or business need people who can protect them from the security breaches.
Even in the near future, the need for professional with good knowledge of Kali Linux and penetration testing will increase due to the exponential growth in the number of internet users. This Kali Linux training will make you job ready and will open the door of several opportunities for you.