Learn from Home Offer TAKE THIS BUNDLE
JOOMLA Course Bundle - 7 Courses in 1
This Joomla Training Certification includes 7 courses with 14+ hours of video tutorials and Lifetime access. You will also get verifiable certificates (unique certification number and your unique URL) when you complete each of them. This training will help you learn about web development through Joomla right from scratch which includes the installation, various menus, and its creation, working around with modules and its global settings.
TAKE THIS BUNDLE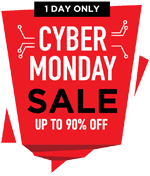 * One Time Payment & Get Lifetime Access
What you get in this JOOMLA Course Bundle - 7 Courses in 1?
14+ Hours
7 Courses
Course Completion Certificates
Lifetime Access
Self-paced Courses
Technical Support
Mobile App Access
Case Studies
About JOOMLA Course Bundle
---
| | |
| --- | --- |
| | |
| Courses | You get access to all 7 courses, Projects bundle. You do not need to purchase each course separately. |
| Hours | 14+ Video Hours |
| Core Coverage | Web development through Joomla right from scratch |
| Course Validity | Lifetime Access |
| Eligibility | Anyone serious about learning Joomla and wants to make a career in web development |
| Pre-Requisites | It is advisable to have prior knowledge of CMS concepts to learn this Joomla training easily |
| What do you get? | Certificate of Completion for each of the 7 courses, Projects |
| Certification Type | Course Completion Certificates |
| Verifiable Certificates? | Yes, you get verifiable certificates for each course with a unique link. These link can be included in your resume/Linkedin profile to showcase your enhanced data analysis skills |
| Type of Training | Video Course – Self Paced Learning |
JOOMLA Course Bundle Curriculum
To enable and enhance more learning experience to the learners for this Joomla training course, it was considered to design the training modules in such a way that the concepts are easily understood and learned comfortably, including the hands-on web content management system in multiple chapters. This course will allow the learners to easily grasp the concepts. The list of modules and courses are mentioned in the below course curriculum for Joomla training and all the courses with a complete description of modules are available for the learners.

MODULE 1: Joomla Essentials Training

| Courses | No. of Hours | Certificates | Details |
| --- | --- | --- | --- |
| Joomla:01 - Getting Started | 2h 39m | ✔ | |
| Joomla:02 - Menus | 2h 1m | ✔ | |
| Joomla:03 - Modules | 2h 22m | ✔ | |
| Joomla:04 - Global Settings | 1h 41m | ✔ | |
| Joomla:05 - Advanced Tutorial | 3h 56m | ✔ | |
| Joomla:06 - Additional Readings | 2h 08m | ✔ | |

MODULE 2: Projects based Learning

| Courses | No. of Hours | Certificates | Details |
| --- | --- | --- | --- |
| Project on Joomla - Content Management System(CMS) Website | 1h 3m | ✔ | |
Goals
Joomla course is one of the free open-source software to organize, build, manage and publish web content, blogs, intranet, and mobile applications. It is one of the content management systems (CMS) software for publishing web content. The main goal of this course is to provide students or professionals a complete guide from beginners to advanced concepts related to Joomla.
Objectives
In this course, the main objective of this course is to make students or professionals understand better about developing websites using Joomla. This course provides concepts like an introduction to Joomla which involves installation and setting up of the environment of Joomla to the advanced concepts like the creation of breadcrumb modules, random image module, syndicate module, donation module, etc. This course also involves 6 online courses with two sections in which it also includes one hands-on project.
Course Highlights
In this course, two sections provide different concepts regarding how to create or develop web content or blogs, etc. Let us see in detail the course concepts:
In this course, the first section you will learn about introduction to Joomla in this section includes how to install Joomla and also the global settings and MySQL set up of the environment.
In this section, you will also learn about Joomla architecture and its advantages, this also includes Joomla system requirement and also you will learn about toolbars like the article, category, media, module, user and template, language and global toolbars.
In this course, you will also learn about the Joomla menu which includes how to create a menu, how to add items to the menu, also you will learn about how to modify menus, how to create submenus, etc.
In this course, you will learn about Joomla modules which include about how to create a breadcrumb module, feed display module, footer module, search module, random image module, who's an online module, syndicate feed, and donation module.
In this course, you will also learn about how to create all the above modules, how to create a PayPal donation button, sticky options.
In this course, you will also learn about global settings like system and site setting, permission and text filter setting, you will also learn about global configuration components like the article, banner, cache and plugin, user and search components, etc.
In this course, you will also learn about advanced concepts of Joomla such as creating template manager, customization of templates, adding new templates, creation of the logo and also customization of the logo, adding contents, formatting contents, article metadata, etc.
In this course, you will also learn about additional concepts or additional readings such as easy Joomla backup, how to install easy Joomla backup, how to create a full backup in EJB, creation of cronJob, restoring and importing files in EJB, etc.
Project Highlights
In this course, you will also learn about the project details. In this course, the second section is on the project section in which it has only one hands-on project based on the Content management system website using Joomla.
In this course, you will be working on a project in which you will learn to implement the above theoretical concepts in this project.
In this course, you will be introduced to the project in which it includes firstly installation of Joomla, code header, etc.
In this course, the project also includes the features that you will be implementing in this project.
In this course, you will be implementing features like the middle section, code header, footer, etc.
In this project, you will also be implementing features like media setting, language manager, footer module, mass emailing and debugging, etc.
What is  Joomla?
Joomla is a web content management system software that is free and open-source to use. It was developed by Open Source Matters Inc. and Joomla Community developers. It was purely written in PHP programming language. It was initially released in the year 2005. It was licensed under GNU General Public License. It is based on the MVC design model framework. It supports different cross-platform operating systems. The several features of this Joomla open source software are – it supports multiple languages of more than 70 across the globe, Search Engine Optimization feature, extensions support, user and menu management including cache management, flexible to use, and also free to use. It also contains built-in SEO tools.
Joomla is generally used for web content publishing for rich articles. It can also be run on the LAMP stack to publish the web content frequently. It can also be installed on the Microsoft web platform. Joomla has also a large community that holds conferences every year. It has also a support of many extensions.

Industry Growth Trend
The global computational creativity market size to grow from USD 204 million in 2018 to USD 685 million by 2023, at a Compound Annual Growth Rate (CAGR) of 27.4% during 2018–2023.
[Source - MarketsandMarkets]
Average Salary
Average Salary
$72,155 per year
The average salary for a Web Developer is $72,155 per year in the United States.
[Source - Indeed]
What tangible skills will I learn from this Joomla Training?
The set of skills that can be learned upon completion of this Joomla training are WordPress, Joomla, Drupal, Magento, Zencart, OS Commerce, Phpbb, PHP, etc. along with some Web content related software frameworks.
Joomla training contains many productive chapters and modules in its course curriculum which are very useful in learning web content related technical skills such as data analysis, WordPress, graphics designing, web content managing and configuring, etc.
There are also several set of skills which can be acquired being part of Joomla certification such as Menus, Modules, global settings and configuration, and few other advanced features, etc.
There are many web content related frameworks that are used to develop web content but Joomla being open-source having a lot of features will benefit the learners with advanced and high enabled features.
The Joomla training has a set of tangible skills such as PHP, and its coding standards, Web Contents, WordPress, Settings and Web content administration, and management, etc.
This Joomla certification is utilized in developing web content to publish the web data of any other information that needs to be publicized.
Joomla Course – Certificate of Completion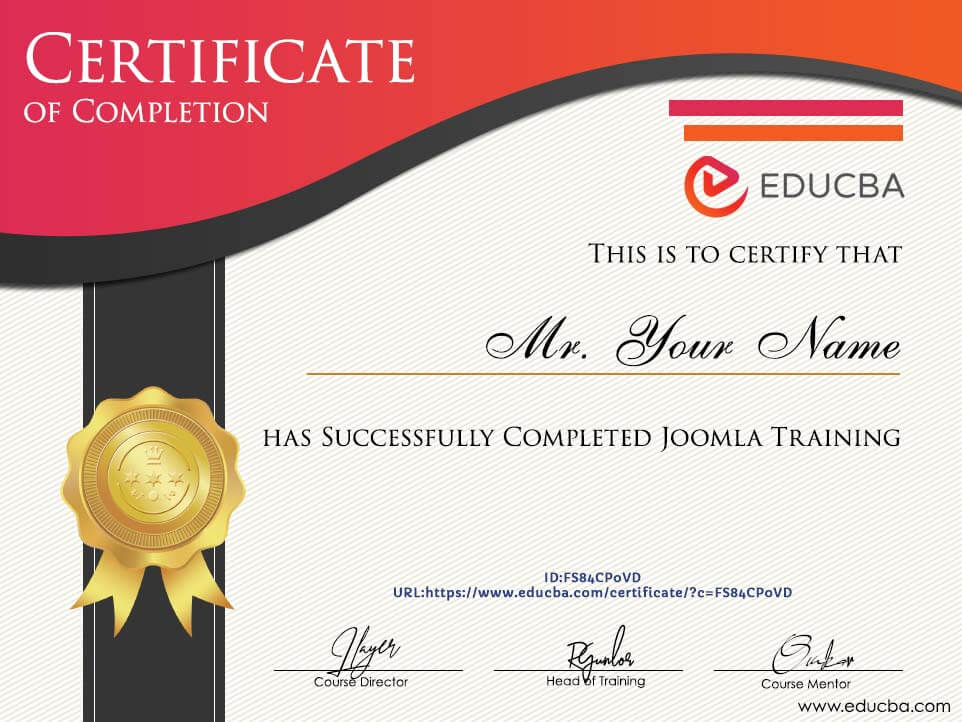 Joomla Training Pre-requisites
Willingness to pursue a career as Web content Developer or WordPress Developer: The Joomla training course has a set of few prerequisites to be matched before proceeding with learning such as PHP programming, web content knowledge, WordPress basic knowledge, or any other web content development is recommended. It requires basic to at intermediate knowledge level in any we content technologies or web PHP programming language or any relevant hands-on experience in the web content development technologies will be adding benefits to this Joomla certification. It will become difficult for learners who are willing to learn this Joomla training course without any knowledge of web content.
Knowledge in Web Content or PHP or WordPress based frameworks: Any relevant experience or knowledge in WordPress or PHP frameworks or in developing web content using PHP or WordPress or Drupal or Magento related to web-based applications will add an advantage in learning the contents of this Joomla training to proceed with its contents and the course curriculum easily and in a very fast manner.
Target Audience for this Joomla Course
Students of Engineering / Technology in Computers: If the learner is a student of any technical bachelor degree holder or engineering degree holder in purely technical discipline in computer science-related or computing technological fields related, then the Joomla training is an added advantage to the career and also gains much amount of knowledge in the web content area using Joomla and its relative web content frameworks in the Joomla training course. It will add a lot of benefits after completion of this Joomla training course and its contents including the course curriculum. This training is a well-designed and useful for any technical professional to advance of the learners' career easily. This course contains a package of many modules with complete content comprehensively in such a way to provide learners with the course contents in an easy manner including hands-on training.
Joomla Developer or Word Press or PHP Web Developer: In this Joomla training learners will be able to utilize the best of the learning contents from this training which will advance the career as a Word Press or Web PHP Developer or any Web Content Developer.  This Joomla training course is a highly recommended course for any web content or web PHP or word press developers working on Web content development side projects.
Computer's Bachelor's or Masters in Engineering/Science: Any Bachelor's or Master's in Computer Science Degree or engineering discipline can opt for this Joomla certification course to easily clear any PHP Web or Word Press Developer interview to secure a job either in campus placements or direct job interview positions.
FAQ's- General Questions
---
Why should I choose this Joomla training?
Any Web Content Developer or Web PHP development professional in the area of Web content who are willing to master and learn the Web PHP or Word Press or its relative frameworks should choose this Joomla training course. To attain greater heights in the area of web development or Web PHP developer career, one should opt for this Joomla training course.
I don't have a background in computer science or web content technologies or a technical engineering, can this Joomla training still be considered a good option?
YES, this can be considered by any learner having basic knowledge in web standards or technologies. This can also be learned without knowing PHP programming. This Joomla certification can be easily mastered in a shorter time.
Would this course add value to my profession?
Yes. this course would add value to the learner's profession and also benefits a lot which includes course certifications.
Is this a quick-fix to clear interview or do I still need to practice continuously while learning this Joomla Training Course?
Yes, this is a quick fix without any expertise or knowledge in Web PHP or web content related development and its relative frameworks. If one does not know web technologies or PHP language or Word Press can still be a great refresher for the learners' contents and curriculum which is designed in a comprehensive manner that requires investing 22 plus hours of video content.
Sample Preview
---
Career Benefits
There are a lot of career benefits on learning this Joomla certification and its training contents and curriculum which are mentioned as:
This Joomla training is an excellent in-depth knowledge and refreshing course with pure technical and hands-on video content for any fresher or experienced Web Content or Word Press developer.
Any Word Press or PHP or web content developer can opt for this Joomla training to make their career elevated several levels up such as Data Analyst Joomla Developer, PHP Web Developer, Software Developer, Word Press Developer, Software Engineer, Graphic & Web Designer, Team Leader, and PHP Programmer.
There are also several career benefits on opting for this Joomla training such as this certification can be attached to the learner's resume with a course completion certificate that will add benefits in getting job opportunities.
Course Testimonials
---
Great training
This Joomla certification is the best among the existing Joomla courses and the course content and quality of video content are excellent related to Web content development using Word press or Web PHP programming. This is the best-recommended course in the market for any Web content or Web PHP or Word press developer career aspirants in the web content development area.
Sagar Jain
My EDUCBA course
This is one of the best training courses ever in the present Joomla certification courses available with quality video content and real-time hands-on videos for Web Content development and Web PHP programming from EduCBA Academy. This Joomla training course can be preferred for complete course content by any Web Content or WordPress engineers.
Shaun Lim