NANA
NANA
NA% Off
Enroll for FREE
Free Web Design Course
This Free Web Design Course includes a comprehensive Course with 4+ hours of video tutorials and Lifetime access.

You get to learn responsive web designing to create exciting and dynamic web pages using HTML5, CSS3, JavaScript And Bootstrap.
Web Design Course

4+ hours
Offer ends in:
NANA
NANANA% Off
Enroll for FREE
Skills you will master
HTML5
CSS3
Document Object Model
DOM
CSS
HTML
JavaScript
Semantic Elements
Web Forms
DHTML
Web-based applications
Rgraph
Bootstrap
JS
W3.CSS
LESS
SASS
Responsive Websites
Free Online Web Design Course
This Free Web Design Certification Course includes a comprehensive Online Web Design Course with 4+ hours of video tutorials and Lifetime Access. You get to learn responsive web designing to create exciting and dynamic web pages using HTML5, CSS3, JavaScript, And Bootstrap.
Web Design free course comprises of HTML 5 comprehensive training that explains about the web technologies HTML (Hypertext Mark-Up Language) and CSS (Cascading Style Sheets) which are explained as hands-on videos. The main intent of this Free course Web Design is to explain about the web design techniques to all the web designers to create web pages on the internet.
Web Design Free Course gives more details about the history of the web, HTML5 introduction, semantic elements used in the latest HTML version, designing the structure of web pages using semantic elements. This Free Online Web Design Course includes seven chapters in the given course curriculum which explains the latest web technologies to design web pages and the required web technologies. The Audio and Video graphics are explained with different media formats. The videos can be accessed offline as well upon subscribing to lifetime membership which gives access to All Levels of the course.
About Free Web Design Course
---
| | | |
| --- | --- | --- |
| Course Name | | Online Free Web Design Course |
| Deal | | You get access to all the video tutorials for the lifetime |
| Hours | | 4+ Video Hours |
| Core Coverage | | Learn responsive web designing to create exciting and dynamic web pages. |
| Course Validity | | Lifetime Access |
| Eligibility | | Anyone serious about learning web designing and wants to make a career in this field |
| Pre-Requisites | | Basic knowledge about web development would be preferable |
| What do you get? | | Certificate of Completion for the course |
| Certification Type | | Course Completion Certificates |
| Verifiable Certificates? | | Yes, you get verifiable certificates for each course with a unique link. These link can be included in your resume/Linkedin profile to showcase your enhanced skills |
| Type of Training | | Video Course – Self Paced Learning |
| Software Required | | None |
| System Requirement | | 1 GB RAM or higher |
| Other Requirement | | Speaker / Headphone |
Free Web Design Course Curriculum
---
The Free Web Design Course has a course curriculum that describes the latest web technologies in the form of videos. There are seven chapters in the course that are categorized as History of Web that explains the introduction to course, course structure on the history of the web, and the required prerequisites with browser wars details. The different features of the HTML 5 version are also explained along with its details about the designing of web pages using the latest HTML features. Structuring of web pages using semantic elements, designing web pages using standard markup elements, designing, and building the web forms. The different types of validation support, different attributes, input types, audio & video graphics along with media formats. The basics of the canvas, HTML5 resources along with several web elements are explained in this course curriculum section.
The different web pages required to develop complex web applications and WHATWG standards used are explained. HTML5 markups, usage of CSS, and JS (JavaScript) to adding dynamic web pages' responses to develop web applications are well described. The structuring and designing of web pages using semantic elements, browser compatibilities, usage of a greater number of elements are explained. The different markups such as Date Time, mark outputs, boosting the semantics at different parts, search options, web forms, etc. are detailed as hands-on videos. The different styles used in HTML5 are the usage of different attributes, image attributes, equal and space signs, indentations, blank lines, omitting, or adopting different elements based on the specific use case.
The latest features of HTML5 along with the CSS features are used to make responsive web design effective in the web pages responsive. The different CSS features such as Colors, backgrounds, tables, borders, links, etc. whichever are required for the best designing of the web pages to create the responsive nature of the designed web elements. The course also explains the DOM (Document Object Model) which is the main required thing for browser-based web technologies.
---
Free Web Design Course – Certificate of Completion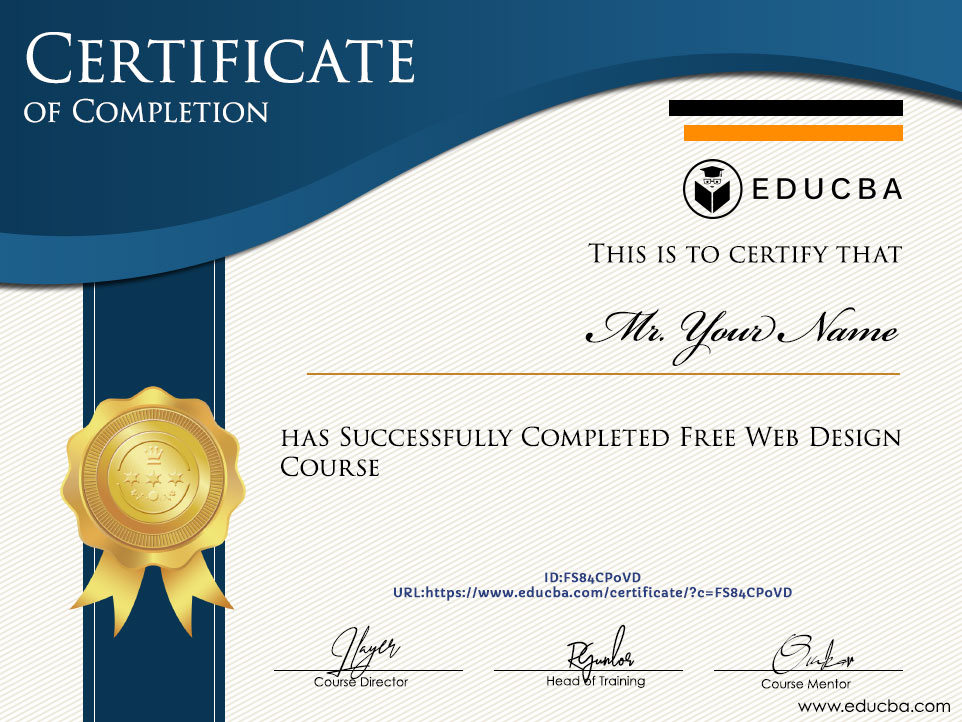 ---
What is Web Design?
Web Design is the approach of designing the web pages for a website to respond according to the user requirement based on the use case. The web design involves mainly the HTML and CSS features to develop the web pages. To design a web page, initially, a look and feel of a website have to be designed visually which is called Wire Frame. The Wireframe is the main essential element in designing the web pages especially in the case of complex web pages. The different details of web page layout, blocks, colors, headings, subheadings, graphics elements, etc. are available with the wireframe. Different tools exist to create a wireframe and to develop the web pages thereafter. The anatomy of the web page depends on the type of website being developed and also the business based upon the use case and intended users of the site.
The web standards are to be used along with the web designing standards to develop and maintain the web pages efficiently without any failures. Web designing requires server-side and client-side code development based on the type of technologies used along with the HTML and CSS web technologies.
Which Skills will you learn in this Course?
---
The set of skills that can be obtained from this Free Course Web Design are such as HTML, CSS, DOM, Web APIs, web designing, web development, web pages designing, etc.
The several other skills explained in this course such as web designing, DOM, rich web elements, user experience, etc.
The other skills which can be acquired upon completion of this Free Online Web Design Course are such as HTML4, HTML5, DOM API, Semantic elements, HTML, XHTML, Canvas, CSS.
The Free Online Web Design Course also contains a set of tangible skills that can be learned from this course are such as Date Time and graphic elements, CSS Canvas, Web Elements, annotations, HTML elements, etc.
It discussed the skill set that is required for Web developers to develop web pages using HTML and CSS with different web elements.
Pre-requisites
---
Basic knowledge of working with HTML or web components: The Free course Web Design has optional prerequisites such as knowledge of DOM or Web APIs or HTML, basic working knowledge in web programmings such as HTML or CSS. This course can be opted by anyone with basic knowledge on the web or any programming. The HTML Developer or UI Programmer requires a good knowledge of HTML and web APIs or libraries to learn advanced web designing easily. This Free Course Web Design can be chosen by any learner having a basic knowledge of any computer programming.
Knowledge in any Programming would help: Knowledge or practical experiences on any programming like C or C++ languages is an added advantage and is recommended to learn the core and advanced topics about the Web or HTML programming. This Free Course Web Design has more benefits upon getting considered for a UI Developer or Front-end related roles.
Target Audience
---
Students & Professionals Interested to enter web Development Field: Any student or technical professional from diverse backgrounds such as non-technical or non-computers or having practical knowledge or interest in web development concepts can choose this course. It is recommended to have some knowledge of the basics of HTML and DOM concepts in developing and designing web pages. The Free course Web Design contains HTML 5 features and usage of CSS along with HTML to develop web elements. Usage of semantic elements on web pages development is an essential and important aspect of responsive web design of a web page.
Web Developers and IT Professionals to get expertise on HTML 5: All the Web Development and IT professionals from diverse technical backgrounds are the target audience for this Free course Web Design. Anyone with relative skills or interest in developing web components or web pages using HTML or CSS to display responsibly can opt for this Free course Web Design. Many web developer roles who are eligible to choose this free course are such as HTML Programmer, Web Developer, UI Engineer, Front-end Developer, etc.
Career Benefits
---
The career benefits of this course are described below:
The Free course Web Design contains the web standards and technologies requires to develop web pages using HTML5 and CSS.
Any Front-end Developer or HTML Developer or UI Architect or HTML Developer can choose this Free course Web Design tutorials to know about the basic web designing on HTML and CSS along with advanced graphics elements and concepts about the Web APIs and DOM structure and manipulating the DOM elements to develop responsive web pages.
The key benefits of this certification and unlimited access to the complete course contents along with lifetime access.
The other benefits of learning this Web Design concept are– it explains about the latest HTML 5 version and CSS features based on web designing techniques and web development processes in hands-on video format.
The advantages of opting for this Free course Web Design are such as – gives knowledge about the core concepts and required expertise in developing web pages for the websites.
Reviews
---
Informative Site
I liked the way the course is organized. It was simple and easy to understand. Well planned and organized course content. The course is informative and the duration is just right. Suitable for beginners and those who wish to build their responsive website but don't know where to begin. It would be good to have a short quiz at the end to test for the learner's understanding. Looking forward to doing more courses on this platform.
Linked
Anto Perosha
HTML5
I liked this course, it gives me a general idea of html5 and all its component explaining one by one, what are the new contents and where to find excellent resources to let me solve problems, check my projects and keep learning more about HTML5. thank you.
Linked
Gustavo Quintini
HTML5 Beginner Class
Having completed HTML5 – Beginner Class It has given me a new better understanding of the current and future powers of Web Technology and the core language that makes it tick! The instruction was valuable and can be applied as soon as you learn it. The course goes from your basic "Hello World." like HTML5 implementation and works its way through more advanced topics such as Audio-video and canvas. Overall the class was fun and I would suggest it to anyone looking for a good solid introduction.
Alexander P Kollar
A very comprehensive course on HTML5 & CSS3
After learning the basics of HTML and CSS, I jumped in to learn HTML5 and CSS3 Advanced Training offered by eduCBA. I must say this course is very comprehensive and the instructor has explained everything in very simple words and detail so that one can learn things easily. This course is a must for anyone who likes to design webpages. I would like to recommend this course to anyone with basic HTML knowledge to enhance his skills in web development.
Linked
Shubham Singh