New Year '20 Offer TAKE THIS BUNDLE
Django Training (2 Courses, 2+ Projects)
2 Online Courses
2 Hands-on Projects
14+ Hours
Verifiable Certificate of Completion
Lifetime Access
Django Unchained with Python
Project on Python Django MySQL - Creating a Blog
Project on XML - Web Service Parsing XML API
Web Service Parsing JSON API
Offer ends in:
TAKE THIS BUNDLE
What you get
Online Classes
Technical Support
Mobile App Access
Case Studies
Online Python Django Course
This Django Training Certification includes 2 comprehensive Python Django Web Development Courses, 2 Projects with 14+ hours of video tutorials and Lifetime Access. You get to learn how to develop web applications and creating secure websites through Django, Python, HTML, and CSS. We also learn web service parsing XML and JSON API in android apps
A common dilemma for most of the web developers and business owners who run their market online revolves around choosing the right framework, a robust design that must be simple, flexible yet powerful.
The Python Django training course with us at EDUCBA will cover all the learning need from start to finish. Let's us have a look at the Django Course structure –
Django Unchained with python
Web Service Parsing XML API
Web Service Parsing JSON API
These Django courses will help you expand your current skill set, helpful if you want to change your career path or even if you are someone very new to web development.
The average salary of a Python Django Developer ranges from $110,000 to $137,500, which makes them stand in a row of most rewarding career options. So what are you guys waiting for, Sign up to gain the potential to build great looking web apps and land successful jobs by the end of this course? This Django Training Course will teach you all the necessary quality checks required in your company, also at what stage, and how to produce the best out of minimum production cost.
Industry Growth Trend
The rapid application development market size is expected to grow from USD 7.8 billion in 2018 to USD 46.2 billion by 2023, at a Compound Annual Growth Rate (CAGR) of 42.9% during the forecast period.
[Source - MarketsandMarkets]
Average Salary
Average Salary
$72,155 per year
The average salary for a Web Developer is $72,155 per year in the United States.
[Source - Indeed]
About Django Certification Course
| Courses | | No. of Hours |
| --- | --- | --- |
| Django Unchained with Python | | 8h 02m |
| Project on Python Django MySQL - Creating a Blog | | 52m |
| Project on XML - Web Service Parsing XML API | | 2h 38m |
| Web Service Parsing JSON API | | 2h 23m |
---
| | |
| --- | --- |
| Course Name | Online Django Certification Course |
| Deal | You get access to all 2 courses, 2 Projects bundle. You do not need to purchase each course separately. |
| Hours | 14+ Video Hours |
| Core Coverage | Learn how to develop web applications and creating secure websites through Django, Python, HTML, and CSS. |
| Course Validity | Lifetime Access |
| Eligibility | Anyone who is serious about learning how to develop web applications |
| Pre-Requisites | Basic knowledge about web development would be preferable |
| What do you get? | Certificate of Completion for each of the 2 courses, 2 Projects |
| Certification Type | Course Completion Certificates |
| Verifiable Certificates? | Yes, you get verifiable certificates for each course with a unique link. These link can be included in your Resume/Linkedin profile to showcase your enhanced skills |
| Type of Training | Video Course – Self Paced Learning |
| Software Required | None |
| System Requirement | 1 GB RAM or higher |
| Other Requirement | Speaker / Headphone |
Django Course Curriculum
---
In this section, each module of the Python Django Certification Course is explained.
Serial No.
Course Name
No. of Hours
Course Description
1
Django Unchained with python
9
This Django Certification Course includes:

Overview of Django covering 4 explanation videos, project exposure, server understanding.
Models used with Python + Django
How to create SuperUser, Public interface
Organizing templates, form application creating techniques.
Complete theory covering Python and Django better way to accomplish test writings, set-up details

2
Web Service Parsing XML API
3

 An introduction covering XML, Parsing and basic introduction to UI developments
XML file manipulation techniques
DOM (aka Document Object Model) parsing techniques from remote, thread creation, DOM parsing with a URL.
SAX Parser – basic introduction, UI design concepts, How to parse data, text view appending, how to run SAX Parser,

3
Web Service Parsing JSON API
2
This Django Training Course will include the following sections:

Introduction to web service, parsing details, JSON API
Introduction to web service, parsing details, JSON API
Rest API request and display JSON data (Display data, store data).
Set JSON Parsor data
Retrofit basic information
Pojo class

4
Total No of Hours
14+ Hours
---
Certificate of Completion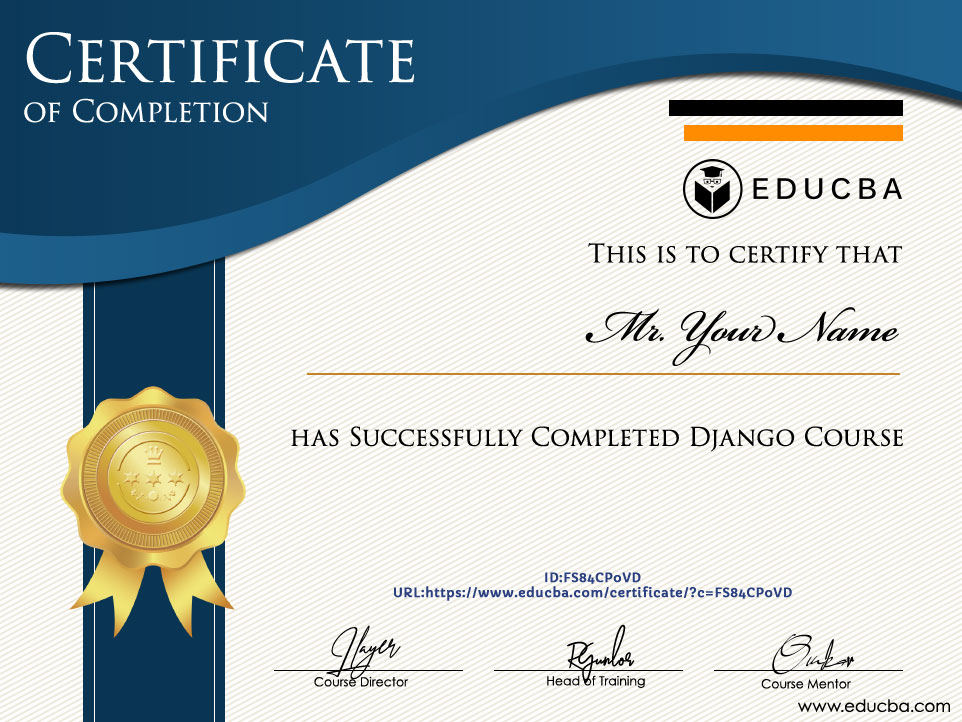 ---
What is Web Development?
Web development means the development of a website that runs on web browsers; the web development process largely denotes the following tasks and comprises them all together
Client-side scripting
Server-side scripting
Databases
What tangible skills you will learn in this Course?
Primarily the focus will be laid on Python and Django but as the Django Training Course course proceeds the candidates will find a firm grim of understanding for several other techniques which are as follows –
PYTHON and DJANGO: Python is a programming language and Django is a web development framework. Python was released in 2005 and has a huge base of users (beginners and advanced) all across the globe. Django provides its users with a reliable, safe, feature-driven web and mobile-based application development technique. Models built under each (i.e. Python or Django).
WEB SERVICES: There are a collection of web services available, the web services help in establishing a connection between two devices or networks. It includes HTTP, XML, SOAP, WSDL, and UDDI within itself.XML parsing, API, DOM parsing, and data parsing are some key highlights of the Django Course.
Pre-requisites
Like we always say to our candidates, all you guys' need is to have a learning attitude rest our course and trainers will take care of. But the below-listed skills are good to have –
Basic computer knowledge
Python understanding
HTML and CSS understanding
Good to have a very basic understanding of Programming like Java, OOPS concept
Last but never least a LAPTOP or PC at your convenience.
Target Audience
Anyone who is looking to make their career in web development, Social media integration work understanding in Android/iOS. Freshers and students who are curious about web development also fall under the target of the Django Training Course. Any experienced person either to enhance their skill set or want to change their stream and profile can look up to the Django Certification Course.
Guys the Web Development Course covering Python and Django has been a pathfinder for many students and professionals so far, it is high on demand. Kindly acknowledge our course and reach the new height of your web development career.
Django Course – FAQs
---
What is some pre-requisite for students before starting the Django Training Course?
All you need to have is a working laptop or PC with RAM configuration of 8 GB (recommended) or 4 GB (fine).
Do you have a Virtual class built for the Training sessions?
Yes, we have online instructor-led classes, the candidates have the flexibility to attend the sessions as per there convenience. All you need to have a good internet connection and a headphone.
What career opportunities will the candidates get?
Well, we have already listed them in the discussion section.
How tuff is Python and Django for a fresher?
We believe a fresh mind is good to nourish in any given technology. Talking about the Python and Django session we would like to say they are not tuff, but you need to have an initial hard-working routine.
Will the candidate get any course completion certificate?
Of course, each candidate going through any of our courses are entitled to course completion certification duly signed by the authority. Our certification has wide accessibility across the IT industry and many candidates(freshers + experienced) have successfully laid there career path with our courses.
Career Benefits
The career benefits are huge in terms of learning and job opportunities. Let's encounter what all profiles you will be eligible after the web development training.
Developer (Python)
Software Developer
Data Analyst
Business Analyst
Python Architect
Jenkins Developers
Full-stack developer
Backend Developer
Django Developer
Integration engineer
Java Developer