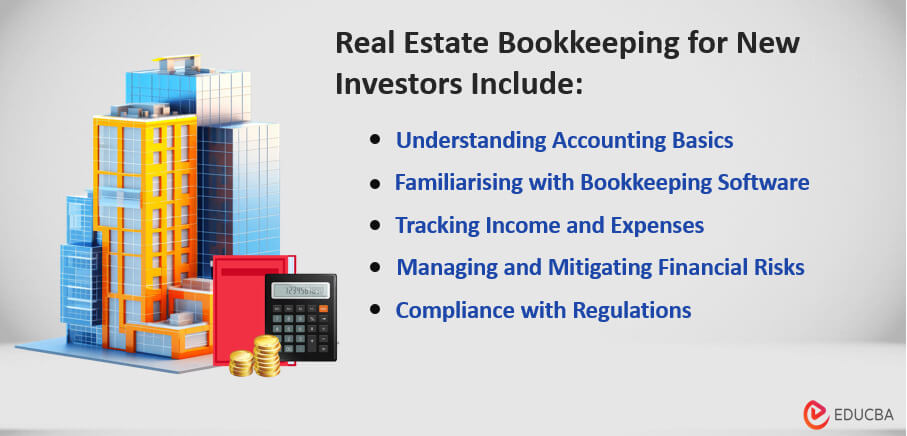 Introduction to Real Estate Bookkeeping for Investors
Managing money in real estate is super important as it helps boost the success of your real estate business. It is not only about following rules and paying taxes but keeping accurate records helps you make smart decisions. Thus, good real estate bookkeeping helps you monitor your cash, see how much profit you are making, understand financial risks, etc.
Organizing your finances allows you to make choices that align with your money goals and risk tolerance. Moreover, special software for real estate, called CRM, can make bookkeeping easier and give you more useful information.
We made this guide to help new investors feel sure about handling their money in real estate. It's a beginner's manual for keeping your finances in check and making smart moves in real estate.
Real Estate Bookkeeping – Understanding Accounting Basics
Real estate investment accounting forms the core framework for any successful real estate enterprise. It establishes the necessary structure, systems, and clarity to manage property investment's financial complexities effectively.
To facilitate a better understanding, here are key terms and concepts in real estate bookkeeping:
1. Cash vs. Accrual Accounting
Choosing between cash and accrual accounting is crucial for real estate investors. Cash accounting records transactions when money changes hands, while accrual accounting recognizes income and expenses when they are incurred, not necessarily when money is exchanged. Picking the right method aligns with your accounting preferences and helps manage financial data effectively.
2. Organizing Real Estate Transactions
Accurate bookkeeping relies on the proper categorization of transactions. Distinguishing between capital expenditures (improvements) and operating expenses (maintenance) and classifying revenue streams like rent, interest, and capital gains is essential. This clarity empowers investors to confidently navigate each transaction and project, clearly understanding where each financial element belongs.
3. Asset Depreciation
Real estate assets naturally depreciate over time, impacting tax liabilities and profit analysis. Understanding how to calculate and record depreciation correctly is vital. This knowledge ensures that investors accurately reflect the true value of their properties, contributing to sound financial decision-making and long-term success.
4. Use of Technology
Leveraging real estate accounting software enhances efficiency by automating processes and providing robust tools for reporting and analysis. Integration with CRM systems further streamlines management, aligning financial strategies with broader project goals. Exploring the Best CRM for Real Estate Investors ensures a holistic approach to investment management.
5. Accounting Records
Maintaining clear and consistent records of all transactions, including purchase agreements, rental income, expenses, and bank statements, is important. Transparent and compliant record-keeping ensures accountability and facilitates easy access to information when needed.
6. Professional Guidance
Collaborating with a specialized accountant familiar with real estate processes is invaluable. These professionals help navigate complex tax laws and regulations, ensuring accurate and optimized financial reporting tailored to the specific needs of the real estate business. Whether a seasoned investor or a newcomer, seeking professional guidance ensures financial decisions are well-informed and aligned with business goals.
Essential Bookkeeping Software for Real Estate Investors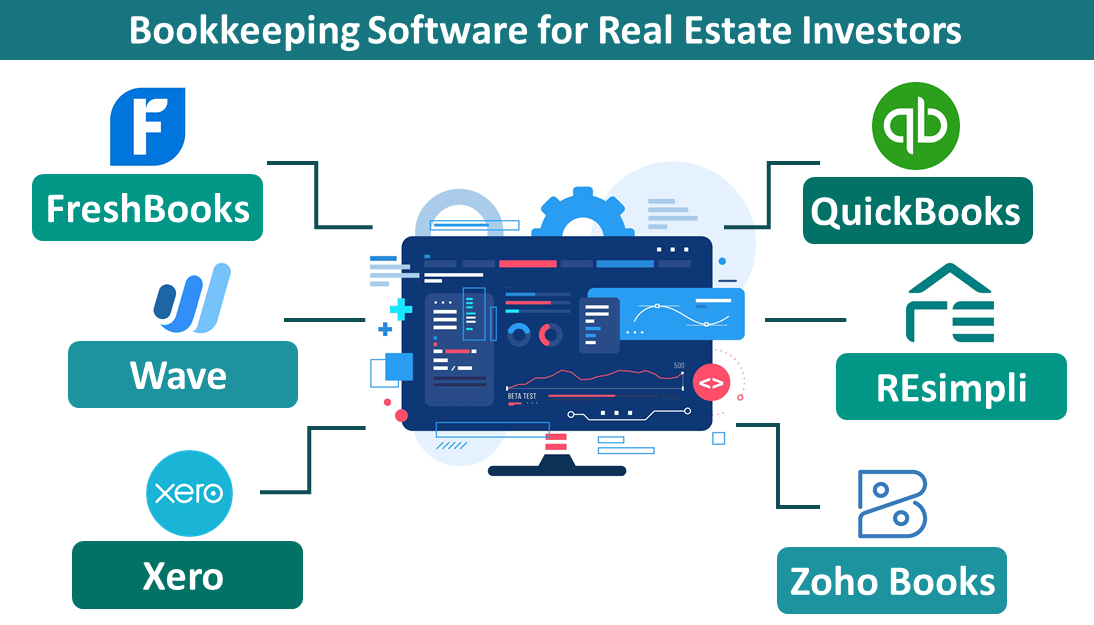 With advanced technology, keeping track of real estate finances has become much easier with the help of specialized software. However, choosing the right software depends on your needs, like the size of your real estate portfolio, budget, and the complexity of your transactions. Here are some user-friendly options:
QuickBooks: This tool is great for managing income, expenses, and assets in real estate. Its design makes tracking financial details straightforward.
REsimpli: Specifically made for real estate investors and agents, REsimpli is a comprehensive solution that seamlessly integrates with its CRM, providing a complete view of your finances.
Zoho Books: Ideal for small to medium-sized investors starting, Zoho Books offers automation reporting and works well with various payment methods.
FreshBooks: Known for its easy-to-use interface, FreshBooks is perfect for those who want to simplify their accounting without sacrificing essential features.
Wave: If you are on a budget, Wave is a free option that covers basic bookkeeping needs. It's good for simple income and expense tracking.
Xero: For more complex real estate businesses, Xero offers advanced features like multi-currency accounting and is suitable for handling intricate transactions.
Real Estate Bookkeeping – Tracking Income & Expenses
Real estate bookkeeping involves various streams of incoming and outgoing capital, making it relatively complicated to track financial data. Here's a guide to monitoring these effectively:
Categorize Your Transactions: Split your real estate money into categories such as rental income, maintenance costs, mortgage payments, and property taxes. It makes it easier to see where money is coming from and going to.
Use Accounting Software: There are computer programs like REsimpli that track money on your behalf. They don't make mistakes like humans can, and it's faster.
Keep Detailed Records: Save your receipts, invoices, and contracts. You can use apps like Evernote to keep them organized on your phone or computer.
Regularly Reconcile Accounts: Look at your records and compare them with your bank statements often. It makes sure everything is correct. Most computer programs help with this.
Work with Professionals: If handling money is too tricky, you can hire someone who knows about real estate money or use special computer programs made for this.
Monitor Cash Flow: Always keep an eye on how money is moving in and out. It helps you know if your investment is doing well financially.
Use Advanced Softwares: Using special computer programs for real estate money makes everything much simpler – they can organize, check, and report on your money without you having to do a lot of work.
Managing Risks and Mitigating Financial Challenges
Despite its promising potential for substantial rewards, real estate investment demands a thorough understanding of its financial risks. Identifying and implementing strategies to mitigate these risks is imperative to safeguard your investment. Here, we outline common financial risks and corresponding strategies to manage them effectively:
1. Market Fluctuations: Real estate markets can experience volatility due to economic conditions, interest rates, or local developments.
Strategy: Diversify your portfolio by investing in various property types or regions with different degrees of risk. This approach minimizes exposure to any single market, spreading risk and potential losses.
2. Liquidity Risks: Real estate investments are less liquid, making it challenging to sell quickly at market value.
Strategy: Maintain a substantial cash reserve to navigate short-term financial challenges. It ensures funds are readily available for unforeseen circumstances or opportunities, reducing the necessity for hasty property sales.
3. Credit Risks: Changes in credit conditions can increase borrowing costs or compromise your ability to secure loans.
Strategy: Uphold a healthy credit profile by consistently paying bills on time and managing debt. Consider securing favorable interest rates to achieve long-term financing stability.
4. Operational Risks: Property management, maintenance, and unexpected repairs can pose financial challenges.
Strategy: Implement robust property management practices, including regular inspections, timely maintenance, and proactive issue resolution. Leverage property management software for enhanced oversight, aiding in organization and responsiveness.
5. Legal and Regulatory Risks: Changing laws or regulations can impact property rights, zoning, or taxation, directly affecting investments.
Strategy: Stay well-informed about local laws and regulations. Collaborate with legal professionals specializing in real estate to effectively navigate changes and ensure compliance.
6. Tenant Risks: Vacancies, non-payment, or tenant damage can impact rental income.
Strategy: Thoroughly screen tenants before leasing to ensure a reliable income source. Maintain properties effectively to attract responsible tenants and consider rental insurance to mitigate financial losses from tenant-related issues.
7. Use of Technology: While not a risk, technology tools like CRM software can assist in risk management by providing detailed insights into portfolio performance.
Strategy: Embrace technology tools to streamline processes, monitor property performance, and identify potential issues early. Utilize CRM software for real estate to enhance communication, track financials, and make informed decisions.
Compliance with Regulations for Real Estate Bookkeeping
Real estate investors, like other freelancers, must adhere to various tax regulations and accounting laws specific to their jurisdiction. The goal of compliance is not to evade penalties or exploit loopholes but to optimize financial positions within legal boundaries. Key considerations include:
Understanding Tax Laws: Tax laws vary by state or industry, so comprehending the tax implications of different investment structures, income types, and deductions is crucial. Real estate accounting software can aid in compliance.
Adhering to Local Regulations: Different states or municipalities may have unique regulations affecting property ownership, rent control, land use, or tenant rights. Staying informed about the market in which you operate is essential.
Record Keeping: Accurate and transparent record-keeping is logical for financial management and often a legal requirement. Thoroughly document all transactions.
Hiring Professionals: Collaborating with accountants or legal professionals specializing in real estate ensures that investments comply with applicable laws and regulations.
Utilizing Technology: Tools like CRM for real estate investing can streamline compliance processes, offering features tailored to the unique regulatory environment of real estate.
Periodic Audits and Reviews: Regularly review financial records and consider periodic audits to ensure continuous compliance and identify potential issues early.
Staying Informed: Laws and regulations can change rapidly, so staying informed about investment changes is crucial.
Final Thoughts
Effective real estate bookkeeping, reliable accounting practices, and CRM software are important for real estate investing success. It is crucial for managing profits and ensuring enough cash is on hand. Using technology is a must in the ever-changing real estate world, and these practices are necessary for both experienced and new investors.
Recommended Articles
We hope this article on real estate bookkeeping helped you. You can refer to the following recommendations,