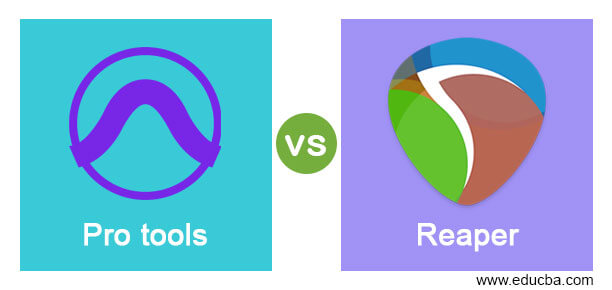 Introduction to Pro Tools vs Reaper
Pro tools is audio workstation which works on the digital platform of audio and deals with editing and mastering of different type of audio tracks. It also works for production, recording as well as creates music and sound which incorporate several audio tracks, and for this purpose, it offers a high level of audio editing tools to its users. Reaper is also that audio works station that works on a digital platform for audio editing as well as manipulation. It is not only an audio works station but works as MIDI sequencer software that can import all most every commonly used media format. So are you willing to know more about this software?
Both software works for editing, manipulation as well as mastering audio in their own ways by using their number of standard features. So let us discuss their basic characteristics first.
Head to Head Comparison between Pro Tools vs Reaper (Infographics)
Below are the top 8 comparisons between Pro Tools vs Reaper:

Comparison between Pro Tools vs Reaper
This section will take you through those data and facts which can be a very helpful factor in your analysis of both software.
| | | |
| --- | --- | --- |
| | Pro Tools | Reaper |
| Definition | Pro tools are DAW that means digital audio workstation and used for a number of tasks related to audio editing. These tasks may include audio mastering, music production, creation, and so on. | Reaper is a digital audio work station cum MIDI sequencer which gives its different identity in the MIDI editing sector. |
| Developer and Initially released on | Under Avid Technology it was developed by Avid Audio in January 1989, 32 years ago but its original developers were Evan Brooks and Peter Gotcher. | It was created and developed by Cockos on August 23, 2006, 14 years ago. |
| Latest or currently stable version | Its stable or latest version Pro tools was released on December 22, 2020, and named Pro tools 2020.12. | On January 23, 2021, its latest version was released with the name Reaper 6.21. which has a handful of advanced features for making it better than the previous version. |
| Operating system | You can run it on different operating systems such as Microsoft Windows and Mac OS. | It has its compatibility with the number of operating systems which are Windows XP and newer versions, Mac OS 10.5 and newer versions, Linux (for beta version) |
| Supported languages | It has its compatibility with several supporting languages and these 8 languages are English, Chinese (both traditional and simplified), Japanese, German, French, Korean and Spanish. | Reaper is also available in many different languages such as English, Polish, Deutsch, and many more. You can check it from is the official website. |
| Type and Licensed | It can categories under a Digital audio workstation and licensed in a proprietary scheme. | You can categories it under the Digital audio workstation as well as the MIDI sequencer program. It has a proprietary license. |
| Availability | You can have updates and other information related to this software from its official website that is www.avid.com/pro-tools. If you want to download it then you will also find a download link here. | You can visit www.Reaper.fm for having more details of this software or for downloading it. |
| Written in languages | It is written in C, C++, and Assembly languages. | It is also written in C, C++, and Assembly languages. |
These were some of the important facts and features which are related to the basic necessities, requirement, and capacities of both software. Now let you take through some advanced characteristics of both software.
Key Difference between Pro Tools and Studio One
Having being different developer, both software has their special facilities for its use for making them better from other digital audio workstation software. So are you ready to discuss these points too? Let us get start.
Before we discuss other points I think the pricing is the first thing which you should know. So for having Pro tools you have to make $299 payment for an annual subscription in a one-time payment. This package includes free user supports as well as updates. As you proceed to add more features to your package the price will increase accordingly. It offers something different price for a perpetual license of this software and it is $899 for an annual subscription with all free user support and updates. If you just want to understand its user interface and working principle then you should go with the free trial package it first and this trial is for a limited time period.
If I tell you about Reaper then there are two types of license scheme and for the first one, you have to pay $60 which is discounted price and for the second one, you have to make a $225 payment which is for commercial purposes. You can have the first one only if you are going to use it individually or for individual business commercially (whose annual gross revenue does not exceed USD $ 20,000) or if you are an educator or non-profitable firm.
In Reaper up to 64 individually routable channels are supported by each track and you can insert almost any third-party MIDI plug-in or audio such as VST, VSTi, VST3, LV2, LV2i, DX/DXi (it supports on Microsoft Windows), AU/AUi (it supports only on Mac OS), JSFX. You can apply FX in real-time which gives you non-destructive FX render output.
Pro tools can export and import MOV video files, ADM BWF files (you can understand it as an audio file with Dolby atmos metadata) not only this file it can also import ACID, MXF, and REX file and lossy formats, AAC, MP3, M4A. Other files are (audio from video) MOV, MP4, M4V.
It told you about advanced facts and features of Pro Tools and Reaper so that you can analyze them in a better way for deciding which will be better for you audio editing as well as mastering work.
Conclusion
Now you can say you have enough knowledge and information about these two digital audio work stations software. Now you can find out helpful data from this article which will be deciding factor in terms of which software is better for audio editing and manipulation work? You can try both software for having a basic understanding of them before going with anyone of them.
Recommended Articles
This is a guide to Pro Tools vs Reaper. Here we discuss the key differences with infographics and comparison table. You may also have a look at the following articles to learn more –