Updated July 12, 2023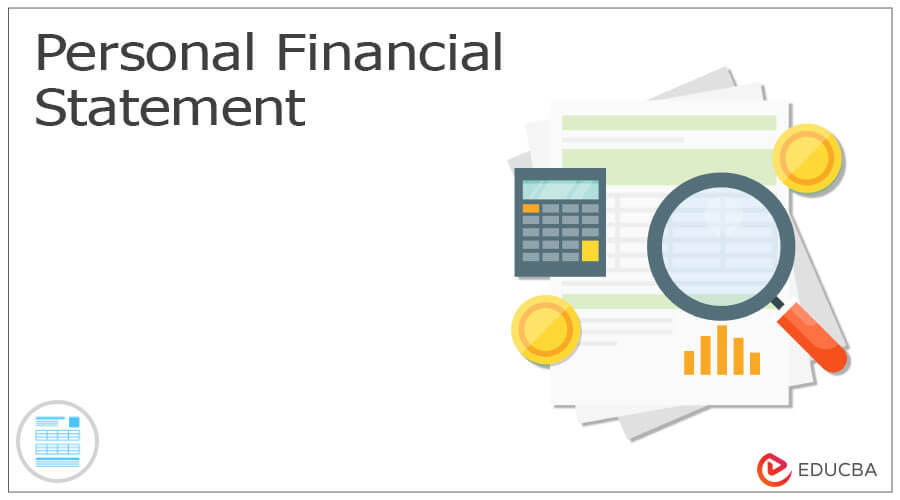 What is Personal Financial Statement?
The term "personal financial statement" refers to the summary of an individual's financial position at a particular time. Typically, the document includes general information about the individual and a summary of the financial position in terms of total assets and liabilities and net income flow.
Individuals primarily use it to track their progress toward their financial goals. Therefore, the personal financial statement can be classified into two sections – balance sheet and income statement.
Types of Personal Financial Statements
There are two major types, and they are: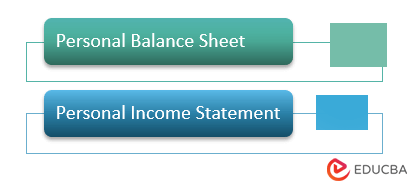 1. Personal Balance Sheet
This personal financial statement provides an overall snapshot of an individual's financial wealth at a given time. It is the summary of the assets, liabilities, and net worth. The assets include what is owned by the individual in terms of liquid assets (such as cash, checking accounts, savings accounts, etc.), significant assets (such as real estate properties, cars, furniture, etc.), and investments (such as bonds, mutual funds, stocks, etc.). On the other hand, liabilities are what is owed by the individual, such as payments, credit card bills, personal loans, other payables, etc.
The individual's net worth can be calculated as the difference between assets and liabilities. Net worth measures the wealth accumulated by the individual across several accounting periods. In other words, it represents what they own after paying off all financial obligations. Sometimes, the net worth becomes negative, indicating that the individual owes more than they own.
2. Personal Income Statement
This personal financial statement captures the inflows and outflows of money to measure the net income for a particular period. The sources of inflows generally include salaries, dividends from investments, interest from savings accounts, capital gains, etc. Sources of inflow represent anything that brings in money. On the other hand, the expense heads generally include rent/ lease/ mortgage payments, groceries, utility bills, entertainment, etc. So, effectively, expense heads represent anything that takes away money.
Now, the primary purpose of tracking the inflows and outflows of money is to determine the net income during a given period, which is calculated by deducting the expense heads from the income. A positive net income indicates that the individual earned more than they spent, which adds to the net worth, resulting in an improved financial position. On the other hand, a negative net income means that the individual spent more than what they earned, which results in a deterioration of financial position.
Example of Personal Financial Statement
Let's take an example to understand the calculation of personal financial statements in a better manner. Let us use David's example to illustrate the concept of financial position. The assets available to him are as follows:
A car worth $15,000
A house worth $100,000
Investments with a market value of $150,000
Cash & bank balances of $30,000
Collectibles and artifacts valued at $35,000
David's liabilities are as follows:
A car loan with a current outstanding of $8,000
A house loan with an existing outstanding of $65,000
Credit card bills worth $3,000
Other personal loans of $90,000
Solution:
Total Assets calculates as
Total Assets = $15,000 + $100,000 + $150,000 + $30,000 + $35,000
Total Assets = $330,000
Total Liabilities calculates as
Total Liabilities = $8,000 + $65,000 + $3,000 + $90,000
Total Liabilities = $166,000
Net Worth calculates as
Net Worth = Total Assets – Total Liabilities
Net Worth = $330,000- $166,000
Net Worth = $164,000
Therefore, David's net worth is $164,000, which indicates his financial position.
Why Use Personal Financial Statements?
The personal financial statement is an essential and valuable tool for planning individual finances. It is a goal-oriented tool that helps monitor expenses and tracks net worth increases. Based on the personal financial statement analysis, the individuals can determine where they stand on the path to their financial goals and then decide how to go about it in the short and long term.
Create Personal Financial Statements in Excel
Multiple types of personal financial statement templates are available, and the one provided below is one of the simplest versions, which can be easily understood. However, individuals can use a more complicated and detailed version based on their requirements.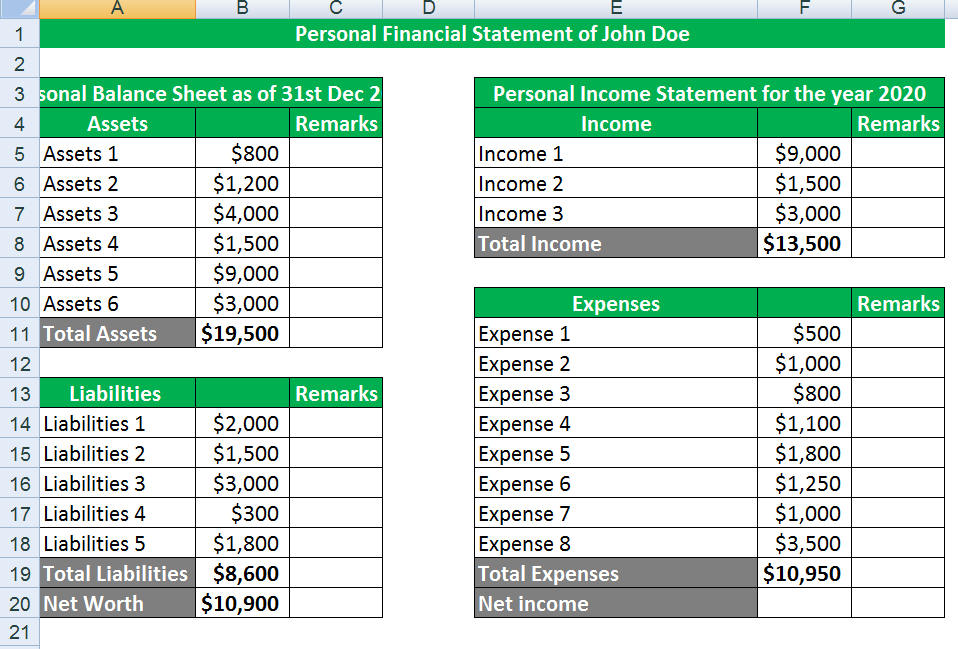 Conclusion
It summarizes an individual's financial position at any given time.
It can be broken down into two major parts – a personal balance sheet and a personal income statement.
It is a valuable financial planning tool that helps individuals monitor their net inflow of money and track their financial wealth.
Recommended Articles
This is a guide to Personal Financial Statements. Here we also discuss the definition and types of personal financial statements with examples. You may also have a look at the following articles to learn more –