Updated May 15, 2023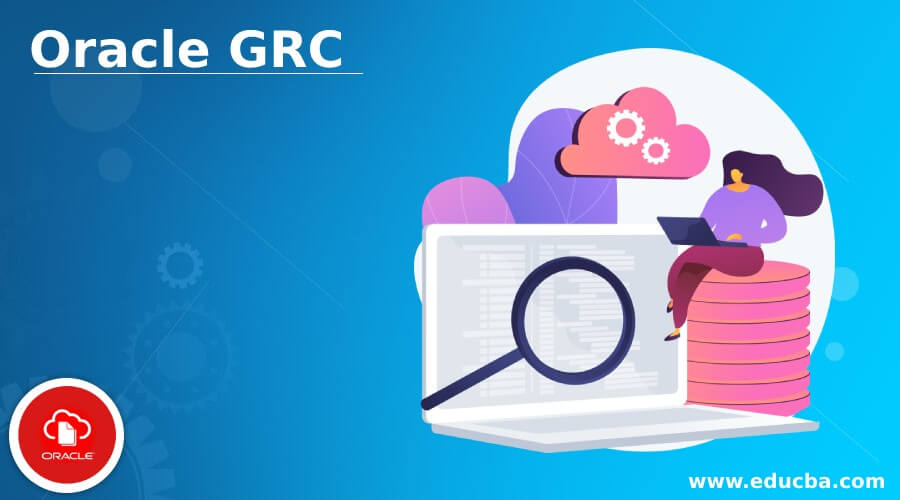 Introduction to Oracle GRC
Oracle GRC means Governance, Risk and Compliance that means it is set of components that are useful to regulate the all activity of business management application. User can create models and continuous control by using the oracle application access control governor that is (AACG) and oracle enterprise transaction control governor that is (ETCG), with help of these two control governor we can run all activity smoothly and avoid the transaction risk. Mainly GRC is useful in deciding the document records of a company, it is also useful to strategy for addressing the risk and managing the regulatory requirement. By using GRC, users can define the risk of the business, control the risk and other objects such as business processes in which we can apply the controls against the risk.
Why do we Need Oracle GRC?
Basically if we need a business process is very interactive and easy as well as it works as the company's requirement that means we need tool interactive and customizable mode.
If a user needs to create a supplier with different privileges and also we define access or responsibilities of the supplier by using GRC.
Now let's see why we need GRC, basically, it is useful to manage an entire business with low risk by using the following parameters that show the need of GRC.
If we need to implement the segregation of duties at that time we can use GRC.
It prevents any fraud or failure in business transactions.
It maintains all changes during the business process.
It helps us to prevent unauthorized action or business transactions.
How does Oracle GRC Works?
Now let's see how GRC works in oracle as follows:
In today's world most organizations implement the oracle ERP there are many auditing, security, and compliance-related requirements where we need to enforce Governance and minimize the risk, so that purpose we can use the GRC module that provides such kind of facility. GRC is a tool that is helpful to manage the business process for higher efficiency, control user access to minimize the risk, and track the changes in the data to increase financial integrity.
GRC has four different products as follows:
Application Access Control Governor (AACG): This module is helpful to manage the duties of users within any particular organization. Also, this is useful to define the responsibilities and access of users that means privileges of the user.
Transaction Control Governor (TCG): By using this module we can prevent the unwanted transaction risk or we can say that to prevent fraudulent business transactions.
Configuration Control Governor: By using configuration control governor we maintain changes.
Preventive Control Governor (PCG): We can enforce the rules to prevent unauthorized actions or any business-related transaction. PCG is a set of different applications that run within the oracle ebs as a component GRC.
PCG has different modules as follows:
1. Form Rules
Without modifying the oracle ebs and does not require any expertise in development we perform key things by using form rules as follows.
We can prevent the changes in designated fields.
We can restrict access and define the roles of users.
Sometimes we need to make some fields mandatory and hidden so that we can use form rules.
It also provides an option to write SQL queries.
2. Flow Rules
When we need to automate the business processes or we need to perform a sequence of activities at that time we can use the flow rules.
Launch Criteria: Under launch criteria, there are two rules as follows.
Process Flow: Process flow of business we can define as per the requirement and it has several options as follows. We can perform the DML operation by using the oracle API. It also provides the notification for workflow. In this flow, we can execute multiple rules together and they are defined sequentially within a process to perform the steps. Here dependence will be created between the step like approval rule or reject option
Audit Rules: When we enable the audit rule then audit changes to designated fields and it also monitors changes if designated fields.
3. Changes Control
It combines the different functionality of flow, audit rules, and form.
Advantages and Disadvantages of Oracle GRC
Given below are the advantages and disadvantages of Oracle GRC:
Advantages:
Risk management is useful for all business processes to prevent suspicious transactions, access control and many more privileges.
It is very user friendly as well as a very interactive and customizable tool.
All functions of GRC are automatic functions.
It is efficient and easy module software for compliance management.
We can implement multiple regulations in a single platform using the oracle GRC.
Disadvantages:
It does not support the high availability and it needs to redesign by using some older technology.
When we implement the GRC without a standard process then it creates problems that are overwhelming to the user.
GRC may require the well trained functional consultant to use and implement its functionality.
Oracle support is not effective to solve the all ticket on time.
Example of Oracle GRC
Given below is the example mentioned:
After successfully installing we need to check the connection, here we are testing GRC financial audit scoping as shown in the below screenshot.

Now we need to define the source point and select the value from the HFM dimension as shown in the screenshot below.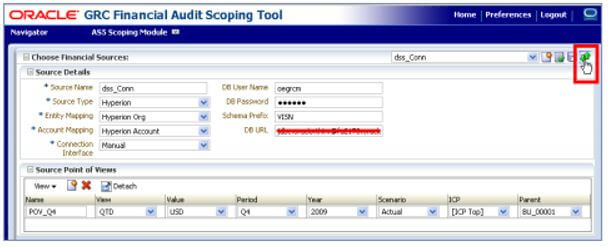 Then select financial source and then click the connect icon as shown in the screenshot below.

All mentioned screenshots we imported from the official website.
Usage
Given below is the usage of Oracle GRC:
Oracle GRC is used to real time compliance.
It is used for security of business processes and also provides the control for unwanted transaction risk.
We execute multiple operations at the same platform that means within a single dashboard.
We can monitor the overall business process and provide control over them.
Recommended Articles
This is a guide to Oracle GRC. Here we discuss the introduction, need, working, advantages, disadvantages, example and usage respectively. You may also have a look at the following articles to learn more –