Updated July 21, 2023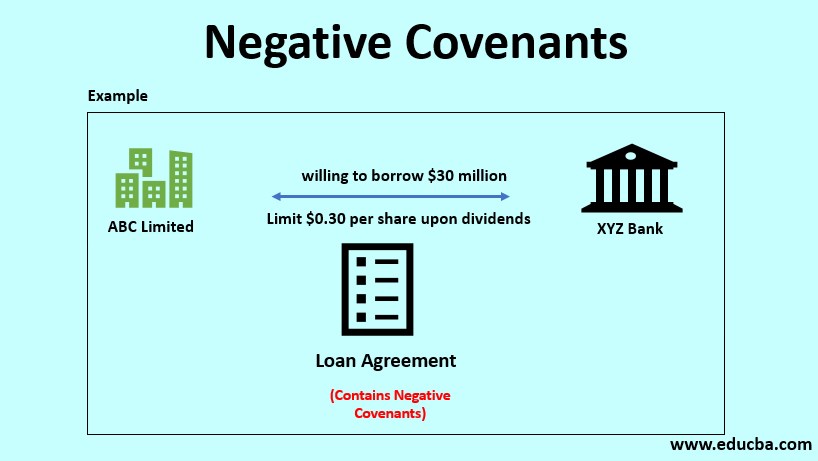 Definition of Negative Covenants
Negative covenants are also known as restrictive covenants. These are covenants in the form of formal agreements that restricts a party from performing certain actions. Restrictive covenants are legal, but some of their provisions are bound to limit the party from conducting normal business activities.
Types of Negative Covenants
There are three types which are mentioned below:
Non-Compete Agreement: This type of covenants restrict the employees from directly competing with their employers for a particular period of time and within a specific geographical boundary.
Non-Solicitation Agreement: These are a type of negative covenants that prevents a seller or company from soliciting customers or employees from another party.
Non-Disclosure Agreement: These are types of the covenant that restricts a party from revealing trade secrets, proprietary information, innovations, or such other information that the owner is using in the normal course of his business.
Negative Covenant in a Loan Agreement
This is mostly seen in bond or loan agreements. Loan covenants are more or less the type of agreement between a lender and a borrower. These types of covenants are formal agreements between borrowers and lenders of a loan transaction that stipulates all the required terms and conditions with respect to loan policies. Loan Covenants make the lenders feel secure and protected while offering the loan and borrowers too aware of the expectations of the loan issuer.
The lender of the loan is entitled to claim the total sum of the loan in full of the borrower breaches the covenant or defaults the interest payment or loan amount.
Loan covenants are of two types:
Affirmative Loan Covenants
Negative Loan Covenants
Negative Covenants in Employment Contracts
Non-disclosure and non-compete are the most common types of it that are used in employment contracts. Non-disclosure agreements are used for the purpose of disallowing the employees of the company to reveal confidential information to anyone who belongs outside of the organization or competitors or anyone who is not supposed to know such information. Non-compete agreements are used to restrict employees from competing with their employees for a stipulated time-frame and within a geographical area.
Negative Covenant in Property
A negative covenant is a type of formal agreement that will restrict the owner of the property to not perform or allow certain activities on his or her land. For example, a negative covenant may be initiated to restrict a property from being used for purposes other than commercial. This is a restrictive covenant. In the cases of land or property, most of the covenants are found to be restrictive.
Negative Covenants in Bond Issues
Negative covenants with respect to bond issues limit the issuer of the bond from issuing further debts until and unless the previous ones attain maturity. Trust indentures are the same that are used in bond issues and it states that the issuer of the bond must compulsorily adhere to all the requirements of the same. The issuer of the bond might also be restricted from paying off dividends over and above the predetermined limits. These provisions are introduced to minimize or eliminate the risk of default with respect to timely interest and principal payments.
Example
ABC Limited is willing to borrow $30 million from the XYZ Bank. The bank has a loan agreement that contains negative covenants that limit ABC to $0.30 per share upon dividends annually. The negative covenants offered by the bank will restrict the company ABC from issuing further debts without their consent.
Why Negative Covenant Matters?
Negative covenants matter since it enforces the parties (mostly borrowers) to a transaction to operate diligently and also in a prudent manner. Since negative covenants are in the form of a formal agreement, the parties are more or less bound to operate as per the predetermined requirements of the commitment. The borrowers will have to compulsorily abide by the formal agreement and thus, they are going to repay debts on time. Issuers are most likely to opt for flexible covenants so that they have the liberty of taking decisions and certain risks that can ultimately benefit both the equity holders and the lenders.
Differences Between the Positive Covenants vs Negative Covenants
Negative covenants and positive covenants are way different from each other. Positive covenants are affirmative covenants and the negative covenants are restrictive covenants. Positive covenants do not limit the normal operations of an organization while negative covenants have the tendency to restrict or limit the normal operations of an organization. Positive covenants require the party to a transaction to do something while negative covenants restrict the party to a transaction to not do certain things. Positive covenants are totally administrative in nature and as a result of which these do not result in additional costs whereas negative covenants are not administrative in nature and therefore, the same results in additional costs. It is costly, legally binding on the issuer and limit business operations whereas positive covenants are inexpensive, not legally binding, and does not impact the normal activities of a business.
Conclusion
Negative covenants are formal agreements and these are also known as restrictive covenants. These are expensive and legally binding upon the issuer. These covenants forbid the issuer from doing or not doing certain activities. These Covenants are legally binding and forbid the issuer from participating in additional debts, restricts the disposal of assets, distributions to equity holders, engagement in investments that are too risky, imposing a minimum acceptable ratio or maximum acceptable debt. These are applicable to loans, property, employment contracts, bond issues, etc. These are of three types- non-compete agreements, non-disclosure agreements, and non-solicitation agreements. This is different from positive covenants.
Recommended Articles
This is a guide to Negative Covenants. Here we discuss Negative Covents applicable to loans, property, employment contracts, bond issues, etc. with types and benefits. You can also go through our other related articles to learn more –