Updated March 10, 2023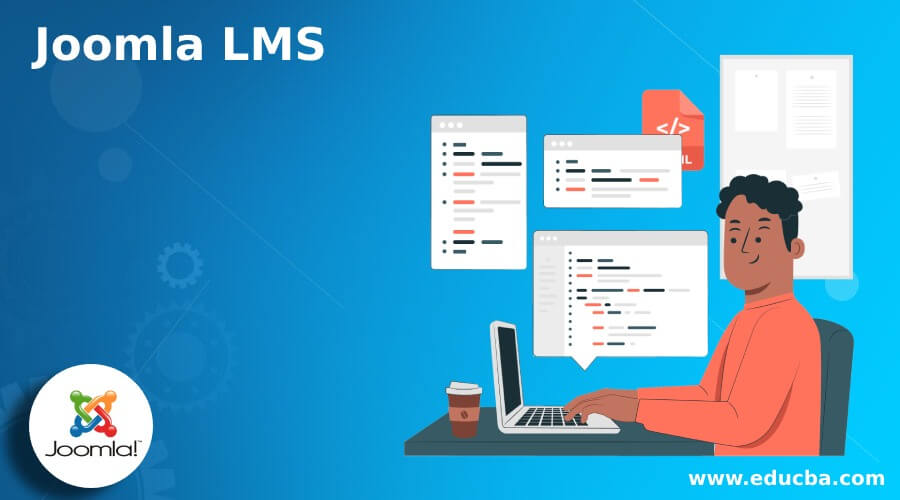 Introduction to Joomla LMS
We know that Joomla is an open-source free tool used to create websites as well as it also provides support for CMS, in another word we can say that it is used to manage websites on various different platforms. It is nothing but a learning platform; it provides the learning content with a single click so we can access all the training content that we want. In another word, we can say that LMS means learning management system and it is nothing but the application or web-based platform for learning Joomla-specific content.
What is Joomla LMS?
LMS is a generally utilized and a typical term for any CMS including Joomla. The tremendous chance of e-learning gives LMS locales as well as Joomla lms augmentation a significant job of work, which improves on the e-discovering that you offer through your Joomla site.
Consistently use such applications or enhancements for various types of organisations to create all required documentation, course material, as well as all required programme and instruction details for accreditation. However, do we have any ideas about what the best LMS for Joomla is? Joomla LMS client synchronization guarantees that significant information, for example, another client going into the framework guarantees that significant information is shared across the two stages, staying up with the latest.
Joomla LMS has been remembered for the rundown of top academic LMS by Talented Learning, autonomous exploration and counselling association, and was recognised for great user experience.
How to Use Dashboard in Joomla LMS?
Let's see how we can use the LMS dashboard in Joomla as follows:
First, we need to select the course categories that we want and make a general setting that we want as shown below screenshot as follows.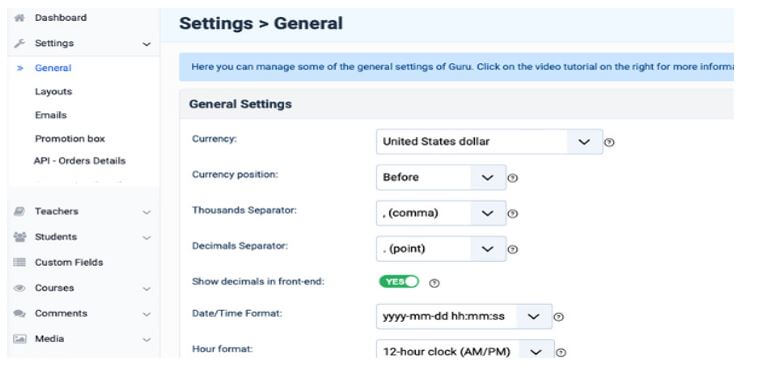 In the above screenshot we can see the different fields.
Currency: By using this option we can set the currency option.
Currency Position: Here we can set payment methods before or after.
Thousands Separator: Used to separate the currency.
Decimals Separator: Used to separate the currency.
Date/Time Format: We can set the date and time format of our course.
Hour Format: We can set the hour and time format of our course. It also provides many other formats.After that, we can make the setting of the layout as per our requirement as follows.
Emails: In this section we can set up the email configuration that we need to send other users, so we can turn email On or Off and edit the email template as per our requirement. As shown below the screenshot is as follows.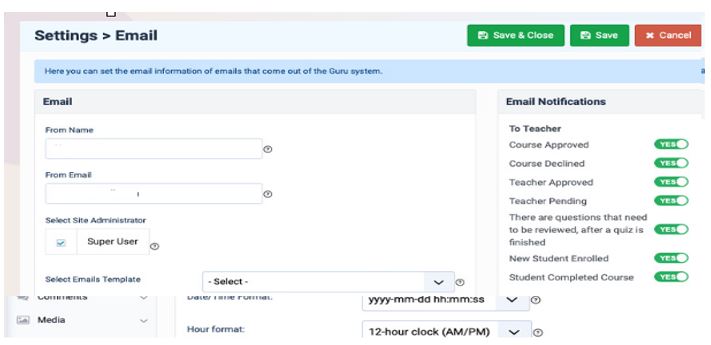 By using this layout we can send emails to different users such as students, teachers, etc.
Now let's see the promotion box as follows.
By using this layout we can display the promotional content on the LMS dashboard as shown below screenshot as follows.

Teacher Management
In this, we can view all the details of the teacher as well as manage the teacher as per our requirements as shown below screenshot.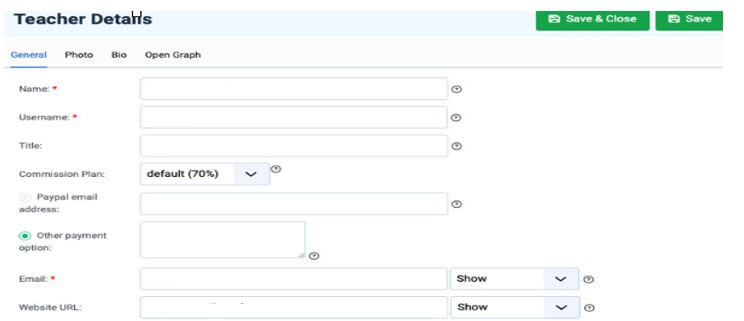 So we are able to add the teacher, view, and details and also manage the teacher payment.
Joomla LMS also provides different Layouts such as question management, user management, report tracking, and many more.
Top Joomla LMS
Given below are the top Joomla LMS as follows:
Shika LMS: Shika LMS provides the social learning management extension for Joomla; it is very easy to handle, it provides study material on time, and we get multiple options for admin, and one of the most important features is responsive layout.
Guru: This is another extension available to the Joomla user; here, we can easily create online courses for different schools, colleges, and universities as per their requirement. It provides an easy interface with unlimited different types of online courses.
OSCampus: This is a most used extension by Joomla users; it allows us to publish their online classes as well as we can create online classes, lessons, and quizzes as per the requirement; basically, it provides the admin control panel to control the overall system or manage the LMS.
Joomla LMS: This is another extension; it provides multiple functions in a customizable mode. In this extension, we get full control over the all learning management system.
SP Joomla LMS: It provides support to the different types of educational concepts to manage online courses, teachers, payment options, and students as per their requirements.
Benefits
Given below are the benefits mentioned:
One of the fundamental benefits is that numerous resources and instructors can utilize the learning stage without impeding each other, like the manner in which a conventional school works. An instructor sets the greatest class order number, speaks with the selected understudies, approaches the reports, sets schoolwork, really looks at participation, and grades just the designated understudies.
The teacher can save time and endeavors on learning materials creation. An instructor can reuse the old course satisfied or transfer an outer one.
While showing on the web, an educator can try applying different learning strategies like mixed learning, flipped learning, social learning, fast picking up, narrating, micro-learning, and so on. Consequently, they can settle on the method to make advancing as connecting with and compelling as could be expected.
Because of an assortment of specialized devices accessible, an educator can converse with understudies and lead them through the growing experience.
The learning materials can be joined into learning ways (a learning way is a succession of stages an understudy needs to take to pass the course), making it feasible for an instructor to structure the course happily and control the understudies' advancement.
Conclusion
In this article, we saw the different types and the uses and features of these LMS. Another point that we got from the article is how we can install and set up the LMS in Joomla.
Recommended Articles
This is a guide to Joomla LMS. Here we discuss the introduction, how to use the dashboard in Joomla LMS? and the benefits. You may also have a look at the following articles to learn more –