Updated March 10, 2023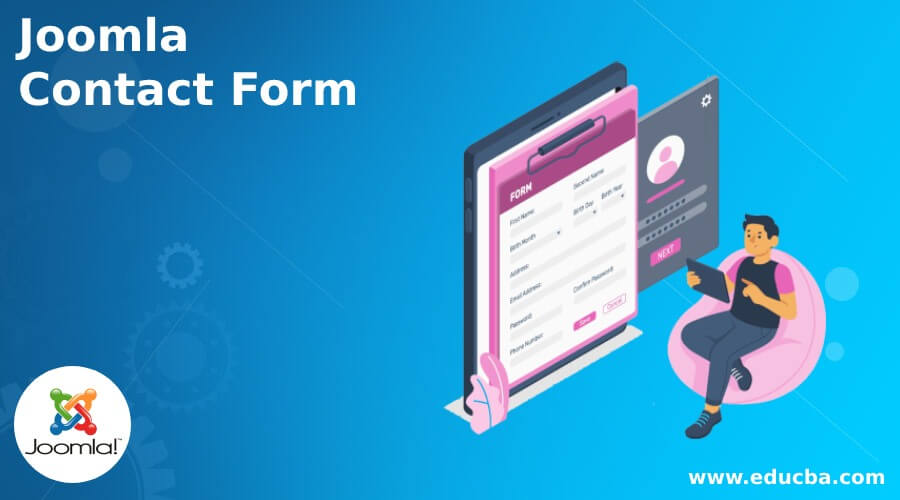 Introduction to Joomla Contact Form
Joomla is an open-source tool used to develop websites and CMS. It provides different features to the user, and the contact form is one of the features that Joomla provides. Basically, Joomla provides the drag and drop functionality to design the contact form. Without any coding, we can easily design the form as per our requirements with modern techniques. It is also called a Joomla contact form builder and it provides different contact form features to the user such as conditional field, calculation of field, front end display, form field, email service, etc.
Overview of Joomla Contact Form
The form is a Joomla Forms Extension Builder expected for improvement that is Easy and Powerful. There has never been a less difficult technique for putting forth leads for your publicizing attempts than Convert Forms. Design brilliant change over AJAX Forms for your Joomla site, which facilitates a continuously developing once-over of critical untouchable mission organizations like MailChimp.
Presently how about we see various elements as follows:
Form Builder: Without coding information, we can make wonderful structures according to our prerequisites.
Restrictive Fields: We can apply contingent designing on the various fields to show or conceal the field according to our necessity.
Structure Fields: It gives the various kinds of fields, for example, textbox, textarea, manager, dropdown, multichoice, checkbox, number, address field for email, secret word, date and time, and some more.
Structure Templates: We can undoubtedly move with the recently made layout of the structure.
Coordination of Forms: It permits us to synchronize with various specialist co-ops like MailChimp, AWeber, and so on.
Email Notification: We can send a warning email in the wake of presenting the structure.
Structure Action: It is utilized to show diverted messages after structure accommodation.
Spam Protection: This is one of the awesome highlights of the structure; it gives the security to forestall spam email.
Structure Management: We can, without much of a stretch, deal with all structures.
It additionally gives a lot more different highlights.
Why Joomla Contact Form?
Let's see why we need to use the contact form as follows:
Basically, there are many reasons to make a wonderful website, so we need to integrate different features into the website, such as a contact form.
There are many reasons to use the contact form as follows:
We can easily reach out to the user without going to the inbox email here the user can easily send their message on the site, and on the other hand, it gives a quick response.
Contact forms help us make online marking in the efficient way we want because we have an email list to easily integrate.
It helps us to gather complete and additional information. Sometimes, the user is not ready to provide whole details, so the contact form helps us provide this information.
Assuming you leave your email unreservedly apparent on the site, you'd have spam messages coming into your inbox. Be that as it may, by making a contact structure utilizing a Joomla structure creator, you can confine those. You should simply empower spam assurance like Google reCAPTCHA or twofold select in.
How to Create Joomla Contact Form?
Let's see how we can create the contact form in Joomla as follows:
Disability of form is required to embed the form into our Joomla website, so we need to follow different steps as follows.
First, we need to select the global configuration from the system, as shown in the below screenshot.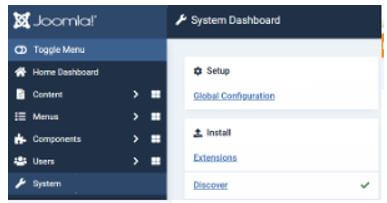 In the second step, select the Editor – None option, as shown in the screenshot below.

We need to paste the embed code into our Joomla, save the changes, and reenable the editor configuration.
After completion of installation, we need to go to the Component tab and click on the convert form option, as shown in the below screenshot.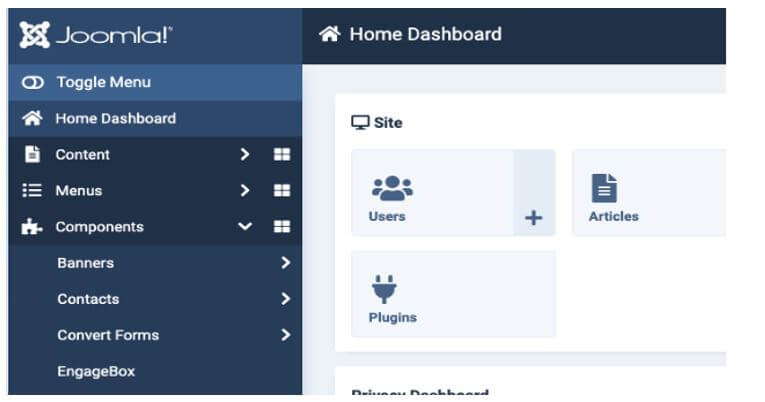 After clicking on the Convert Forms tab, we get a new window, and here we need to select the New Form option as shown in the below screenshot as follows.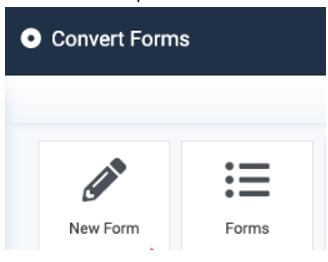 Now we are able to scratch the form from a template; Joomla by default creates a form with two different files, such as email and the second one for name, and click on the Submit button as shown below screenshot.

If we want to add more fields, we can easily add the required field into the form as shown in the screenshot below.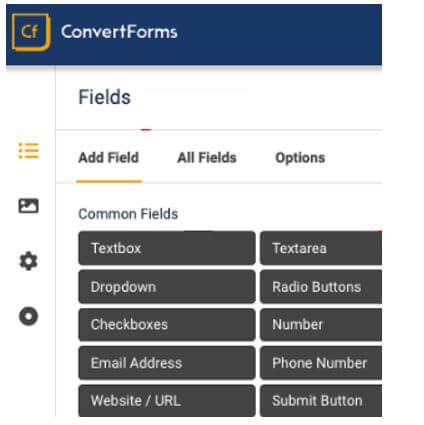 Once we select the field, we get a new screen with different options such as the name of the field, label, and text, as shown in the below screenshot.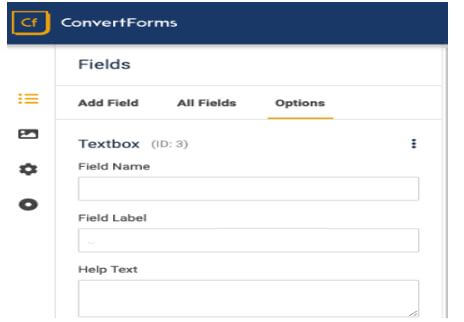 Joomla also provides the rearrange functionality to the user, so according to the requirement, we can arrange the field, and finally, we need to click on the submit button, as shown in the below screenshot.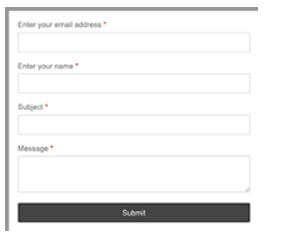 In the next step, we need to set up the email notification that means auto responder as per our requirement, as shown in the screenshot below.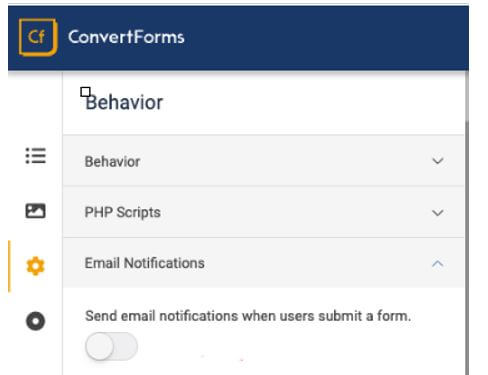 So here, we need to fill the different fields as shown in the below screenshot as follows.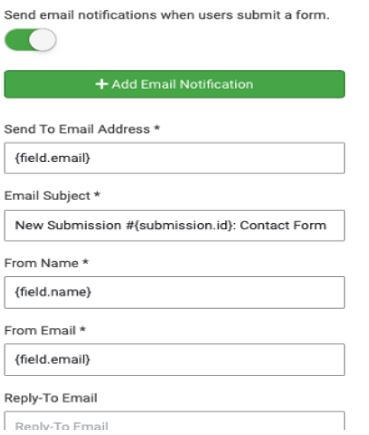 Now the final stage is the integration of the form with the front end; first, after making changes, we need to save the form and select the embed option for integration with the front end, as shown below screenshot.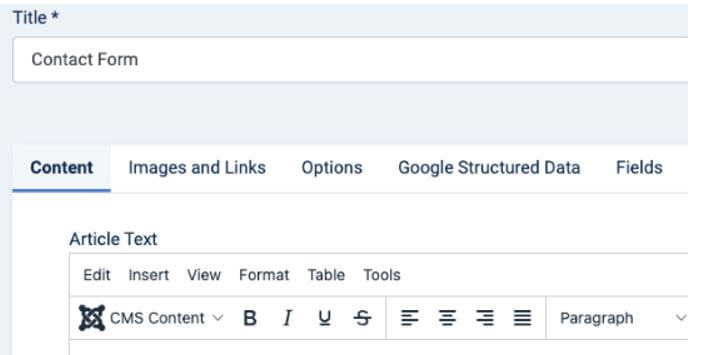 Finally, our form is ready, as shown in the below screenshot as follows.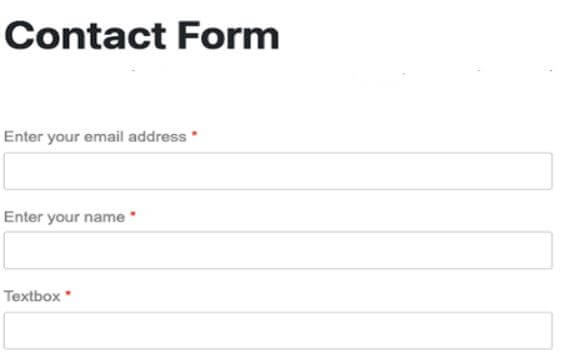 Examples
Given below are the different examples of contact forms:
Flexi Contact: A flexible Joomla 3 contact structure that is exceptionally fast and simple to arrange. Moreover, this expansion likewise accompanies different dialects, and clients can get a reasonable clarification of how to embed their own dialects.
PayPal: Here is an extraordinary Joomla Contact Form Extension that you can use to add a contact structure for your Joomla site and afterward interface it to a Paypal installment.
Rapid Contact: Rapid Contact is additionally one of the most amazing Joomla contact structure modules furnishing your clients with FAST contact support.
Contact Enhanced Component: Best contact chief and structure part of packages with numerous superb elements. It functions as a Business Directory, simply using Employees as Contacts.
Fox Contact Form: This is another best form, and it is the easiest Joomla form; with the help of this form, we can generate any type of form as per our requirements.
Flexi Contact Plus: This is an advanced version of Flexi contact; in this extension, we can do multiple configurations as per our requirements.
Shack Forms: This is a very good solution to insert forms in our Joomla website as well as it also provides the customization option to the user so that they can customize the form as per their requirement.
Recommended Articles
This is a guide to Joomla Contact Form. Here we discuss the introduction and how to create a Joomla contact form? and examples, respectively. You may also have a look at the following articles to learn more –