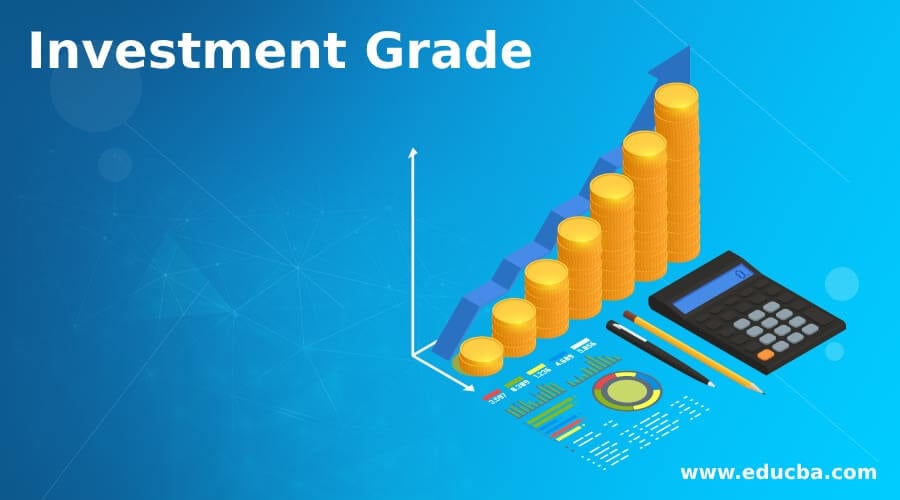 Definition of Investment Grade
Investment grade is the rating given to bonds and other fixed-income securities by credit rating agencies that depict the low probability or risk of default on those particular securities. It helps investors in making informed investment decisions based upon the quality of credit rating associated with a particular bond and other investment alternatives.
Explanation
There are different grades designated with uppercase letters like "A" and "B" that are assigned to the bonds and other fixed interest securities by the credit rating agencies. For example, bonds with credit ratings of "AAA" and "AA" are considered as high credit quality bonds and "A" and "BBB" are considered medium credit quality bonds. Below "BBB" rating bonds are considered as low credit quality or commonly referred to as junk bonds.
The investment-grade ratings assigned to different bonds and securities are based upon the companies' past credit history, financial strength, level of debts, profitability potential, and so on. The ratings can change as well based on the change in these measuring parameters of the company. These grades help investors a lot in comparing their investment options before making investment decisions.
Example
Let us take an imaginary situation where an investor wants to invest in a particular fund made up majorly of the mix of several bonds of the company. The one condition that investor wants to look for while investing is that more than 60% of the bonds in the fund should be investment-grade bonds (i.e. rating "BBB" and above). The credit allocation of the fund is as below:
| | |
| --- | --- |
| Bond ratings | Allocation |
| AAA | 25% |
| AA | 15% |
| A | 15% |
| BBB | 12% |
| BB | 30% |
| B | 3% |
| Total | 100% |
Now if we find the total percentage of funds allocated in investment-grade bonds, it is less than 60% (i.e. only 55%). Therefore, the investor's condition is not satisfied and thus, it would not be beneficial for the investor to proceed with this investment option.
Investment Grade Rating
Credit rating agencies like Standard's and Poor, Moody's, and Fitch assign different kinds of investment-grade ratings to the bonds and fixed income securities. Investment-grade bonds are referred to as those with good credit quality ratings assigned by these agencies. Some of the ratings are discussed as below:
AAA/ AAa: This is the highest credit quality investment grade rating that is assigned to the bonds and other fixed interest securities and signifies the lowest level of credit risk i.e. with the lowest probability of default.
AA, A: This rating is assigned to the bonds with very low or low credit risk but a higher level of risk in comparison to the "AAA" category bonds.
BBB/ Baa(Moody's): The bonds with this credit rating are considered as having medium credit quality risk. The bonds below the credit risk rating of "BBB" are considered as junk bonds. They generally offer higher yield but the risk associated with them is comparatively high.
Investment Grade Chart
The investment-grade chart used by different types of credit rating agencies for investment-grade and non-investment-grade bonds and other fixed interest securities are as follows:
Investment-grade chart as perStandard's and Poor
| | |
| --- | --- |
| Rating | Description |
| AAA | Lowest levelof credit risk |
| AA+, AA, AA- | Very low credit risk |
| A+, A, A- | Low credit risk |
| BBB+, BBB, BBB- | Moderate credit risk |
Similarly, other credit rating agencies such as Moody's Corporation, Fitch, etc. also denote bonds and other fixed income securities in grade ratings. These rates can be investment grade as well as non-investment grade and we have seen above how Standard's and Poor denote investment-grade secuirties.
Investment Grade Issuance
Investment-grade issuance means the issue of the investment-grade bonds by the company i.e. issue of bonds, bill, notes with a high, very low, and medium credit quality risk rating ("BBB" and above).
As per Bloomberg, the U.S. corporate investment-grade issuance reached a record of $1.34 trillion in August2020 just in eight months surpassing the 2017 full year sale after the Federal Bank intervention to improve liquidity in the market. This happened after the coronavirus pandemic hit the market badly. The investment-grade issuance is expected to reach $2 trillion by the end of the year.
Advantages
Advantages are as follows:
It helps investors in making an informed investment decision based upon the ratings assigned to the bonds.
It helps in an easy comparison between different types of bonds and fixed income investment options.
For companies issuing bonds, it helps in representing their financial strength and creditworthiness in the market.
Since investment-grade bonds are at low risk of default, therefore investors do not generally lose money.
Disadvantages
Disadvantages are as follows:
Though it is very rare nowadays, sometimes a false credit rating can be assigned to the high-risk bond, it can be possible when the company is projecting a false cash flow financial position (it happened in the 2007-2008 recession). So, it is important to conduct your own research as well before investing.
The investment-grade rating can go down as well which can also happen due to a sudden event and can leave its impact for a long period of time.
Sometimes it becomes difficult to find the ready buyer for investment-grade bonds when the investor needs liquidity.
Conclusion
Investment-grade bonds, bills, notes are generally preferred by investors with low-risk appetite and who want to have a low but stable or fixed income. Investors looking for diversification of their portfolio also goes for investment-grade bonds. These bonds offer a very low degree of risk of default and thus low return as well. In general, investors looking for investing in investment-grade bonds should look into all the terms and conditions associated with them like maturity date, payment terms, interest rate calculation, etc. They should also conduct in-depth research on their own on the company's financial standing and creditworthiness.
Recommended Articles
This is a guide to Investment Grade. Here we also discuss the definition and example of investment grade along with advantages and disadvantages. You may also have a look at the following articles to learn more –