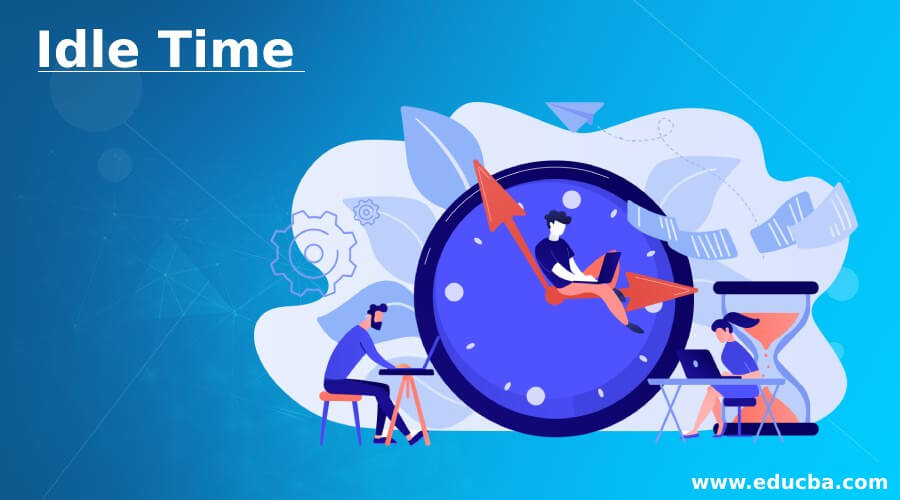 What is Idle Time?
The term "Idle time" refers to the period of time during which an asset, despite being available for operation, is not engaged in any productive work. Hence, idle time is also sometimes known as the waiting time. Although the term "asset" mentioned above is often used for referring to machines, but it can also be an employee. In other words, idle time is the paid time during which a machine or an employee is unproductive owing to factors that are either within or beyond the control of the management. It is important to monitor idle time as it helps in understanding the difference between the actual productivity levels and the hypothetically maximum productivity levels. In short, an increase in idle time of asset results in an increase in loss of productivity.
Causes of Idle Time
There can be an unlimited number of causes of idle time and it is not possible to cover all of them. However, some of the most common causes of idle time are as follows:
Personal needs: The employees need to take some time for lunch or tea breaks to overcome fatigue and these events are usually part of the natural idle time in the everyday processes. Typically, organizations acknowledge this and consider it to be part of the normal idle time.
Unexpected events: Some of the unexpected catastrophic events, such as storms or cyclones, can impact the operations and become the reason for idle time. For instance, the shipping industry experiences sizeable idle time due to unfavorable weather conditions.
Sudden breakdown: If one of the key pieces of equipment in an assembly line experiences a sudden breakdown, then it is likely that the entire assembly line will become standstill resulting in a significant amount of idle time for not the assembly line but also for the associated fleet members.
Process design: Usually the processes are designed in such a way that it involves various stages of production. Now, the time taken by the product to move from one stage to another stage in the production line can be one of the reasons for the normal idle time and it can't be eliminated.
Lower efficiency: At times, the idle time can be due to manpower with a lower efficiency level. An employee may lack efficiency during the initial days of work, health issues or it may be purely intentional. The management usually intends to control the intentional lower efficiency level as it can impact productivity in the long term.
How to Calculate Idle Time?
The idle time shows the difference between the time that an asset is theoretically scheduled to operate and the actual operating hours. Mathematically, it is represented as,
Idle Time = Theoretical Production Time – Actual Production Time
Let us understand the calculation of idle time with the help of an example. Let us assume that you have production equipment and the operating manual states that it can be operated for 16 hours per day. However, after you started to use the equipment you realized that it takes 12 minutes to power up and 10 minutes to shut down. Additionally, it also requires 15 minutes break for cleaning, and another 23 minutes is lost during shift change.In other words, the overall idle time for the equipment is 1 hour (= 12 min + 10 min + 15 min + 23 min)and so it is supposed to operate productively for 15 hours (= 16 hrs – 1 hr).
What is a Normal IdleTime?
The normal idle time refers to those productivity losses that are inherent to any job situation and hence can neither be eliminated nor reduced. Typically, the cost of normal idle time is included as part of the cost of production by inflating the labor rates. It can also be passed on to the factory overheads for cost absorption.One of the most examples of normal idle time is the time gap between the finishing of one job and the starting of another.
How to Reduce Idle Time
Some of the most commonly used measures to reduce idle time are as follows:
Clear definition of idle time activities: While data collection is a critical part of identifying idle time, it's more important to clearly define which activities fall under the purview of idle time.
Process improvement: Sudden breakdowns and unexpected system failures are some of the major causes of idle time. These events can be avoided to a large extent through process improvement measures, which may include preventive maintenance, periodic machine overhauling, etc.
Employee training: The floor managers and technicians should be trained well and made aware of the best industrial practices. This can help the employees achieve their best possible efficiency level resulting in lower idle time.
Set-up a good work culture: The management should focus on building a cohesive working environment wherein the employees trust each other. Also, the management should be considerate about various employees' needs, such as proper work-life balance, compensation at par with the industry, etc.
Continuous monitoring of idle time: It is important for an organization to know where exactly it is losing out on productivity. Hence, continuous monitoring of idle time can help to track the process lacuna and devise a strategy accordingly to eliminate or reduce the same so that the organization can improve its performance.
Key Takeaways
Idle time is the period of time during which an asset is available for use but not actually in use.
Idle time is expressed as the difference between the theoretical production time and the actual production time.
The most common causes of idle time are personal needs, unexpected events, sudden equipment breakdowns, process design, and lower employee efficiency.
Idle time can be reduced via process improvement, employee training, setting up a good work culture and continuous monitoring of idle time.
Recommended Articles
This is a guide to Idle Time. Here we also discuss the introduction and how to reduce idle time along with key takeaways. you may also have a look at the following articles to learn more –