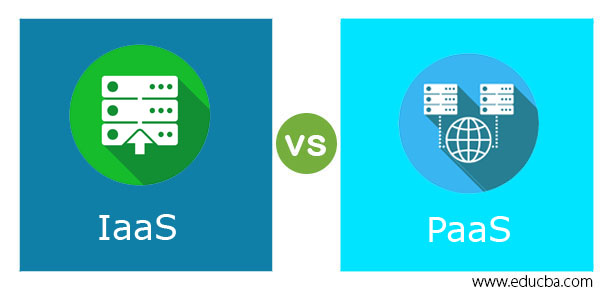 Difference Between IaaS vs PaaS
In this topic, we will be understanding two of the most widely used types of cloud services. IaaS and PaaS are types of cloud services which are some of the dominating factors due to which the present business is getting a surge in popularity with the cloud experience. Before we move ahead in the discussion, let us see some interesting facts –
IaaS was hovering around 12% (from 6 % in 2014) of total cloud usage in 2018.
PaaS currently enjoys the position of most popular cloud model with its stake high at around 32% & expected to go beyond by the end of this decade.
Head to Head Comparison between IaaS vs PaaS (Infographics)
Below are the top 6 comparisons between IaaS vs PaaS:

Key differences between IaaS Vs PaaS
Let us discuss some key differences between IaaS vs PaaS in the following points:
1. These acronyms have a meaning, IaaS stands for infrastructure as a service, whereas PaaS stands for the platform as a service
2. The loud provider will provide us with a respective work platform for our business under the PaaS, whereas in IaaS, the cloud service provider will provide us with the respective infrastructure for our business to get going.
3. IaaS is the basic layer of computing, whereas PaaS is the layer on top of IaaS. Let us see how these blocks are arranged with the below image –

4. IaaS deals with VM's, Storage, Servers, network load balancers, whereas the PaaS deals with runtimes (like Java, .Net runtimes), databases (like MySQL, Oracle) & webservers (like tomcat, etc.).
5. There are multiple operating systems (o/s) under both categories, but we have come up with some commonly used under each –
IaaS: Slap OS, Eye OS, vStar cloud OS &Megha OS.
PaaS: Zero PC, Jolicloud, SilveOS & xOS.
6. The Market share is one more crucial segment; let us see what stats are available to us Disclaimer – the stats are predicted by Gartner.
Total market share: $ 383 billion USD
IaaS market share: $ 71.6 billion USD
PaaS market share: $ 14.8 billion USD
7. We use IaaS & PaaS for multiple reasons, but some crucial scenarios are listed in this section of the discussion
PaaS
When we have reduced development time since the server-side components are made available by the vendor. This gives developers to worry less about configurations, maintenances and upgrade
Need for multiple OS's there are multiple offerings in terms of languages which benefits the developers to work from scratch and generate minimal viable products (MVP's).
When easy collaboration is the need –PaaS comes with great collaboration capabilities for remote and distributed environments.
High development workforce without additional staff – no need to hire multiple people the PaaS offers its user companies with complete development packages like hardware and software.
 IaaS
Hosting: one can easily run their websites, portals with the EC2 compute cloud
Need for Virtual data center: IaaS is the best for virtual data centers
Data Analysis: Data analysis is a study of your businesses (both positive and negative); this also evolves huge data processing with incredible efficiency. Companies often prefer IaaS for data mining and analysis.
8. IaaS is more expensive than PaaS as in the former one, we are renting the complete infrastructure for the business.
Comparison Table of IaaS vs PaaS
The table below summarizes the comparisons between IaaS vs PaaS:
Parameters
IaaS
PaaS
Amazon
EC2: elastic compute cloud is a virtual infrastructure given to users, and they can use it as per their need. There are others as well in this category, like S3, EBS, Glacier, and VPC.
Elastic Beanstalk gives you access to all the developer's tools like EC2 root instances, Create custom AMI's, easy move applications to Elastic Beanstalk.
Real-life Example
IaaS is just like leasing a Car/Bike; you can drive the car/bike to whichever place you want, but the car/bike is not yours. You have to return back after usage. If you need some up-gradation, then you might go for some other car/bike.
PaaS is like taking a taxi or cab; here, we (means the users) don't drive the cab himself; instead, there is a dedicated driver to do it; we just have to tell our destination and relax. The driver does everything.
Who uses it
System administrator:

Because they manage all the resources like applications, data, and middleware.

Developers:

Because they can use VM's and servers and build their own applications, and manage their data.

Examples
Some of the common examples under these categories are:

AWS EC2
Rackspace
Google Compute Engine (GCE)
Digital Ocean
Magento 1 Enterprise Edition

Some of the common examples under these categories are:

AWS Elastic Beanstalk
Heroku
Windows Azure (mostly used as PaaS)
Force.com
OpenShift
Apache Stratos
Magento Commerce Cloud

Pros and Cons
Pro

Cloud provides the architecture.
Enhanced scalability.
Dynamic workloads are supported.
Flexible

Cons

Security issue
Service delays
Network delays

Pro

Scalable & cost-effective.
Good market for developers.
Easy deployment.
Offers private/ public deployment.

Cons

Provides languages only
Migration issue
Vendor lock-in

Characteristics

Highly flexible and highly scalable.
Multiple user access at a single time.
Cost-effective.

Multiple user access at a single time.
Scalable: multiple resource availability based on the size of your business.
Build with virtualization capability.
Easy to use, even for users with minimal administrative knowledge.
Conclusion
It is the right time for us to decide our preferences as to which one will be more suitable for our organization's needs. Before that, we would like to conclude our discussion with the right message to our readers that cloud technology is the need of the time; it offers us all the right ingredients for our business to get going. What we need to consider are our needs and preferences. So, if you have a need for a platform where you can later build and deploy applications, then go for PaaS & if you need VM's for your business success, then go for IaaS.
Recommended Articles
This is a guide to the top difference between IaaS vs PaaS. Here we also discuss the IaaS vs PaaS key differences with infographics and comparison table. You may also have a look at the following articles to learn more –