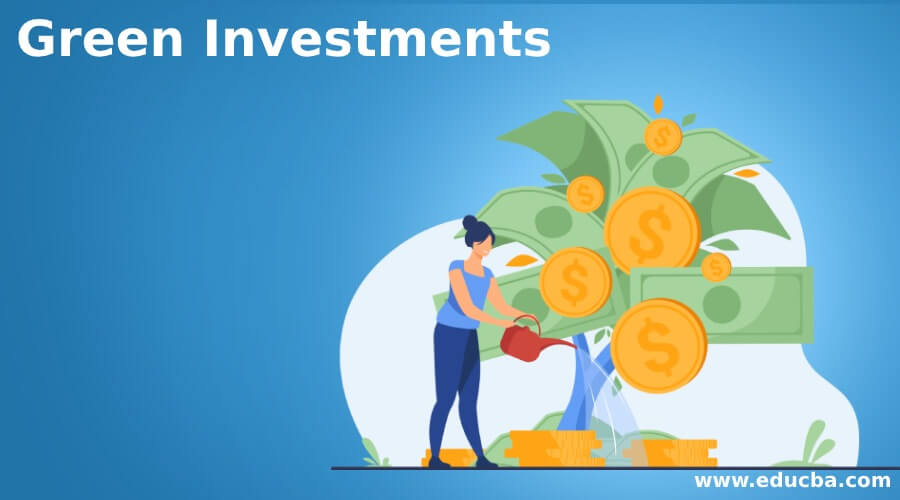 What is Green Investments?
The term "green investments" refers to investment activities that are focused on projects or companies that are committed to the preservation of natural resources. Some of the initiatives for natural resource conservation include the production of alternative energy sources, the execution of projects pertaining to clean air and water or other such benevolent activities. Green investment is one of the types of socially responsible investment.
Explanation of Green Investments
Funds for green investment can be raised by corporations, private equity firms, hedge funds as well as individuals. Typically these funds are raised in the form of securities, mutual funds (MFs), electronically traded funds(ETFs), and bonds. According to a report prepared by Global Sustainable Investment Alliance, nearly $31 trillion worth of money were held under various instruments of green investments, which constituted around one-third of the globally held assets under management in 2018.
Example of Green Investments
Now, let us look at some of the examples of green investment that are available in the form of investment funds or ETFs for various investment opportunities.
Water Stock: Calvert global water fund, allianz gi water fund, first trust water ETF, invesco global Water Portfolio ETF, Invesco Water Resources Portfolio ETF, Zacks Global Water Index, iShares U.S. Utilities Index ETF, and Invesco S&P Global Water Index ETF.
Wind Power: First Trust Global Wind Energy ETF.
Solar Energy:Invesco Solar ETF,
Pollution Control: Invesco Cleantech ETF andVanEck Vectors Environmental Services ETF.
Now, let us look at some of the examples of investment opportunities offered in the form of stock equity of companies.
Water Stock: Pacific Gas and Electric Company, Idacorp Inc., and Brookfield Renewable Partners.
Wind Power: General Electric, Siemens Gamesa Renewable Energy, NextEra Energy Partners andVestas Wind Systems.
Solar Energy: First Solar Inc., JinkoSolar Holding Co. Ltd., Sunpower Corp., Enphase Energy Inc., Vivint Solar Inc. andSunrun Inc.
Waste Reduction: Republic Services Inc., Covanta Holding Corp, and Waste Management Inc.
Opportunities of Green Investments
There are several avenues of green investments and some of them are briefly discussed below:
Green Power: Our world today is facing the dire consequences of major climatic change. In such a scenario, a source of power generation for homes and industries without the use of fossil fuels is like a knight in shining armor. As such, it is attracting a growing number of investors every day.
Water Stock: It is one of the most important natural resources available to the human race. The climate changes in the last couple of years has resulted in growing fear among the people that they may eventually run out of fresh water. As such, there has been considerable investment made for the sustainable collection, purification, and distribution of water.
Wind Power: It is one of the fastest growing sources of renewable energy that has grown 75 times over the last twenty years. China, the US, and Germany are the front runners with an installed capacity of 217GW, 96GW, and 59GW respectively. Recently, many investors have been showing interest in wind farms or considering the companies that produce wind turbines.
Solar Energy: It is another source of renewable energy wherein energy from sunlight generates power, which is mostly used for the domestic purpose with limited industrial use. In the last couple of years, the sun has been rising in this industry as investors have been focusing on companies that manufacture solar panels and other related products.
Pollution Control: The only way to control pollution is to reduce pollution. As such, the government has been concentrating on the reduction of greenhouse gas emissions from industrial set-ups, abatement of the emissions coming out of vehicles, etc. For implementing such large scale measures the government requires support in the form of investments.
Waste Reduction: With the change in lifestyle, the need of waste reduction has increased manifold. Most of us are aware of the things that can be recycled, but there has been a large increase in the number of products (e.g. cell phones, batteries etc.) that can't be recycled. In this case, it is important that we re-use them and reduce the accumulation of such waste. As such, there is a growing business surrounding these recycled items and it involves huge investments too.
Importance of Green Investments
The importance of green investments is underpinned by the fact that the world is becoming green – from the recycling of waste to power generation using wind/ sun. Everyone is aware of the ill effects of climate change and most of them are taking a keen interest in solving the issues at hand. In other words, green investments can be the way to ease the burden that humankind has placed on the environment.
Advantages
Some of the major advantages of green investments are as follows:
Green investment is able to attract a good amount of public attention owing to awareness and interest, which makes the task of fund raising much easier.
Owing to healthy demand, the borrowing costs of green investment is usually on the lower side.
Most of the green investments enjoy the benefit of tax exemption.
Disadvantages
Some of the major disadvantages of green investments are as follows:
The green investment market is relatively small, which means that entry and exit in this market is not as easy as it is with traditional investment avenues.
At times, there is no clarity regarding the purpose of the investment.
Currently, most of the companies are in their initial phase, which results in low revenues and exorbitantly high valuations. This makes the investment in such companies riskier.
Conclusion
So, by now you should be able to appreciate that there are a plethora of investment options available in case you are interested in green investments. You can either opt for individual companies or go for other investment instruments like MFs, ETFs, bonds, etc.
Recommended Articles
This is a guide to Green Investments. Here we also discuss the introduction and opportunities of green investments along with advantages and disadvantages. You may also have a look at the following articles to learn more –