Must Read GIS Books (2023)
GIS books show how a geographic information system captures, stores, manipulates, analyses, and presents geographical data. The name geography hints at the spatial portion, implying it is about spatial information. GIS works with data concerning a specific area of the earth. Gis involves tabular data, which is also called attribute data. For example, let's consider a coaching center. The exact location is spatial data. Additional information, such as the name of the coaching center and the education level they teach, are attribute data. GIS manages datasets, spatial analyses, and info display using a graphical form.
The list of GIS Books provides a thorough understanding of GIS. The selections enable the user to increase their knowledge and make strides in their career.
Top 10 Books to Read on GIS
Mentioned below are book selections to give you a head start in the journey of Geographic Information Systems, whether you are a seasoned professional or an amateur.
Let us review the following selections to help you pick the right GIS Books per your requirements.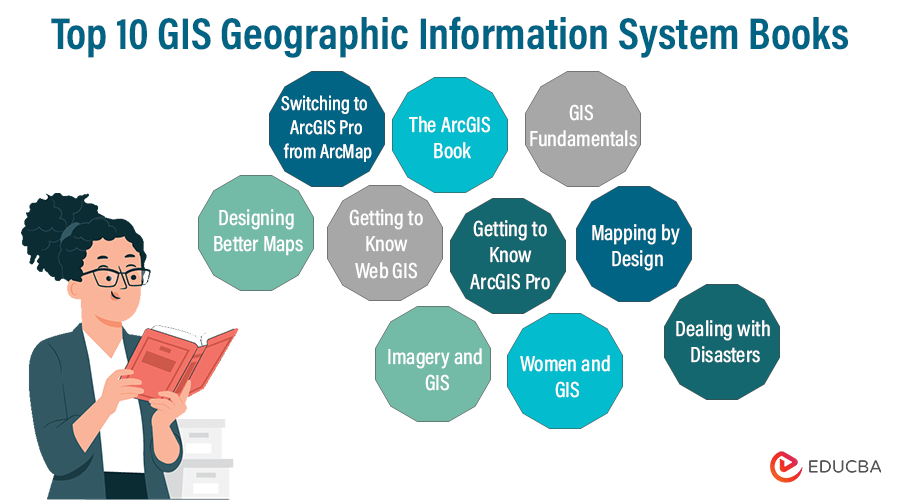 Book #1: Designing Better Maps: A Guide for GIS Users
Authors: Cynthia A. Brewer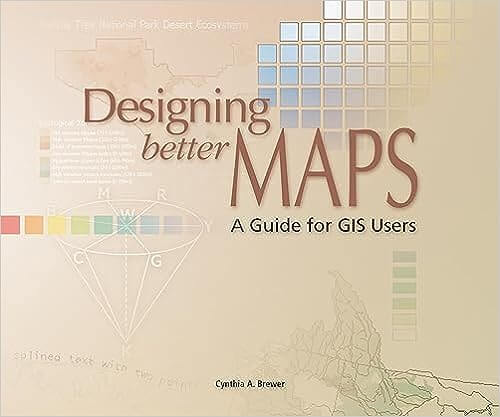 Get this book here.
Review:
Designing better maps brings you a canvas full of beautiful, colorful maps, their creative design procedure from start to finish, and the pro guide to becoming a better cartographer. A comprehensive guide to making better decisions that are equitable to diverse groups.
Key Points:
Mapmakers learn symbology for efficient communication in the Geographic Information System.
The book guides applying the right fonts, layout design, projections, scales, color selection, and symbol placement.
The book is suitable even for beginners and professionals looking to extend their knowledge in cartography.
Book #2: Switching to ArcGIS Pro from ArcMap
Authors: Maribeth H. Price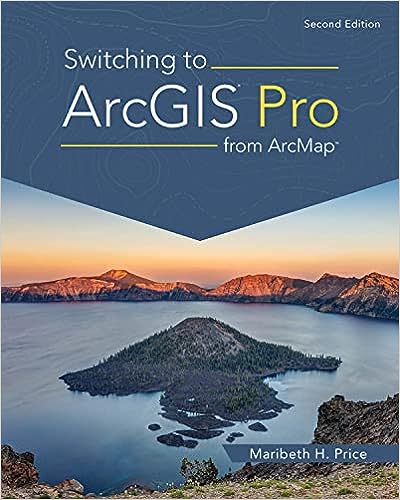 Get this book here.
Review:
A comprehensive guide that gives the differences between ArcGIS Pro and ArcMap while inspiring readers to change gears to ArcGIS Pro, reflecting on its challenging yet easy concept to adapt.
 Key Point:
The book enables the current ArcMap users to use ArcGIS Pro and the most recent GIS workflows.
The user learns the pane display, optimizing screen space, how functions in the ribbon are different, etc.
The learner uses the built-in features and toolbars of ArcGIS Pro and its uses.
Book #3: Getting to Know Web GIS
Authors: Pinde fu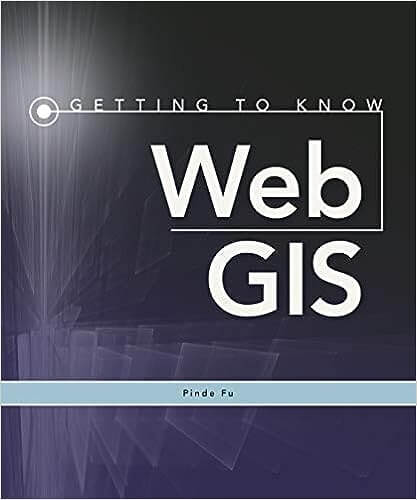 Get this book here.
Review:
A holistic approach to knowledge in great detail about the various functionalities of WebGIS in terms of ArcGIS enterprise, ArcGIS indoors, AuGeo(mobile GIS), etc. Contains precise and straightforward information on contemporary WebGIS with complete online documentation on the book's website.
Key Points:
The user learns more about ArcGIS maps SDK, ArcGIS analytics for the IOT, useful dashboards, etc.
The content with step-by-step learning enables the user to share resources and build online GIS apps quickly.
The content includes a wide range of online GIS services to strengthen the concepts of GIS in IoT, Javascript, spatial analysis, ML, VR, etc.
Book #4: The ArcGIS Book: 10 Big Ideas about Applying the Science of where
Authors: Christian Harder and Clint Brown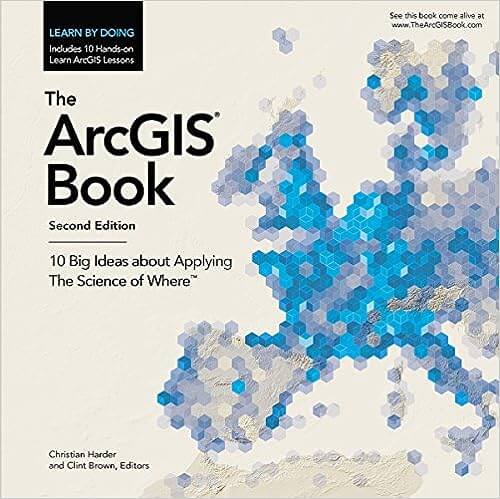 Get this book here.
Review:
The author offers the best guide on the ArcGIS environment for budding developers in GIS. The website provides the feature of creating maps on mobile and web platforms and the freedom of learning at your own pace. The content focuses on practical know-how and user practices while learning.
Key Points:
The prime highlight of this book is that the reader learns through vivid real-life examples of spatial thinking and analysis of geographies.
The author has provided complementary documentation on the book's website.
The users can log in and avail of their free account to Learn ArcGIS to make their maps, 3D scenes, apps, etc., and share online.
Book #5: Getting to Know ArcGIS Pro – 2nd Edition
Authors: Michael Law, Amy Collins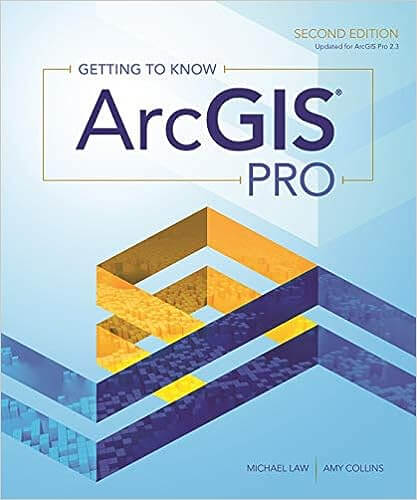 Get this book here.
Review:
The reader learns the fundamental functions and capacities of ArcGIS Pro with the help of practical project workflows. It enables the user to employ the essential elements to be productive with the ArcGIS platform. The users get familiar with both 2D and 3D forms. The book is recommended for beginners and advanced users.
Key Points:
The book, 'Getting to Know ArcGIS Pro' teaches users how to solve problems in Geographic Information systems.
The new users learn to visualize and comprehend geospatial data.
It allows the users to make queries on geospatial data, create, edit, and analyze it in 2D and 3D forms.
Book #6: Imagery and GIS: Best Practices for Extracting Information from Imagery
Authors: Kass Green, Russell G Congalton, Mark Tukman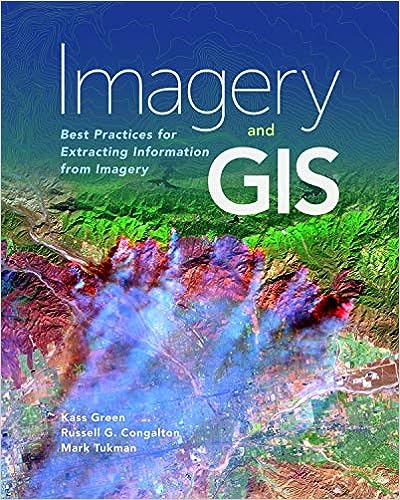 Get this book here.
Review:
The author takes GIS users to the next level of integrating imagery in Imagery and GIS: Best Practices for Extracting Information from Imagery. The content breaks away from the usual practice of aerial view imagery, thermal and satellite images, scanned maps, and digital models. It guides image integration into GIS analysis and maps.
Key Points:
The book guides the reader using case studies and descriptions to select the appropriate imagery.
The users learn image analysis, manage imagery datasets, and serve them.
The book guides at an advanced level to extract information accurately from images.
The authors bring their intensive research, teaching, and work experiences with the latest innovations.
Book #7: Women and GIS: Mapping Their Stories Paperback – Illustrated
Authors: ESRI Press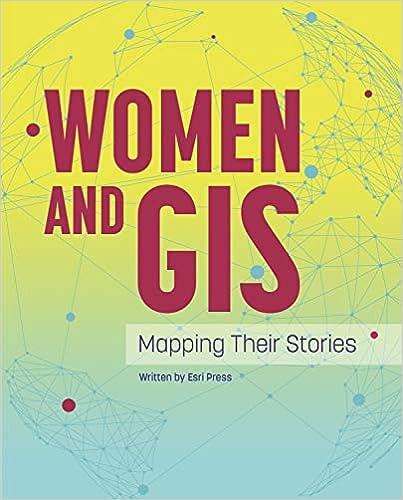 Get this book here.
Review:
The book reveals the struggle of 23 women who applied GIS geographic information systems to map their stories. It journeys the readers from their obstacles to success with maps, analysis, and GIS. They share their childhood experiences, difficulties, wrong beginnings, and learnings. The book unfolds the saga of consistent efforts and endeavors to reach success.
Key Points:
Readers get exposure to various ways of using GIS to tell stories.
The book unfolds the usage of maps, analysis, and GIS to tell personal stories.
The reader learns through 23 unique ways to map their story and apply it to their profession.
Book #8: Mapping by Design: A Guide to ArcGIS Maps for Adobe Creative Cloud
Authors: Sarah Bell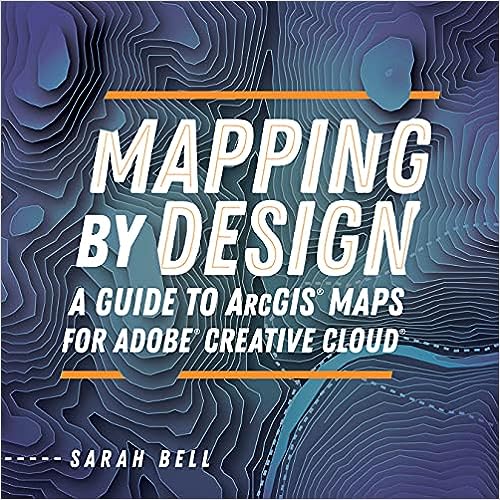 Get this book here.
Review:
Sarah Bell shows how to create geospatial visual stories incorporating the science of maps with design. The reader learns to create aesthetically pleasing, informative maps in less than conservative time. The author helps the user to complete map-making much sooner than graphic designers and mapmakers using ArcGIS® Maps integrated with Adobe® Creative Cloud®. The reader learns to create convincing visual stories using maps with step-by-step workflow.
Key Points:
The reader learns the Adobe Maps UI for Adobe Creative Cloud.
Exposure to the common workflows enables the user to advance in map creation.
The reader can apply unique geoanalysis.
The user accesses map layers with ArcGIS and Adobe Illustrator online connection.
Book #9: GIS Fundamentals: A First Text on Geographic Information Systems
Authors: Paul V. Bolstad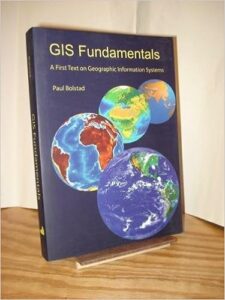 Get this book here.
Review:
GIS Fundamentals: A First Text on Geographic Information Systems is an excellent resource book for beginning geographers who want to learn GIS. The book does wonders in describing and demonstrating the fundamental principles of GIS.
Key Points:
The learners get exposure to the essential fundamentals of GIS
Readers learn about data and the projection of imagery concerning Geographic Information systems.
Readers get advanced knowledge on satellite imagery and Global Positioning Systems.
Book #10: Dealing with Disasters: GIS for Emergency Management
Authors: Ryan Lanclos (Editor), Matt Artz (Editor)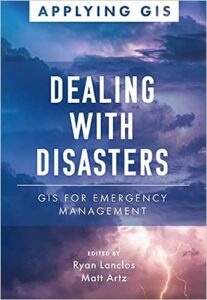 Get this book here.
Review:
The author has written the book for institutions worldwide that thrive on geographic information systems to overcome threats and risks in disaster or emergency planning and efforts. Location intelligence provides real-time data perceptions for directors, managers, and authorities to plan. The author has included real-life case studies using geographic information systems to manage emergencies.
Key Points:
The reader understands how different countries use data-driven perceptions to prepare for disaster.
Emergency managers must constantly be notified during a disaster for adequate responses.
The book includes case studies of institutions such as the Puerto Rico Emergency Operations Center, the US National Park Service, and others that have successfully responded to threats.
The book reveals the recovery process takes years, and how drones aid refugees, imagery assists insurance companies, how benefiting tornado-hit towns receive help, and much more.
Recommended Books
We have compiled a list of 10 top GIS Books in the above writeup to assist you in picking the right one for your needs. To get a more extensive book list in this category, EDUCBA recommends the following-