Updated February 17, 2023
RIP(Rest In Peace)
You might have often heard or read the phrase RIP or Rest In Peace when someone's talking about the dead. But what does the word mean exactly, and where does its origin? Full Form of RIP (Rest In Peace) is a common epitaph on Western tombstones used to wish peace and rest to the deceased.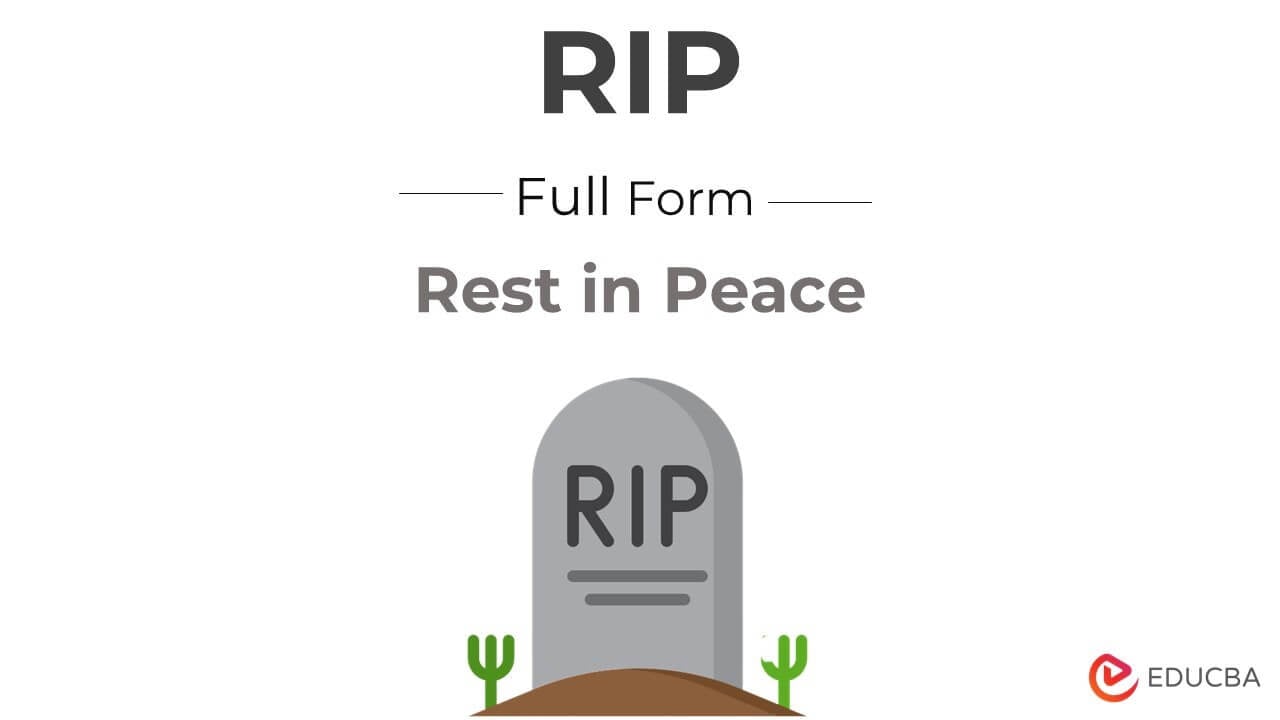 Origin of RIP
This acronym originates from the Latin phrase "requiescat in pace," which translates to "may the deceased rest in peace." By the eighth century, this acronym was used on Christian gravestones and was popular around the 1700s. In Christianity, Requiescat in Pace is a prayer for the soul of the dead to find eternal peace in Heaven. It is, to date, incorporated in the Catholic, Lutheran, Anglican, and Methodist burial services in Latin.
Requiescat in Pace also has a mythological reference which is why engraved on the gravestones of Christians. The Roman Catholics, High Church Anglicans, and Methodists pray for the soul to find peace in the afterlife. Other religions, like Irish Protestantism and Judaism, also use this phrase. Until 2017, Irish Protestants also used the term, but after the members of the Orange Order in Northern Ireland instructed them to stop using the word RIP as it contradicts the biblical doctrine. Even in Judaism, there are a lot of conflicting beliefs regarding the phrase. "עליו השלום" is a traditional expression that translates to "rest in peace" and is used by the Jews, but some Jews also refrain from using it as it is part of Christianity.
Uses of RIP in the Modern World
In modern times, it is a commonly used acronym version, RIP. Not only is it used by Christians, but people from different cultures and religions use this phrase. It is due to the massive influence of Western civilization all over the globe. As a result of this influence, RIP is also used in obituaries and online connotations to show respect to the deceased. The word is used on social media as hashtag # RIP when a famous personality dies by their well-wishers.
Conclusion – Full Form of RIP
On a lighter note, Full Form of RIP (Rest in Peace) is also used on social media sites to metaphorically mourn something, like when a show declares cancellation or an app is closed. Many fans have a specific name for their favorite celebrity couple like Bennifer (Ben Affleck and Jennifer Lopez), Kimye (Kim Kardashian and Kanye West), etc. Fans also use the acronym with these nicknames in case they break up to mourn the relationship between the celebrities.
Recommended Articles
We hope that this EDUCBA information on "Full Form of RIP" was beneficial to you. You can view EDUCBA's recommended articles for more information,