Updated April 10, 2023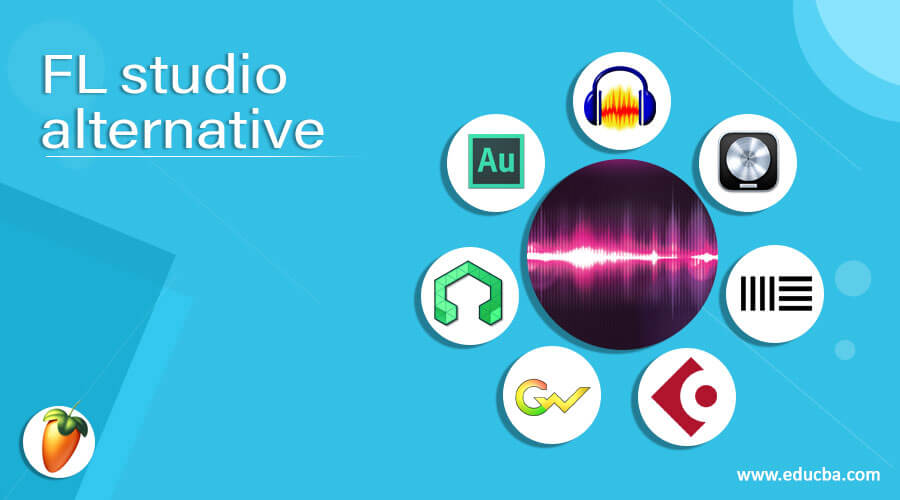 Introduction to FL studio alternative
Talking about top-notch music manufacturing software, "FL Studio," known as FruityLoops, has long been a platform for many of us, including professional music composers. The digital audio workstation is characterized by many aspects, such as versatility, customizable interfaces, and, above all, high efficiency. That said, FL Studio does not have some disadvantages including clunky graphing and complicated editing, especially if your workflow is too demanding, which can dampen productivity. The complex editing process makes it difficult for newbies to master the tricks of the business. The software guarantees a premium price tag starting at $99 and reaching an amazing $899 all the way. And that's precisely why some people are looking at their alternatives. Well, the best options for FL Studio in 2020 if you're one such guy. In this topic, we are going to learn about FL studio alternative
Alternatives of FL studio
Let's have a look at Alternative of FI Studio
1. Audacity
Have you had enough costly software for music production? Look no further than Audacity, in order to create impressive music with no hole in your pockets, if you are looking for super handy audio composition & editing software. The app may lack an elegant interface, but it has enough tools to claim that it substitutes FL Studio quite well. In addition, audio editing is quite easier due to the open-source software. All the tools are simple to handle so that you won't find it hard to get started, even if you're a music novice. You can easily grab live audio via a microphone or mixer and even digitise other media recordings.
2. Logic Pro X
If you are professionally involved in creating music, the chances of hearing about "Logic Pro X" are quite high. It can outshine FL Studio – hands down, both in terms of efficiency and high-end features. Logic Pro can also approach what its distinguished counterpart has to offer on the interface. The software has a growing toolkit to create a masterpiece at will. What distinguishes Logic Pro from all other competitors is its production speed. If you find that FL Studio often struggles to handle tonneys of audio files, your automatic pick should be iota-free. You can also take advantage of a wide range of high-quality audio effects to improve your music quality.
3. Ableton Live
As a pro-music producer, "Ableton Live" should be an obvious choice for you if your priority lies in excellent instruments. With an enormous library of modern tools, the software guarantees the greatest freedom in composing and editing your music in the best way possible. And the software is very similar to FL Studio in this respect. Ableton Live talked about the interface and kept it pretty simple, so it's not a big thing to get all of the essentials. I found its window very convenient, as it provides a brief description of the components of the workspace which play an important role in memorising the icons
4. CubaseIt
would be nothing but a bugger to miss out on "Cubase" if there is a desire to find a complete digital sound workstation. In functionality, the software is very similar to FL Studio and features a wide variety of tools adapted to compose and edit professional music. Despite its rich features, thanks to exceptionally flexible tools and a smoothly designed interface, it does not at all look daunting.
5. GoldWave
Though GoldWave is not as full of features as some of the biggest names in this round, it is worth finding a place of safety as one of the best applications like FL Studio. It offers a reliable audio editing experience with over 25 years of expertise. With simplicity in mind, the software can be used on all important issues such as recording, editing, audio processing, conversion, and much more.
6. LMMS
I've saved the "LMMS" for people who want the music production to hang out before spending tonnes of bucks on high-end instruments. This software is more user-friendly and productive as a novice than the functional FL Studio, which sometimes seems clunky to newbies. It can allow you to go about your business conveniently, be it creating beats and melodies, synthesising and mixing sounds, or arranging samples. Instruments and samples for playback are quite easy to handle. You would like to go to various plugins that can give your music the missing charm if you like to add your hand to the plugins.
7. Adobe Audition
Adobe Audition is without a doubt a member of the elite group of digital audio workstations. You shouldn't fail to give it a close look if you don't want to settle for anything less than the best. Audition has a powerful toolset including waveform, multitasking, mixing, editing, audio content creation and restore. Audition matches fairly well with FL Studio in terms of high-end tools.
Conclusion
This is a guide to FL studio alternative. Here we have discussed the various alternatives to FL studio. You can choose any of them based on your requirements. You may also look at the following article to learn more –