Learn from Home Offer TAKE THIS BUNDLE
FINANCIAL MODELING & VALUATION Course Bundle - 51 Courses in 1 | 30 Mock Tests | World's #1 Training
278+ Hours of HD Videos
51 Courses
30 Mock Tests & Quizzes
Verifiable Certificate of Completion
Lifetime Access
TAKE THIS BUNDLE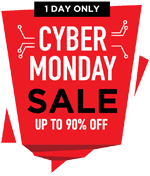 * One Time Payment & Get Lifetime Access
What you get in this FINANCIAL MODELING & VALUATION Course Bundle - 51 Courses in 1 | 30 Mock Tests | World's #1 Training?
278+ Hours
51 Courses
Mock Tests
Course Completion Certificates
Lifetime Access
Self-paced Courses
Technical Support
Mobile App Access
Case Studies
About Financial Modeling Course in Mumbai
---
| | |
| --- | --- |
| Course Name | Online Financial Modeling Course in Mumbai |
| Deal | You get access to all 51 courses, Projects bundle. You do not need to purchase each course separately. |
| Hours | 278+ Video Hours |
| Core Coverage | Financial Modeling in Excel across sectors such as Real Estate, Telecommunication, Technology, Metals & Mining, Bank, Petrochemical, Automobile, and others |
| Course Validity | Lifetime Access |
| Eligibility | Anyone serious about learning Financial Modeling and wants to make a career in this Field |
| Pre-Requisites | None (Basic accounting knowledge should help) |
| What do you get? | Certificate of Completion for each of the 51 courses, Projects |
| Certification Type | Course Completion Certificates |
| Verifiable Certificates? | Yes, you get verifiable certificates for each course with a unique link. These link can be included in your resume/Linkedin profile to showcase your enhanced skills |
| Type of Training | Video Course – Self Paced Learning |
| Software Required | None |
| System Requirement | 1 GB RAM or higher |
| Other Requirement | Speaker / Headphone |
Financial Modeling Course in Mumbai Curriculum
---
The end objective of this training is to build the skill sets within you so that you can create financial models to assess the past, present & projected value or performance of:
a company, or
even a single stock, or
a project, or
any investment opportunity, or
any other financial asset
Another objective is to make you independent about the preparation of the financial model. You may consider creating the model for a simple calculus or even a range of calculations to arrive at a final decision.
With financial modeling as a base, you can excel in other fields such as investment banker, equity research analyst, credit analyst, building financial goals for short term individual investors, and many more.
The objective is also to provide you with an edge in exceeding your existing job whether the same is a finance company or any specific industry.
Financial modeling will change the way you look at the statement of profit & loss, balance sheet, cash flows & other disclosures presented in the financial statements of any entity.
As you understand, cash profits are blood for the working capital body of any entity. Thus, the objective of this course is to you a hand on the cashflows & various aspects of understanding & managing the cash flow. As you study in deep, you will understand many financial multiples.
Since we are equipped with real-life examples, this course helps you gain a hold on the practical fronts of the finance world (which is the real need of the time). If you cannot apply the theoretical knowledge in the practical scenarios, any knowledge is value-less. So, our objective is to help you deal in practical fronts by giving real-life examples
Financial Modeling Course in Mumbai – Certificate of Completion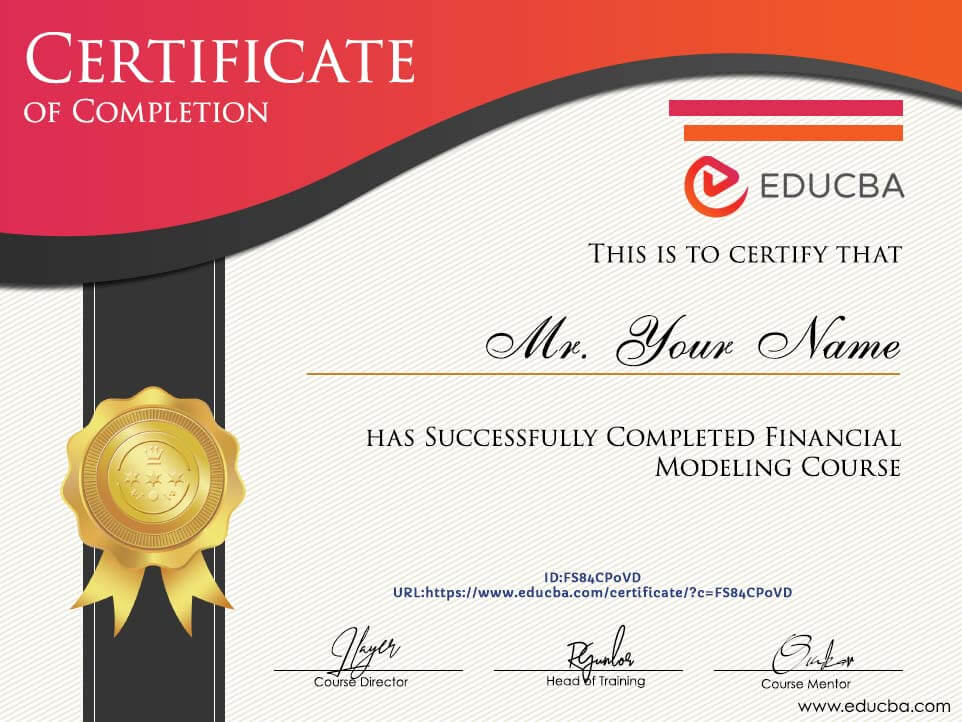 ---
What is Financial Modeling?
Financial modeling is all about creating mathematical models as per the requirement of the client. It can be a simple calculation or a series of calculations. The end purpose is to arrive at an independent valuation on your own based on your logic, methods, thought-process & efforts. So, basically, you take a set of hypotheses (i.e. conditions or situations) about the current economic environment. You convert those situations into numerical patterns to understand their impact on values. Financial models use various methods to arrive at a value. Each such derived value is compared with the actual values. Then a decision is taken about the stock, venture, funding, etc.
What skills will you learn in this Course?
Learnings purely depend on your perspective for the knowledge you are gaining. Learning is nowhere linked to having a rank in the school or any achievement in the whole university or topping the exams. Learning means giving your entire focus on the knowledge, at the present time. Exam results are not parameters for your learnings. If you can apply the thought-process in practical life, you have properly understood the concept. So, you will be empowered with skills:
Creating a financial model for a problem.
Financial models for each sector (airlines, telecommunications, oil, pharma, finance, IT, agriculture, etc.). So, you will be equipped with various factors to build your carrier.
Connecting with the real-life scenarios.
Pre-requisites
Prerequisite means what background knowledge you should have to understand this course perfectly. Is financial modeling made for everybody on the globe? The answer is no! Let us be. The reason is that you need to have a little basic knowledge about finance. That basic knowledge will be enhanced in this course. Further, you need to allocate power-hours while learning each session. Power-hours (max 2 hours) means hours with no disturbance, no distraction & complete focus. And that's easy if you just turn off your cell phones during those power hours. Obviously, you should take breaks in between.
Target Audience
Further, the question is, for whom this awesome course is designed!
Finance professionals are the centric audience for this course. As you can understand from the prerequisite that, little finance background is necessary. Finance professionals are said to have a strong background in finance. This will help them in upscaling through this course. Finance professionals can range from a person managing the funds of an entity, or CFA or equity research analyst or financial analyst.
Second is students of finance, who are undergoing studies about various aspects of the finance world. This course will eventually help those students who have an utter desire to link the theoretical concepts to the real-world.
FAQ's- General Questions
---
Why should I do financial modeling course?
Okay. So, if you're still looking for this answer, then most probably this course is not right for you my dear. You can easily understand from the curriculum list the knowledge you will be enlightened with after this course.
I do not have a finance background. Should I opt for financial modeling course?
The answer is clearly no. We don't want to make you feel regret about your money. We recommend you do to do a basic finance course first. After you have done that basic course, we guarantee you that you will feel blessed with your investment in this course.
Can I create a complex financial model after I have done this course?
The answer is yes subject to your understanding level. The course has been immensely designed for you to build simple as well as complex models. All this course needs is your time, efforts, the attitude of learning.
Why does it focus on building models?
The building model means considering the practical implications in the current values. This is the need of the hour. Without building the models, you won't acknowledge the complete financial analysis of the company.
How long is the duration?
The course can be completed in a few months if you invest daily 1-2 hours. You can easily complete the course in less time, by allocating more daily hours. So, it's up to you
Why should you take the Financial Modeling Course in Mumbai?
Mumbai is the mother-hub of investment bankers in the country. Be it a personal life or professional life. the level of experience you gain here is nowhere comparable to any city in the country. As you know, Mumbai is the economic capital of the country, you will gain a lot in this city. Further, connections with the industry people is the need of the hour. In this industry, you cannot upscale yourself without interacting with the people in this field. So, Mumbai will help you build your connection-portfolio. Practical scenarios are better understood in the live sessions with interactions & discussions.
What is Financial Modeling Trend in Mumbai?
The whole of India is at a growing stage for the finance world. With the growing interest in the finance world after the new & responsible government from the year 2014, people have become more focused on investments & growing the value of their money. People in India, are now acknowledging the fact there are many investment opportunities rather than just traditional fixed deposits or investing in gold. So, Mumbai is the centric attraction for the citizens in the country. The whole economy is reflected by the Bombay Stock Exchange at Mumbai. So, the uptrend of investment banking in Mumbai is completed co-related with the uptrend in entire India.
Sample Preview
---
Career Benefits
You will be able to master the financial modeling areas.
You will gain an understanding of all the sectors in the country. We scale up to each sector, to build models for them. So, gaining this knowledge is at the immense need of the hour.
Further, you will be able to practically apply the concepts in your job immediately.
You will be ahead of your finance friends (i.e. your peers). Competition always brings out the best quality within you. So, take the course, in a positive attitude to upscale your competitive spirit in the world of finance.
A complete package about sector-specific financial models.
Reviews
---
Financial Modeling Course
The excellent financial modeling certification course, I will recommend it to anyone. Clear step by step instructions and the good thing is you can redo the sessions until you are confident. I completed that certificate program and I think that is the best way to understand real estate financial modeling easily. All concepts and applications are supported by examples in Excel. Thank you very much for clear and beneficial explanations
Vignesh Varatharajan Sivamani
Great Financial Modeling tutorials
I have never imagined that I would discover something like this. Most of the finance professionals struggle to get hold of quality materials on finance, leave a niche skill that we use almost every day. That's why this course stands out. What I like about this course is the comprehensibility of the course. If you want to master financial modeling, you shouldn't look anywhere else. This is the best financial modeling course in the market. I'm just in the middle. Still, I highly recommend this course for those that want to create even a single financial model.
Wasim Shaikh
My financial modeling course experience
After looking at the curriculum of the financial modeling course, I sat in awe for a couple of minutes. What? Seventeen modules in one course? I couldn't believe it. I'm a finance student and I'm in love with this course. Pick any sector and you will find it in this course. And the way each model is explained, I can learn quite fast and apply the lesson immediately. Highly recommended for every finance student.
Preeti Suhas