Learn from Home Offer TAKE THIS BUNDLE
FINANCIAL ANALYTICS in R Course Bundle - 5 Courses in 1
This Financial Analytics Training includes 5 Course with 10+ hours of video tutorials and Lifetime access. Through these tutorials, you shall learn financial and statistical formulas and their analysis with practical examples. We shall cover Time Value of Money, Loan Repayment, Investment Project Calculations, Bond Calculations, Stock price return calculations and a lot other such concepts.
TAKE THIS BUNDLE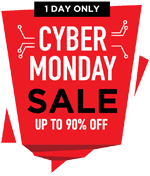 * One Time Payment & Get Lifetime Access
What you get in this FINANCIAL ANALYTICS in R Course Bundle - 5 Courses in 1?
10+ Hours
5 Courses
Course Completion Certificates
Lifetime Access
Self-paced Courses
Technical Support
Mobile App Access
Case Studies
About FINANCIAL ANALYTICS in R Course Bundle
Let's explore what this Financial Analytics Training Certification has to offer below.
---
| | |
| --- | --- |
| | |
| Courses | You get access to all 5course, Projects for the lifetime |
| Hours | 10+ Video Hours |
| Core Coverage | Through these tutorials, you shall learn financial and statistical formulas and its analysis with practical examples. |
| Course Validity | Lifetime Access |
| Eligibility | Anyone serious about learning Financial Analytics |
| Pre-Requisites | Basic knowledge about Finance concepts would be preferable |
| What do you get? | Certificate of Completion for the 5course, Projects |
| Certification Type | Course Completion Certificates |
| Verifiable Certificates? | Yes, you get verifiable certificates for each course with a unique link. These link can be included in your resume/Linkedin profile to showcase your enhanced financial analytics skills |
| Type of Training | Video Course – Self Paced Learning |
FINANCIAL ANALYTICS in R Course Bundle Curriculum
---
In this section, each module of the Financial Analytics Certification Training is explained.

Goals
This training is objected to financial analytics, which is one of the most significant parts of the finance domain. The purpose of the course is to make the learners well versed with numerous financial as well as statistical formulas along with its practical analysis.
Objectives
The course is aimed to make the learners comfortable with analyzing the financial statements of corporates with the application of appropriate analytical tools and strategies. The learning that will be gained through this course is of wide range and will also be helpful for the learners in analyzing financial trends, identifying growth-based segments, analyzing ratio analysis, and so on.
Course Highlights
Here is a detailed overview of the coverage of the course. The course is designed to cover basic, intermediate as well as advanced concepts relating to financial analytics.
The course will commence will a basic introduction to the concepts of statistical tools that are useful in financial analysis. The concepts over which clarity will be gained include trimmed mean, geometric mean, mode, maximum and minimum value, standard deviation, sum-product and sum if and exponential absolute and log. An example will be discussed to understand the concepts better.
The trainees will also gain experience as to financial analysis with the use of python. Discussions will take place as to how can one install python software, what are uses of python libraries, data analysis through its use, working on a data frame, two different kinds of analysis (such as financial time series analysis and regression analysis), data visualization using financial plots and 3D Charts.
The training will then move on to financial analysis from a beginner's perspective. Several interesting topics will be discussed upon such as capital budgeting using NPV technique, financial math using IRR, payback period calculation, loan payment and annuity calculation, stock analysis technique, bond valuation procedure, capital asset pricing model and many related concepts (such as coding, price development, risk-return trade, plotting values, adding the third asset, creating portfolio weights and possible portfolios with three risky assets) and analysis and calculation of financial ratios.
A session for financial analysis will also be covered at an intermediate level. Learners will get an insight into concepts such as the linear regression method, its examples and assumptions, regression line, r square, logistic regression, and its example and need for transformation from probability to log odds.
The learners will also get an opportunity to gain knowledge of some advanced concepts relating to financial analysis such as derivatives, options (models and variants such as basic Scholes option, exotic option, barrier option, perpetual American bonds and options greek) and methods of risk assessment
---
Financial Analytics Course – Certificate of Completion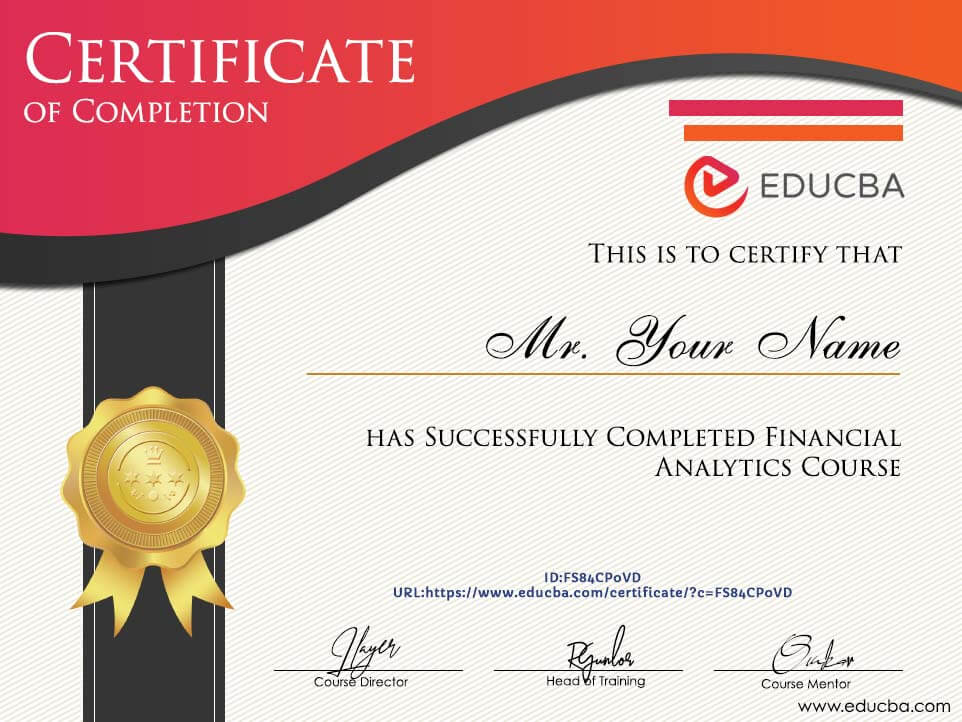 What is Financial Analytics?
In simple terms, Financial Analytics refers to an in-depth understanding of the Business Financial Information and providing a different view to the Senior management for analytical purposes.
It is a Sub-set of Business Intelligence in any Company that works on extensive Data Crunching and preparing MIS Reports in multiple ways to address a particular issue.
It gives you the Complete Analysis of the Financial Data both Existing and Projected and helps the Management to answer every small question.
The Analytical tools used in the process are system driven and produce the best quality output as required by the Management to take an Overall View on the Business and Future Strategy.
Nowadays, Companies are giving more preference to the Business Intelligence Department and are appointing a Full-time Financial Analyst to analyze the Business and Financial performance of the Company and suggest measures for its improvements.
The Person appointed will work with all the Other Departments to collect relevant Financial Data that can be used in the Analytics to arrive at the desired outcome and Reports as suggested by the CFO or the Top Management.
Industry Growth Trend
The global financial analytics market expected to grow from USD 6.9 billion in 2018 to USD 11.4 billion by 2023, at a Compound Annual Growth Rate (CAGR) of 10.7%.
[Source - MarketsandMarkets]
Average Salary
Average Salary
$67,533 per year
The average salary for a Financial Analyst is $67,533 per year in the United States. Salary estimates are based on 5,717 salaries. The typical tenure for a Financial Analyst is 1-3 years.
[Source - Indeed]
Which tangible skills will you learn in this Course
?
---
The Candidate will be able to learn all the Modeling and Statistical Techniques which are used in the Financial Analysis of a Company through this Financial Analytics Certification Course. He will learn all the basic Financial Jargons and terminologies used in the day to day working which is often used in the Office. Working on various Models, he will have the Ready Financial models with him along with the Set formulas in Excel which can be used in the Company he will work in the future.
Pre-requisites
Basic Knowledge of Finance: To take any of the above Courses, one has to have basic knowledge about the Finance Industry and the Terms used in the Industry.
Willingness to make a career in Analytics: The Candidate who is looking out to make a career in the Analytics in future should take up this Financial Analytics Certification Course as it will enable him to lay a Strong Foundation before starting a Job in the Corporate World.
Quantitative Skills: These skills are very much required in this Financial Analytics Training since the Candidate will work heavily on large Databases and Numbers and Mathematical Skills will play a crucial role in the Course Study.
Minimum 12th Pass: This is a pre-requisite Criteria to get enroll for this Financial Analytics Course as the Candidate is expected to have some basic Sound Knowledge about the Accounting and Financial Topics.
Target Audience
Students: It refers to the Undergraduates or Graduates who are in the last year of college and willing to start a Career in Financial Analytics in the future. These are the ones who know very little about Financial Analytical Techniques and their Applications in the Practical World. Hence this would be the Foremost Target Audience for this Course as it would be very easy to convince them to take up this Financial Analytics Training Course in their Initial Stages of the Career.
Professionals: It refers to the CA's, CS, MBA who are already working in a Corporate and are willing to enhance their Analytical Skills further. These are the ones who want to enhance their Analytical skills and have an additional Skill to their Kitty.
Anyone willing to learn about Analytics: It refers to those who are working in a Corporate in a different Department and are willing to learn about Financial Analytics to Switch their Existing Role either in the same Company or in any other Company for a better profile and Compensation should take up this Financial Analytics Certification Course to brush up their Financial Analysis Skills and Excel in their Careers.
FAQ's
---
Why Should I do this Financial Analytics Course?</4h>
To be an expert in the Financial Analytics and to grow in the organization with Additional skills.
I don't have a background in Finance, Can I Do this Financial Analytics Training Certification?
You can still do this Financial Analytics Course as it teaches you the basics of Finance and will enable you to Switch your Existing Career to the Finance Domain.
Would this Financial Analytics Certification Course help me in my career advancement?
For Existing Working professionals It will add another feather in the Cap and enhance the Skills and for Freshers, it will be a booster in their Early Stages to take up the Right Job in the Righ Company.
Can fresher or nontechnical background learners choose this Financial Analytics Course? Is this good for switching careers in different areas? 
The Candidates from Non-Technical Background are welcome to this Financial Analytics Certification to have an understanding of the Financial angle of the Company as they already know the Technical ones. It will be a good option for the non-technical People since they are more prone to the Finance World.
Will I get a degree after Completing this Financial Analytics Training?
You will be issued a certificate stating that the Desired Candidate has Completed this Financial Analytics Course with EduCBA.
Where to Enroll in this Financial Analytics Course?
Please visit the EDUCBA Website and fill-up the form displayed there online and pay the Fees.
Do you have any tie-ups with Corporations?
We do have good Relationship will corporate and we have placed many Students from our Batch who are top-performing in the Corporate.
Sample Preview
---
Career Benefits
At the end of this Financial Analytics Training Course, the Candidate will be an Expert in all the Financial, Analytical Techniques used in the Analysis including Statistical Data Analysis. It will help the Candidate to take up a Job as a Financial Analyst or a Business Analyst in the Business Intelligence Department of an MNC.
The Working Candidates will be able to excel in their Current Jobs and also will benefit from this added qualification in their Compensation at the Year-End.
Candidates who are Non-Finance people will have an opportunity to shift their Career in Financial Analytics.
This Financial Analytics Training will make the Candidate ready to work effectively and efficiently on large Databases and extract the Desired Output in the Format as requested from the Management.
The Candidate can reach up to the head of the Business Intelligence Department who directly reports to the CEO of the Company about the Business performance.
Hence this is a fantastic Financial Analytics Certification Course designed by Experts to make people aware of the Financial Analytics profile and how to make a Career in the same. This is a highly Demanded Role in the Corporate World since it requires a higher amount of Analytical, Technical, Statistical and Behavioral Skills to perform and manage the Other People in the Company to Extract the Correct data Source, Collate it and then work on the same to provide the expected Result by Management.
Reviews
---
Glad that I enrolled
This is a good course to learn the basics of financial analysis using statistical tools in excel. Overall this course is quite good enough to get basic ideas on different statistical tools like- mean, geometric mean, standard deviation, and many more. I'm quite happy that I got the chance to enroll in this course.
Linked
Rakibul Hossein
Excel for Financial Analysis
This module gives a good idea of Financial functions in excel. This course gives an overall picture regarding important financial functions like NPV, PV, IRR (by using Goal seek function). Stock price analysis is very useful & easy to understand. I recommend going through this module, to get a good hold on Financial Analysis, by using financial functions.
Linked
Ganesh Raju J
Financial Analytics Course
It was very helpful. Got to learn about excel in detail. Financial analytics is very helpful in the analysis process of data. Mean, median, and mode and other financial tools are of great importance when we have to analyze big data. Financial analytics is the creation of ad hoc analysis to answer specific business questions and forecast possible future financial scenarios. Financial analysis software can speed up the creation of reports and present the data in an executive dashboard, a graphical presentation that is easier to read and interpret than a series of spreadsheets with a pivot table.
Linked
Dinky A Patel
Financial Analytics Training
Wow, what a great course! Covers all of the basics in using Statistical functions in Excel. Now I feel intelligent! And very conversational in the stats of Excel. So take this course and you will also see what it can do for you. You will not only be intelligent but also impress by yourself! your friends and other professionals.
Linked
JAMES CLAY FIELDING
Financial analytics course
It gives ideas of statistical tools and clears the concept as to how to use.it also provide grip to a various concept such as trimmed mean, standard deviation, mode quartiles and various other function it also gives a detailed analysis of each function and at the end of the program there were examples which were very helpful to understand concepts of this statistical tools and gives ideas of how to use all this practically…
Linked
Harshit Seheju
Financial Analytics Course
Learned the differences in geometric mean and the average function which is one is used for investment due to the compounding and the other one is used for data that is independent. Learned several statistical functions such as mode, median, standard deviation, and correlation whether it's positive or negative. And also learned what they mean and indicates. Nice mode of learning.
Linked
Sultan Aljawini