Meaning of Embezzlement
Embezzlement is when you trust a person with your money, property, or any other asset, and that person steals or misuses the entrusted assets for personal use.
For example, in August 2023, the US attorney's office investigated Kayla Monroe Evans for embezzlement. She was a bank teller, personally handling the account for a convenience store in Georgia. Over the years, she kept stealing smaller amounts from the store's deposits for her personal use. Until now, she has stolen up to $90,000 from the store. This is a clear example of embezzlement where the bank teller was entrusted with large amounts of money every day, and she decided to take advantage of it.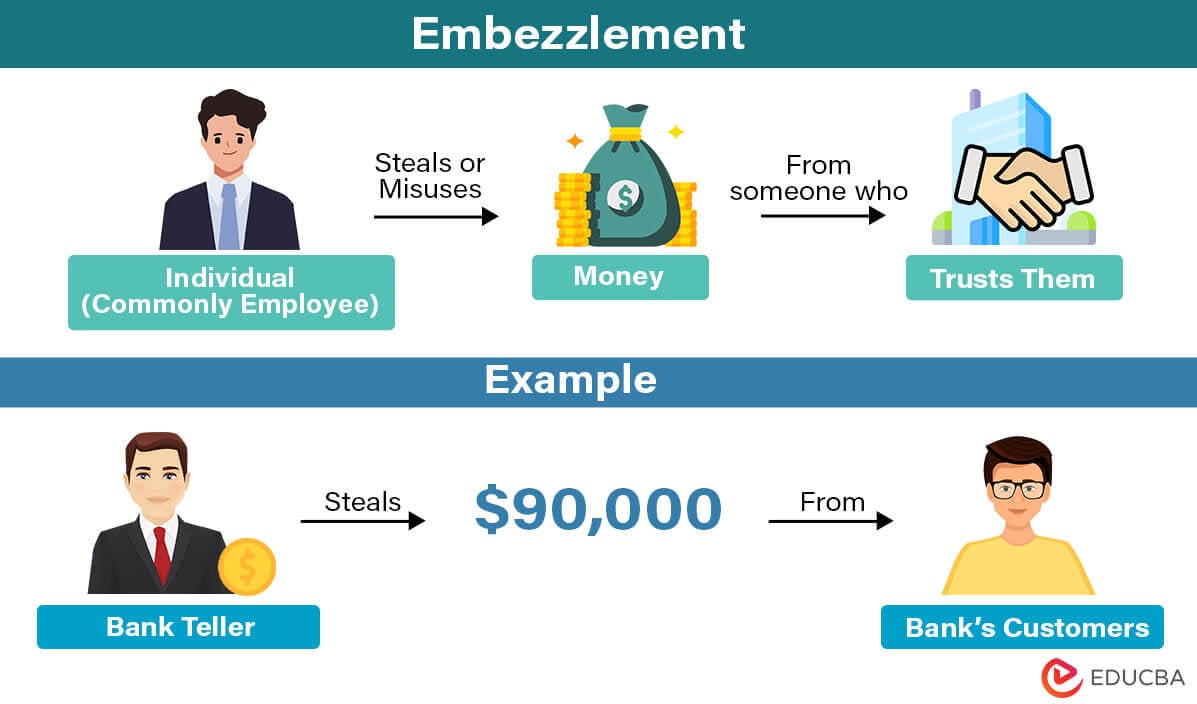 Table of Contents
Key Highlights
Embezzlement is when a person intentionally uses the money entrusted to them for their personal use.
The main difference between embezzlement and theft is the establishment of trust. An embezzler has earned the person's trust and has access to their money or property, while a thief doesn't.
Siphoning cash from the cash register, receiving kickbacks, defrauding overtime records, lapping, and Ponzi schemes are some of its major types.
Embezzlement occurs if there is a lapse in oversight and an opportunity occurs for a dishonest or financially unstable employee to steal money.
Elements of Embezzlement – How to Legally Prove It?
An embezzler usually carefully plans the crime, where they secretly take a portion of the property or money they're responsible for, all without the owner's permission or knowledge. They typically take only a small part of the money or the property at a time to avoid getting caught. That's why sometimes embezzlement can stay hidden for a long time.
To prove that someone has committed embezzlement, the following 4 elements should be present.
Fiduciary Relationship: The most crucial element is trust. You need to prove that you entrusted that person with your assets.
Violation of Trust: The second element means that the person should have been able to steal those assets only because of the trust they gained. It means they were obligated to take care of that asset for you, but they took it for themselves without your permission.
Intent: Another important element is intent. You need to prove that the accused embezzler wanted to misappropriate the funds for personal gain and that it was not just a mistake or accident.
Ownership: Lastly, it is important to establish that you were the legal owner of the money or the property and the accused was just a caretaker. Then, you must prove that the person accused was in legal possession of your money or property.
Examples
Below are some of the real-life examples of embezzlement.
Example #1: Enron
Enron, once the US's largest energy company, got involved in one of the biggest embezzlement accounting scandals that led to its eventual downfall in the early 2000s. Many top-level executives at Enron intentionally hid the company's debt and stole money from their investors. When things started coming to light, Enron's stock prices fell, and the company had to eventually declare bankruptcy. Many Enron executives also faced criminal charges.
Example #2: Bernie Madoff
Bernie Madoff was a renowned Wall Street investment advisor who was charged with running the biggest Ponzi scheme in history. He promised his investors extremely high returns on their investments. However, when he received their money, he diverted some of it to his personal account and used the rest to pay off earlier investors. Over 20 years, he had embezzled more than- He was arrested in 2008 and sentenced to 150 years in prison in 2009.
Types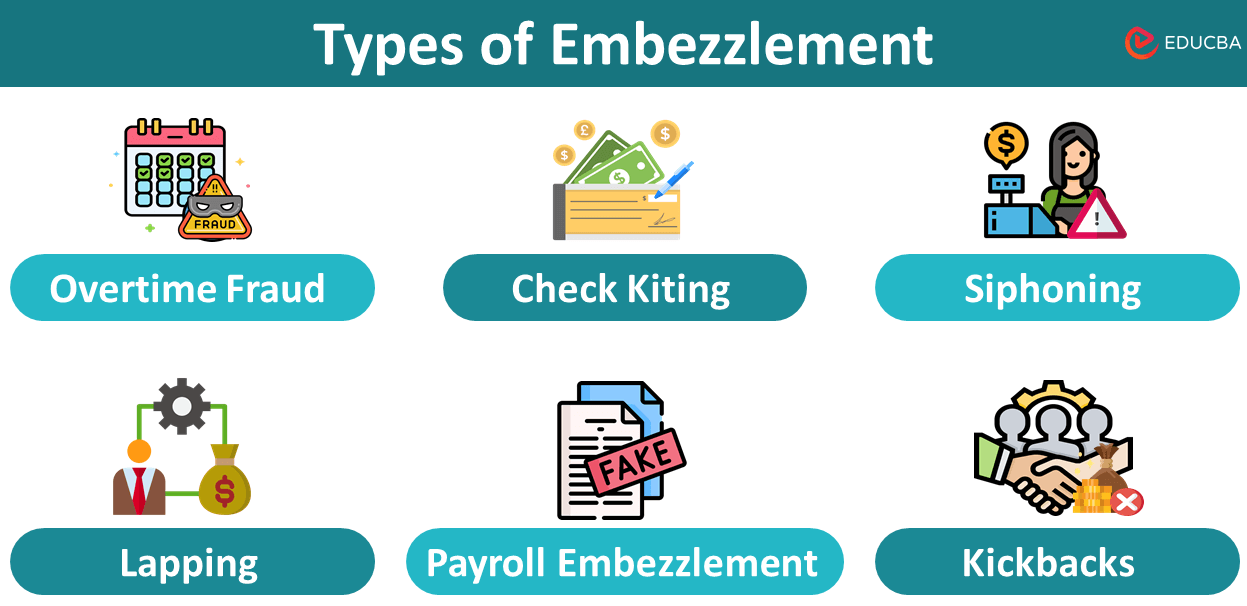 Following are the major types of embezzlement.
1. Overtime Fraud
Overtime fraud generally occurs in factories or other workplaces where an employee has to fill in a timesheet. An employee insincerely claims to have worked extra hours that they didn't actually work, leading to inflated paychecks and financial losses for the employer.
2. Check Kiting
Check-kiting occurs when a person writes checks for money they don't actually have in their bank account. They do this to use that extra money for short-term purposes before depositing it in their account. It's a way to create a false impression of having more money than they actually do.
3. Cash Skimming or Cash Siphoning
In this case, an employee, usually a cashier, takes money from a company's cash receipts before recording it. When they receive money from a customer, they don't record the transaction immediately and keep a portion of the money for themselves.
4. Salary or Payroll Embezzlement
This type of embezzlement is usually only possible in large companies with thousands of employees. In this case, an HR executive or manager creates fake employee records in the payroll system and withdraws their salary for personal use.
5. Lapping
In lapping, the embezzler hides money by moving it around. It happens when someone takes money meant for one thing and uses the money from somewhere else to cover it up. This continues in a loop, making it really hard to uncover.
6. Ponzi Scheme
It is a clever financial trick that someone plays on innocent people. The person running the Ponzi scheme promises to double the investor's money, but they don't really invest it anywhere. Instead, they just use new people's money to pay for the old ones, much like lapping. The scheme works for a while until it eventually falls apart.
7. Kickbacks
A kickback is when someone in a position of power secretly receives money for making certain choices or decisions that benefit another person or business. For example, a company manager secretly awards all business contracts to a contractor he is taking bribes from. Kickbacks are usually unethical and often illegal.
Charges
Penalties for embezzlement differ from government to government. Here are some examples of embezzlement charges.
California, USA
If the stolen amount is less than $50, the person may get a $250 fine and no jail time.
In case of a misdemeanor (Theft of up to $1,000), charges will be a minimum of six months to a maximum 1 year of jail and a $1,000 fine.
For a felony (Theft of more than $1,000), one may get three years of prison time with a $10,000 fine. The years in prison increase with an increased amount of theft.
UK
In the UK, they consider embezzlement a crime under regular law. It means they don't have strict punishments for it.
The judge decides the penalty as they deem fit.
It can range from community service to a maximum of a year of prison time or a €10,000 fine.
India
For extremely trivial cases, the embezzler is ordered to pay restitution to the victim.
As for the prison sentence, in India, the maximum jail time for embezzling is 2 years.
Apart from imprisonment, there can be a fine, too, which depends on the judge.
How to Prevent Embezzlement?
Companies can employ different strategies to prevent such crimes.
Background Checks: The first step an employer should take is to screen potential employees carefully. In addition to a thorough background check, assessing personality traits with personality tests can help reveal undesirable behaviors.
Proper Task Allocation: Companies should involve multiple people in financial processes to ensure accountability. They should also employ dedicated risk management and audit teams to monitor all financial transactions regularly.
Use Latest Technology: Companies should invest in modern security and control programs and accounting software to help track financial transactions and identify discrepancies.
Educate and Raise Awareness: Employers should make it clear that they have zero tolerance for illegal activities such as embezzlement and communicate the consequences of such violations. Every company must promote a culture of honesty and fairness and encourage its employees to remain vigilant and report wrongdoing.
Transparency: Companies should ensure that all financial records are always up-to-date. Everyone in a position of authority should always be aware of all relevant and essential financial information. Businesses should employ stringent internal financial policies and encourage employees to report any financial discrepancy immediately.
Conduct Unexpected Audits: Companies can request unexpected audits. It will help them find any irregularities in their finances, helping them prevent any financial fraud.
Take Crime Insurance: Businesses, as well as individuals, can take crime insurance to protect themselves if they suffer financial losses due to theft, fraud, or embezzlement.
Embezzlement Vs. Theft
Following are the main differences between embezzlement and theft.
| | | |
| --- | --- | --- |
| Aspects | Embezzlement | Theft |
| Meaning | It is stealing money or misappropriating funds from someone who trusts you. | It is unlawfully taking property or money from someone you don't know. |
| Relationship | An embezzler is someone who you trust and know. | A thief can be a stranger. |
| Access | The embezzler can lawfully access the company or individual's money or assets. | A thief doesn't have legal access to the money or property. |
| Detection | Can take years to uncover. | Easier to detect than embezzlement. |
| Legal Consideration | Serious felony. | Depends on the stolen amount. |
Frequently Asked Questions (FAQs)
Q1. Differentiate between larceny, fraud, and embezzlement.
Answer: Here is the prime difference between larceny, fraud, and embezzlement:
Embezzlement is a specific crime involving misusing funds or property entrusted with it. The embezzler can legally access the funds and is in a position of trust.
Larceny is just another name for theft. It is taking someone else's property without permission. The key difference is in the initial permission and trust.
Fraud, on the other hand, is a broader term encompassing various deceptive schemes to gain something of value through false representations or deceit. It may or may not involve the misappropriation of entrusted funds.
Q2. What are some common causes of embezzlement?
Answer: Common causes of embezzlement include:
If the trusted person is in a financial crisis.
If the person is greedy.
If they are highly stressed about their future.
When they have easy access to money or assets.
People may embezzle when facing money problems or when tempted by opportunities without strict checks.
Q3. How can someone prove embezzlement?
Answer: Proving embezzlement involves gathering concrete evidence, such as financial records, eyewitness accounts, or forensic analysis. A strong case may also rely on admissions of guilt, expert testimony, and the involvement of law enforcement or legal authorities to conduct a thorough investigation.
Recommended Articles
The above article on Embezzlement is presented by EDUCBA. If you want to know more about similar topics, we recommend reading the following articles: