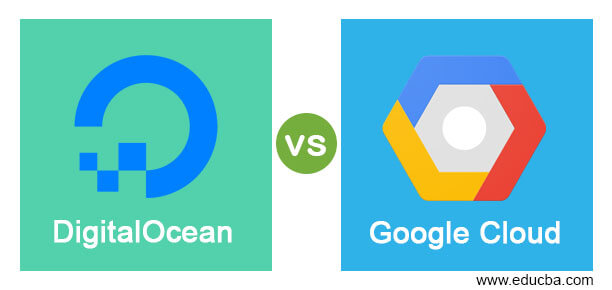 Difference Between DigitalOcean vs Google Cloud
The following article provides an outline for DigitalOcean vs Google Cloud. The Cloud computing platform where infrastructure as a service is provided for the customers that help build cloud products with scalable efficiency and optimize it with database management is called Digital Ocean. Applications are provided in the Cloud platform, where we can create any number of applications with secure networks and resources. All the public computing services of Google is accessible via Google cloud, which has a GUI where we can manage all the Google products, including Google search, so that we have all Google products in one place. In addition, the web interface is used to access Google products.
Head to Head Comparison Between DigitalOcean vs Google Cloud (Infographics)
Below are the top 5 differences between DigitalOcean vs Google Cloud:

Key Difference Between DigitalOcean vs Google Cloud
Let us discuss some of the major key differences between DigitalOcean vs Google Cloud:
More suitable for enterprise users, GCP has a cloud storage bucket and an App engine managed platform along with a Kubernetes container. DigitalOcean provides droplet virtual machines along with the Kubernetes cluster and is more suitable for small website developers or small enterprises with less funds. Free domain is not offered in both GCP and Digital Ocean, making the developers to make their own platform for their computing needs. Storage in Digital Ocean depends on the droplet package where users can improve the storage monthly. GCP allows users to increase the storage parallel making it more flexible.
The performance of DigitalOcean is really good compared with GCP, but there is occasional downtime for DigitalOcean making the users wait for some important deployments. This downtime will be informed to the users beforehand. The performance of DigitalOcean can be tested from the dashboard, which makes it better from other cloud providers. GCP is always up and reliable as there is no downtime for GCP with the endless servers in almost all the parts of the world. Performance is good, and with no downtime, GCP is a good choice for users.
Single-click installation is available for all the websites making developers easy with VM instances, cloud storage options, databases and servers. Here since it is IaaS, servers must be installed first for any cloud operations. CDN enhanced cloud storage along with Kubernetes clusters are provided in the platform. Single-click installation can be done only with small deployments in GCP, and for larger deployments, all the servers and databases along with resource groups should be in place. The integration with any Google products is done easily, making the users manage the applications under a single umbrella. Cloud enhanced database services are offered along with Kubernetes Engine powered by Google.
The support of DigitalOcean has knowledge in both the infrastructure level and developer level making the users to rely on support whenever required along with the support documents. Sales calls can be done with the premium support tier, which is priced normally. In GCP, the support is extensive, but the developer support is less, making the users to depend on online and community platforms.
SSD based storage is used in DigitalOcean in their droplets, making users to search for their data easily in the drives. SSD storage is fast and reliable. However, GCP does not depend on SSD but their own Google Storage. Google Storage has all types of personal and professional documents where users must be careful to manage them.
DigitalOcean vs Google Cloud Comparison Table
Let's discuss the top comparison between DigitalOcean vs Google Cloud:
| | |
| --- | --- |
| DigitalOcean | Google Cloud |
| This was built for developers to make their work easy by making the APIs available always and deploying any servers to the cloud platform. User Interface is simple, with all the features available to browse in one place. Price is less when compared with its peers. | With its range of products, Google Cloud is not easy to deploy in terms of servers and does not provide the transparency to developers like Digital Ocean. The price is high when compared to Digital Ocean. |
| Performance is really good for cached data where we get the desired output in half the time when compared with Google Cloud. Even for uncached data, the performance is as per the compared level of GCP. Developers can depend on Digital Ocean for both cached and uncached data. | For cached data, the performance is not good, which takes more time to give us the output. For uncached data, GCP provides the best performance among all the other cloud platforms. Users can rely on GCP for uncached data for sure. |
| Charged per hour as per the requirement of developers, Digital Ocean provide limits for memory, CPU, network and availability of the cloud servers. Refunds are not offered unless developers allocate resources to a completely different project. | GCP is micro-customized where cost is charged per second, and once the trial period is over, the bill is sent to pay for the next usage. The cost is always high with Digital Ocean and does not provision of refunds to the users. |
| Free level support is provided to users in both enterprise and non-enterprise levels making the developers to work efficiently by clarifying all the doubts. Business support is also provided for free, but a small price is taken as monthly fees for business support. | Free level support is provided to all types of users, but it is lucky if non-enterprise users get answers from the support personnel. Developer and production tier users should pay an amount to get the support from GCP. Premium level support is available at a high price. |
| The digital ocean has less products and is more suitable for small websites where less options satisfies the requirements of developers. Virtual machine and storage options are provided by the cloud provider as per the developer's needs. | All the Google products are integrated in GCP, and hence if we need to deploy our project into any of the Google products, it is easy to do so with the help of available servers in the system. Customization of the components can also be done easily. |
Conclusion
If the requirements are small and scalability is not considered anytime soon, DigitalOcean is the best choice for a cloud platform to save money. However, if the dreams are big and the enterprise is going to be big, GCP is the best for all the available options being provided.
Recommended Articles
This is a guide to DigitalOcean vs Google Cloud. Here we discuss key differences with infographics and comparison tables, respectively. You may also have a look at the following articles to learn more –