TAKE THIS BUNDLE
RealFlow Tutorial (3 Courses, 3+ Projects)
3 Online Courses
3 Hands-on Projects
41+ Hours
Verifiable Certificate of Completion
Lifetime Access
RealFlow - Standard Fluids
RealFlow - Dyverso Fluids
Project on RealFlow - Making of TV Commercials
Project on RealFlow - VFX Production
Project on RealFlow - Object Dynamics
Offer ends in:
TAKE THIS BUNDLE
What you get
Online Classes
Technical Support
Mobile App Access
Case Studies
Online RealFlow Tutorial
This RealFlow Tutorial is a comprehensive bundle which includes  3 comprehensive RealFlow courses , 3 Projects with 41+ hours of video tutorials and Lifetime Access. You will also get verifiable certificates (unique certification number and your unique URL) when you complete each of the 3 courses , 3 Projects .
Visual effects or VFX is a vast subject, and no software, skill or person can ever cover its full scope alone. However, fluid and rigid body simulation back the bulk of today's visual effects, for what we see on television and movies.
Realflow is the industry standard when it comes to fluid simulation. Being a dedicated software for fluid simulation and dynamics, it is capable of yielding far superior output for visual effects involving liquids, air/gases, fire, the ocean as well as rigid body dynamics such as breaking walls, collapsing structures et cetera.
The Realflow Tutorial bundle includes six courses, of which the Realflow VFX Workflow and Realflow Simulation – Standard fluids courses are foundation level courses, Realflow object dynamics and the Making of TV Commercial with Realflow courses are intermediate levels, and Realflow Scripting is advanced level courses.
After completing all courses, you can handle practically anything and everything in the realm of fluid simulation and dynamics at cinematic scale, and seek professional work as a visual effects artist with fluid and rigid dynamics simulation as specialization.

Industry Growth Trend
The global computational creativity market size to grow from USD 204 million in 2018 to USD 685 million by 2023, at a Compound Annual Growth Rate (CAGR) of 27.4% during 2018–2023.
[Source - MarketsandMarkets]
Average Salary
Average Salary
$20 per hour
The average salary for an Artist is $20.48 per hour in the United States.
[Source - Indeed]
About RealFlow Tutorial
| Courses | | No. of Hours |
| --- | --- | --- |
| RealFlow - Standard Fluids | | 9h 36m |
| RealFlow - Dyverso Fluids | | 4h 9m |
| Project on RealFlow - Making of TV Commercials | | 7h 18m |
| Project on RealFlow - VFX Production | | 4h 59m |
| Project on RealFlow - Object Dynamics | | 9h |
| Realflow Scripting | | 6h 12m |
---
Course Name
Online RealFlow Tutorial Bundle
Deal
You get access to all 3 courses , 3 Projects bundle. You do not need to purchase each course separately.
Hours
41+ Video Hours
Core Coverage
RealFlow VFX Workflow, Object Dynamics, Scripting, Making of TV Commercials, Standard Fluids, Dyverso Fluids
Course Validity
Lifetime Access
Eligibility
Anyone who is serious about learning RealFlow
Pre-Requisites
Basic knowledge of using editing software
What do you get?
Certificate of Completion for each of the 3 courses , 3 Projects
Certification Type
Course Completion Certificates
Verifiable Certificates?
Yes, you get verifiable certificates for each course with a unique link. These link can be included in your Resume/Linkedin profile to showcase your enhanced VFX skills
Type of Training
Video Course – Self Paced Learning
Software Required
 You can download the software from the official website
System Requirement for RealFlow

CPU 64-bit Intel® or AMD® multi-core processor
4 GB RAM minimum, 8 GB of RAM memory is highly recommended
Hardware-accelerated OpenGL® graphics card
1 GB available hard disk space for installation
3 button mouse

Other Requirement
Speaker / Headphone
Online RealFlow Tutorial Curriculum
---
Let's have a look at the RealFlow Tutorial in detail below:

Project on RealFlow - VFX Production
In this RealFlow Tutorial, we will go through the working of the VFX production pipeline, Matchmoving using Nuke camera tracker, Matchmation using proxy geometry, and blood simulation including meshing. We will also learn to prepare Maya scene to import into Realflow and simulate blood with teeth for the VFX shot, along with render passes and compositing workflow using Nuke.
Project on RealFlow - Object Dynamics
In this RealFlow Tutorial you will be introduced to object dynamics, methods of creating a dynamic object in Realflow, how to control rigid body behavior, multibody workflows, fracturing with Realflow tools, multi-joint workflows, shattering and debris creation, adding PyroFx, the interaction of Rigid bodies and Liquids and working with soft body dynamics.
Realflow Scripting
This RealFlow Tutorial will take you through the fundamentals of Realflow Scripting, Variables, vectors, operators, if loop, for and while loop. After the basics, we will learn how functions work in Python, classes and objects, and different types of script editors. To understand the use of scripting, we will create a dynamic brick wall using BatchScript. Then we will learn to create our own kill daemon using batch scripting, how to get Old Parameter of particles, blending particle attributes, controlling rigid body behavior using scripting, creating customized GUI and creating velocity data from RealWave.
Project on RealFlow - Making of TV Commercials
In this RealFlow Tutorial, you will be introduced to a Pyramid micro framework, script and shot division, creating 3d modeling assets and pre-visualization. After this, we will learn to simulate milk drop in Realflow and VDB Meshing. After this, you will have an introduction to Maya Fluids, a formation of the cloud using Maya Fluids, simulating milk falling from the cloud, setting up lighting and shading and compositing workflow using Nuke.
RealFlow - Standard Fluids
This RealFlow Tutorial will help you learn about Realflow standard fluids, settings and Navigation, editor and preferences, emitters workflow and Emitters emission controls, emitter display, and export and splines. After this, we will learn about emitters object binary, daemons gravity, spline surface tension, kill age speed isolation, kill daemons magic attractor, and Crown Sheeter. Finally, we will learn to export data from Maya, working with objects in Realflow, meshing your simulations, and exporting data from Realflow to Maya.
RealFlow - Dyverso Fluids
In this RealFlow Tutorial, we will get an introduction to Dyverso Fluids, SPH solver, PBD solver, working with Dyverso Emitters, understanding Object and Bitmap emitters, and how to customize your flows using daemons. After this, we will learn to simulate Granular particles like sand and snow, the power of particle skinner, and get an introduction to Realwave. Then we will learn to handle ocean waves, creating interactions using splashes, combining Dyverso and Realwave for production. Finally, we will learn to export data from 3Ds Max to Realflow, creating a simulation workflow using Dyverso, handling Dyverso particle meshing, and creating the final output.
---
Certificate of Completion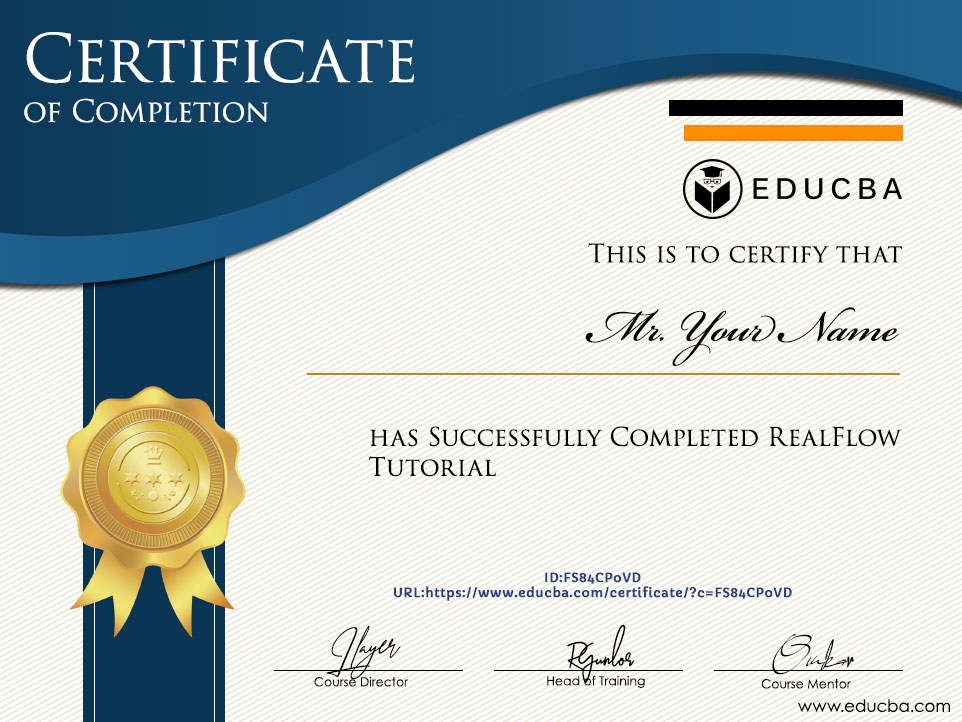 ---
What is RealFlow?
Realflow is dedicated software, developed for the purpose of fluid simulation only in the initial stage, but over the course of time, has added more capabilities, including simulation for ocean and fire, and for rigid body dynamics simulation, such as multiple body collisions, fracturing, and collapsing structures.
It has, from its early days itself, provided a steep advantage in performance terms against full 3D suites such as 3Ds Max and Maya, when it comes to a simulation of a vast number of particles or objects. This means you can create convincing visual effects with comparatively manageable and affordable hardware.
Which skills you will learn in this RealFlow Tutorial?
In the RealFlow Tutorial bundle, you will learn to use Realflow from scratch to advanced level, starting with basic concepts of Realflow such as emitters, forces, daemons and soft and rigid bodies to intermediate level topics such as ocean simulations and advanced topics such as Realflow scripting and Dyverso fluids.
The Realflow VFX Artist tutorial is a complete set of courses that take you from novice to mastery of Realflow as a toolset and the concepts associated with fluid simulation and dynamics, allowing you to be ready for professional projects in fluid simulation and dynamics specialization for visual effects.
Pre-requisites
Before starting with the RealFlow Tutorial, you need to have a good understanding of 3D animation pipeline and at least one 3D software suites such as 3Ds Max or Maya.
Particles and dynamics simulation is an intermediate to advanced level part of the multimedia production pipeline.
Target Audience
The Realflow Tutorial bundle is targeted at students of 3D animation and visual effects pipeline for live films and TV production, and professionals who are working or intend to work in these fields or looking to improve their skill set in these fields to perform more advanced tasks for the production they are working for.
The Realflow Tutorial bundle is a complete set of courses, that teaches you everything you need to build the most complex and breathtaking effects in Realflow, as well as the rendering workflow and matchmoving and matchmaking workflows, allowing you to integrate these effects with animation and live footage, breathing life into legends and dreams, helping them realize in film and television.
RealFlow Tutorial FAQ's- General Questions
---
What is the Realflow Tutorial about?
Fluid Simulation and Rigid Body Dynamics Simulation form the backbone of today's film and broadcast visual effects pipelines, and without these effects, no sci-fi or fantasy story can be brought to life.
Realflow is the centerpiece of this pipeline, although there are many alternatives available, and are used alternatively at major studios. The Realflow VFX Artist course bundle is a complete set of courses offered by eduCBA.com for beginners and professionals alike who would like to master Realflow as their primary toolset to execute fluid simulation and rigid body dynamics simulation based effects for film or television industries.
Is it necessary for me to complete all courses in the bundle to master Realflow?
No. It is not mandatory to complete all courses to master Realflow, but it would be good if you can complete them all. Even though the bundle was not designed in a non-redundant way, so as to make all courses necessary, every course will contribute something new to your knowledge.
Is there any classroom training available for this online training?
We provide all our courses online, so that you have 24×7 access to the course, from anywhere in the world, and can take them at your own pace. Our goal is to make high-quality professional courses available to people who need them on a flexible schedule.
Who are the instructors for this online training?
The instructors for the Realflow Tutorial have highly experienced industry professionals, who have worked for a long time in the industry and as trainers.
Are there any certification courses for online training available in the Realflow VFX Artist course bundle?
You can receive a certificate of completion for each course in the Realflow Tutorial bundle after you have finished more than seventy percent of the particular course.
Are there any prerequisites for enrolling to the Realflow VFX Artist course bundle?
Although there are no formal barriers to enrolling for the Realflow Tutorial, it is a course targeted at a very specific skill set in a highly specialized industry. To make the most of this course, you will need to have a good understanding of 3d software and visual effects pipeline for film and TV.
Sample Preview of this RealFlow Tutorial
---
Career Benefits of this RealFlow Tutorial
Realflow is a crucial part of the visual effects pipeline, at respectable production houses all over the world. It is used to bring the most surreal visions of producers to life. After going through the Realflow Tutorial, you will be ready to tackle any and every problem that is thrown at you for fluid simulation and rigid body dynamics.
You can apply for positions in this specialization in film and broadcasting studios. The demand for professionals in the field is very high, and they are handsomely paid.
RealFlow Tutorial Reviews
---
Realflow VFX Tutorial
After struggling for months with the particles systems in Autodesk Maya, and giving up due to my system crashing with the workload every time I wanted to create an effect worth looking at, I was in distress.
Elizabeth
Thank you so much for all your hard work and support.
That's when I found Realflow, which promised the performance I needed from my software, without breaking the bank on hardware. The challenge was the steep learning curve for mastering this amazing toolset. The Realflow Tutorial was one of the most value-for-money investments I have made in many years, and without it I would have given up on my life's calling.
UNG JUN XIANG
Realflow Courses
The amount of time it took for me to assemble an effect in my 3D suite mad it almost impossible for our team to handle the visual effects pipeline for our products within the given deadline. Realflow came to our aid like the great friend in need, and we could take a breath of relief, considering its capabilities. But without training our team members to advanced level handling of this toolset, we were still very far from getting to the finish line. With Realflow Tutorial, our team was able to upgrade our skills in time, and we averted the crisis in the pipeline.
Gunjan Shah