Learn from Home Offer TAKE THIS BUNDLE
LIGHTWORKS Course Bundle - 2 Courses in 1
This Lightworks Tutorial is a comprehensive bundle which includes 2 courses with 18+ hours of video tutorials and Lifetime access. You will also get verifiable certificates (unique certification number and your unique URL) when you complete each of them. Through this Lightworks Tutorial, you shall learn professional-grade digital video and film editing.
TAKE THIS BUNDLE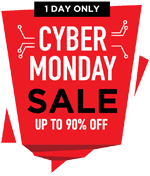 * One Time Payment & Get Lifetime Access
What you get in this LIGHTWORKS Course Bundle - 2 Courses in 1?
18+ Hours
2 Courses
Course Completion Certificates
Lifetime Access
Self-paced Courses
Technical Support
Mobile App Access
Case Studies
About LIGHTWORKS Course Bundle
---
| | |
| --- | --- |
| | |
| Courses | You get access to all 2 courses, Projects bundle. You do not need to purchase each course separately. |
| Hours | 18+ Video Hours |
| Core Coverage | Lightworks interface, how to do Basic Edits and apply Transitions and do Multicam edits. We also cover Keyframe Animation, Working with the Node Based Effects Module and Colouring and Audio Mixing |
| Course Validity | Lifetime Access |
| Eligibility | Anyone serious about learning Lightworks and wants to make a career in Video/Film Editing |
| Pre-Requisites | Basic knowledge of using editing software |
| What do you get? | Certificate of Completion for each of the 2 courses, Projects |
| Certification Type | Course Completion Certificates |
| Verifiable Certificates? | Yes, you get verifiable certificates for each course with a unique link. These link can be included in your resume/Linkedin profile to showcase your enhanced sound engineering skills |
| Type of Training | Video Course – Self Paced Learning |
LIGHTWORKS Course Bundle Curriculum
---
Let's have a look at the Lightworks Tutorial in detail below:

Serial No.
Course Name
Course Description
1
Lightworks – The Fundamentals
In the First Module of this bundles Lightworks Tutorial, The Learner Gets a Review On, What Lightworks Is Exactly. This Module Covers the Basics of Editing, Tells Us the Features of The Interface and Workflow and Highlights How to Do Basic Edits and Apply Transitions in A Video File. The Lectures in The Module Are Based On-

Introduction- This lectures consist of Introduction to Lightworks- Professional Editor and about System Requirements.
User Interface- This lecture highlights about User Interface, Various Pages of Projects, Working on Tutorials, Import Commands, Timeline and Monitor, New Edit Settings.
System Settings- This Lecture explains about Project Settings, Letterbox Preferences, System Settings, User Interface Appearance, Timeline and Monitor Settings, Group the Tracks, Edit command.
Project Settings
Timeline & Monitor Settings
Video Importing- In this lesson we learn about Video Importing, Copy Local Link & Import Transcode.
Media Organization- This lesson teaches about Media Organization, Creating Scene and shot, Organized Name & Description, Importing Audio File, Working on Reel ID, Segregating Scenes, Managing Filters & Bins Background.
Timeline Organization
Basic Cut to Cut Editing- In this lesson we study about the starting scene, Character Editing, editing on Harry Shaves, Working on Coffee Movement, Creating Series of Flashback Sequences
Advanced Editing with Trimming- This lesson includes Specific portion and Trimming, Trimming Edit Point, Change In & Out Point in shots, Trimming, Sliding the Shots, Reduce Outpoint of Shot
Keyboard Shortcuts
Transitions- In this chapter, we learn about Fade in & Fade out effects, Wipe & Luma Wipe, Push & Squeeze, Laying Effects Exercise, Adding Dissolve Effect.
Drag & Drop Editing
Multicam Editing- In this Lecture we learn about Multi-Camera Editing, Visual Reference Point, Multicam Windows, Input & Output Monitor, Auto Sync Record Edit.

2
Lightworks – Advanced
In this Module of Lightworks Tutorial, we learn about the advanced methods of editing. It particularly makes us study the workings with special effects, coloring and audio mixing. This is a much-progressed module. The lectures in this module are –

VFX with Vignette & Crop- This lecture consists of working with Vignette and Cropping in Lightworks Advanced.
Keyframe Animation- In this lecture we learn about Cropping and Vignette Color Types, Adding Effects, Using Keyframes, Working on Graph.
Blending of video Tracks- In this lesson, we study about Color Gradient, Darken & Average Effects, Blending & Masked Blending
Masked Blending
Text & Text Animation- This lesson is about Creating Small Tittle Sequence, Adding Title in Sequence, Text Animation, Funny Movements, Traditional Tiles, Working on Graphs
Node Based Video Routing- In this lecture, we learn about Node Based FX Chain, Dissolve Module, Automatic Positioning, Adding Tiles, Activated & Masked Blending, Double Blending
Chroma Key-we learns about Adding Transitions, Two Layers of Chroma Key.
Luma Key & Image Key- we learn about Luma Key, Video Routing, Tolerance & Edge Softness, Image Key, Working on Scale, Different and Dodge.
Color Mask & Matte- in this we learn about the concept of color matte, Color Masks, Advanced Matte.
DVE & DVE presets- this lesson includes DVE- position & Scale, DVE Advanced, DVE presets, DVE Rotation key point
Color Correction & Color Presets- Shadows & Mid tones, color temperature & tint, Color Presets, Category of Color Corrections, Animating Gain
Audio Mixing
---
Certificate of Completion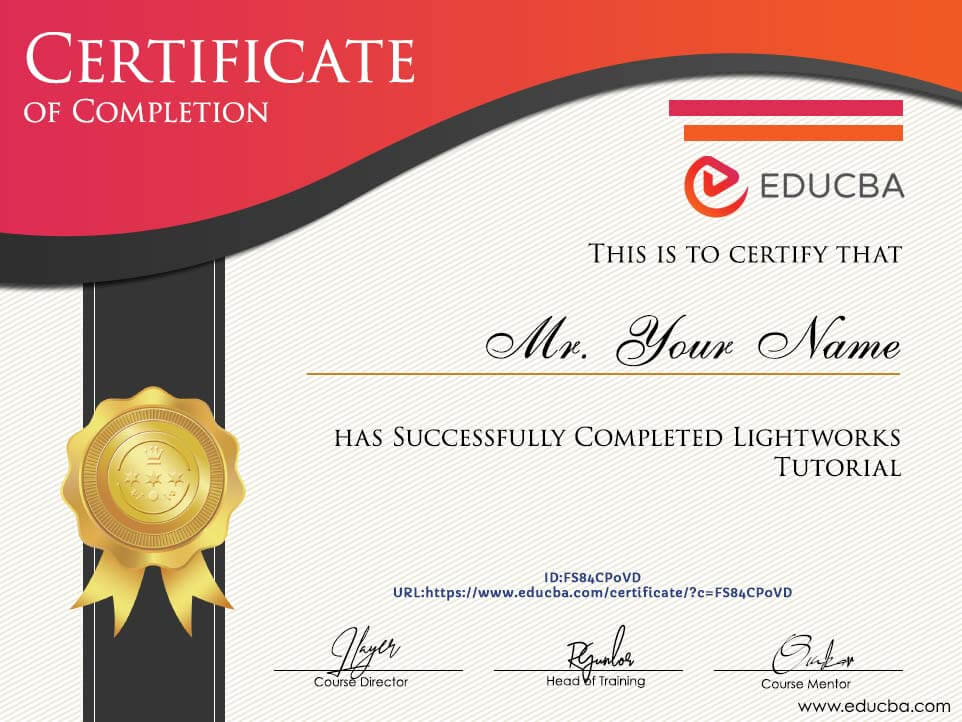 ---
What is Lightworks?
Lightworks is a professional video editing software and is compatible with Linux, Mac OS X, and Windows. Its best feature is that it is a non-linear editing system. It is a fast, flexible and lightweight video editor that runs on almost any computer. Lightworks is loaded with some amazing set of functions and features an unusual workflow but still, it is remarkably easy to use a program.
Lightworks' well-designed timeline is another advantage to the software which can help in trimming a video to a certain size or combining various short sections of footage. Real-time effects and color corrections help the user to gain the perfect look.
The complicated rendering and encoding process takes place in the background, while the user can continue working on the program. Lightworks can export videos for YouTube in HD or SD format up to 4K. It is also loaded with amazing royalty-free audio and video content.
Lightworks is a powerful software having its professional roots that show in its interface and workflow. This software is widely used in film making and films like Departed, Pulp Fiction, Aviator have been edited with Lightworks. Lightworks is also used for doing offline Multicam Editing and professional-level transitions and video effects.

Industry Growth Trend
The global computational creativity market size to grow from USD 204 million in 2018 to USD 685 million by 2023, at a Compound Annual Growth Rate (CAGR) of 27.4% during 2018–2023.
[Source - MarketsandMarkets]
Average Salary
Average Salary
$17 per hour
The average salary for a Video Editor is $16.63 per hour in the United States.
[Source - Indeed]
Which skills you will learn in this Tutorial?
This Lightworks Tutorial is specialized for students and professionals who want to master the art of editing digital videos and films with Lightworks. Students who are passionate about learning the software can gain immense knowledge by taking this Lightworks Tutorial as the lectures cover the basic editing and Transition effects and advanced version is also available in the training. This course offers the learner to grasp the techniques and methods easily and efficiently. Lightworks being an unusual software is tough to learn a program, but this training helps in defeating that problem and teaches the most difficult topics most practically and simply.
The learners having a pure dedication to the training can master the skills of digital video editing. The skills are Video Importing, Trimming, Laying Effects, Multicam Editing, Crop, Keyframes, Blending, Node-Based FX Chain, Chroma & Luma Keys, Text Animation, Color Corrections, Color Presets, Audio Mixing, Color Masks, DVE Presets.
Pre-requisites
Basic knowledge about computers is a must. Lightworks is compatible with Windows, Mac, and Linux. So, an understanding of either of them is a basic pre-requisite before learning this training
A passion for learning Lightworks with lots of creativity and imagination is probably a much-needed pre-requisite before starting this Lightworks Tutorial. There should be a spark and a desire to study the software through this course, then only the results would be startling.
Basic knowledge of Video formats and Codecs is also required before the students start using this training. Since the training is based on practical knowledge teamed with various illustrations and skills, the learner needs to have a prior understanding of the small basic needs of video editing. Although, this Lightworks Tutorial starts with a beginner's level which guides the students to learn the content from the start.
Target Audience
This Lightworks Tutorial targets a wide audience who are passionate about video editing and applying various amazing effects to the videos. This training has two main modules that teach the learner various aspects and methods of using the software. The Lightworks Tutorial targets audiences who are eager to learn Non-linear editing of videos with Lightworks and master the skills in no time. Students who aspire to become filmmakers and editors are fascinated by this training. Learning Professionals who are into Film making and wanting to learn video editing in Lightworks can study this training.
Lightworks Tutorial FAQ's- General Questions
---
Will this Lightworks Tutorial benefit me if I do not know Video formats and Codecs?
This training requires the learner to have prior knowledge about Video Formats and Codecs. So, if you are a pure fresher to them, you will first have to gain some basic understanding of it.
Does this Lightworks Tutorial help me in the long run?
Yes, definitely. This training is not only about Lightworks but it also teaches you editing. If you take up this Lightworks Tutorial you will not only learn the software but also gain knowledge about the various methods and aspects of digital video editing.
How much time will it take to learn Lightworks through this Tutorial?
It all depends on your skills and understanding. This Lightworks Tutorial is made with useful techniques to be used and it will help you to gain a lot of knowledge and learn different methods of editing.
Sample Preview
---
Career Benefits
A career aimed at training that particularly focuses on sharpening the skills and helping the learner to comprehend many various methods of learning Lightworks is covered in this course. In this Lightworks Tutorial, we all will learn amazing skills that will not only provide a boon to our careers but also will help us to shape our future.
It all depends on the learners' efficiency and his passion for learning this Lightworks Tutorial, rest all will fall into place. Even though Lightworks is challenging software to learn, this course provides chapters that explain everything with great ease and simplicity.
This Lightworks Tutorial opens many doors for the students and professionals to choose from various career options. They can become a Data Analyst or Lightworks Video Editor, or Audio Video Editor, Graphic & web designer, FCP Editor, Film Editor, VFX Artist, Compositor, Assistant Video Editor. The choice of career and the ability to use their skills is in the hands of the learner.
Lightworks Tutorial Reviews
---
Lightworks Training
These Lightworks Tutorial work wonders for me. I had a basic knowledge of video formats before but I was new to video editing. I chose to train myself with this Lightwork course and it gave positive results. I learned a lot of advanced effects and Transitions and Multicam Edits. I could prepare my portfolio easily by using this training. I would recommend this training to anyone keen to learn Lightworks quickly
Arna Solace
Amazing Lightworks Tutorial
For a very long time I was searching for a job that offers a great opportunity. Learning and studying Lightworks through this tutorial I could easily work on any project now and presently I am working as an AV editor in an MNC
Arash Nandi