NANA
NANA
NA% Off
Enroll for FREE
Free Online Photoshop Course
This Free Online Photoshop Course includes a course with 2+ hours of video tutorials and Lifetime access.

You get to learn all the key features of this amazing graphics editing software i.e. Photoshop, its tools, designing a card, designing a graphic, understanding the photo editor both black and white and color.
Photoshop Certification

2+ hours
Offer ends in:
NANA
NANANA% Off
Enroll for FREE
Skills you will master
Photoshop
Logo Designing
Designing Applications
Brochure Designing
Designing Flat UI Elements
Professional Jewellery Designing
Web Designer
Website Layout Design
UI Designing
Automobile Designing
Computer Based Illustrations
Pattern Making
Coreldraw
3D in Photoshop
Book Cover Designing
Magazine Designing
Sketching
Movetool
Brish Tool
Healing Tool
Online Free Photoshop Certification
This Free Online Photoshop Course includes a comprehensive Photoshop course with 2+ hours of video tutorials and Lifetime Access. You get to learn all the key features of this amazing graphics editing software i.e. Photoshop, its tools, designing a card, designing a graphic, understanding the photo editor both black and white, and color.
As we know Photoshop is an Adobe designed tool with support which is used to recreate the images or change the technical details of the images using multiple setting and attributions of Photoshop. Imager can be filtered, masked, grouped, color corrections and can perform edits on multiple layers as required. Many professional projects and companies use Photoshop as there primary visual improvement tool to improve and satisfy the client's needs and Adobe has the best developments to improve the versions of Photoshop as per user support and preferences with value addition in the market for UI / UX best.
We can learn all images and gif related from scratch like making pamphlets, documents, posters, magazines, designing graphics, and many more as with knowing how to use tools, scales and many more details study on working on tools and handling projects on application and more. Knowing 3D printing skills using Photoshop. The software is used by many companies for graphic designing, model texturing, gaming texturing, web designing, photographers, filmmakers, and many more. It is flexible to use in windows and IOS. It's a perfect tool to get trained if the students and professionals are planning to be artists, photographers, and video graphics use toll to slightly improve the look and feel of a photo to make event albums.
About Free Online Photoshop Course
---
| | | |
| --- | --- | --- |
| Course Name | | Online Free Course Photoshop Certification |
| Deal | | You get access to all the videos for free for the Lifetime |
| Hours | | 2+ Video Hours |
| Core Coverage | | Learn all the key features of this amazing graphics editing software i.e. Photoshop, its tools, designing a card, designing a graphic, understanding the photo editor both black and white, and color. |
| Course Validity | | Lifetime Access |
| Eligibility | | Anyone serious about learning graphics editing and wants to make a career in this Field |
| Pre-Requisites | | No prior knowledge required |
| What do you get? | | Certificate of Completion for the course |
| Certification Type | | Course Completion Certificates |
| Verifiable Certificates? | | Yes, you get verifiable certificates for each course with a unique link. These link can be included in your resume/Linkedin profile to showcase your enhanced skills |
| Type of Training | | Video Course – Self Paced Learning |
| Software Required | | None |
| System Requirement | | 1 GB RAM or higher |
| Other Requirement | | Speaker / Headphone |
Free Online Photoshop Course Curriculum
---
In this section, each module of the Free Course Photoshop Certification is explained.
We will be learning how to create and design digital images for multiple needs along with an illustration for printing, publishing, visual interpretation, web publication, magazine making, newspaper article arrangements, and much more learning's for industrial needs. Knowing the functions and tools of Photoshop with image editing and manipulation techniques along with handling full file formats and data handling for multiple project needs. All other preparation and photo processing steps to be followed. Graduates can join this Free Online Photoshop Course and also best suitable to B.Sc students who have an interest in art background to get good jobs in MNC's with a reasonable package. The basic course contains the usage and we get habituated with software to perform image edits by taking our projects for demo and skills to get handsome experience on all attribution of Photoshop along with shortcuts (Hotkeys). By getting the knowledge who photo studios and movie studios add effects to albums making for events.
The next stage, of course, deals with medium and advanced images, gif, and many more editing possibilities using Photoshop. we will be learning how to maintain and make settings for each project as per requirements so that we can quickly and follow the pipeline of a project with best practices and best quality output. We get practiced and techniques on handling layers types, masks, multiple, and handling with the different selecting tools. Creating an image composition as per concept and thoughts for advertisement holdings, web pages, and many more similar tasks for the good professional skill to make individual best at project needs. The artistic image re-touching, interior, exterior, and many more projects explaining image and flowcharts can be easily made with help to explain clients and colleges easily with the visual experience. Compressing, sharing, handling finished image of deliverables with different file formats for project and understandings.
---
Free Online Photoshop Course – Certificate of Completion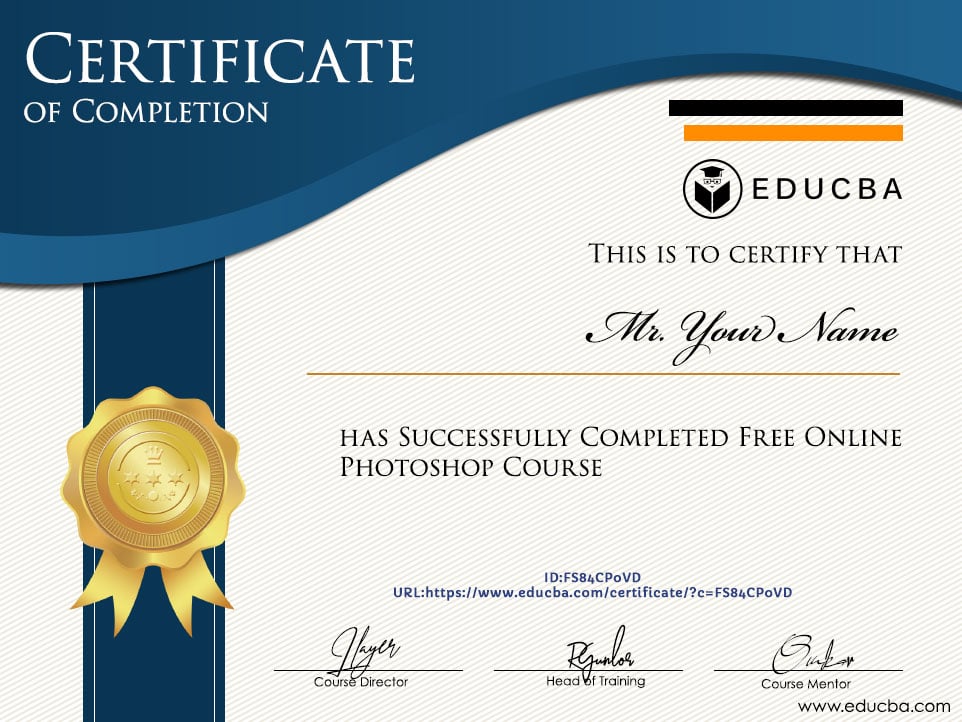 ---
 What is Photoshop?
Photoshop is the best to work on raster graphic editing mode and get an image with high visual standards and it has many benefits both personally and professionally to make images rememberable and rewardable. It's often used software for many project pipelines. Image re-creating, magazine cover page making, pamphlets making, advertisement, graphic interactions on image, colors, and properties of image-making and many more can be done. Adobe Photoshop team kept on updating with the latest versions by adopting the latest techniques of working on software as per project demands and technical updates of the application. The software is in the market for a long time which is serving form photo studio shops to the large revenue multinational companies for their project requirements.
Both students and professionals who are not familiar with Photoshop and interested to make interesting images for multiple purposes must get trained to up-skill themself. It has all the technical tools to improve the standards of the work. Image improvisations can be done easily. Model texturing can be done using Photoshop which most of the animation and gaming company artists use it. There are many opportunities to work in MNC and as a freelancer with the skills.
 Which tangible skills you will learn in this Free Online Photoshop Course?
We will be learning how to open, saving, import, export, and deal with different file formats by performing required edits on them using Photoshop. The training skills help us know how to deal with different image editing processes along with saving the file in the right file format without any damage to the file and handling the files with the best suitable technical details like brightness, contrast, width, height, resolution and many more. We can easily share an publish our work on any websites and sample work can be saved we can show them to the job interviewers to measure our potential. We will gain complete knowledge on adding frames, cropping photos, color corrections, handling brush, removing unwanted objects from frame, cleaning up the image, adjusting the levels of the image to change its look and feel, proper measured content adjustments using rulers, blurring, adding saturation, Hue and many other similar smart image editing skills through Photoshop.
Pre-requisites
---
We must have curious and interested to understand the deep technical things of image editing. Graphic designers, texturing artists, gaming artists, newspaper editors, magazine making, calendar making, and other professionals use Photoshop for their work needs.
Hard Disk space 5GB or more free space in C:\ drive to install application and work.
Ram 4GB or more valued (8GB recommended).
Processor Intel or AMD with 64 bit supported 4GHz or faster.
Operating system Windows or IOS with 64bit configuration.
Make sure the internet must be good enough to get updates and necessary registrations processes and other software activates and subscriptions and many more online services.
Good creative and concept understanding skills for making interesting images for clients. We also need to have hands-on practice on multiple aspects of the application to be technically good enough to explain or even to work for any kind of job role as per skills and daily usage responsibilities.
Target Audience
---
Anyone interested to learn Photoshop for knowing the software used for professional and personal use can join the course. As we have discussed above the course is very well structured along with the technical real-time projects understanding aspects. Students and professionals who are not familiar or who need certification of the software needs the undergo this Free Online Photoshop Course for all the better and advanced techniques of editing images and implement the unrealistic concepts visually look good with a realistic feel. Even on a daily usage, we can use this application for improving colors and all the technical detailing of the image where the photographic studios and many photographers enhance their photos for event albums making and many other image editing processes. This skill adds a value addition to the skill set for the professional to grab jobs. This is one of the tools used worldwide we also can have freelancing projects dealing with Photoshop.
Career Benefits
---
Students and Every individual is going to know and have handsome experience in Photoshop which is most frequently used by many companies for professional demands of Graphic, Image and video editing's with a good visual experience. By Handling multiple file-formats and presenting files in a creative way of approach. This skillset and working knowledge help to showcase us to get the required job. The interface and presentation skills improve along with understanding the requirements of the project. Will be working and practicing on out of the box concepts on Photoshop for visual impressive attributions and tools in a single application.
Professionals can upskill themself and know new advance updates of the latest version and work shortcuts as per the new rollout of the application which helps in working smartly for the existing and future project need with less time. Can even compare between two application if we are aware of other software's and make the list of advantages and disadvantages of both and select the best for the pipeline of the project. It helps in exploring the profession by trying multiple options available on the software. We can up-skill ourselves and widen our opportunities at Jobs' point of view.
Review
---
Excellent!
This Free Online Photoshop Course covered all the basics. It was wonderful! I've been doing Photoshop for a while and I managed to get up to speed to know all the tools needed to start something. Although the accent sometimes is not understandable, the examples itself spoke for themselves. I will check out the advanced ones!
Linked
Mark David D. Generator
Good Refresher Course on Adobe Photoshop
While the course does not go into advanced features of Photoshop, it's a good beginner's, or refresh course. If you want to get started with photoshop, or like I haven't used the program in a while, then this is absolutely for you. The instructor does a very good job explaining the pen/vector tool system and thought me some shortcuts I didn't even know about! Though the speaker's voice goes a bit monotone near the end, all in all I'm still satisfied with the course.
Anne Winning
Graphic designing using Photoshop
I found the course very informative and helpful although I work mainly on architectural plans I will be able to use a lot of the techniques on these also. There is always 'more' to learn so I will be looking for another course to complete.
Linked
Rosemary Swain
A nice course on photoshop
This course provides a nice introduction to the basics of Photoshop. Although it doesn't go beyond the basic tools it does provide a good start for beginners looking to explore this powerful and versatile software. The course approaches Photoshop primarily from a designer or illustrator's perspective. Overall this Free Online Photoshop Course is a good way to get started.
Linked
Jacy Eisold