Learn from Home Offer TAKE THIS BUNDLE
DAVINCI RESOLVE Course Bundle - 4 Courses in 1
This DaVinci Resolve Course is a comprehensive bundle which includes 4 courses with 29+ hours of video tutorials and Lifetime access. You will also get verifiable certificates (unique certification number and your unique URL) when you complete each of them. This course is for you to learn color grading and to edit, enhance and beautify the color of a video or film.
TAKE THIS BUNDLE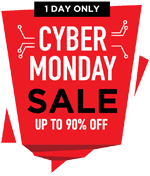 * One Time Payment & Get Lifetime Access
What you get in this DAVINCI RESOLVE Course Bundle - 4 Courses in 1?
29+ Hours
4 Courses
Course Completion Certificates
Lifetime Access
Self-paced Courses
Technical Support
Mobile App Access
Case Studies
About DAVINCI RESOLVE Course Bundle
| | |
| --- | --- |
| | |
| Courses | You get access to all 4 courses, Projects bundle. You do not need to purchase each course separately. |
| Hours | 29+ Video Hours |
| Core Coverage | DaVinci Resolve Edit, DaVinci Resolve Colour, DaVinci Resolve Fairlight DAW |
| Course Validity | Lifetime Access |
| Eligibility | Anyone serious about learning DaVinci Resolve for color correction & non- linear video editing. |
| Pre-Requisites | Basic knowledge of using editing software |
| What do you get? | Certificate of Completion for each of the 4 courses, Projects |
| Certification Type | Course Completion Certificates |
| Verifiable Certificates? | Yes, you get verifiable certificates for each course with a unique link. These link can be included in your resume/Linkedin profile to showcase your enhanced color correction and video editing skills |
| Type of Training | Video Course – Self Paced Learning |
DAVINCI RESOLVE Course Bundle Curriculum
To make things easy for you, here's a comprehensive Davinci Resolve course. You need to invest around 29+ hours to complete this all-in-all course with 4 sub-topics. Before we ever talk about the target audience, FAQs, let's look at the course curriculum in detail –

---
Certificate of Completion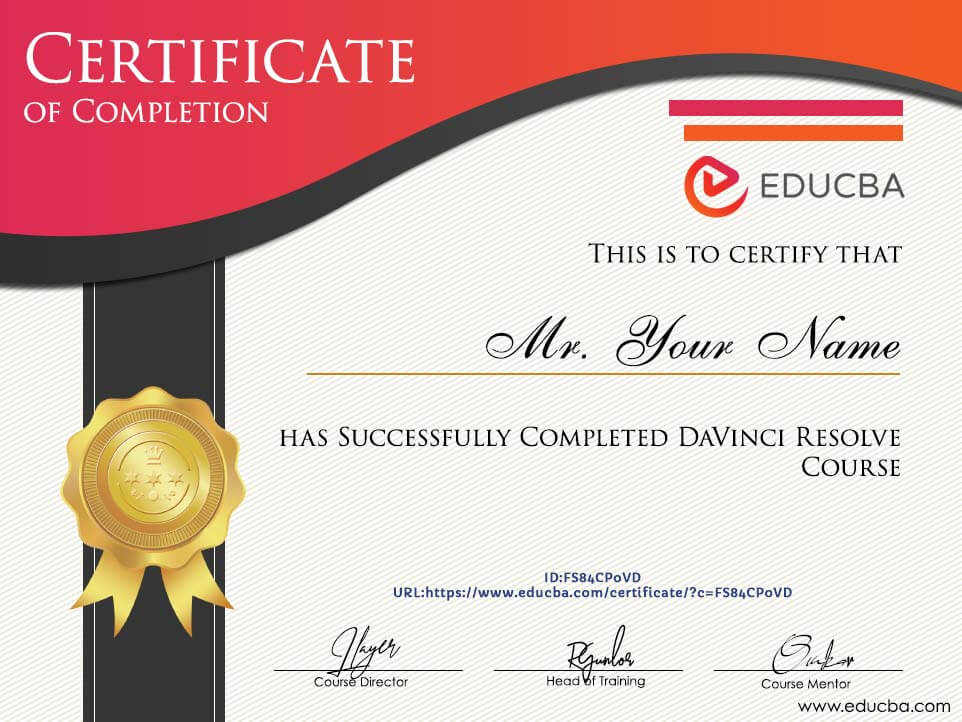 What is DaVinci Resolve?
Davinci Resolve from BlackMagic design is a color grading application that is used to edit, enhance and beautify the color of a video or film. Davinci's resolve was introduced or developed by the Davinci system in the year 2004. It was a next-generation color grading software and the first application to use multiple parallel processing engines for 2K resolution color grading.
Davinci System was a digital cinema company that started in the year 1984. It was established in a short time with its known products like 2K, 2K plus, TLC, Resolve and Revival. In 2009 after all the liquidation of the company, Da Vinci systems were acquired by Blackmagic Design, an Australian Digital cinema company.
Resolve was developed especially for the digital market and it offers color enhancement at the core. Also, it offers plenty of other features that attract video editing professionals. The first generation resolve software was called as resolving RT and Resolve DI. In 2008 Da Vinci introduces R series of Resolve by enabling supercomputing image processing and significantly better toolsets. Features of Davinci resolve includes editing tools, color grading tools, audio editing tools, multi-user collaboration, etc. This is easy to use and easy to learn the software which has a user-friendly interface.
Davinci Resolve 15 is the latest version in its series. Even though the latest versions are fully featured for video editing, it is still better known for its color grading capability. You will get both free and paid versions of this software. The latest version 15 was launched in April 2018 and it was merged with fusion.

Industry Growth Trend
The global computational creativity market size to grow from USD 204 million in 2018 to USD 685 million by 2023, at a Compound Annual Growth Rate (CAGR) of 27.4% during 2018–2023.
[Source - MarketsandMarkets]
Average Salary
Average Salary
$17 per hour
The average salary for a Video Editor is $16.63 per hour in the United States.
[Source - Indeed]
Which skills you will learn in this course?
Davinci Resolve is a video editing software that can be used for many creative works and provide many features for the users. From this DaVinci Resolve course, you will learn the different tools and skills of Davinci Resolve. Let us have a look into the different skills you will learn from this tutorial,
Media Pool
Media Manager
Basic Editing
Trimming
Transitions
Compound Clips
Nested Clips
Audio Syncing
Waveform
Multicam edits
Blending and Retime controls
Video Filters
Audio Editor & Audio Mixer
Motion tracking
Equalization
Davinci Resolve is incredible software for Video Colour grading, but there is certainly a lot to learn for video editors, More than a color grading software it offers a lot more features and tools.
Pre-requisites
Willingness to pursue a career in video editing: A passion for video editing, graphics, arts, etc. is a must before learning this DaVinci Resolve course. If you are willing to get a career in this field you can learn the software with full confidence and interest.
Basic knowledge of Computer: You just need basic knowledge to use a computer before start learning this DaVinci Resolve course. Try to learn basic lessons to manage computer before start using Davinci Resolve
Basic knowledge of nonlinear video editing: Since it is a color grading and video enhancement software, a basic knowledge of video editing will be an added advantage. Those who know video editing can easily catch this tutorial and you can easily learn the software.
The latest version of Davinci Resolve & personal computer: You can use any version of the software for learning it, but using the latest version will always keep you updated and provides the latest features and tools. Since it is a resource-intensive software program we should consider a good system before running the software.
Target Audience
Film making students: Students who are planning to enter the Video and Film production industry must learn this Software to get a thorough knowledge of how to apply Colouring and Colour Grading in the professional world.
Professional nonlinear editors: With each updating, Davinci resolve has become a professional video editing software. Now it is not a simple color grading application. Nonlinear video editing professionals are commonly using this software for editing and enhancement of their works.
Marketing and Advertising companies: Marketing and advertising companies uses this software for making their videos more attractive.
DaVinci Resolve Course FAQ's- General Questions
---
Why should I do this DaVinci Resolve course?
If you're asking this question, probably you haven't gone through the curriculum. A student who is willing to pursue a career in the field of video editing should do this DaVinci Resolve course since it is the most used and common software used by professionals.
I don't have a background in video editing, can I do this DaVinci Resolve course?
The answer is yes. You can learn this DaVinci Resolve course with a basic knowledge of computers. You will be provided with basic to advanced lessons of video editing and color grading using DaVinci Resolve.
Would this DaVinci Resolve course help me in my career advancement?
Skills and technology along with your creativity will always boost your career growth. Through this DaVinci Resolve course, you can improve your skills and knowledge and which helps you to attain a good position in your career.
What version of Davinci resolve do I need for your tutorials?
You can use any version of the software for learning it. But using the latest version will always keep you updated and provides the latest features and tools.
Sample Preview
---
Career Benefits
You may have heard of Davinci resolve as a color grading software, it has strong features for color gradients and mixing. However, with new updating and latest versions, Davinci resolve offers many other features like syncing audio, recording, and even started to offer tools for editing and sound mixing. This all features together make Davinci resolve one of the most powerful tools in post-production activities.
As we already discussed, Davinci's resolve is used in various industries like media production, Higher education, Motion pictures, and films, marketing & advertising, broadcast media, Entertainment, Vlogging, etc. This much of various industries offer thousands of job vacancies and openings for freshers and experienced professionals with Davinci resolve skills. Video editors with knowledge in DaVinci resources are well accepted by multinational companies and production houses. Also, you will get a good salary and benefits with this career.
Students who are planning to enter video editing fields are also benefited by this DaVinci Resolve course in many ways. They will get a basic idea of how it works and how to enter this field by learning new skills. Nowadays it is always better to learn new technologies and stay up-to-date since competition is huge in every field. So this Davinci resource course will help you to stay on top of others with new skills and knowledge.
DaVinci Resolve Course Reviews
---
Davinci Resolve Course
This is the best Davinci resolve course I have ever done. The tutorial is very easy to understand and very well presented by the instructor. As a beginner in the field of video editing, this DaVinci Resolve course helped me a lot to understand the overall concept of video editing and color grading.
Shane Roxas
Amazing Tutorials Course
This Davinci resolve course covered all the basics and advanced tools of Davinci Resolve software. I am a professional video editor, and this course helped me to improve my skills in this field and I am really happy to learn this software.
Elizabeth Shean
Good Davinci Resolve Course
This Davinci resolve course goes through everything from editing basics to how to use every feature of DaVinci Resolve. There is a lot of information in this course, and each section is demonstrated very well.
Paridhi Deshmukh