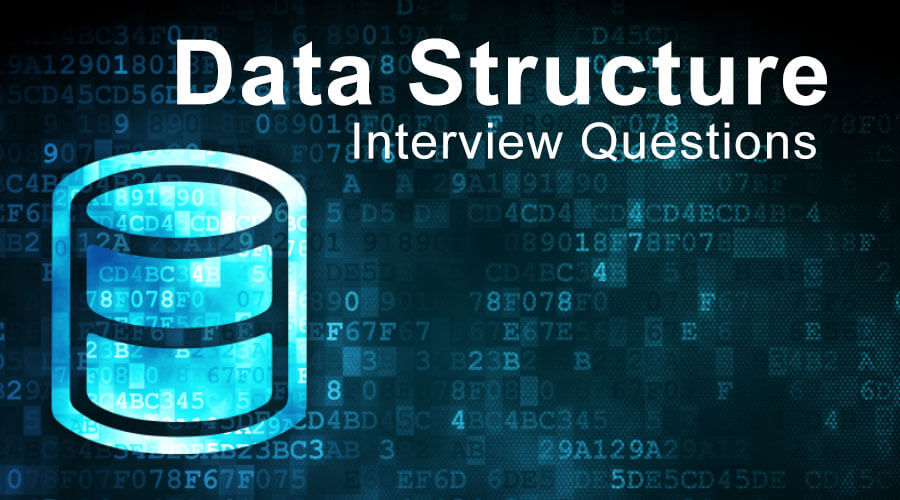 Introduction to Data Structure Interview Questions and Answers
There are various kinds of data available in a current digital system, and all those are sometimes very structural or UN structural. Handling that kind of data is maximum time very challenging, and there have a big chance of losing data at any time if people are not keeping those data properly. Now data structure is mainly used to maintain the structure of the data anytime for better and efficient use without a big risk of losing important data. There are various kinds of data structures available in the market, and all of them follow some of their unique characteristics, so they are always a possible solution for different applications in the market. Some of the data structure is very much specifically used for one or more individual tasks for their completion. For example, designing or preparing a proper database structure (whether it is relational or not relational, that does not matter) organizer normally follows B-Trees data structure.
B-Tree data structure properly provides a full presentation of maintaining tables or the relational database structure that uses huge for any application. Currently, without this kind of database structure, the application cannot fulfill its requirements properly. The best way for the same to use a hash table where compiler implementation is always preferable is if people are willing to identify some specific table by lookup identifier. In a top view, two kinds of the data structure are normally used: Linear (Array, Stack, Queue, Linked list), and the other is Non-Linear (Trees or Graph).
Now, if you are looking for a job related to Data Structure, you need to prepare for the 2023 Data Structure Interview Questions. Every interview is indeed different as per the different job profiles. Here, we have prepared the important Interview Questions and Answers, which will help you succeed in your interview.
In this article, we shall present the 10 most important and frequently used Data Structure interview questions. These questions will help students build their concepts around Data Structure and help them ace the interview.
Part 1 – Data Structure Interview Questions (Basic)
This first part covers the basic Data Structure of Interview Questions and Answers.
Q1. Provide some more details on various actions or operations performed by different data structures?
Answer:
Different kinds of normal activities are done by data structure like Insertion, Deletion, Traversal, Searching and Sorting.
Any adding a new data item to a specific collection of a data item can considering as Insertion activity for the data structure.
The same deletion of existing data items from the defining item collection can be considered a deletion activity for the data structure.
Maintaining one common and single approach to fetch all the data items exactly once and processed the same success can be considered Traversal.
Find out the exact data item inside an entire collection of the data item. If that specific data item already exists in that specific data collection, it is considered a searching mechanism of the data structure.
Now one of the big requirements of maintaining the proper ordering of data items in a specific collection. It always maintained proper sorting by ascending or descending data in case of a numeric data item in the collection or ordering data based on a sequence of alphabetically in case of non-numeric data.
Q2. Explain the difference between Linked List and Array in the case of data structure?
Answer:
There is a lot of structural difference between Linked List and Array; some of the key differences are mentioning below:
Linked List is always in dynamic in the case of defining size, wherein the case of Array sizing need to be initialized first.
Performing an insert or delete of any data item for the collection like Linked List is very easy to do, whereas it is too costly to insert or deleting activity for an array of an element.
Some time for critical kinds of applications, random access is required on the specific collection data item. The Linked list never supports this kind of random access utility, whereas the array of elements allows random access on a specific data item.
In memory utilization, the linked list always needed some extra spaces for a specific pointer considering each element append inside the linked list. But an array is normally taken constant memory space based on the size defined at the time of initialization does not consider whether that memory has been used or not at any time by the application.
Let us move to the next Data Structure Interview, Questions, And Answers.
Q3. Explain about the Stack in details and how it can be used in case of data structure?
Answer:
A stack is one the big example of a linear data structure. It normally followed one of the most popular data structures, like maintaining order based on first in first out (FIFO) or last in last out (LILO) utility. Stack normally following some basic kind of operation like Pop, Push or Peek.
The application which can be done by stack are mentioning below:
By using stack conversation from Infix to Postfix is very easy.
In expression evaluation by the stack is too popular in case of postfix.
A stack is eventually helpful in case of reversing String.
Q4. Provide detailed explanation regarding queue, explain the main difference between queue and stack, and give more details regarding the implementation of a queue.
Answer:
This is the basic Data Structure Interview Question that is asked in an interview. A queue is again one of the popular examples of linear structure which is followed by first in first out structure properly. Basic operations which are using by the queue are Front, Enquequ, Dequequ, and rear.
The main difference between stack and queue highlighted everywhere is stack normally following to remove one item most recently added. Whereas queue always removing that item which is least recently added. Both of them can be easily integrated by using arrays and linked lists.
Q5. Explain about different notation like infix, prefix or postfix in the data structure?
Answer:
Infix Notation:
A*(B+C)/D
Postfix Notation:
ABC+*D/
Prefix Notation:
/*A+BCD
Part 2 – Data Structure Interview Questions (Advanced)
Let us now have a look at the advanced Data Structure of Interview Questions And Answers.
Q6. Define Linked List in detail and explain varieties types available in Linked List?
Answer:
Three types, Singly Linked List, Doubly Linked List, Circular Linked List.
Q7. Indicating details of the data structure in case of generating a graph by using BFS and DFS?
Answer:
The queue for BFS and Stack for DFS.
Let us move to the next Data Structure Interview, Questions And Answers.
Q8. Is implementing a double link possible in defining one variable that actually holds one single pointer in every node?
Answer:
Yes.
Q9. Provide a proper mechanism for implementing require queue by using a stack in the data structure?
Answer:
Two Queues can implement a stack.
Q10. Explain about LRU cache and give full details of using which suitable data structure should be used for the same?
Answer:
Queue and Hash, both of these data structures, can be used for implementing LRU cache. In case of queue doubly linked list need to implement for proper designing of LRU cache. And in the case of hash page number and address of the corresponding queue node can be maintained as key and value for maintaining the LRU cache scheme.
Recommended Articles
This has been a guide to the list of Data Structure Interview Questions and Answers. Here we have listed the best 10 interview sets of questions so that the jobseeker can crack the interview with ease. You may also look at the following articles to learn more –