Learn from Home Offer TAKE THIS BUNDLE
TABLEAU Course Bundle - 16 Courses in 1 | 2 Mock Tests
54+ Hour of HD Videos
16 Courses
2 Mock Tests & Quizzes
Verifiable Certificate of Completion
Lifetime Access
TAKE THIS BUNDLE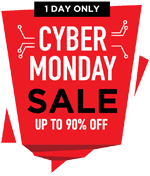 * One Time Payment & Get Lifetime Access
What you get in this TABLEAU Course Bundle - 16 Courses in 1 | 2 Mock Tests?
54+ Hours
16 Courses
Mock Tests
Course Completion Certificates
Lifetime Access
Self-paced Courses
Technical Support
Mobile App Access
Case Studies
About Tableau Training in Chennai
| | |
| --- | --- |
| Course Name | Tableau Training in Chennai |
| Deal | You get access to all 16 courses, Projects bundle. You do not need to purchase each course separately. |
| Hours | 54+ Video Hours |
| Core Coverage | Business Intelligence with Tableau, Customer Analytics, Pricing Analytics using Tableau |
| Course Validity | Lifetime Access |
| Eligibility | Anyone serious about learning Tableau tool and wants to make a career in Data and analytics |
| Pre-Requisites | Ability to Analyze and Visualize Data |
| What do you get? | Certificate of Completion for each of the 4 courses |
| Certification Type | Course Completion Certificates |
| Verifiable Certificates? | Yes, you get verifiable certificates for each16 course, Projects with a unique link. These link can be included in your resume/Linkedin profile to showcase your enhanced skills |
| Type of Training | Video Course – Self Paced Learning |
| Software Required | None |
| System Requirement | 1 GB RAM or higher |
| Other Requirement | Speaker / Headphone |
Tableau Training in Chennai Curriculum
---
The course has been developed by keeping the fact in mind that any type of trannie should find it sheer easy to understand everything that has been covered in the course. The first unit has been named Tableau where you will be getting a brief introduction about this software, the solutions that could be drafted using this software, and how it endorses data visualization. Immediately after finishing the first unit, you will get a chance to work in a project under the second unit "Projects on BI Tools and Tableau Analytics". In the project, you will be practicing everything that you have learned so far in the first unit. Business Intelligence with Tableau will be the third unit where you will be learning how Tableau is used to perform business intelligence-related activities.
The fourth unit has been introduced to make your work on another project on R and Tableau – Customer Analytics. In this project, you will be designing a solution for customer analytics. While working in the project, you will be learning about various errors that occur while working with this application and you will understand how to prevent these errors and how to handle them appropriately. Projects on R and Tableau – Pricing Analytics will be the fifth unit that will get you exposure to another project where we will be working on designing solutions for pricing analytics. The sixth unit is Tableau Features Hands-on where you will be doing hands-on to understand Tableau better and it will lead to improving your proficiency in working with this software. All the projects added in Tableau Training in Chennai will add an extra bit of your knowledge and make you feel confident about working with this software in the production environment.
The seventh comprise of the other project on Tableau where we will be working on the topic Super Store Business Requirements. Together with the technical aspect, you will also learn how to design solutions for different kinds of problems. After completing all this project, you will be ample confidence to work in this software. In the eighth unit, we will be learning about Analytics using Tableau. You will see how data analytics is done using the interactive platform provided by Tableau. We will be doing that using example which will make it very easy for the training to understand the concept of data analytics. The next unit will be having the other crucial project named Fatal Accidental Drugs Overdose Analysis. You will be required to leverage all of your learning that has been gathered so far throughout the different modules. The course will be completed after completing the last project on topic Retail Store Business Analysis. Once you finish all the courses, you will become ample cognizant to appear in interviews for the position for Tableau professional and will also become able to work thoroughly in this tool.
Tableau Training – Certificate of Completion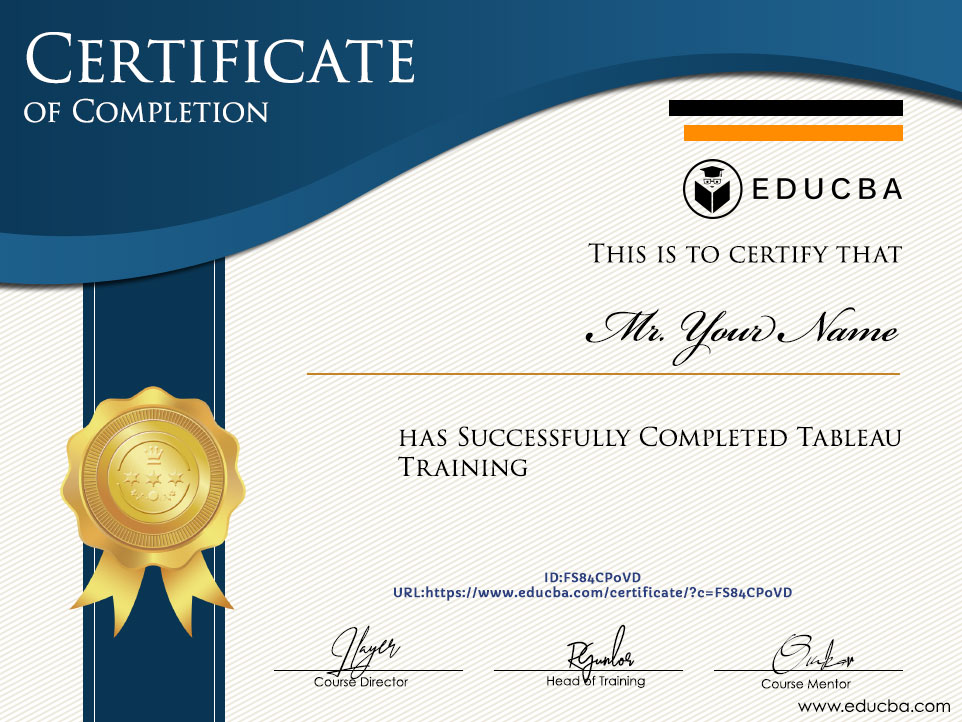 What is Tableau?
Tableau can be defined as the software which is used in data visualization by leveraging the interactive platform. This tool is mainly concerned with the data and serves the purpose of presenting the data efficiently. The interactive platform offered by the software makes it very effective and easy to derive a solution that facilitates the business decision. This tool has been developed and managed by the American organization Tableau Software based in Seattle. The primary focus of this tool is to endorse business intelligence by providing an interactive data visualization platform. The approach is used to represent the data is very unique that makes it one of the most popular tools for data processing. The raw data can be treated very effectively using this tool and can be presented as fruitful information which helps the organization to get into the solution with ease.

Industry Growth Trend
The global Advanced Analytics Market size was USD 7.04 billion in 2014 and is projected to reach USD 29.53 billion by 2019, growing at a Compound Annual Growth Rate (CAGR) of 33.2% during the forecast period.
[Source - MarketsandMarkets]
Average Salary
Average Salary
$65,502 per year
The average salary for a Data Analyst is $65,502 per year in the United States.
[Source - Indeed]
Which Skills will you learn in this Course
?
Tableau Training in Chennai comprises everything that is required to master Tableau so that the trannie could get to know about the capability of this tool which eventually makes them proficient. You will be learning how to process the raw data accordingly to generate useful information. As the main focus of this software is to endorse business intelligence, you will get to learn several new things about BI. Various projects have been included in this course to get you hands-on in this tool and will improve your understanding as well. After completing this course, you will become adequately confident to work in this tool and leverage it to design the solution to support organizations.
Pre-requisites
To learn working with this software there some of the prerequisites that one is supposed to have to make learning easy for themselves. The very first thing is a good understanding of handling huge data. In some of the cases, you will need to use the handle the data in other tools as well which will be easy if you have a basic understanding of managing huge data. The next important thing is data representation. If you are having a gold idea about appropriately presenting the data, you will be able to leverage this tool very effectively to design the solution for the problem which can be mitigated or eliminated

. If you are having a good idea about these things, you may find it very simple to learn this course and will also be finding it very interesting to solve complex problems.
Target Audience
All the folks who are curious to explore about Tableau and want to grow their career in this technology can be the target audience for Tableau Training in Chennai. Mainly the professionals who are working in other or similar technology and want to get started with Tableau can be the best target audience for this course. They will learn everything that is required to be a Tableau professional. The students who are looking forward to a lucrative career in the business intelligence domain can also be the best target audience for this course. They will be covering all the new things which may or may not be part of their academics. The trainers who are educating folks in this software can also opt for this course to get an in-depth idea about this tool which will eventually help them to train their trannies very effectively
Tableau Training in Chennai – FAQ
---
Why should you take up the Tableau training in Chennai?
Tableau is one of the leading tools for Business Intelligence used all across the world to produce a data visualization platform. When we talk about the count of opportunities in this technology, Chennai is the city that heads the list of the city that offers more opportunities. Opting for this course could be very beneficial for the trannie as they will find it very easy to find a good job where they will be getting opportunities to practice this tool that they have learned through the course. Due to a high count of IT-based organization in Chennai, the job vacancies for this tool is increasing day by day. Opting for Tableau Training in Chennai is one of the best decisions one can make who is willing to grow their career in this domain.
What is the Tableau market trend in Chennai?
Chennai has always welcomed all the tools and technologies that have helped the business to grow in either way. If we talk about the trend of Tableau in Chennai, it is found increasing continuously since long back and expected to keep on increasing. For all the folks looking for a good career opportunity in Tableau, Chennai could be very lucrative for them. The interesting part is, compensation paid to Tableau professionals in Chennai is comparatively high and in addition to that, they also get opportunities in IT giants who always welcome professionals having expertise in such software.
Sample Preview
---
Career Benefits – Tableau Training in Chennai
Tableau is one of the most popular software that is used in data visualization and providing an interactive platform at the same time. Due to the solutions that can be drafted using this tool, the demand for professionals working in this growing exponentially. In the current job market, there are a huge number of openings for the position of Tableau expert and this could be easily witnessed through the online job portals. The trend of this tool is increasing throughout the world which makes it easy for Tableau professionals to move abroad as well and find the opportunity over there. If you find it interesting to work with data and interested in getting started with business Intelligence, this course can help you to get a good kick start towards a bright and lucrative future.
Reviews
---
Customer Analytics Course Experience
I took this course as part of my Business analytics and the content of the course is adequate to understand the concepts. The examples and cases used for the explanation made my understanding easier for me. The instructor has explained in detail which was easy for me to try on my own and learn faster. This also helped me develop my analytical skill in customer analytics. Thank You. Keep up the good work.
Linked
Akash Guru
Great course
This is my first online course and I am satisfied with this program. This course is in-depth with customers' analysis. Clear teaching methods and hands-on examples. This course gives real-life data explains how to use the data. I plan to take more courses in the future. I would recommend this course to a friend.
Ricky Ly
Business Intelligence with Tableau
This was my first course with Tableau and it was very useful for the development of my skills. I took this course since a friend of mine told me that Tableau has become an industry standard for best practices in data visualization. The part of the training that was most useful was the forecasting with Tableau and this was new to me. A great course overall.
Linked
Gus Raposo
Customer Analytics using R and Tableau
The course gives an overview of how R studio and Tableau tools can be used to analyze customer behavior using the responses they give. The course teaches how clustering is done to cluster customers and make use of the clusters to provide customized offers/discounts to retain them. These techniques are used in e-commerce, cab aggregators, and so on. In short, it is a useful course to gain a general understanding of how businesses use customer analytics to increase customer base and their revenue.
Linked
SHERI MIRIAM JOHN
Good one
It was a wonderful course, it teaches how to manage the program perfectly. Very detailed and amazing.
Linked
Juan Carlos Pardo Polo