Learn from Home Offer TAKE THIS BUNDLE
SSIS Course Bundle - 2 Courses in 1
This SSIS Training includes 2 Course Online with 7+ hours of video tutorials and Lifetime access. You get to learn SQL Server Integration Services (SSIS), its functions, use data viewer, execute practicals from scratch.
TAKE THIS BUNDLE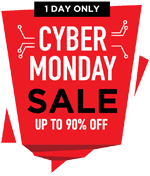 * One Time Payment & Get Lifetime Access
What you get in this SSIS Course Bundle - 2 Courses in 1?
7+ Hours
2 Courses
Course Completion Certificates
Lifetime Access
Self-paced Courses
Technical Support
Mobile App Access
Case Studies
About SSIS Course Bundle
---
| | |
| --- | --- |
| | |
| Courses | You get access to all 2 courses, Projects bundle. You do not need to purchase each course separately. |
| Hours | 7+ Video Hours |
| Core Coverage | SQL Server Integration Services (SSIS), its functions, use data viewer, execute practicals from scratch. |
| Course Validity | Lifetime Access |
| Eligibility | Anyone serious about learning SSIS and wants to make a career in this Field |
| Pre-Requisites | Basic knowledge about data analytics would be preferable |
| What do you get? | Certificate of Completion for each of the 2  courses, Projects |
| Certification Type | Course Completion Certificates |
| Verifiable Certificates? | Yes, you get verifiable certificates for each course with a unique link. These link can be included in your resume/Linkedin profile to showcase your enhanced skills |
| Type of Training | Video Course – Self Paced Learning |
SSIS Course Bundle Curriculum
---
In this section, each module of the SSIS Course Online is explained.
| | | | |
| --- | --- | --- | --- |
| Sr. No. | Course Name | No. of Hours  | Course Description |
| 1 | SSIS | 2 | In this module, you will be learning all the fundamentals of the SQL server integration service. We will be going through different terminologies usually called jargon which is related to the data integration technology. You will get to know about the reason, advantages, and usage of data integration in this unit. The educator will be explaining every single term used in SSIS as understanding the basics is very important to process for the advanced level. All the topics will be explained by an example to make things easy or simple for you to learn. |
| 2 | SSIS – SQL Server Integration Services | 5 | This module will be explaining to you how you can integrate the data from various databases at a  single place which will be further used to make business decisions. Being more specific, it's a very technical module, and almost all of the topics that you had covered in the last module will be used here. You will learn about the platform that you have to use to aggregate the homogenous and heterogeneous data at a single platform in a structured way so that it will be easy for the decision-makers to leverage it. Here you will get actual exposure to the technologies that will be used to perform the desired task to generate the required outcome. |
| 3 | Total No. of Hours | 7 Hours | |
---
SSIS Training – Certificate of Completion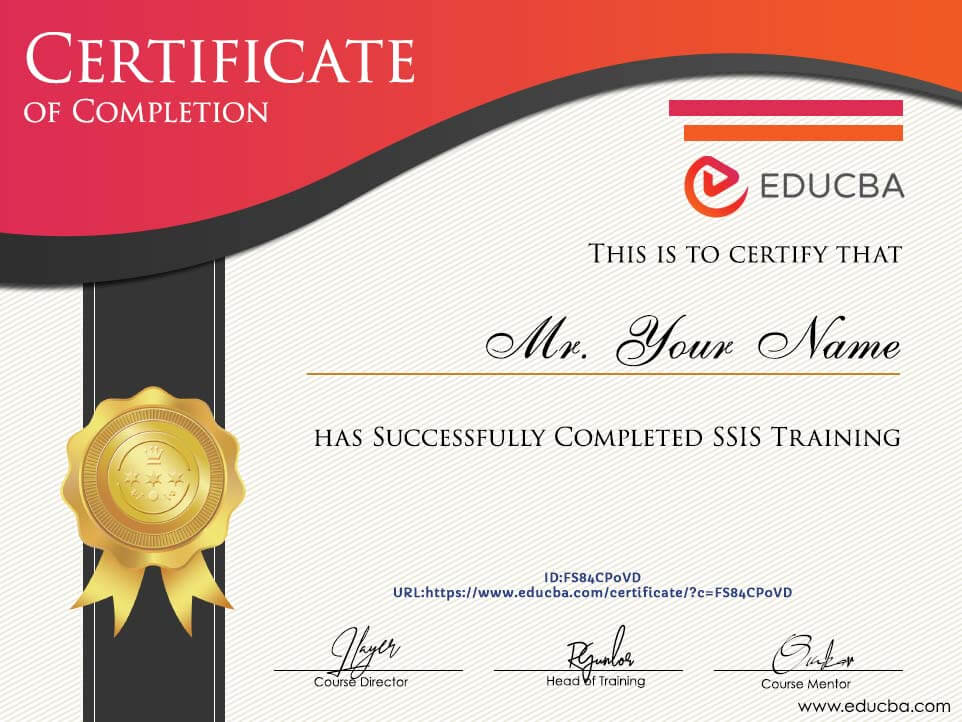 ---
What is SQL Server Integration Services?
SQL Server Integration Services SSIS can be defined as a module of the Microsoft database software that works as a platform to integrate data from various sources. To be more specific, it's a Microsoft server component that facilitates data integration. It is very useful while working with the huge sum of data and helping the businesses in decision making. It comprises an Event handler, control flow, data flow and things like that to make it easy to work with huge data.
SQL Server Integration Services is a platform-dependent technology which is available in both forms: graphical user interface and command-line interface. Its first version was released in 1995 while the current version was released back in 2014. The latest version of SQL server integration services is Hekaton or SQL 14. The reason for its popularity is, it saves a lot of costs involved in data processing, offers high security, mitigates database problems, and makes it easy to maintain servers.
Now let's try to understand this topic using an example. Think of an organization big organization that has several departments like sales, marketing, human resources, Information technology, and so on. Each of the department produces a lot of data that has to be evaluated to make any business decision. In this case, it will be easy for the decision-maker if data from various departments could be aggregated a single platform, and here is exactly the place where SSIS enters into the picture. The SQL server integration system provides a platform where all the data can be combined in some defined structure to make the decision making more accurate.

Industry Growth Trend
The overall data science platform market is expected to grow from USD 19.58 billion in 2016 to USD 101.37 billion by 2021, at a CAGR of 38.9% from 2016 to 2021.
[Source - MarketsandMarkets]
Average Salary
Average Salary
$65,332 per year
The average salary for a Data Analyst is $65,332 per year in the United States. Salary estimates are based on 3,826 salaries. The typical tenure for a Data Analyst is less than 1 year.
[Source - Indeed]
Which skill you will learn in this SSIS Course?
In this SSIS Training, you will be learning the entire things that come on the way to integrate the heterogeneous or homogeneous data on the same platform. This SSIS course online has been designed very accurately to comply with the need for a beginner to the need for an expert who works with data very often. From scratch to the advanced level, everything has been detailed in this SSIS Training so that you can learn things from every aspect. Throughout the tutorial, every topic has been supported with examples to make learning fun for you.
In the initial module, you will be starting by learning things from the basics. The educator will take you through the jargon that is being used in further modules. The tutorial has been developed systematically and the advancement will increase gradually with the units. In the first module, the trainer will make the fundamentals clear to you and he will be connecting those fundamentals in the next module that you will see in this SSIS Training.
In the last module, you will be working with SSIS. In the beginning, you will be taught how to set up an environment in the system so that data integration could be done, and later on, you will be working in that environment. You will see how the educator will take the heterogeneous data from various databases and will aggregate it using SSIS. The example that has been included in the last module will make you all the concerns very clean and will make you ready to deploy SQL Server Integration Services in your system.
Pre-requisites
 As you will be using this software in the window-based machine, you should be familiar with the window operating system. Though it is not very important to know the depth working of windows, it will be more than enough to know how things work in a window operating system. If you have already worked in windows it will be a bit easy for you to get familiar with the SSIS interface.
After the understanding of the window, you should know what is the database, how it works, what can you do using the database, what are kind of data can be stored in a database, and things like this. In simple terms, you should know about the database as working with SSIS is all about playing with several databases. You should know the basics of the database management system and about the relational database management system.
Important of all, if you have worked with SQL that will be an advantage for you while learning SSIS. The commands that you will be going through SSIS gives pretty same looks as it happens with the SQL commands. So if you have ever worked on a project that includes working with SQL commands, it is going to be very easy for you to learn SQL Server Integration Services. Overall, regardless of everything all you need is dedication towards learning the new technology that may take some time, but you will be mastering that at the earliest, based on your interest.
Target Audience
The target audience for any of the courses can be the folks with a keen interest in learning that subject or technology. To be more specific, below are the people who could be the best target audience for this SSIS Training.
Professionals: People who have working experience in the database can be a perfect audience for this SSIS course online. They can learn lots of extra things and can get an edge in their career. They will learn how data from several databases could be integrated at a single platform to make it easy for decision-makers to take leverage of complex users' data. In terms of financial growth, It will also help them to secure a great package.
Students: The students who have a basic idea of SQL and database can opt for this SSIS Training to open the door for numerous opportunities in data integration. Though this technology has been considered in some advanced category, students can learn it to stand out of the rush and give a good kick start to their career. Also, if they are interested in the internship, several organizations will welcome students who know how the SQL Server Integration Services works.
Educators: The trainers who are already training folks in different technologies and want to get their hands in the data integration field can learn SSIS to expand the area they train students on. Also, not just for training purpose but they can also be a consultant who can offer a solution to businesses who wants to deploy data integration in their system for decision making purpose.
FAQs
---
How long a student may take to learn through this SSIS Course Online?
As we already discussed, SQL Server Integration Services is considered under advanced technology. So for a student to learn it, it may take around a month to understand the fundamental of data integration. To explore more in advance level, it may take another one or one and a half months. The rest of the things depends upon how time you give to practice and who quickly you are learning it.
What edge will we get after learning this SSIS Training?
You will be learning how to aggregate the data from several resources at the same platform so that it can become easy to analyze the data. If you are already working on any projects that use complex data to solve business problems than it will be best for you to learn SSIS and give your skills an edge for your further growth.
Which companies offer jobs in SSIS?
In the current period, almost every company is working in SSIS. Some of the companies have their worn SSIS setup while some consulting companies set it up for other organizations. The top IT giants like Amazon, Google, Microsoft, TCS, Infosys uses SSIS as their platform to process huge data that helps them to make decisions based on business. You can get opportunities from there companies to work in their system for data integration. In addition to these IT giants, there are small or midsize organizations all well who had deployed SSIS in their system and be poaching professionals who are experienced in this technology.
Sample Preview
---
Career Benefits
This SSIS Training will be making you a cognizant about SQL Server Integration Services. Once you have gone through the entire training, you will be able to work with several databases that hold a significant sum of data. You will be having an idea of how the heterogeneous data from various sources could be combined in one place in a structured way to solve the real problems. It has been designed to give you exposure from a beginner to an advanced user. From scratch to the complex level, all the topics have been covered with some interesting illustrations to make the Bootcamp simple and eas.
There are lots of organizations these days that are already using SSIS as their core tool to integrate their data for decision making. Regardless of the size of the organizations, they are using it very thoroughly to expand their business or to ensure their further development. From this point, it is clear that professionals with experience in SSIS will have a huge opportunity in reputed organizations. The current market is already having various vacancies for such professional and even in the future, it is full of opportunities.
This training or course will take you through the practical exposure which will let you stand as the person who has worked in the SSIS environment for longer. The examples covered here includes things from basic of data integration to the advanced level of it offering you the insight of how one can use SSIS regardless of the data complexity. Summarizing it all in a few words, you will end up becoming a data integration savvy who has all the ideas of how SSIS functions.
Course Review
---
Very refreshing
This is the absolute essential beginners' guide to learning SSIS From a basic explanation of SQL's simplest commands clear through data manipulation and grouping, this SSIS Training is perfect for somebody just starting with this, or anyone looking for a refresher.
Joseph Bankole
SSIS Course Online
It's not often that one finds a great online course as great as EDUCABA. Each course is presented and easy guidelines to follow. The courses are enjoyable and straightforward. One great thing about this creates a table course is that definition is also included great for beginners like me. I will recommend this SSIS Training Course.
Karina Suleymanov
Informative
I am really happy I decided and purchased this SSIS Data Base online certification course. Fantastic Learning Modules! I was able to understand and review details to further understand the fundamentals of SQL, and other business-related modules, that many jobs I have looked into requiring some experience in or certification! Thank you!
Azer Morales
SSIS Training
I am a digital marketing executive, and I need to use SQL almost daily to extract and analyze data. The course helped me to update my knowledge and also learn new things that I can use daily at work. What is important about the course to mention is the fact that the lectures are clear and easy to understand.
Jessica Mangini