Learn from Home Offer TAKE THIS BUNDLE
SEO Training in Hyderabad (12 Courses, 6+ Projects)
12 Online Courses
6 Hands-on Projects
66+ Hours
Verifiable Certificate of Completion
Lifetime Access
Search Engine Optimization - Introductory
Search Engine Optimization - Case Study#2
Search Engine Optimization - Case Study#1
SEO - Search Engine Optimization
SEO Project on Page Optimization
Offer ends in:
TAKE THIS BUNDLE
* One Time Payment & Get Lifetime Access
What you get in this SEO Training in Hyderabad?
Online Classes
Technical Support
Mobile App Access
Case Studies
About SEO Training in Hyderabad
| Course | | No. of Hours |
| --- | --- | --- |
| Search Engine Optimization - Introductory Course | | 4h 14m |
| Search Engine Optimization - Case Study #1 | | 2h 48m |
| Search Engine Optimization - Case Study #2 | | 2h 51m |
| SEO - Search Engine Optimization | | 4h 11m |
| SEO Project on Page Optimization | | 5h 12m |
| Conversion Rate Optimization (CRO) - Beginners | | 1h 48m |
| Conversion Rate Optimization (CRO) - Advanced | | 3h 25m |
| SEO Project 2019 - Page Optimization | | 2h 6m |
| Google Analytics | | 4h 47m |
| Project on Google Analytics | | 2h 31m |
| Google Adwords- Google Adwords Course | | 9h 19m |
| Google Ads Training - Advanced | | 1h 59m |
| Digital Marketing - Display Advertising | | 3h 34m |
| Email Marketing Case Study - Build a Powerful Targeted Email Database | | 3h 07m |
| Project on Twitter Marketing and Analytics | | 3h 35m |
| Local SEO | | 1h 27m |
| SEO Analytics Strategies- Content Marketing Tools | | 2h 13m |
| SEO and Search Engine - SEO to Rank #1 in Google | | 11h 31m |
| | |
| --- | --- |
| Course Name | SEO Training in Hyderabad |
| Deal | You get access to all 12 courses, 6 Projects bundle. You do not need to purchase each course separately. |
| Hours | 66+ Video Hours |
| Core Coverage | Search Engine Optimization (SEO), Search Engine Marketing (SEM), Google Adwords, Google Analytics, Digital Marketing, Display Advertising, Email Marketing, Conversion Rate Optimization (CRO) |
| Course Validity | Lifetime Access |
| Eligibility | Anyone serious about learning SEO and wants to make a career in this Field |
| Pre-Requisites | Basic knowledge about Digital Marketing would be preferable |
| What do you get? | Certificate of Completion for the course |
| Certification Type | Course Completion Certificates |
| Verifiable Certificates? | Yes, you get verifiable certificates for each12 course, 6 Projects with a unique link. These link can be included in your resume/Linkedin profile to showcase your enhanced skills |
| Type of Training | Video Course – Self Paced Learning |
| Software Required | None |
| System Requirement | 1 GB RAM or higher |
| Other Requirement | Speaker / Headphone |
SEO Training in Hyderabad Curriculum
---
You will learn SEO skills which exist most required when getting a job in this field and to build a career which is as follows:
In this SEO training course you will learn the basics of what is content marketing and how does it work. This module will also focus on different content marketing tools and how they are used for social marketing, graphic creations, Automation, webinars along with their example.
SEO – Search Engine Optimization
In this SEO training module, you will learn about what is web analytics, it's working along with methods to analyze the web and various tools used for that purpose. this module also covers topics such as how google analytics works, different types of tabs, goal setting, various export options, user management, etc
Conversion Rate Optimization (CRO) – Beginner Level
This SEO training focuses on concepts in SEO training which every beginner should know if they are starting from scratch. It focuses on basic topics like how the user searches on the internet, based on that students will know how the ad-words works, concepts of google ad-words, conversion tracking, the concept of CPM. Along with that it also teaches how to do dynamic remarketing, frequency capping, conversion tracking, video campaign, shopping campaign, etc. along with their examples
Conversion Rate Optimization (CRO) – Advanced Level
This module is if the advanced level that will focus on topics like a complete overview of SEO. By learning this module, you will be the master of the many facets of SEO. You will also learn about what is the difference between SEO and SEM, how to organically drive traffic to your websites research and keyword management, what are the various components of SEO. This module will also cover one of the important aspects of SEO which is Page Optimization for better understanding.
This SEO module includes an introduction and basic concepts of search engines, how indexing, crawling, and processing is done while searching for the content on pages, relevancy calculation, retrieval, the various SEO techniques, what are different types of searches, etc. Important elements considered by a search engine when searching and ranking, examples of search listings, Google optimization, etc.
Digital Marketing – Display Advertising
In this module, you will learn about how to use SEO into offline and online marketing strategies to get more traffic on a website which will lead to a higher ranking. This module will guide you on topics such as Profile link building, Blog commenting, Article submissions, Social bookmarking, directory submission, etc.
Email Marketing Case Study
This module will cover email marketing strategies such as how to choose and design an email for better client relationships, checking reports, segments, etc.
SEO Training – Certificate of Completion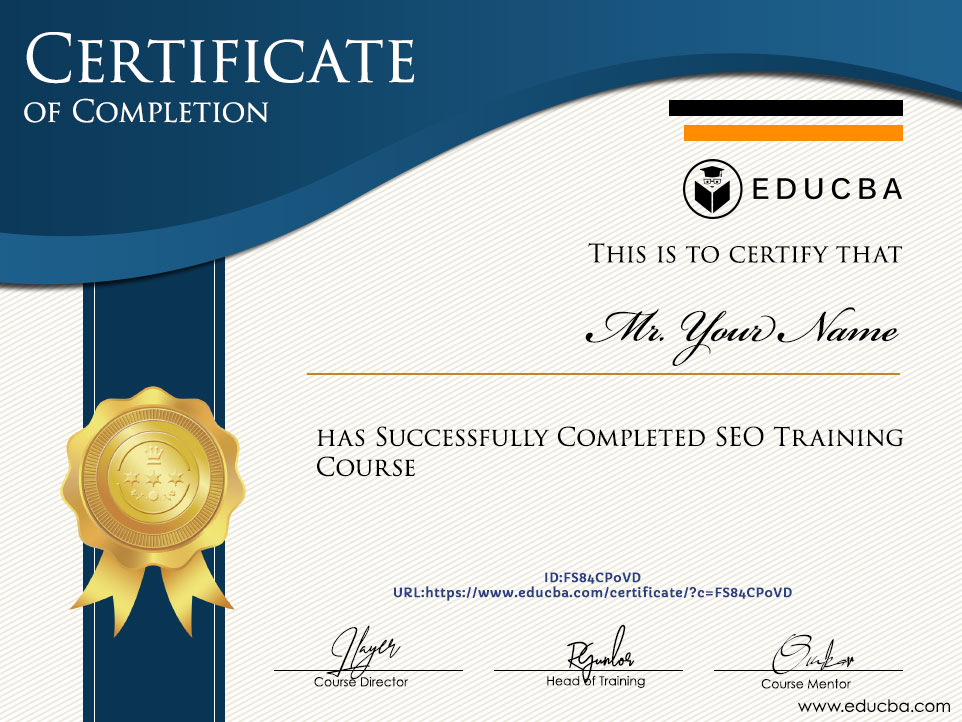 What is SEO?
SEO is an acronym for Search engine optimization which is a technique to higher the quantity and quality of the traffic of the website which is achieved by indexing increasing visibility of the website. So, SEO helps in most of the digital marketing functions such as it ensures that more crawling and indexing for webpage done by bots, generating traffic of the webpage. More traffic means more sales. So it also ensures the quality of traffic by checking the relevancy of visitors. This is also beneficial to stay a business webpage on the first page or attain the first rank. This will also lead to More global visitors to check the webpage. This is how SEO is an integrated digital marketing tool.

Industry Growth Trend
The digital marketing software market is projected to grow from USD 33.39 Billion in 2016 to USD 74.96 Billion by 2022.
[Source - MarketsandMarkets]
Average Salary
Average Salary
$51,326 per year
The average salary for a SEO Specialist is $51,326 per year in the United States.
[Source - Indeed]
Which Skills will you learn in this Training
?
You will learn how to implement SEO online as well as offline marketing initiatives, how to search and create your vocabulary for ranking high using search engine optimization, discovering various Keywords and validation.
In this way, you will learn the most effective SEO strategies along with examples and hands-on experience of the tools. SEO Training in Hyderabad will help you to enhance your proficiency level of the SEO for always ranking highest on the web pages. Also by doing SEO Training in Hyderabad, you will gain extensive project experience so you will be ready for managing inbound marketing activities.
Pre-requisites
It will be great if you have an understanding of the basic concepts related to Operating Systems, like Windows, Linux, etc. Hence Knowledge of the Operating Systems can be an added advantage.

Before learning the IoT the student must be familiar with prior knowledge of concepts. However prior Knowledge of any one of the programming knowledge is a must in SEO Training in Hyderabad. Prior understanding of Raspberry pie is advantageous but not mandatory. Understanding of Linux operating system and its command-line interface is also more than enough.

Experience with Single Board Computers (SBC), microprocessors or microcontrollers is also desirable.

Also, The important prerequisites are interest in the subject and a little bit of patience.
Target Audience
Anyone keen to learn and expertise in the SEO field and who has a prior understanding of Digital Marketing without much difficulty can learn SEO. SEO Training in Hyderabad is more beneficial for content writers, Digital Marketing Professionals, Marketing Managers, Business, and Communications graduates as well as Entrepreneurs, etc.
Students who know the basics of WordPress, email marketing, etc Some intermediate level people who are familiar with the fundamentals of digital marketing or WordPress and want to learn more about it, must join SEO Training in Hyderabad. Anyone who wants to create added value to their current job as well as the
SEO Training in Hyderabad – FAQ's
---
How long does it take to complete this SEO Course?
5-6 hours per week is recommended. Time to completion of this course may vary based on his or her schedule, but most learners can complete it in 3 to 4 months if they give 5-6 hours per day as it is a 58+ hours course.
Will there be a certificate given for the course?
Yes. This SEO course comes with a verifiable certificate that has a lifetime validity is issued to all those students who successfully pass the course along with the completion of projects.
Do I need to take this SEO courses in a given specific order?
We recommend taking the courses in the order presented, as teaching professionals designed each module in the course is built on the concepts from previous modules.
What is the period of certificate validation?
The certificate provided by us for this course has lifetime validity. Hence Updation of the certificates is needed. You can also take other advanced courses which will increase your knowledge as well as help you in career growth.
Would this SEO training certification help me in my career advancement?
This SEO course is consists of on-page and off-page optimization, google analytics, user management, etc. which are highly demanding nowadays and also which will be also important in the future. So yes, doing the SEO will surely help in your IT Career.
Sample Preview
---
Career Benefits
In this course, you will understand every concept of SEO from the basic to advanced level as it will also help you to crack your interview.
Taking this course, most of our fellow students have successfully positioned themselves in MNCs and various successful Startups. During interviews and job applications, those students who are focused and complete all projects performing great in their jobs.
Why should you take up the SEO Training in Hyderabad?
Educba is one of the few IT education institutes in Hyderabad that has an SEO training course. Educba experts are employed for this SEO training course. Educba institute is very highly ranked in Hyderabad and great for anyone who wants the best institute to learn Digital Marketing.
What is the SEO Training market trend in Hyderabad?
Most of the leading companies nowadays prefer SEO roles to get more automated technologies for their business. And as top MNCs in this field like etc. in Hyderabad invest heavily in research and development in SEO technologies. SEO. Inc, Amazon, Flipkart, etc hire an SEO specialist to always gain relevant traffic and this need in the SEO field is only increasing every year. So there is a huge demand in SEO profiles in Hyderabad right now. So be ready for your dream job in the SEO field by taking this comprehensive course of SEO p with Educba.
Reviews
---
SEO
Great course! Easy to understand and well-paced. This is a great way to get you up to speed on SEO or it can serve as a great refresher. I recommend EDUCBA to all professionals who are looking to expand or brush up on their skills.
Linked
Vince Czerwonka
Very good course for beginners
Great course! Easy to understand and well-paced. This is a great way to get you up to speed on SEO or it can serve as a great refresher. I recommend EDUCBA to all professionals who are looking to expand or brush up on their skills.
Linked
Manoj Kumar
Nice course
I knew a little bit about SEO but wanted to learn more so I took this eduCBA course to try to learn more. This was a nice SEO training with lots of good information about Google and SEO. There were several areas I learned how to do something I didn't know how to do or learned how to do something better than I could before. I highly recommend this to anybody either needing to learn more about SEO from scratch or adding to your existing knowledge.
Linked
John Knox
Very helpful Training on SEO
This SEO training is very well-conceived, nicely presented, and concise. It contains a lot of information important to everyone interested in SEO – beginners and more advanced professionals alike. The presenter is a professional in this field and a good teacher as well, he speaks great English also. There were a lot of examples to show the application of SEO which for me was very important. Thank you and keep making courses like this.
Linked
Ivana Slavkovski Bilić