Learn from Home Offer TAKE THIS BUNDLE
SAS PROGRAMMING Course Bundle - 18 Courses in 1 | 8 Mock Tests
123+ Hours of HD Videos
18 Courses
8 Mock Tests & Quizzes
Verifiable Certificate of Completion
Lifetime Access
TAKE THIS BUNDLE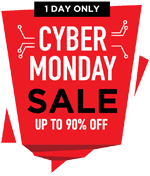 * One Time Payment & Get Lifetime Access
What you get in this SAS PROGRAMMING Course Bundle - 18 Courses in 1 | 8 Mock Tests?
123+ Hours
18 Courses
Mock Tests
Course Completion Certificates
Lifetime Access
Self-paced Courses
Technical Support
Mobile App Access
Case Studies
About SAS Training in Hyderabad
| | |
| --- | --- |
| Course Name | Online SAS Training in Hyderabad |
| Deal | You get access to all videos for the lifetime |
| Hours | 123+ Video Hours |
| Core Coverage | SAS, SAS/GRAPH, SAS/STAT, SAS/ODS, SAS PROC SQL, SAS Advanced – Macro, SAS-EG, Predictive Modeling with SAS, Business Analytics using SAS |
| Course Validity | Lifetime Access |
| Eligibility | Anyone serious about learning SAS and wants to make a career in this Field |
| Pre-Requisites | Math skills, Data intuition |
| What do you get? | Certificate of Completion for each of the 18 courses, Projects |
| Certification Type | Course Completion Certificates |
| Verifiable Certificates? | Yes, you get verifiable certificates for each course with a unique link. These link can be included in your resume/Linkedin profile to showcase your enhanced SAS skills |
| Type of Training | Video Course – Self Paced Learning |
| Software Required | None |
| System Requirement | 1 GB RAM or higher |
| Other Requirement | Speaker / Headphone |
SAS Training in Hyderabad Curriculum
---
Our SAS Training in Hyderabad includes a collection of 9 courses. The 121+ duration of the course gives one a good insight over the fundamentals of SAS. Projects are also assigned relative to each course to students.
All the core topics in SAS are well covered by the courses of our training here at EDUCBA. A detailed introduction on the basics of SAS and its dataset will be given in this SAS Training in Hyderabad. Data reading from multiple sources is also taught efficiently, along with data -processing. Our comprehensive module also touches on regression analysis. Data transformation, Data Validation, and Data Cleaning also form a very integral part of the SAS Training program. We provide an extensive approach over quantitative analysis relative to the finance sector. PROC SQL Features are the usage of the graph are explained with utmost clarity. Concepts on DS2, SAS interfaces, Proc import concepts, and other advanced programming techniques get hardwired along with the basics. Industry relevant projects like categorical data analysis, predictive modeling, quantitative finance, etc are assigned to students for a better learning experience.
This SAS Training in Hyderabad is designed by industry experts and it aims at helping any IT professional who wants to pursue their career in SAS.

SAS Training – Certificate of Completion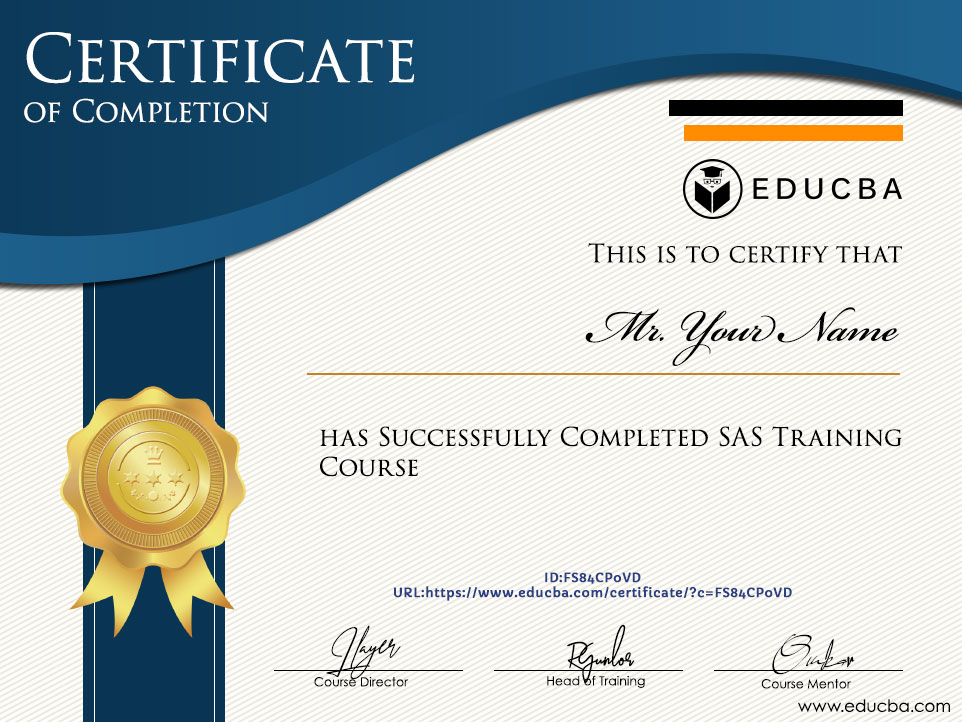 What is SAS?
If someone is interested in a job at analytics, SAS is the career path one should walk on. SAS is one of the most prominent tools in the analytical market. It is a software tool with several graphical and analytical capabilities.
There are many other data analytics tools in the market but in some places, SAS outshines them all.
SAS is easy to learn, great graphical capabilities, advanced tools. SAS is a statistical tool and it has its data management capabilities and it is a great ETL tool. It is a useful fourth-generation programming language.
SAS was a company that was created in the year 1970. The acronym stands for Statistical Analysis System. SAS is a collection of many software. With the help of SAS, we can access data, manage data, analyze data, and present data.
Time magazine has mentioned SAS as one of the most important skills an analytic profile should have.

Which Skills will you learn in this Training

?
This SAS Training in Hyderabad caters to the need of a non-IT person and also to an experienced IT personnel.
SAS modules are explained in detail like GRAPH, STATS, ODS, PROC SQL, SAS Advanced Macro, SAS-EG, Predictive Modelling, SAS Business Analytics, etc.
As this is a beginner level course, emphasis will be given on clearing the concepts and walking one through all the fundamentals that are needed for one to excel at SAS. Macro and its application are explained with utmost clarity. Concepts of logistic regression form an integral part of analytics and it is very much needed that the base should be strong. Our training module ensures that the student learns from the curriculum which is designed by experts of the Industry.
Pre-requisites
There is no such list to form the prerequisite for SAS Training in Hyderabad but prior knowledge of programming has always proved out to be helpful.
Knowing SQL also proves out to be very beneficial as SAS is quite like SQL and the commands which are used in SAS are relatively easy.
As SAS is a software suite with Analytical and programming capabilities knowledge on Statistics also proves to be very useful.
Anyone who does not have the above-mentioned skill can still go for the SAS Training in Hyderabad and can understand and learn SAS. One just needs to put in the required effort and dedication to study the subject.
Target Audience
SAS is very easy to pick up, one just needs a subtle interest in maths and logics to learn the subject.
SAS has opened a wide avenue for many job roles. It can rightly be said that SAS has opened up an innumerable number of requirements in the Advanced Analytics Domain.
Analysts and Programmers can opt for a career in here as SAS Analyst, SAS Programmer, Customer Analytics Manager, Decision Analyst, ETL Specialist, Data warehouse architect, etc. It is a niche skill and a lot of companies are doing major hiring with people of this skill.
People from the non-technical background are just required to have an interest in the analytics field, and they can choose a career transition to SAS.
SAS Training in Hyderabad – FAQ's
---
How long does it take for one to learn SAS?
The entry-level basics of SAS can be covered quite quickly. Our training module at EDUCBA has a very intelligent structure to suit everyone's needs. After calculating in the practice time to enhance the learning process it is a comparatively quick timeline as opposed to other analytics tools.
Is a free version of SAS available for download?
There seems to be a SAS academic license and a SAS university edition. These are the two free versions available. One of the disadvantages in SAS is that licensing is expensive as compared to the open-source technologies in the market today. The free versions may not prove to be helpful while running live business analytical projects.
How is SAS a complete software suite for an application?
It is designed for analytics majorly. SAS has its data management capabilities and is a very good ETL tool. It is the only fourth-generation programming language as discussed earlier. Some components of SAS can be used which are required to build that particular application. SAS always focuses on the technology that is to be developed. There is cost reduction, time management, and less programming needed with SAS.
Why should you take up SAS Training in Hyderabad?
SAS is used by all the companies that have analytics-related work. Location is no bar for a booming technology such as SAS. As the analytics market is growing at an admirable rate, all the industries are in dire need of skilled professionals who can assist in loading, processing, and visualizing the data. There are many MNC's such as TCS, Genpact, Accenture, etc, and many more that have their units in Hyderabad in Data Analytics. There are many analytics companies in Hyderabad from banking and financial sector, health, Science and Social Media, etc. Almost every company generates data and that data needs to be analyzed. Having a niche skill in a location like Hyderabad can make one's IT career soar high.
What is the SAS market trend in Hyderabad?
With the emergence of Big Data into the picture, a large number of companies have taken up Analytics very seriously. Hyderabad has emerged as the new IT hub. In the 2018-2019 financial year report, a growth of 17% had been observed for the IT products in Hyderabad. This growth has been double what the country overall has scored (only 9%). SAS has proved itself worthy in the market of analysis and successfully serves the purpose. Hyderabad, along with Bangalore has a very thriving IT industry. Telangana state itself received the US $ 805 million for investment in the IT sector. Therefore companies in Hyderabad are on a lookout for SAS professionals with an attractive package. The job trend is showing a positive graph and is expected to grow in the coming times.
Sample Preview
---
Career Benefits
SAS has proved itself to be a master in creating a new generation of business intelligence analysis. Here are some of the reasons why one should take-up
SAS as their career option.
SAS has emerged as the key research tool. Every job portal shoots up several job opportunities for people skilled at SAS. Hence, one will be flooded with a number and variety of job opportunities after availing of the SAS training.
SAS is versatile and flexible with plenty of input /output formats. It can be used to handle a large database. It is a very comprehensible language and easy to debug.
Along with a good job prospect, the pay scale also increases with a great hike.