Learn from Home Offer TAKE THIS BUNDLE
SAS Training in Delhi (9 Courses, 10+ Projects)
9 Online Courses
10 Hands-on Projects
123+ Hours
Verifiable Certificate of Completion
Lifetime Access
SAS Business Analytics for Beginners
Project on SAS - Predictive Modeling with SAS Enterprise Miner
Project on SAS - Quantitative Finance
SAS Output Delivery System(ODS)
Offer ends in:
TAKE THIS BUNDLE
* One Time Payment & Get Lifetime Access
What you get in this SAS Training in Delhi?
Online Classes
Technical Support
Mobile App Access
Case Studies
About SAS Training in Delhi
| Course | | No. of Hours |
| --- | --- | --- |
| SAS Business Analytics for Beginners | | 10h 42m |
| Predictive Modeling with SAS Enterprise Miner | | 9h 21m |
| Quantitative Finance with SAS | | 3h 29m |
| SAS Statistics | | 8h 18m |
| Logistic Regression using SAS Stat | | 4h 28m |
| Poisson Regression with SAS Stat | | 2h 26m |
| SAS Features for Starters | | 1h 5m |
| SAS ODS (Output Delivery System) | | 9h 08m |
| SAS PROC SQL | | 13h 49m |
| SAS Macros | | 7h 38m |
| SAS Advanced Analytics | | 12h 34m |
| SAS Graph | | 2h 1m |
| SAS DS2 | | 5h 2m |
| SAS SQL | | 3h 03m |
| SAS Practical - Macros | | 5h 12m |
| SAS Advanced Programming | | 11h 24m |
| SAS Categorical Data Analysis | | 7h 26m |
| Certified SAS Base Programmer | | 12h 2m |
| SAS PROC SQL Features | | 1h 53m |
| | |
| --- | --- |
| Course Name | Online SAS Training in Delhi |
| Deal | You get access to all videos for the lifetime |
| Hours | 123+ Video Hours |
| Core Coverage | SAS, SAS/GRAPH, SAS/STAT, SAS/ODS, SAS PROC SQL, SAS Advanced – Macro, SAS-EG, Predictive Modeling with SAS, Business Analytics using SAS |
| Course Validity | Lifetime Access |
| Eligibility | Anyone serious about learning SAS and wants to make a career in this Field |
| Pre-Requisites | Math skills, Data intuition |
| What do you get? | Certificate of Completion for each of the 9 courses, 10 Projects |
| Certification Type | Course Completion Certificates |
| Verifiable Certificates? | Yes, you get verifiable certificates for each course with a unique link. These link can be included in your resume/Linkedin profile to showcase your enhanced SAS skills |
| Type of Training | Video Course – Self Paced Learning |
| Software Required | None |
| System Requirement | 1 GB RAM or higher |
| Other Requirement | Speaker / Headphone |
SAS Training in Delhi Curriculum
---
By learning SAS you will able to deal with data. How to access the data from the database files or excel files, manage and manipulate the existing data to get the desired output or data.
You will learn all the core concepts. They are:
SAS, SAS/GRAPH, SAS/STAT, SAS/ODS, SAS PROC SQL, SAS Advanced – Macro, SAS-EG, Predictive Modeling with SAS, Business Analytics using SAS.
Giving a brief explanation of the concepts that will be covered in the training. In SAS Training in Delhi you will learn the data cleaning it means identifying any errors or corrupted data and correcting them. Data validation deals with the missing values. After data transformation, you will analyze the data using statistical techniques and implements the logistic regression models. You will learn regression concepts like simple and multiple regressions, regression diagnostics it consists of detecting unusual data, tests for normality, multicollinearity, non-linearity, and regression with categorical predictors and output delivery system (ODS). It will help us to predict and makes us take a decision.
In SAS Training in Delhi, we cover the SAS Structured Query Language (PROC SQL) is a database language that is powerful Base SAS software. PROC SQL can sort, join and concatenate datasets and even it can create a new table with the data.
In SAS Training in Delhi, you will learn about the macros in SAS. By using macros it will save you time. You will learn the concepts of DS2, SAS Quantitative finance, SAS statistics, and SAS advanced programming.
You will get hands-on experience as it contains projects for every concept.
SAS Training – Certificate of Completion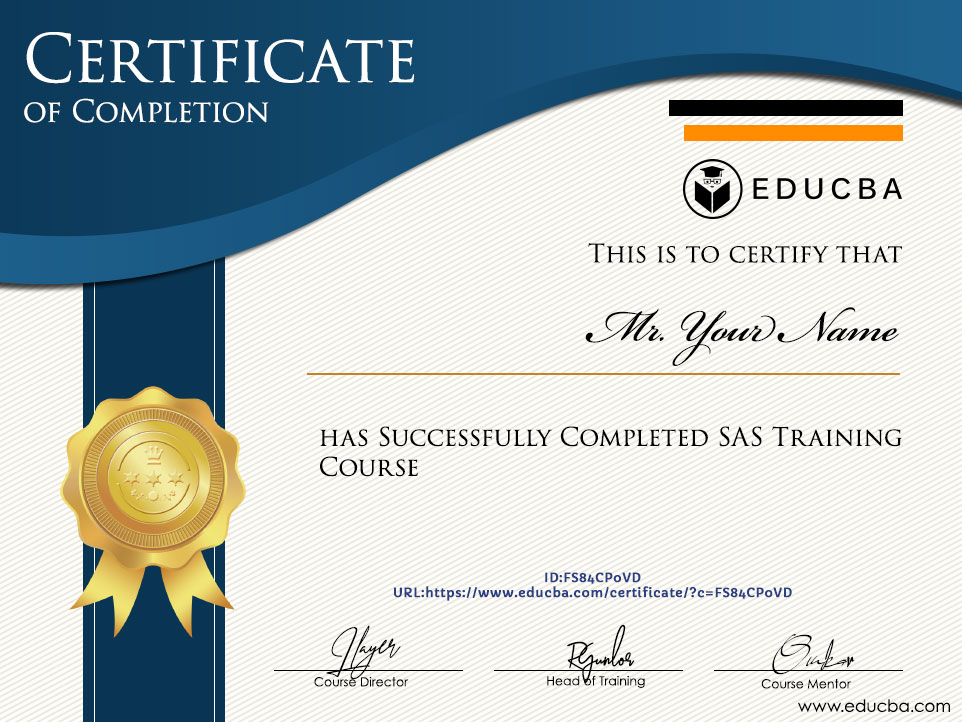 What is SAS?
SAS (Statistical Analysis Software) is a programming language by this you will be able to manage datasets and also you will able to apply this for statistical analysis. It is a software suite developed by the SAS institute.
SAS works on a large repository. SAS processing includes both compilation and execution, it even maintains the SAS log.
It helps us to create interactive dashboards and reports. It will help to visual data exportation.
We can perform SAS in a variety of environments like the SAS windowing environment, SAS studio, etc.
It supports multiple operating systems it is platform-independent it means it can run on either Linux or windows. It supports parallel execution.
The main important feature of the SAS is collaboration.SAS Visual Analytics can be deployed on the cloud as a service by this we can access the information in multiple ways.
It is useful for data extraction, data management, data updating and modification, business planning, and report formation.

Which Skills will you learn in this Training
?
SAS Training in Delhi consists of SAS Advanced analytics in this you will learn the advanced statistical models it includes technologies like semantic analysis and it mainly focus on predicting the future event.
SAS graph is a powerful tool that helps us to create business and scientific graphs that have a bar chart, plots and by this, we can even create image files for the graphs.
SAS DS2 is a proprietary programming language. In DS2 programming the main important thing is DS2 packages. In DS2 it consists of two types of packages. They are predefined packages and user-defined packages. Predefined packages encapsulate common functionality which is useful to many custom solutions. In user-defined packages, we can define our methods and we can use the methods.
We will learn SAS SQL, macros, SAS advance programming, and SAS PROC SQL features.
Pre-requisites
For the SAS there is no prerequisite are required but having a basic knowledge of Microsoft Excel, SQL(Structured Query Language)and statistics will be an added advantage while taking SAS Training in Delhi. Even programming skills are also not required. People from different streams will also take this course as it is used in different industries. SAS Training in Delhi is mainly for the people who are interested to predict future events. The demand for this course in the market is also more. The dashboards, reports, and graphs are prepared from the SAS tool, so having basic knowledge about them will make you learn SAS Training in Delhi easier. Compared to other tools this tool is comfortable and can be learned by anyone.
Target Audience
Students: Students from any field can take this course as it is used in various fields and it is for people who want to become a SAS analyst, business analyst, decision analyst, marketing analyst, report programmer, and who wants to learn the latest technology can enroll for this course.
SAS Analyst: Experienced people from the analysis field who want to learn the SAS tool for better career benefits. An experienced person with some background programming or database management knowledge will also get benefit from this course and they can make their career as a SAS analyst.
Beginners: This course is useful for people with no background knowledge of programming and data. It helps people to make their career as a SAS analyst.
Business Leaders: Business Leaders who want to use the SAS tool for organizational growth.
SAS Training in Delhi – FAQ's
---
Why should one learn SAS?
SAS course will help you to become a business analyst. In this course, every concept is covered to make a strategic decision in the respective fields. The students are given guidance for the interview also.
Is it tough for someone to learn SAS who has working experience in another domain?
Learning SAS for beginners from different fields and having work experience in another domain is also possible. However, the concepts are taught from the basic level even the people from different backgrounds also able to grasp it easily. Having working experience in other domain by taking SAS Training in Delhi it will help them to apply these techniques in their respective domains.
Which roles/jobs can I get into after learning this course?
You will be able to get into the role of marketing analyst, business analyst, database administrator, ETL specialist, decision analyst, and financial analyst.
After completion of the course, we will get the certificate?
Yes. After completion of the course the certificate will be provided, we have lifetime access to the course and we even provide doubt clear sessions to the students.
Should we have to pay for SAS software?
SAS software is available for free for learning, teaching, and research.
Is it difficult to learn SAS compared with R?
When compared with R, SAS tool is easy. You can easily learn it as it contains libraries with detailed documentation you can easily understand it and by having some knowledge of the database management you can ever master it.
Why should you take up the SAS course in Delhi?
Analytics companies using SAS Training in Delhi is increasing. It holds the largest market share in this field. This course has a huge scope for fresher also and you will get good pay. If we see the jobs for SAS in Delhi it is getting an increase every year. Our course will help you learn all the concepts in SAS, every concept is explained in a detailed manner you can easily apply it to the projects and it will prepare you to meet the industrial needs.
 What is the SAS market trend in Delhi?
The percentage of jobs related to SAS is more. The main reason is due to the advanced features used in the tool that will help us to solve the complex analytics and also due to its visualization. And if we see the top analytics tools in the companies SAS is one among them. Even in the recruitment of people for SAS, Delhi is one of the places which are recruiting a large number of people in this field after Bangalore and Mumbai. It is used in clinical, banking, and Staffing, financial, and Recruiting services. It is the current trending course in the industry.
Sample Preview
---
Career Benefits
SAS has a huge demand in the market and there are several jobs in a particular field. The demand is increasing in the current situation and the amount of salary paid is also high.
As the training consists of the course including projects you will get the hands-on experience on the tool so while working in the industries you can easily get on with.
As this tool is used in the different domains not only in the software domain because of this there is a huge scope in different fields and this benefits your career for further growth.