Learn from Home Offer TAKE THIS BUNDLE
Salesforce Training in Pune (2 Courses, 2+ Projects)
2 Online Courses
2 Hands-on Projects
25+ Hours
Verifiable Certificate of Completion
Lifetime Access
Salesforce Administration - Beginner Lessons
Complete Guide to SalesForce CRM
Projects on SalesForce - App Logic and Interface
Project on SalesForce - VisualForce
Offer ends in:
TAKE THIS BUNDLE
* One Time Payment & Get Lifetime Access
What you get in this Salesforce Training in Pune?
Online Classes
Technical Support
Mobile App Access
Case Studies
About Salesforce Training in Pune
| Course | | No. of Hours |
| --- | --- | --- |
| Salesforce Administration - Beginner Lessons | | 9h 12m |
| Complete Guide to SalesForce CRM | | 5h 38m |
| Projects on SalesForce - App Logic and Interface | | 6h 55m |
| Project on SalesForce - VisualForce | | 3h 49m |
| | |
| --- | --- |
| Course Name | Salesforce Training in Pune |
| Deal | You get access to all videos for the lifetime |
| Hours | 25+ Video Hours |
| Core Coverage | CRM, Salesforce, Salesforce Administration, Visualforce. |
| Course Validity | Lifetime Access |
| Eligibility | Anyone serious about learning Salesforce which is a cloud-based CRM |
| Pre-Requisites | Basis knowledge of CRM (Customer Relationship Management). The concept of Cloud-Based works and Software as a Service should be clear |
| What do you get? | Certificate of Completion for the course |
| Certification Type | Course Completion Certificates |
| Verifiable Certificates? | Yes, you get verifiable certificates for each2 course, 2 Projects with a unique link. These link can be included in your resume/Linkedin profile to showcase your enhanced skills |
| Type of Training | Video Course – Self Paced Learning |
| Software Required | None |
| System Requirement | 1 GB RAM or higher |
| Other Requirement | Speaker / Headphone |
Salesforce Training in Pune Curriculum
---
This course has everything is a salesforce expert should be trained in. All the concepts of salesforce have been explained in this Salesforce Training in Pune in a precise manner and ample easier to understand. At the beginning of the course, you will get a brief of all the possibilities that could be achieved using Salesforce. The course will begin with the unit named Salesforce Administration – Beginner Lessons. In this unit, you will get to learn about the role of salesforce administrator, their roles and responsibilities, and many more that they can do. You will learn about all the functionalities that the system admin can do. In this unit, you will get good exposure to the Salesforce environment so that you can understand all the features that this service offers. As this unit is mainly focused to entertain the beginners, the example that we have used in this unit will be very simple to be understood.
The next unit will be a Complete Guide to SalesForce CRM. As the name states, this unit has everything that is required by trainees to master this application from scratch. The course will be explaining each and everything about salesforce including the purpose of existence of this application, how it endorses the businesses, and how it could be customized so that organizations can use it their way. The unit will begin will a quick brief on the feature of the salesforce. You will get to understand this application from an organization and the user's point of view. To make it easier for you to understand the topics, we have used various simple examples that have been used properly to emphasize the topics that are very important to master this Salesforce Training in Pune.
To work on any technology is the best way to learn it and keeping this point in mind, we have introduced the third unit where you will be working on the real project. In the third unit "Projects on SalesForce – App Logic and Interface", you will be working on a project App logic and interface. In this project, you will be getting an in-depth understanding of how things work in Salesforce. While developing the project you will come across several errors and this way you will learn about the root cause of the errors and you will also be learning the approach to handle those errors. After completing this project, you will feel enough confident to develop the solutions using salesforce and will also become capable to customize the application as per the requirement of the users or the organization.
In the fourth or the last unit, we will be winding up the course with an amazing project that will give you the experience of this application from a professional perspective. The unit has been named Project on SalesForce – VisualForce. As the name states, you will be working on the VisualForce project. There are some new things that you would have learned in the third unit and here it the platform where you will be applying those learnings. This will be that last unit and after finishing it, you will be required to practice your learning over and over to fortify your understanding of this SAAS based service. After finishing this Salesforce Training in Pune, you will be able to crack any interview for the position of salesforce professional or will be able to work to draft the solution for production.
Salesforce Training – Certificate of Completion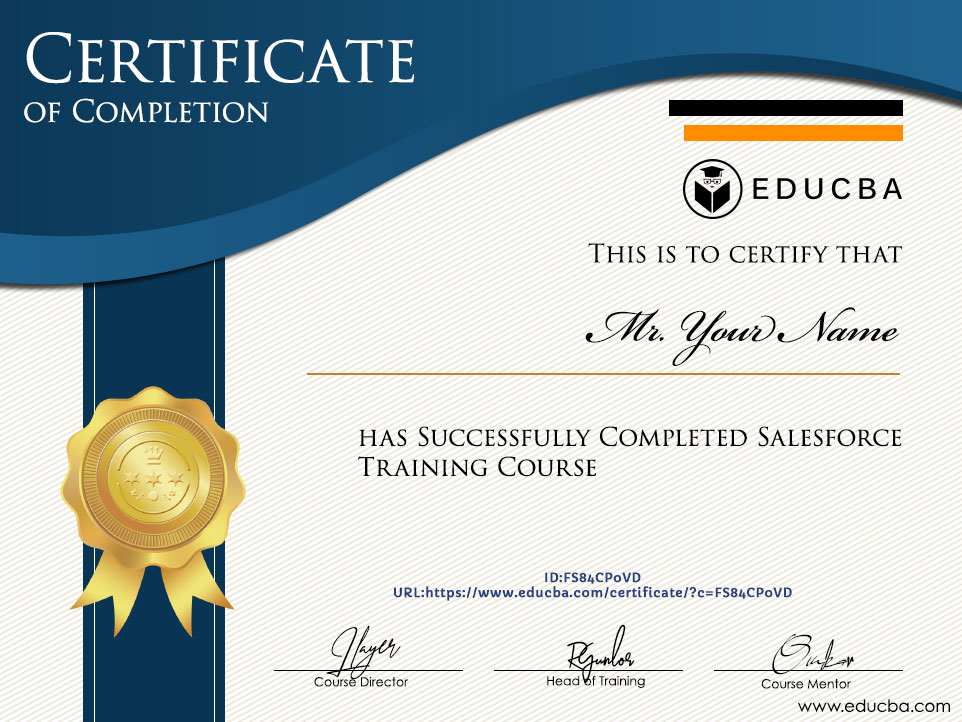 What is Salesforce?
Salesforce can be defined as the software as a service platform that could be customized to meet the organization's requirements. It can also be considered as a service by which the business gets an online platform where they can manage their users or customers. It is an application and the user of this service can customize the application according to them. It requires a good understanding and hands-on experience on apex language to customize this application. The user can pay as per their users to opt for this service. The interesting thing about Salesforce is, regardless of the size of the data that is required to be managed, it can accommodate all the requirements. It is mostly preferred by the small and mid-size organizations as they are the one who feels confident in using the third-party application to store their data.

Industry Growth Trend
The global cloud computing market size is expected to grow from USD 272.0 billion in 2018 to USD 623.3 billion by 2023, at a Compound Annual Growth Rate (CAGR) of 18.0% during the forecast period.
[Source - MarketsandMarkets]
Average Salary
Average Salary
$114,968 per year
The average salary for a Salesforce Developer is $114,968 per year in the United States.
[Source - Indeed]
Which skills you will learn in this training
?
This Salesforce Training in Pune is equipped with all the topics that are required to master Salesforce. In this course, you will learn about the administrative role of Salesforce which will is very essential when we talk about managing the Salesforce-based application. You will get to learn about the real purpose for which Salesforce could be proven highly beneficial so that you can become able to draft the solution for the actual problems existing in the organization. There are two major projects added in this course which are chosen very carefully to get you exposure to every aspect of Salesforce. After completing this Salesforce Training in Pune, you will be able to work in the production environment in any organization and will be job-ready. It is recommended to the trainee to keep on practicing the concepts taught in this course to improve their proficiency in Salesforce.
Pre-requisites
For all the courses, there are usually some prerequisites that must have to be understood by the trainee to learn that course effectively. If we talk about learning Salesforce, it will be very helpful for the trainee if they have a good understanding of the apex programming language. As the customization of Salesforce application happens using apex, the trainee will find it very easy to learn customization of they do have hands-on on apex. The next important this, understanding the requirement. If the trainee is capable to understand the business requirements, they will find it very simple to draft the solution. There are some of the things that could be considered as prerequisites when we talk about learning Salesforce. The folks having a good understanding of these will find it very easy and interesting to learn Salesforce.
Target Audience
We welcome every individual who is willing to learn Salesforce either for the sake of learning or to grow their career in this technology. The professionals who are already working in this technology and want to learn more about it or the folks who are working in other technology but want to jump into Salesforce can be the best target audience for this Salesforce Training in Pune. They will be learning many new things and will be covering ample topics that will be enough to begin their career in Salesforce. The students who are willing to begin their professional journey with the most popular SAAS based platform can also be the best target audience for this course. They will be learning things that were not part of their academics and can help them to land in a lucrative job. The trainer can also opt for this Salesforce Training in Pune to deliver their learning to the trainees they train.
Salesforce Training in Pune – FAQ's
---
Why should you take up the Salesforce Training in Pune?
Pune is one of the amazing cities that offers huge opportunities in Salesforce. One can easily opt for this Salesforce Training in Pune throughout the country but opting for the same in Pune will make it very easy for folks to find a good job right after finishing this course where they can practice their learning and improve their proficiency in this SAAS based service. In addition to that, the trainee will find the city very welcoming for the freshers as well as the laterals. If you are getting the opportunity to opt for this course in Pune, it is highly recommended not to miss the chance.
What is the Salesforce market trend in Pune?
Pune heads the list of the cities that come in the list when we talk about cities where Salesforce is trending. Since long back, the city has welcomed all the professionals looking for opportunities in Salesforce which precisely states that the trend of Salesforce is moving upwards. This trend is expected to be moving up at the same pace due to the industrial growth in the city. If one is looking for a career opportunity in this technology, they can search for the same in Pune and there is probably a higher chance of getting a good one there.
Career Benefits
Salesforce has been the most demanding SAAS platform for years. All the mid and small-sized businesses prefer to have a platform like Salesforce that they can leverage to manage their clients or users and meanwhile staying free from the burden of managing the resources. If you will try to find the opportunities in this technology, you can see in the online job portals that there is a huge count of openings for the position of Salesforce professionals and this count is expected to witness exponential growth shortly, especially in the cities like Pune. If you want to leverage the upcoming trend in Salesforce and willing to grow your career in this, you can take your first step right here by opting for this Salesforce Training in Pune.
Reviews
---
Salesforce
It is a long course that goes into very small details about each aspect of the Salesforce CRM platform. The level it is basic and it is very descriptive, overall the speaker seems to have a lot of knowledge on the program and he tries to relate the course with small business, overall it does the job explaining Salesforce.
Linked
Jorge Dominguez
Salesforce – Introduction to cloud computing – Basic course
The course content is good and encompassing. The presenter is clear in explaining topics on cloud computing like the advantages of cloud computing, cost savings because there is no need to buy licenses, special hardware. Learned the characteristics of cloud computing like on-demand, broad network access, resource pooling, rapid elasticity etc., learned about cloud computing technologies like public, private, community, hybrid. Cloud computing services were also covered like SaaS, PaaS, IaaS. Salesforce.com comes under PaaS.
Linked
Fredric C
Salesforce Training
The Salesforce course is a comprehensive practical-oriented solution to your preparation for the certification exams prepared by top experts in the Salesforce industry. It follows the right teaching methodology from basics to advanced level. I am happy to learn the Salesforce course at EDUCBA. I can give my highest recommendation.
Mausam
Salesforce Course experience
The content quality was extremely good,  well-structured, and helped me to boost my career.  Outstanding Salesforce training by EDUCBA. It helped me to understand the logic by giving real-life examples and scenarios.
The project which was taught in the sessions was wholesome revisions and implementation of the entire concept and firm grasp of the entire course.
Juliet