Learn from Home Offer TAKE THIS BUNDLE
Salesforce Training in Noida (2 Courses, 2+ Projects)
2 Online Courses
2 Hands-on Projects
25+ Hours
Verifiable Certificate of Completion
Lifetime Access
Salesforce Administration - Beginner Lessons
Complete Guide to SalesForce CRM
Projects on SalesForce - App Logic and Interface
Project on SalesForce - VisualForce
Offer ends in:
TAKE THIS BUNDLE
* One Time Payment & Get Lifetime Access
What you get in this Salesforce Training in Noida?
Online Classes
Technical Support
Mobile App Access
Case Studies
About Salesforce Training in Noida
| Course | | No. of Hours |
| --- | --- | --- |
| Salesforce Administration - Beginner Lessons | | 9h 12m |
| Complete Guide to SalesForce CRM | | 5h 38m |
| Projects on SalesForce - App Logic and Interface | | 6h 55m |
| Project on SalesForce - VisualForce | | 3h 49m |
| | |
| --- | --- |
| Course Name | Salesforce Training in Noida |
| Deal | You get access to all 2 courses, 2 Projects bundle. You do not need to purchase each course separately. |
| Hours | 25+ Video Hours |
| Core Coverage | CRM, Salesforce, Salesforce Administration, Visualforce. |
| Course Validity | Lifetime Access |
| Eligibility | Anyone serious about learning Salesforce which is a cloud-based CRM |
| Pre-Requisites | Basis knowledge of CRM (Customer Relationship Management). The concept of Cloud-Based works and Software as a Service should be clear |
| What do you get? | Certificate of Completion for the course |
| Certification Type | Course Completion Certificates |
| Verifiable Certificates? | Yes, you get verifiable certificates for each2 course, 2 Projects with a unique link. These link can be included in your resume/Linkedin profile to showcase your enhanced skills |
| Type of Training | Video Course – Self Paced Learning |
| Software Required | None |
| System Requirement | 1 GB RAM or higher |
| Other Requirement | Speaker / Headphone |
Salesforce Training in Noida Curriculum
---
Our online course on Salesforce is a beginner course that will give you a comprehensive knowledge of the administration aspect of the module. It will provide you with a complete guide on the Salesforce CRM. There are 2+ industry relative projects on the updated material which will help you to enhance your understanding of the subject matter. Both the courses come as a package and there is no requirement to buy the packages separately.
The content is updated regularly and is intended to provide you with complete knowledge of Cloud Computing and Salesforce.
The projects are specifically on App Logic and Interface and Visual Force (Web development framework). Our intelligently designed course and the hand-on project will give the necessary exposure to the student such that he/she grasps the concept involved well. The duration of the course in 25+ hours and it is indeed the value of money as we have received good reviews by the professionals who have previously taken this Salesforce Training in Noida.
This course is specifically for Business Administration Students and employees who wish to learn about customer relationship management. This Salesforce Training in Noida will help one to deliver creative solutions to business and push business growth towards a positive slope.
Salesforce Training – Certificate of Completion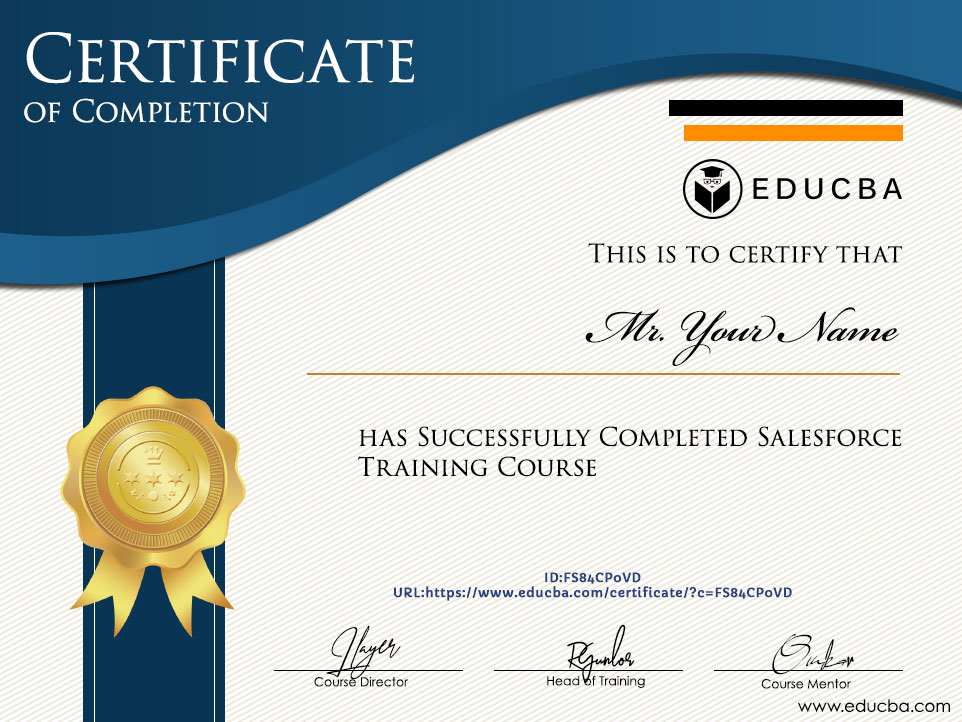 What is Salesforce?
Before Salesforce it was seen that the Customer Relation Management (CRM) solutions were hosted on the server of each respective company. It cost the individual a huge amount of money for them to have their CRM solutions. The set-up duration was time-consuming, with critical using techniques and at the same time use to pinch the pockets.
The solution to the above problem was an affordable CRM solution where the service was provided online. The Salesforce started as a SaaS (Software as a service) and in due time it has made its place as the fifth-largest software firm the world. With the help of Cloud, Computing Salesforce became a feasible solution to all those companies which were looking for less hassle, cost-cutting solution to tackle the CRM issue. Salesforce has shaped the business model with a very reasonable cost charged to companies.

Industry Growth Trend
The global cloud computing market size is expected to grow from USD 272.0 billion in 2018 to USD 623.3 billion by 2023, at a Compound Annual Growth Rate (CAGR) of 18.0% during the forecast period.
[Source - MarketsandMarkets]
Average Salary
Average Salary
$114,968 per year
The average salary for a Salesforce Developer is $114,968 per year in the United States.
[Source - Indeed]
Which skills you will learn in this training
?
You will be learning the essentials of Cloud Computing and also the fundamentals of Salesforce. At the same time the knowledge on the lifecycle of the application and the visual flow. A good hands-on is provided on app building which aligns with the Lightning Experience with a custom interface.
The Visual Force framework will be hardwired within the student's well and the creation of a user interface using the platform will be taught in-depth. The understanding of CRM will help one to administer and manage Projects well by providing innovative solutions to the problems at hand.
Pre-requisites
There is nothing as a prerequisite for Salesforce Training but there are ideal skills that would prove out to be helpful if one wishes to transition their
. Salesforce is a cloud-based CRM for which designing is done in Visual Force, for that basic HTML is used. Basic experience of previous programming knowledge in JAVA and familiarity of the OOPS concept would just give a tad bit advantage over others who are not from a technical background. Anyone can sign up for this training, with a little time and effort learning Salesforce would not take much time.
Target Audience
The primary business function area for Salesforce revolves mostly around marketing, sales, and customer service. It doesn't need to have functional boundaries as it has also found utility around human resource, finance, and operations department.
The Salesforce Training can be taken up by anyone with or without a technical background as there is very little pre-requisite needed to take up this training. It is ideal training for anyone who wants to land up in any of the following job roles. Roles for Administrators, App builders, Developers, Architect, Implementation expert specialist, Marketers, Consultants, or Pardot experts.
Salesforce Training in Noida – FAQ's
---
Can the Salesforce Training in Noida be accessed from anywhere?
The Salesforce course by us can be undertaken from the comfort of your home. The lectures, videos, and study material are designed to train beginners.  The complex modules are broken down into simpler sections. We also provide 24X7 technical support which will help one to understand and follow up with the study material better.
How helpful will this Salesforce Training in Noida be for job interviews and with regards to placement?
The modules are designed to provide a complete working functioning of Salesforce. The materials are efficient at providing the required contents at building a strong concept of Salesforce. The certificate provided by us at the end of successful completion, of course, can help to build a strong resume. This is an upgrading training and there is no placement provided from our end.
What are the payment options available?
Payments for this online course can be done by Visa Credit/ Debit Card, MasterCard, Credit Card, Net Banking, PayPal, etc.
Career Benefits
Many organizations have realized the importance of salesforce training. Following are some benefits of Salesforce Training in Noida:
You will get an in-depth knowledge of the domain this will, in turn, help you to increase your insight in sales and customer relations.
The introduction of real-life scenarios as the projects included in the course will help you to be acquainted with live-projects and case studies for a better learning experience.
There will be a definite increase in the analytical skills along with an increase in the knowledge base of the Salesforce domain with a good package at hand.
The certificate would aid you in making a stronger resume as it acknowledges the topics which are well known by you along with the completed hands-on projects.
Why should you take up the Salesforce Training in Noida?
Noida has several IT companies with good MNC's around that area. Salesforce has an annual growth of 20%-30% and it is on the rise. Our training at EDUCBA is a very good opportunity for people living around that area. Our well-designed online course can help one achieve to become a skilled individual at Salesforce. We intend to provide all the training material needed for cracking the interview for a Salesforce interview.
What is the Salesforce market trend in Noida?
Many job postings have listed several job opportunities for Salesforce skilled individuals in the Noida area. As mentioned earlier, many career options can be taken up in this domain. Each skill is much sorted after skill and has a great demand in the IT market. Sincere efforts at learning this can put you at a greater advantage over others who are yet not aware of the industry growth rate of Salesforce. There is a good demand for this skill and upgrading one's skill to this niche skill will provide a benefit to any IT professional.
Reviews
---
Salesforce
It is a long course that goes into very small details about each aspect of the Salesforce CRM platform. The level it's basic and it is very descriptive, overall the speaker seems to have a lot of knowledge on the program and he tries to relate the course with small business, overall it does the job explaining Salesforce.
Linked
Jorge Dominguez
Salesforce – Introduction to cloud computing – Basic course
The course content is good and encompassing. The presenter is clear in explaining topics on cloud computing like the advantages of cloud computing, cost savings because there is no need to buy licenses, special hardware. Learned the characteristics of cloud computing like on-demand, broad network access, resource pooling, rapid elasticity etc., learned about cloud computing technologies like public, private, community, hybrid. Cloud computing services were also covered like SaaS, PaaS, IaaS. Salesforce.com comes under PaaS.
Linked
Fredric C
Salesforce Training
The Salesforce course is a comprehensive practical-oriented solution to your preparation for the certification exams prepared by top experts in the Salesforce industry. It follows the right teaching methodology from basics to advanced level. I am happy to learn the Salesforce course at EDUCBA. I can give my highest recommendation.
Mausam
Salesforce Course experience
The content quality was extremely good,  well-structured, and helped me to boost my career.  Outstanding Salesforce training by EDUCBA. It helped me to understand the logic by giving real-life examples and scenarios.
The project which was taught in the sessions was wholesome revisions and implementation of the entire concept and firm grasp of the entire course.
Juliet