Learn from Home Offer TAKE THIS BUNDLE
SALESFORCE Course Bundle - 4 Courses in 1
24+ Hours of HD Videos
4 Courses
Verifiable Certificate of Completion
Lifetime Access
TAKE THIS BUNDLE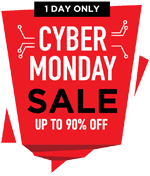 * One Time Payment & Get Lifetime Access
What you get in this SALESFORCE Course Bundle - 4 Courses in 1?
24+ Hours
4 Courses
Course Completion Certificates
Lifetime Access
Self-paced Courses
Technical Support
Mobile App Access
Case Studies
About Salesforce Training in Gurgaon
| | |
| --- | --- |
| Course Name | Salesforce Training in Gurgaon |
| Deal | You get access to all videos for the lifetime |
| Hours | 24+ Video Hours |
| Core Coverage | You get to learn data science using R, Python, Machine Learning, Artificial Intelligence, Big data & Hadoop, Predictive Modeling, Business Analytics, Data Visualization, and other areas under Data Science. |
| Course Validity | Lifetime Access |
| Eligibility | Anyone serious about learning data science and wants to make a career in analytics |
| Pre-Requisites | Basic knowledge of data and analytics |
| What do you get? | Certificate of Completion for the course |
| Certification Type | Course Completion Certificates |
| Verifiable Certificates? | Yes, you get verifiable certificates for each4 course, Projects with a unique link. These link can be included in your resume/Linkedin profile to showcase your enhanced skills |
| Type of Training | Video Course – Self Paced Learning |
| Software Required | None |
| System Requirement | 1 GB RAM or higher |
| Other Requirement | Speaker / Headphone |
Salesforce Training in Gurgaon Curriculum
---
The salesforce training here is designed quite comprehensively which will help the associate to be ready with industry-related challenges when it comes to salesforce. The lecture time aggregate will be more than 25 hours and there will be two detailed courses with multiple use cases and a project which will give confidence in the subject to the associate. Initially, you get to know that why salesforce is predominant and why it has such significance. You will learn what is its CRM and how it is going to help business. There will be an introduction to the cloud and its related terminologies as salesforce are cloud-based CRM services. Then there will comprehensive course on salesforce administration which is of more than 9+ hours long and will be of beginner level. Then in the next module, there will be a detailed chapter related to CRM and its prominence. Many questions such as In what CRM is going to help the business? Is customization with CRM is easy? etc. will be covered here. Then there will be multiple use cases and two extensive projects like Application logic and Interface project on salesforce, visual force project on salesforce. Once these modules and project are completed the associate will be ready with confidence to give his contribution in salesforce market
Salesforce Training – Certificate of Completion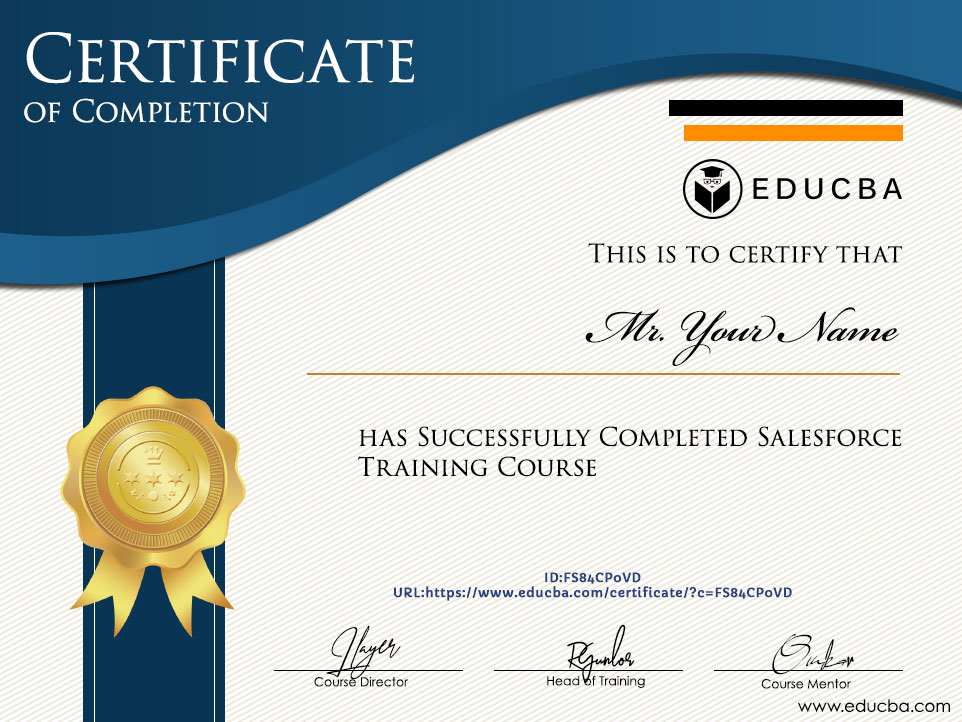 What is Salesforce?
Salesforce is a CRM solution (Customer Relationship Management) which brings the organizations or companies and customer together. It provides only one CRM platform for all your needs which includes marketing, finance, sales, services, commerce, etc. A single dashboard or shared view will be given to all its customers using salesforce which can enhance the business opportunity and benefit both companies and customers together. Salesforce can deliver the personalized experiences or requirement which a customer expects using its sophisticated CRM platform which can also be called as salesforce customer 360 platforms. With the help of this platform, we can have connected products for improving our sales, marketing, services, commerce, etc. Below bullet points stress more on why do we require this customer 360 platform
This will attract more consumers with personalized
Can win more customers by getting to know their requirements and
An organization can deliver an amazing shopping experience to its customer by following their expectations
Can respond faster on customer-related queries through any channel whichever is comfortable
It can perform automation on time-consuming tasks and repetitive tasks by building customized applications
Industry Growth Trend
The global cloud computing market size is expected to grow from USD 272.0 billion in 2018 to USD 623.3 billion by 2023, at a Compound Annual Growth Rate (CAGR) of 18.0% during the forecast period.
[Source - MarketsandMarkets]
Average Salary
Average Salary
$114,968 per year
The average salary for a Salesforce Developer is $114,968 per year in the United States.
[Source - Indeed]
There are many companies like google, CEAT, DTDC, etc using salesforce to expand their business horizons.
Which skills you will learn in this training

?
After completing salesforce training you will know what is cloud and how we can use its services. What will be CRM and how this going to help our business. There will be different roles coming to the salesforce market and they are Salesforce developer, or architect or consultant, or Admin, you will get to know about all these roles and their responsibilities and choose your desire role while applying in the market.
Pre-requisites
The prerequisite is depending on the role you want to get settled after salesforce training. Regardless having them will going to help you in one way or the other. If you are planning to become a salesforce developer then you can have an idea of any programing language with OOPs concepts in it and preferably Java as most of the coding done by these developers will be in Java. If you are planning to work as
then knowing SQL concepts regarding databases, should be aware of cloud concepts since the services provided by Salesforce is cloud-based, and familiarity with IT terminologies. Also having awareness of business processing will be an added advantage. The main prerequisite will be the willingness that the associate has to learn new things. Coming to the system requirements, salesforce training require normal basic PC with minimum 4GB of RAM
Target Audience
The target audience would be any associate who got to know about salesforce and has a passion to learn it. any professional working in some technology and want to pursue a career in salesforce with the aim of career development can take up the course. Associates who are passionate about business and its processing and desire ca career will also benefit from this training. If you are fresher and have some basic IT knowledge and willing to begin a new challenging career can opt for this course as well. The associate who is already working in the salesforce domain but wants to give certification attempts will also get confidence for his exam with this Salesforce Training in Gurgaon.
Salesforce Training in Gurgaon – FAQ's
---
How does salesforce training is going to help me advance my career?
Salesforce is one of the hottest topics in the market at present and more organizations are incorporating this cloud-based platform. So if you can complete the course then you can advance your career with a better pay scale.
I am new Java, can I take up this Salesforce Training in Gurgaon?
If you are planning to become a Salesforce developer then knowing oops and java concepts will be going to help but you can learn this during the course period. If you opting another career like salesforce admin or architect then stress on java bit less but knowing it will add advantage.
I am fresher, can I opt for this Salesforce Training in Gurgaon?
For fresher this is one of the most welcoming technology in the market and hence fresher can opt for this Salesforce Training in Gurgaon. For fresher the main prerequisite would be showing zeal to learn then after the completion of the course market will welcome them.
I am working in salesforce and planning to take up certification then how this Salesforce Training in Gurgaon is going to help me?
This is course syllabus is following the certification requirement and we encourage our associate to attempt certification. If you want to join our course for certification attempt then we can ascertain that you will see raise in your confidence level with regards to this Salesforce Training in Gurgaon and you will be able to give certification.
Why should you take up the Salesforce Training in Gurgaon?
Gurgaon is one of the prime destinations for many organizations whether it may be IT or business. It has been fastly growing its horizon when it comes to start-ups as well. Numerous organizations have taken up salesforce for their business handling and development purpose and the certified resource in the market pool is scarce. Hence taking up the salesforce training in Gurgaon will going to advance your career fastly and the time gap to get an opportunity to work will significantly low compared to other locations. Because of the numerous organizations, it is expected that there is a quite good chance of early promotions to promising associates as well.
What is the Salesforce market trend in Gurgaon?
Because of the availability of numerous in Gurgaon, the market trend for salse force is quite hot and the certified resources are limited in the market. Now due to the boom in startups as well there has been increasing demand for salesforce services and the trend for salesforce is expected ti raise quite fastly. There are many roles when it comes to salesforce associates in an organization like admin, architect, consultant, and developer and if observe the trends of each role as well it will be quiet high in the market and with good pay rewards.
Sample Preview
---
Career Benefits
There will be many benefits of is training and this particular training will give multiple career opportunities to the associate. Below are some of them:
Salesforce Admin: There are multiple positions in the market and this is one of the prime positions. Admin will be knowing all the details of point and click method and how to provide the solution with this method. Here you deal with all the access level issues, infrastructure, and space-related issues. Our training is fully in accordance and can help the associate to settle in the salesforce admin position.
Salesforce Developer: This is also a prime position in the market and salesforce developer will help in innovating and enhancing the business processing needs of the organization and again our training will enough for this role
Salesforce consultant: The associate with this role will act as consultant want and provide solutions to the customer
Salesforce Architect: Designing the architecture for the business requirements will be the responsibility of the architect
These are the brief description of the roles that you can be tagged in the market after this training and your training is apt for these market requirements.
Reviews
---
Salesforce
It is a long course that goes into very small details about each aspect of the Salesforce CRM platform. The level it's basic and it is very descriptive, overall the speaker seems to have a lot of knowledge on the program and he tries to relate the course with small business, overall it does the job explaining Salesforce.
Linked
Jorge Dominguez
Salesforce – Introduction to cloud computing – Basic course
The course content is good and encompassing. The presenter is clear in explaining topics on cloud computing like the advantages of cloud computing, cost savings because there is no need to buy licenses, special hardware. Learned the characteristics of cloud computing like on-demand, broad network access, resource pooling, rapid elasticity etc., learned about cloud computing technologies like public, private, community, hybrid. Cloud computing services were also covered like SaaS, PaaS, IaaS. Salesforce.com comes under PaaS.
Linked
Fredric C
Salesforce Training
The Salesforce course is a comprehensive practical-oriented solution to your preparation for the certification exams prepared by top experts in the Salesforce industry. It follows the right teaching methodology from basics to advanced level. I am happy to learn the Salesforce course at EDUCBA. I can give my highest recommendation.
Mausam
Salesforce Course experience
The content quality was extremely good,  well-structured, and helped me to boost my career.  Outstanding Salesforce training by EDUCBA. It helped me to understand the logic by giving real-life examples and scenarios.
The project which was taught in the sessions was wholesome revisions and implementation of the entire concept and firm grasp of the entire course.
Juliet