Learn from Home Offer TAKE THIS BUNDLE
PYSPARK Course Bundle - 6 Courses in 1 | 3 Mock Tests
This PySpark Certification includes 6 Course with 14+ hours of video tutorials and Lifetime access and several mock tests for practice. You get to learn about how to use spark python i.e PySpark to perform data analysis. It includes three-level of training which shall cover concepts like basics of Python, programming with RDDS, regression, classification, clustering, RFM analysis, text mining, and others.
TAKE THIS BUNDLE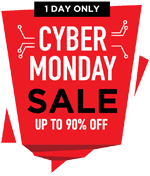 * One Time Payment & Get Lifetime Access
What you get in this PYSPARK Course Bundle - 6 Courses in 1 | 3 Mock Tests?
14+ Hours
6 Courses
Mock Tests
Course Completion Certificates
Lifetime Access
Self-paced Courses
Technical Support
Mobile App Access
Case Studies
About PYSPARK Course Bundle
---
| | |
| --- | --- |
| | |
| Courses | This is the 6-course, Projects bundle. Please note that you get access to all the 6 courses. You do not need to register for each course separately. |
| Hours | 14+ Video Hours |
| Core Coverage | You get to learn about how to use spark python i.e PySpark to perform data analysis. |
| Course Validity | Lifetime Access |
| Eligibility | Anyone serious about learning character modeling and wants to make a career in this field |
| Pre-Requisites | Basic knowledge about animation would be preferable |
| What do you get? | Certificate of Completion for each of the 6 courses, Projects |
| Certification Type | Course Completion Certificates |
| Verifiable Certificates? | Yes, you get verifiable certificates for each course with a unique link. These link can be included in your resume/Linkedin profile to showcase your enhanced skills |
| Type of Training | Video Course – Self Paced Learning |
PYSPARK Course Bundle Curriculum
---
Below mentioned is the detailed course curriculum that a candidate will undergo in these PySpark Tutorials.
| | | |
| --- | --- | --- |
| SR No. | Course Name  | Course Description |
| 1 | Pyspark Beginners | These PySpark Tutorials aims to explain the basics of Apache Spark and the essentials related to it. This also targets why the Apache spark is a better choice than Hadoop and is the best solution when it comes to real-time processing. You will also understand what are the benefits and disadvantages of using Spark with all the above-listed languages  You will also read about the concept of RDDs and other very basic features and terminologies being used in the case of Spark. |
| 2 | Pyspark – Intermediate | This module on PySpark Tutorials aims to explain the intermediate concepts such as those like the use of Spark session in case of later versions and the use of Spark Config and Spark Context in case of earlier versions. This will also help you in understanding how the Spark related environment is set up, concepts of Broadcasting and accumulator, other optimization techniques include those like parallelism, tungsten, and catalyst optimizer. You will also be taught about the various compression techniques such as Snappy and Zlib. We will also understand and talk about the various Big data ecosystem related concepts such as HDFS and block storage, various components of Spark such as Spark Core, Mila, GraphX, R, Streaming, SQL, etc. and will also study the basics of Python language which is related and relevant to be used along with Apache Spark thereby making it Pyspark. |
| 3 | PySpark – Advanced | This module in the PySpark tutorials section will help you learn about certain advanced concepts of PySpark. In the first section of these advanced tutorials, we will be performing a Recency Frequency Monetary segmentation (RFM). RFM analysis is typically used to identify outstanding customer groups further we shall also look at K-means clustering. Next up in these PySpark tutorials is learning Text Mining and using Monte Carlo Simulation from scratch. |
PySpark  Tutorials – Certificate of Completion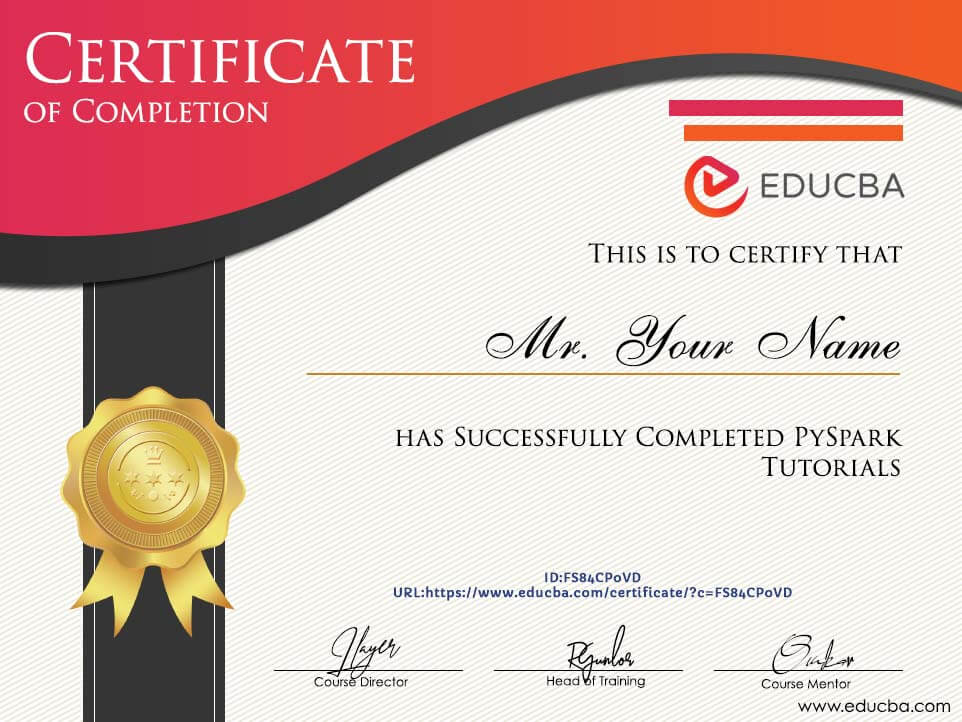 ---
What is PySpark?
Pyspark is a big data solution that is applicable for real-time streaming using Python programming language and provides a better and efficient way to do all kinds of calculations and computations. It is also probably the best solution in the market as it is interoperable i.e. Pyspark can easily be managed along with other technologies and other components of the entire pipeline. The earlier big data and Hadoop techniques included batch time processing techniques.
Pyspark is an open-source program where all the codebase is written in Python which is used to perform mainly all the data-intensive and machine learning operations. It has been widely used and has started to become popular in the industry and therefore Pyspark can be seen replacing other spark based components such as the ones working with Java or Scala. One unique feature which comes along with Pyspark is the use of datasets and not data frames as the latter is not provided by Pyspark. Practitioners need more tools that are often more reliable and faster when it comes to streaming real-time data. The earlier tools such as Map-reduce made use of the map and the reduce concepts which included using the mappers, then shuffling or sorting and then reducing them into a single entity. This MapReduce provided a way of parallel computation and calculation. The Pyspark makes use of in-memory techniques that don't make use of the space storage being put into the hard disk. It provides a general-purpose and a faster computation unit.

Industry Growth Trend
The rapid application development market size is expected to grow from USD 7.8 billion in 2018 to USD 46.2 billion by 2023, at a Compound Annual Growth Rate (CAGR) of 42.9% during the forecast period.
[Source - MarketsandMarkets]
Average Salary
Average Salary
$71,891 per year
The average salary for a Web Developer is $71,891 per year in the United States. Salary estimates are based on 3,528 salaries. The typical tenure for a Web Developer is less than 1 year.
[Source - Indeed]
Which tangible skills will you learn in this Course?
The skills related to development, big data, and the Hadoop ecosystem and the knowledge of Hadoop and analytics concepts are the tangible skills that you can learn from these PySpark Tutorials. You will also learn how parallel programming and in-memory computation will be performed. Apart from that, a different language Python will also be covered in this tutorial. Python is one of the most in-demand languages in the market today.
Pre-requisites
The pre-requisite of these PySpark Tutorials is not much except for that the person should be well familiar and should have a great hands-on experience in any of the languages such as Java, Python or Scala or their equivalent. The other pre-requisites include the development background and the sound and fundamental knowledge of big data concepts and ecosystem as Spark API is based on top of big data Hadoop only. Others include the knowledge of real-time streaming and how big data works along with a sound knowledge of analytics and the quality of prediction related to the machine learning model.
Target Audience
The target audience for these PySpark Tutorials includes ones such as the developers, analysts, software programmers, consultants, data engineers,
, data analysts, software engineers, Big data programmers, Hadoop developers. Other audience includes ones such as students and entrepreneurs who are looking to create something of their own in the space of big data.
PySpark Tutorials – FAQ's
---
Is it a one-time thing or do I need to keep on practicing to be able to do well in Pyspark?
The PySpark Tutorials offered by us are developed in such a way that the concepts and terminologies related to Apache Spark can be understood just only once and if you are a good learner you should not get a need to learn it or revise it again. But when it comes to the practical hands-on and coding level of exercises and assignments, then we would recommend you to practice regularly so as not to lose the touch and be in the flow of Pyspark. This way you will be always market ready and ready to compete in the market.
Sample Preview
---
Career Benefits
The career benefits of these PySpark Tutorials are many. Apache spark is among the newest technologies and possibly the best solution in the market available today when it comes to real-time programming and processing. There are still very few numbers of people who have a very sound knowledge of Apache spark and its essentials, thereby an increase in the demand for the resources is huge whereas the supply is very limited. If you are planning to make a career in this technology there can be no wiser decision than this. The only thing you need to keep in mind while making a transition in this technology is that it is more of a development role and therefore if you have a good coding practice and a mindset then these PySpark Tutorials for you. We also have many certifications for apache spark which will enhance your resume.
Review
---
Very interesting learning
These PySpark tutorials are very well structured and easy to understand.
It contains lots of content as structure, reading, and writing an algorithm and first steps in programming. The tutor has made it interesting and to the point.
Julie Denny
PySpark Tutorials
A good way to start learning the very basics of PYSPARK architecture and programming. The explanation was very clearly explained for an easier understanding of how the processes get implemented in Python Spark.
Sukhasis Roy