Learn from Home Offer TAKE THIS BUNDLE
MACHINE LEARNING Course Bundle - 57 Courses in 1 | 32 Mock Tests
220+ Hours of HD Videos
58 Courses
32 Mock Tests & Quizzes
Verifiable Certificate of Completion
Lifetime Access
TAKE THIS BUNDLE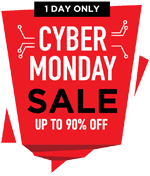 * One Time Payment & Get Lifetime Access
What you get in this MACHINE LEARNING Course Bundle - 57 Courses in 1 | 32 Mock Tests?
220+ Hours
58 Courses
Mock Tests
Course Completion Certificates
Lifetime Access
Self-paced Courses
Technical Support
Mobile App Access
Case Studies
About Machine Learning Course in Hyderabad
| | |
| --- | --- |
| Course Name | Machine Learning Course in Hyderabad |
| Deal | You get access to all videos for the lifetime |
| Hours | 220+ Video Hours |
| Core Coverage | Machine learning using Python, Deep Learning, Data Science with R, Face Detection in Python, Bayesian Machine Learning, Business Intelligence, Artificial Intelligence, Projects on Machine learning. |
| Course Validity | Lifetime Access |
| Eligibility | Anyone serious about learning Machine Learning and wants to make a career in this Field |
| Pre-Requisites | Familiarity with at least one programming language is recommended |
| What do you get? | Certificate of Completion for each of the 58 courses, Projects |
| Certification Type | Course Completion Certificates |
| Verifiable Certificates? | Yes, you get verifiable certificates for each58 course, Projects with a unique link. These link can be included in your resume/Linkedin profile to showcase your enhanced skills |
| Type of Training | Video Course – Self Paced Learning |
| Software Required | None |
| System Requirement | 1 GB RAM or higher |
| Other Requirement | Speaker / Headphone |
Machine Learning Course in Hyderabad Curriculum
---
The course is fully designed to meet the current requirement of ML Engineers in the market. This course focuses on teaching the machine learning algorithms, how they work mathematically, and how to utilize them in a programming language. We have used free, open-source programming languages like Python and R Programming. It also contains programming assignments for practice which will give you hands-on experience. This Machine Learning Course in Hyderabad will explain to you in detail how the ML algorithms work mathematically.
You will get an overview of Scikit-learn, machine learning library for building neural networks, and data preprocessing. In addition to this, you will learn about R programming language which is important because of its versatility in the field of statistics. Here in this course, you will get to know about statistical analysis, predictive modeling, and visualization in R programming. Here you will get the hands-on experience and live projects on Machine Learning along with examples. The projects will help you in a better understanding of the concepts and topics.
Additionally, this Machine Learning Course in Hyderabad will give you clear and straightforward explanations and examples to boost your overall machine learning techniques. Overall, the course material is extremely well-rounded and versatile. With the help of this course, you can carry the professional tag of ML Expert.

Machine Learning Course – Certificate of Completion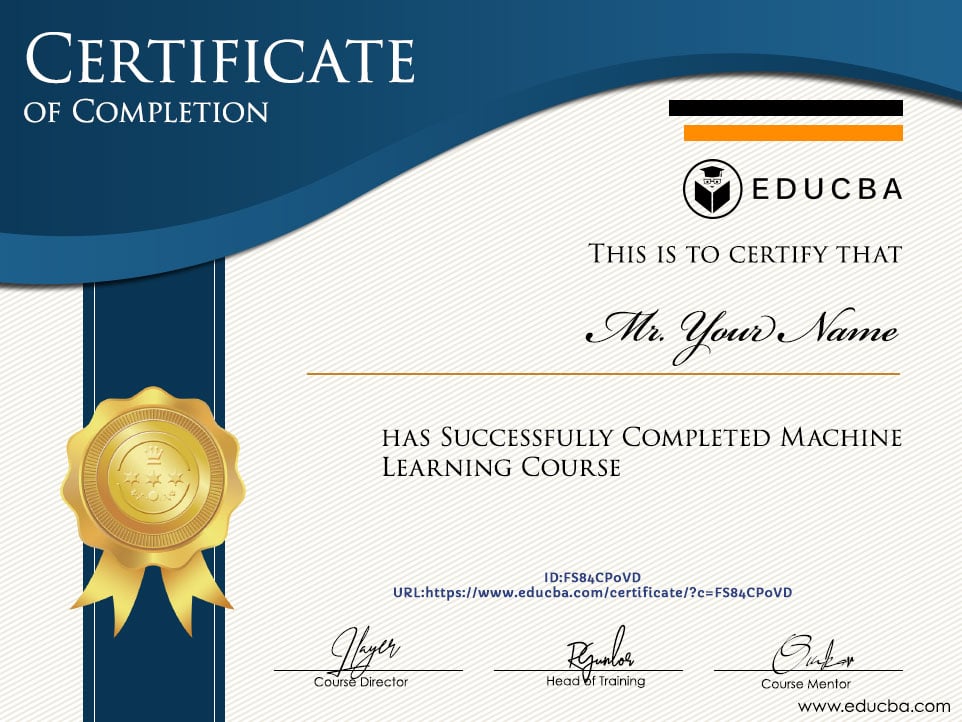 What is Machine Learning Course?
Machine learning is an excellent enactment of artificial intelligence (AI) which provides the systems with the ability to learn automatically with events and improve based on experience without being programmed explicitly. Machine Learning can be used to perform complex tasks without even explicitly coding it. All of this is achieved by training the computer with lots and lots of data. Machine learning anchors on the building of such computer programs which can access and use data to learn for themselves.
The program starts with the beginning of learning with observations of data, such as direct experience,  any known example, or a pre-configured instruction, etc. to search for patterns in data and based on the learning from this make better decisions in the future when the same examples follow. The primary goal is to empower the computers to learn automatically without the assistance or intervention of humans and adjust their actions accordingly.

Industry Growth Trend
The machine learning market is expected to grow from USD 1.03 Billion in 2016 to USD 8.81 Billion by 2022, at a Compound Annual Growth Rate (CAGR) of 44.1% during the forecast period.
[Source - MarketsandMarkets]
Average Salary
Average Salary
$141,029 per year
The average salary for a Machine Learning Engineer is $141,029 per year in the United States.
[Source - Indeed]
Which Skills will you learn in this Course

?
This Machine Learning course is a comprehensive course for mastering various aspects of Machine Learning. You will learn about Machine learning using Python, Deep Learning, Data Science with R, Face Detection in Python, Bayesian Machine Learning, Business Intelligence, Artificial Intelligence, Projects on Machine learning.
Machine Learning with Python – It includes ML Model development with Python.
Machine Learning with R – It includes the concept of classification of a real dataset using R programming.
Machine Learning with Tensorflow – It includes things such as representation, state-space search, Heuristic search, logic and reasoning, rule-based programming, decision making, etc.
Deep Learning – It includes things like text preprocessing and feature extraction etc.
Artificial intelligence With Python – It includes face detection at an advanced level with detailed concepts.
Data Science with R
Natural Language Processing(NLP)
Projects on ML – Example: Shipping and time estimation, Supply Chain Demand Trend Analysis, Predicting prices using regression, Banking, and credit frauds, and many more.
Pre-requisites
Ideal learners for this Machine Learning Course in Hyderabad are prepared individuals who have:
Some programming knowledge, preferably in Python and R programming.
Some knowledge of mathematics on linear algebra, probability theory, calculus, statistics, graph theory, optimization methods (Lagrange multipliers).
Strong interest in Artificial Intelligence.
The curiosity of learning top things around in the market.
 Immense passion and dedication towards learning about new technologies.
The patience of constant learning as a habit.
Strong knowledge of Data Analysis as this is the first skill you need to get things done.
Target Audience
Students – Students pursuing a degree, diploma, or engineering in data science or machine learning or artificial intelligence and want to gain additional knowledge can go for this Machine Learning Course in Hyderabad.
Professionals – Professionals who want to work in Artificial Intelligence or Machine Learning. Also, IT professionals looking for a career switch into the field of Artificial Intelligence.
Beginners – an individual who has a strong interest in learning Machine learning or Artificial intelligence can opt for this training for more hands-on experience. It is also useful for anyone who wants to make their career and expand their knowledge of Machine learning.
Machine Learning Course in Hyderabad – FAQ's
---
Why should one learn Machine Learning?
Humans learn from their experience whereas the ML system learns from data they have been fed. If anyone, whether a student or working professional has the knowledge and pro-efficiency on Data management then learning ML, would make you more knowledgeable in data science and thus more attractive in the job market. It brings in better career opportunities and directly linked to Data Science.
Which roles/jobs you get into after learning the Machine Learning course?
Anyone knowing Machine Learning will have a wide variety of opportunities before them. So students taking Machine learning Certification have the following opportunities – Software Engineer, Software Developer, Designer in Human-Centered Machine Learning, Data Scientist, Computational linguist, and many more.

Why should you take up the Machine Learning course online?
The demand of ML Engineer, AI Engineer is more in today's market but the supply is less. As we have very few experienced people in this field. This Machine Learning online course will provide you with all the skills needed to become an ML Specialist.
What is the average salary offered for ML Engineers in India?
Start-ups are paying higher than large companies and giving an average salary of Rs.8 Lakhs per annum to Data Scientist which is about 10% higher than Big Giants.
What are the top companies hiring ML professionals?
IT giants like Infosys, Cognizant, TCS, Wipro, Accenture, or e-commerce companies like Flipkart, Amazon, or the thousands of startups, everyone wants ML Engineers who can make sense of their large amounts of data.
 Is it mandatory to have experience in Machine Learning to get a job as an ML Engineer?
The most important thing to become ML Engineer is knowing. Today companies are realizing the importance of data and giving preference to knowledge over experience.
Why should you take up the Machine Learning course in Hyderabad?
As companies are adopting artificial intelligence technologies, machine learning has become popular in demand and is widely applied to business. But the required skill-set is met by very few people as there is less number of experienced people in this field in India. One should go for the machine learning course in Hyderabad is due to its high demand in the market and widespread opportunities. So, opting machine learning course will help you to kick-start your career.
What is the Machine Learning market trend in Hyderabad?
Hyderabad emerged as a promising city for job seekers recently as it is outpacing its peers in attracting ML talents and has become a leading AI hub in India. In fact, as per market research, the number of opportunities has increased in machine learning but there is a shortage of top talent with the right skills. Because nowadays companies are seeking out only the best of the best. Any individual looking for a career in this field should put in the effort to gain knowledge through this Machine Learning Course in Hyderabad.
Sample Preview
---
Career Benefits
In the coming future, the
looks promising. There is an urgent need for experienced professionals who are trained in Data Science and Deep learning that matches the requirements. If you want to be one of those experienced professionals, then prepare yourself through this Machine Learning Course in Hyderabad and get certified. Learning machine learning courses not only prepares you for ML jobs but also gives you a proper overview of all the machine learning requirements.
Career growth – As machine learning is the hottest career choice across the world, getting expertise in machine learning is the first step via this training.
Show your expertise – As the employers are giving jobs on various factors, getting machine learning certified adds the icing on the cake.
Big bucks tech – Machine learning jobs are highly paid due to its increased demand.
Keep pace with the latest technologies – Enrolling in this Machine Learning Course in Hyderabad will keep you upgraded with new technologies and tools in machine learning without any worry.
Reviews
---
Great!
Nice introductory course if you want to get a basic understanding of what Machine Learning is. You don't need ridiculous technical chops to gain something from this course, it's put together in a way that anyone can value from and truly understand it. I'd recommend it to anyone who just wants to dip their toes in the Machine Learning waters.
Linked
Ammar Khan
Awesome Course!
Thanks team for this awesome set of videos on Artificial Intelligence and Machine Learning. Found it useful, specifically from the placement point of view. Now I have a good overview of the subject. I believe it would be beneficial for all students who are interested to know more about AI&ML.
Linked
Rakesh Mohan Mohapatra
Introduction to Machine Learning
It is an introductory course that helps in getting a basic understanding of what Machine Learning is. The course is designed in such a way that it doesn't need any prior technical knowledge to understand it. With the evolution of technology we see today, it is highly recommended to have at least a basic knowledge of what is shared in this course.
Linked
Meenal Kohat
Machine Learning with R
This was a really interesting course. I had prior knowledge regarding data analytics, including descriptive, prescriptive, and predictive modeling using various tools, but this course was different. This taught me a lot of things that I did not know as a person who was good at statistics and probability. Overall the course was Good.
Linked
Keerthi Vasan
Introduction to Machine Learning
Great course, concepts are very well explained and so very easy to grasp and understand the general concepts or ideas revolving around machine learning algorithms. I think you can easily apply some of these skills directly to various problems, even in your research, and can be a great addition to your skills.
Ajay Ashok