Learn from Home Offer TAKE THIS BUNDLE
All in One Data Science Bundle (360+ Courses, 50+ projects)
This All in One Data Science Course Bundle is an Ultimate bundle of 400+ courses with 1500+ hours of video tutorials and Lifetime access.

This is not all, you also get verifiable certificates (unique certification number and your unique URL) when you complete these courses. It covers core such as - Artificial Intelligence, Machine Learning, Business Intelligence, Data Visualization, Deep Learning, Big data and Hadoop, Internet of Things (IoT), Cloud Computing, SalesForce, Statistical Analysis.
Data Science with Python Course
Offer ends in:
TAKE THIS BUNDLE
* One Time Payment & Get Lifetime Access
What you get in this All in One Data Science Bundle?
Online Classes
Technical Support
Mobile App Access
Case Studies
Online Machine Learning Course in Bangalore
This Machine Learning Course in Bangalore includes  360+ comprehensive machine learning training with 1500+ hours of video tutorials and Lifetime Access. It will explain concepts such as  Machine learning using Python, Deep Learning, Data Science with R, Face Detection in Python, Bayesian Machine Learning, Projects on Machine learning and much more right from the basics to advanced concepts.
The technology is getting advanced day after day and this fact cannot be denied. There are thousands of technologies that are helping the business or serve its purpose. The methodologies that technology worked on a decade back, is totally different from what we expect from contemporary technologies. From the manual generation to the automatic generation, we have come so far and the journey is sustained. This era is fond of automation and there's a technology that is helping us to achieve it, known as machine learning. This technology enables the organization to take out the maximum from automation. It is primarily concerned with the approach that the application should follow to learn from the inputs.
Industry Growth Trend
The machine learning market is expected to grow from USD 1.03 Billion in 2016 to USD 8.81 Billion by 2022, at a Compound Annual Growth Rate (CAGR) of 44.1% during the forecast period.
[Source - MarketsandMarkets]
Average Salary
Average Salary
$141,029 per year
The average salary for a Machine Learning Engineer is $141,029 per year in the United States.
[Source - Indeed]
About Machine Learning Course in Bangalore
| | |
| --- | --- |
| Course Name | Online Machine Learning Course in Bangalore |
| Deal | You get access to all 360+ courses bundle. You do not need to purchase each course separately. |
| Hours | 1500+ Video Hours |
| Core Coverage | Machine learning using Python, Deep Learning, Data Science with R, Face Detection in Python, Bayesian Machine Learning, Business Intelligence, Artificial Intelligence, Projects on Machine learning. |
| Course Validity | Lifetime Access |
| Eligibility | Anyone who is serious about learning Machine Learning and wants to make a career in this Field |
| Pre-Requisites | Familiarity with at least one programming language is recommended |
| What do you get? | Certificate of Completion for each of the 360+ courses |
| Certification Type | Course Completion Certificates |
| Verifiable Certificates? | Yes, you get verifiable certificates for each course with a unique link. These link can be included in your Resume/Linkedin profile to showcase your enhanced Machine Learning Skills |
| Type of Training | Video Course – Self Paced Learning |
| Software Required | None |
| System Requirement | 1 GB RAM or higher |
| Other Requirement | Speaker / Headphone |
Machine Learning Course in Bangalore Curriculum
---
The purpose of this course to entertain everyone who wants to learn machine learning or willing to grow their career in this technology. You will be learning about statistics essential in machine learning that is considered as the main part of this technology. You will be able to understand statistics that will be leveraged to master this technology. The first unit of this Machine Learning Course in Bangalore is mainly dedicated to making you understand all the concepts of statistics that are used frequently in machine learning. The next and important topic, machine learning with Tensorflow will be covered in the second unit. You will need to learn this in order to expand the functionalities that you can bring to your machine learning project. The course will train you on how this free library can be used to represent the data flow. Tensorflow is the math library that is mainly used in machine learning applications and you will actually see how this library is used in the real application. After completing this unit you will be able to work with Tensorflow.
As this Machine Learning Course in Bangalore is primarily focused on offering hands-on practice, you will get to learn about the deep learning and major part of this module will be hands-on. You will get the opportunity to solve the problem by yourself in order to fortify your machine learning skills. All the modules covered here comprised of various examples that are scenario-based. These examples will help you to understand how things work in the real production environment. R programming language is the other crucial module of machine learning and hence we will be practicing R with the perspective of this technology. In the module machine learning with R, we will see how the programs are written in R that endorses the machine learning. To make the learning easier for you, things will be explained by the hell of easy examples and the complexity will increase as time passes.
In this Machine Learning Course in Bangalore, there are several projects that you will be supposed to understand, learn and execute. But before that, you will need to finish the last module of the unit named machine learning with Scikit. Scikit is the free library for python that is used for machine learning. In order to be the functionalities of machine learning in the application developed in python, you can leverage this free library. You will learn how to work on it so that you can find it easy to finish the projects that are included in this course.
Machine Learning Course – Certificate of Completion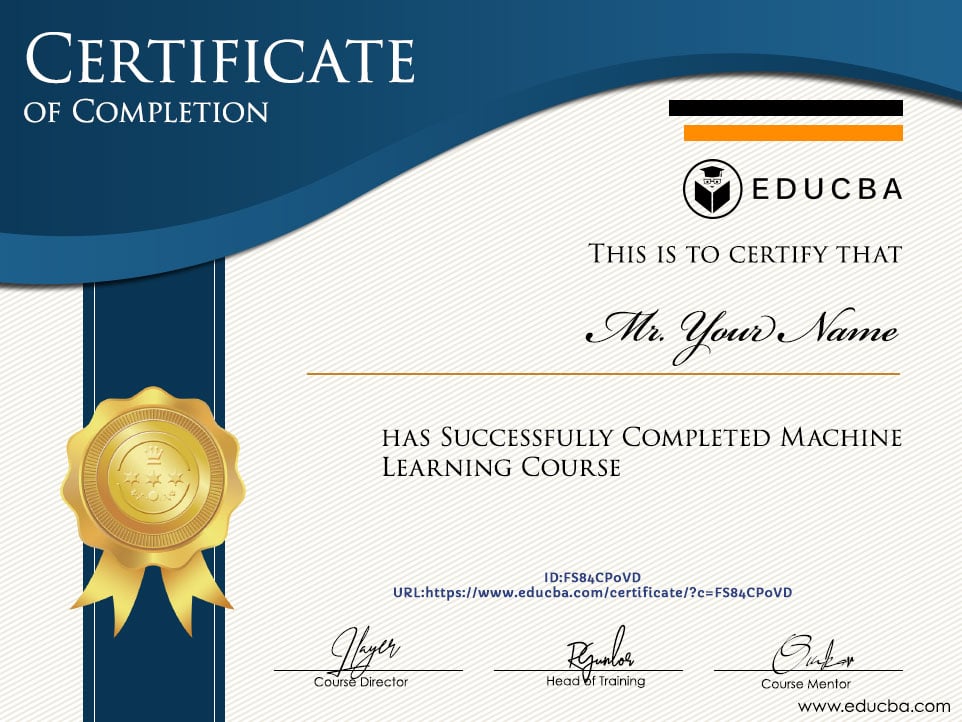 What is Machine Learning?
Machine learning can be considered as a technology that enables the application to absorb the user's input in order to enhance the functionality or the offerings of the application. This technology is comprised of several other technologies that are programming languages and the approaches to process data. This also enables the software to learn things on their own and do not entirely rely on the programmed data to generate the outcome. Programming languages like Python and R are used to implement Machine learning. Data science is the other important module covered under Machine learning and it's also essential for the application to work with huge data. In order to implement it on any application, there are specific libraries developed to serve the purpose.
Which Skills will you learn in this Course?
This Machine Learning Course in Bangalore is intended to train the folks who are willing to master these skills required in machine learning. After completing this Machine Learning Course in Bangalore, you will be cognizant of all the skills that are considered to be proficient in machine learning. This course is comprised of the python module that you improve your hand on skills on python specific libraries that are used to implement machine learning. You will be programming in R that will improve your skills or command on that particular programming language. In addition to that, there are several other tools or technologies like Tensorflow, that you will be learning in this course. Once the course is completed, you will be able to work proficiently in this technology.
Pre-requisites
In order to learn machine learning, there are some of the technologies that can be very helpful to you. Though those are not considered mandatory when they will let you understand machine learning very easily. The first among them is python. You should be proficient in python programming language and regards programming language as these are used very frequently to develop the application that possesses the features provided by machine learning. In addition to the programming languages, you need a strong understanding of data science to endorse your learning. You will need to process the huge data that can also be possible through data science. So these are some of the technologies that are considered as a prerequisite when we talk about mastering machine learning.
Target Audience
Anyone who is willing to choose machine learning as their career or wants to learn this is the best target audience for this course. The professionals who are already working as developers in python and Regards and wants to extend the domain of your knowledge can be the target audience for this Machine Learning Course in Bangalore. They will get to learn various new things that come under the domain of machine learning. The students who are in their graduation or pursuing masters can also be the best target audience for this course. They will be learning new things and those were very different from what they learn in academics. The major focus of this course is to improve hands-on experience in machine learning and anyone who wants to master this technology can be the best target audience.
Machine Learning Course – FAQ's
---
Why should you take up the Machine Learning Course in Bangalore?
The IT industry is booming in India and this fact could not be belied. When we talk about It in India, Bangalore is the city that comes first in our mind. There are numerous organizations that are working on machine learning and need professionals who are cognizant of this technology. Taking this Machine Learning Course in Bangalore will not only help you to get the job but will also help you to secure good compensation. In addition to Bangalore, there are various cities that had a huge demand for professionals working in machine learning and the demand is sustained from growing.
What is the Machine Learning market trend in Bangalore? 
Bangalore has always been the best destination for job seekers who are in the IT industry and the reason was an increasing number of IT organizations. The city has always been on top in terms of opportunities and was luring professionals for a decade. With the requirement of more and more professionals, the city had welcomed more professionals in several technologies and the same happened in the case of machine learning. Since the time machine learning started to boom, the requirement for this technology witnessed exponential growth in Bangalore. In the current time, there is huge number of openings on this technology in this city and the positions are expected to grow with the passing of time.
Sample Preview
---
Career Benefits
Machine learning is the hot technology at this time and the requirements for this technology is going to increase massively in the near future. This Training will help you to understand each and every single concept of machine learning. The most important and best thing about this technology is, folks working in this usually get high compensation due to high requirements. Anyone who is a master in this technology, it is very easy for them to secure a good job. If you are looking to grow your career in one of the most demanding technology, you might want to learn machine learning. After finishing this Machine Learning Course in Bangalore, you will become eligible for all the positions that require the skilled professional who has experience in machine learning.
Reviews
---
Great!
Nice introductory course if you want to get a basic understanding of what Machine Learning is. You don't need ridiculous technical chops to gain something from this course, it's put together in a way that anyone can value from and truly understand it. I'd definitely recommend it to anyone who just wants to dip their toes in the Machine Learning waters.
Linked
Ammar Khan
Awesome Course!
Thanks team for this awesome set of videos on Artificial Intelligence and Machine Learning. Found it really useful, specifically from the placement point of view. Now I have a good overview about the subject.I believe it would be beneficial for all students who are interested to know more about AI&ML.
Linked
Rakesh Mohan Mohapatra
Introduction to Machine Learning
It is an introductory course which helps in getting a basic understanding of what Machine Learning is. The course is designed in such a way that it doesn't need any prior technical knowledge to understand it. With the evolution of technology we see today, it is highly recommended to have at least a basic knowledge of what is shared in this course.
Linked
Meenal Kohad
Machine Learning with R
This was a really interesting course. I had prior knowledge regarding data analytics, including descriptive, prescriptive and predictive modelling using various tools, but this course was different. This taught me a lot of things which I did not know as a person who was good in statistics and probability. Overall the course was Good.
Linked
Keerthi Vasan
Introduction to Machine Learning
Great course, concepts are very well explained and so very easy to grasp and understand the general concepts or ideas revolving around machine learning algorithms. I think you can easily apply some of these skills directly to various problems, even in your personal research, and can be a great addition to your personal skills.
Ajay Ashok