Learn from Home Offer TAKE THIS BUNDLE
IoT Training in Pune (5 Courses, 2+ Projects)
5 Online Courses
2 Hands-on Projects
44+ Hours
Verifiable Certificate of Completion
Lifetime Access
Advanced Python for IoT & IoT based Data analysis
IoT Automation with ESP8266 with Projects
IoT Raspberry Pi with Projects
IoT Raspberry Pi for Programmers with Projects
Offer ends in:
TAKE THIS BUNDLE
* One Time Payment & Get Lifetime Access
What you get in this IoT Training in Pune?
Online Classes
Technical Support
Mobile App Access
Case Studies
About IoT Training in Pune
| Course | | No. of Hours |
| --- | --- | --- |
| IoT Automation with ESP8266 with Projects | | 7h 3m |
| IoT Raspberry Pi with Projects | | 11h 21m |
| IoT Raspberry Pi for Programmers with Projects | | 2h |
| Python Bootcamp | | 10h 33m |
| AWS IoT Case Study - Smart Parking Project | | 5h 5m |
| Advanced Python for Data analysis | | 6h 28m |
| IoT Cloud - Dweet and Freeboard | | 52m |
| | |
| --- | --- |
| Course Name | IoT Training in Pune |
| Deal | You get access to all videos for the lifetime |
| Hours | 44+ Video Hours |
| Core Coverage | IoT Automation with ESP8266, Python for IoT Tutorials, Advanced Python for IoT & IoT based Data analysis, Raspberry Pi for Beginners. |
| Course Validity | Lifetime Access |
| Eligibility | Anyone serious about learning IoT Automation and wants to make a career in this Field |
| Pre-Requisites | Good knowledge of C and C++ and Programming language |
| What do you get? | Certificate of Completion for the course |
| Certification Type | Course Completion Certificates |
| Verifiable Certificates? | Yes, you get verifiable certificates for each5 course, 2 Projects with a unique link. These link can be included in your resume/Linkedin profile to showcase your enhanced skills |
| Type of Training | Video Course – Self Paced Learning |
| Software Required | None |
| System Requirement | 1 GB RAM or higher |
| Other Requirement | Speaker / Headphone |
IoT Training in Pune Curriculum
---
We designed this course for all the individuals who want to gain knowledge on IoT and want to use it in the real world. By the end of this training, you will become more productive with IoT things and services. The training is designed in such a way that it can meet the current requirement of IoT developers in the market. Becoming an IoT product manager, IOT Architect, IoT Developers, Data Scientist, IoT Cloud Engineer, Industrial Engineer, Industrial UI/UX designer is a new career growth path that combines analysis, statistics, and programming logic.
In the initial part of this training, you will learn IOT Automation with ESP8266 which includes fundamentals concepts of IoT automation, its components, installation, debugging, temperature techniques, pressure techniques, open weather techniques, etc. This module comprises of initial and important concepts of IoT and is easily understandable by everyone with little programming knowledge.
In Addition to this, you will learn about how to make smart IoT systems with Python. In the initial stage of this module, you will get to know the libraries of Python for IoT, its data types and functions, loops, iterators, comparison operators, and strings. Also, you will get to know OOPs concepts, decorators, and all other modules required to make IoT systems using Python. In the next module, you will get hands-on experience on Raspberry PI, which is a hardware tool for IoT used by beginners and professionals nowadays. Additionally, IoT Training in Pune will give you clear explanations and examples with the help of projects on each of the modules to boost your overall IOT learning. Overall, the training material is extremely comprehensive and versatile.
IoT Training – Certificate of Completion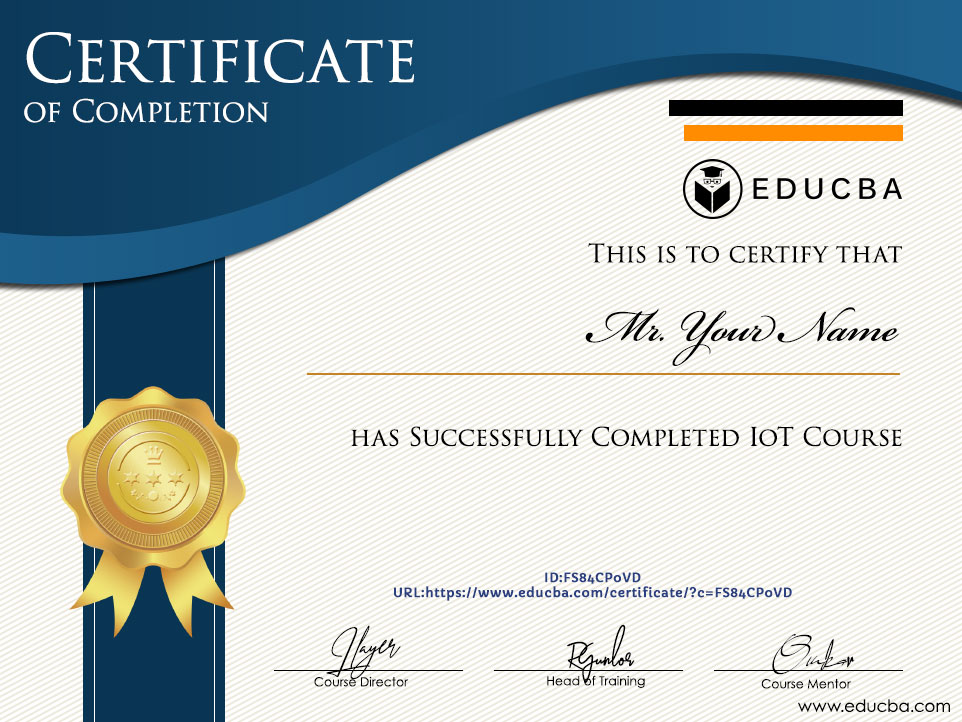 What is IoT?
IoT is pretty little things. Consider yourself, if your phone was a cellphone, not a smartphone, then you will be able to call and text but you cannot play online movies or songs in it. Now, it is possible because of the Internet. When the everyday devices getting connected to the Internet, it brings up them with amazing features. So IoT is the simple concept that took all the everyday things together and connects them over the Internet. So, IoT helps in expanding the ability of the internet beyond computers and smartphones to a whole range of other devices. Those devices connected to the Internet are used to gather data, send data back, or both. When these devices can represent themselves digitally, then we will be able to control them from anywhere easily. Using IoT platforms, most of the industries can reduce costs via improved process planning, asset utilization, and efficiency.

Industry Growth Trend
The IoT professional services market is projected to grow from USD 79.0 billion in 2018 to USD 189.2 billion by 2023, at a Compound Annual Growth Rate (CAGR) of 19.1% from 2018 to 2023.
[Source - MarketsandMarkets]
Average Salary
Average Salary
$123,194 per year
The average salary for an IoT Engineer is $123,194 per year in the United States.
[Source - Indeed]
Which Skills will you learn in this Course
?
With the help of IoT Training in Pune, you will be able to grow high in a tech-based real world. Also, this training is very helpful for building skills for today's most amazing jobs like IOT Developers and Data Scientist. This IoT Training course is a comprehensive course for becoming a master in IoT. You will learn about IoT Automation with ESP8266, how to make a smart IoT system with Python, Raspberry PI, remote logging, socket programming, and much more right from the basics to advanced concepts.
IoT Automation with ESP8266 – Includes components of IoT, its installation, Lightening and blinking of LED, Input Button, debugging using serial monitor, connecting internet, client-server model, interfacing I2C devices, Getting temp, pressure, etc. from open weather map, etc.
Python for IoT – Includes OOPs concepts, decorators, packages and modules, libraries of Python for IoT.
Raspberry PI tool – Includes an introduction of Raspberry PI 2 and 3, its installation, remote logging, nuts and bolts, socket programming, databases, and datasets.
Projects on tools – Includes project on LED lights like LED controlled by tweet, PWM, client elements, and networking.
Pre-requisites
Ideal Students for this IoT Training in Pune are prepared individuals who have:
Knowledge of Information Security, as it is needed to save IoT devices from data breach and multiple security issues.
Basic knowledge of UI/UX design languages JavaScript, HTML, Angular, CSS, etc.
Basic knowledge Mobile Development for developing Apps that can interact with the IoT devices.
Basic knowledge of hardware Programming for developing embedded IoT devices using various tools like Raspberry PI, etc.
Basic knowledge of Networking is required. Since nowadays Networking is a part of every data flow line.
Prior knowledge of AI, Machine learning, etc.
Target Audience
A Student undergoing his graduation, or diploma in the field of IoT services and would like to have a proper sight in the fundamentals of this technology, can opt for this training.
A Professional who want to work in IoT, an IT professional looking for a career switch into the field of IoT, a research scientist, individuals involved in Information Technology, new technologies learner, IT specialists and marketing managers, Startup founders, Lecturers and Teachers, and some of the full-stack developers need to learn an efficient way to connect two devices wirelessly.
A Beginner who has a keen interest in gaining knowledge about IoT services and wants to become data experts can opt for this training which will provide some hands-on training as well. Anyone who has a fascination for a connected future is also welcome.
IoT Training in Pune – FAQ's
---
Why one should go for learning IoT?
IoT is one of the booming techs and it is in huge demand between big MNC's for its improved process planning, asset utilization, and efficiency. Hence, learning such technology (that is in-demand in the market) will give a great kick start to your career.
What roles or jobs are offered to people knowing IoT services?
Anyone knowing IoT is going to have a great number of opportunities before them. So, individuals taking IoT have the following roles to move in – an IoT product manager, IoT Architect, IoT Developers, Data Scientist, IoT Cloud Engineer, Industrial Engineer, Industrial UI/UX designer, etc.
Why one should go for an online IoT course?
As the need for IoT developers, IoT cloud engineers, etc. are higher nowadays in the market. It has created a scarcity of IoT specialists in the market due to a lack of experienced associates in this technology. This online training in IoT will ascertain you with the skills required to be molded into an IoT professional.
Name the Organizations which are gearing towards hiring an IoT professional?
Companies like Altizon, Infinite Uptime, Aeron Systems, Smartalyse, Pivotchain solutions, Asquared IoT, AtomX, etc. are some of the many companies creating a bunch of IoT job pockets in Pune city.
Why should you take up the IoT Training in Pune?
Due to the high demand for Innovation and technology in India, IoT Specialists have become the need of the hour for such a form of digitalization in the country. If you have any desires for learning such technology in a city that proffers identical opportunities to work on it, Pune is the city that arrives foremost in the mind due to the big pocket of open positions created in the city by various startups, small and mid-sized companies in the field of IoT. Grasping IoT Training in Pune will help you kick start your career and to get a challenging position in an organization where you can utilize the full potential of this technology.
What is the IoT market trend in Pune?
Pune city of Maharashtra state is becoming the hub for Information and Technology and it is heading towards becoming the leader for IT services amid all hub cities in India. Pune ranks 3rd in terms of providing IT (Information Technology) services from Indian cities and it has registered a growth of about 11% in IT/ITes services. Its exports were marked around ₹35,000 crores in 2015-16 to ₹44,000 crores in 2017-18. Mumbai is a leading center in education, culture, economy, and commerce. All the admired multinational companies such as IBM, Wipro, TCS, Infosys, etc. have their offices in Pune. This city provides an opulent opening for professionals to pile up their skills across these industries. IoT is one suck skill which is leading for such results. Professionals trained in IoT help turn basic day to day activities into innovation by their expertise.
Sample Preview
---
Career Benefits
IoT or the Internet of Things is a flourishing technology at this point and the passion for this technology is multiplying since way back. Going for the IoT Training in Pune will develop you as a specialist in this technology and this will also aid you to get yourself a good job with a healthy compensation. According to the current market trend, the demands for IoT professionals are pretty elevated and the same is expected in the future also. If you have high curiosity in programming and willing to absorb more with the stance of a flourishing future, learning technology such as IoT will be the best option you got. IoT Training in Pune is composed of all the essentials that are the requirements needed by anyone to excel in this technology. If you seek your future with this technology, you can go with IoT Training in Pune and take the first important step.
Reviews
---
Internet of Things Course
Very effective and well-organized topics to provide such training, I thank EDUCBA to provide such a platform and facilitate online learning opportunities to one. I have gone through a couple of more courses and found all are well explained and the quality of the materials is amazing. Thanks, Educba.
Linked
Kumar Gaurav Jaiswal
IoT Automation
I am a technology enthusiast. I like to learn about different technologies. I am very much interested in making a career in digital technology. By completing this training has learned a lot about IoT. This has raised more curiosity in me. I would want to learn more about it to have an even better understanding.
Linked
R RAVI KIRAN
Amazing Internet of Things Course
I enrolled in this IoT course in June and since then I learned a lot about IoT. IoT is a fast-growing field and hence I wanted to learn it for better career prospects. Before this course I never used python and I learned it here only. Now, I can execute many IoT based applications using Raspberry Pi and Python. I am very confident that soon I will get a job in this field as well.
Mark
Great learning experience
This IoT based training course is awesome. I have a very wide syllabus which covers almost all the required things. The teaching style is very interesting and hands-on exercises and examples are industry-relevant. I am very happy with the course and I shall recommend it to everyone who wants to learn IoT.
Mathew
IoT Training Course
When I joined for this Internet of Things Course, I was not quite sure if it will fulfill my requirements or provide me with content that I was looking for. Because I am not very comfortable with online courses so I was not very sure. But after some hesitation, I joined and I was never more wrong in my life. This course was what I was looking for. I read many books on IoT, but this course is on another level. It teaches what I book can never teach. The classes are very fun to attend and teaching material is regularly updated. I recommend this Internet of Things course to everyone.
Joseph Stanley