Learn from Home Offer TAKE THIS BUNDLE
IOT Course Bundle - 7 Courses in 1
43+ Hours of HD Videos
7 Courses
Verifiable Certificate of Completion
Lifetime Access
TAKE THIS BUNDLE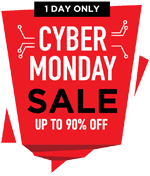 * One Time Payment & Get Lifetime Access
What you get in this IOT Course Bundle - 7 Courses in 1?
43+ Hours
7 Courses
Course Completion Certificates
Lifetime Access
Self-paced Courses
Technical Support
Mobile App Access
Case Studies
About IoT Training in Noida
| | |
| --- | --- |
| Course Name | IoT Training in Noida |
| Deal | You get access to all videos for the lifetime |
| Hours | 43+ Video Hours |
| Core Coverage | IoT Automation with ESP8266, Python for IoT Tutorials, Advanced Python for IoT & IoT based Data analysis, Raspberry Pi for Beginners. |
| Course Validity | Lifetime Access |
| Eligibility | Anyone serious about learning IoT Automation and wants to make a career in this Field |
| Pre-Requisites | Basic knowledge of data and analytics |
| What do you get? | Certificate of Completion for the course |
| Certification Type | Course Completion Certificates |
| Verifiable Certificates? | Yes, you get verifiable certificates for each7 course, Projects with a unique link. These link can be included in your resume/Linkedin profile to showcase your enhanced skills |
| Type of Training | Video Course – Self Paced Learning |
| Software Required | None |
| System Requirement | 1 GB RAM or higher |
| Other Requirement | Speaker / Headphone |
IoT Training in Noida Curriculum
---
MODULE 1: IOT Course Fundamentals

| Courses | No. of Hours | Certificates | Details |
| --- | --- | --- | --- |
| IoT Automation with ESP8266 with Projects | 6h 59m | ✔ | |
| IoT Raspberry Pi with Projects | 11h 19m | ✔ | |

MODULE 2: Projects based Learning

| Courses | No. of Hours | Certificates | Details |
| --- | --- | --- | --- |
| IoT Raspberry Pi for Programmers with Projects | 2h 24m | ✔ | |
| AWS IoT Case Study - Smart Parking Project | 5h 5m | ✔ | |
| IoT Cloud - Dweet and Freeboard | 53m | ✔ | |

MODULE 3: Python for IOT

| Courses | No. of Hours | Certificates | Details |
| --- | --- | --- | --- |
| Python Bootcamp | 10h 33m | ✔ | |
| Advanced Python for Data analysis | 6h 28m | ✔ | |
IoT Training in Noida is designed to impart knowledge on how IoT devices work in tandem to provide an automated series of events. To make it possible different technologies, devices are used. The dominating language in which these devices are coded in python. Python will be taught exhaustively in this training. There are 5 courses, 2 Project bundles summing up around 44 hours online videos in this training which can be purchased as per user's demand.
The training covers topics like Python for IoT Tutorials, IoT Automation with ESP8266, Advance python, and much more. There are different projects designed for so that you get hands-on experience. Advance topics are explained in with the help of user-friendly online content so that it becomes easy for a newbie to understand the topics easily. Hand-on sessions are designed with pinpointed details to foster the environment where all the doubts and confusion on the topic can be mitigated. Learners will get insights about real-time scenarios and issues. They will get knowledge of how IoT is used to remove unproductive repetitive work with the help of machines. This training gives a broad business perspective along with technical knowledge which will help you prepare yourself for the competitive IT industry in the field.
IoT Training – Certificate of Completion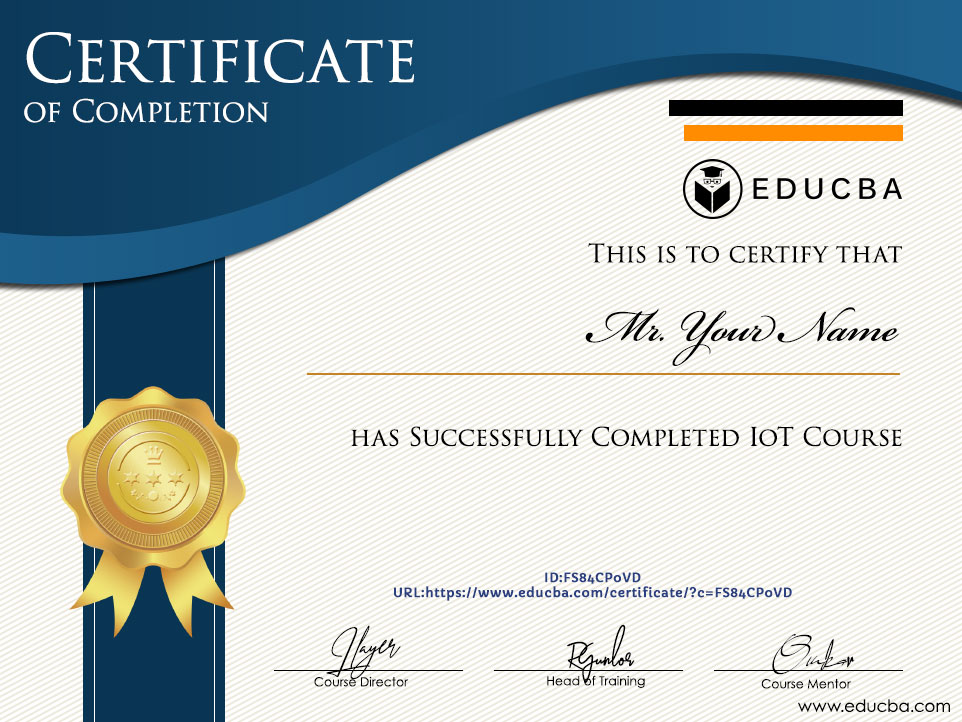 What is IoT?
Internet of things is an ecosystem of connected devices, tools, sensors, or anything capable of receiving or sending data. This network is self-sufficient and does not require human intervention for it to produce output. This constitutes a smart web adaptable to the external environment. There exists a wide range of applications of IoT like:
Smart home: imaging you are entering the home on sunny noon and find your room in cozy because AC was turned on before you entered the room. This is possible with the help of IoT.
Eldercare: IOT can be of great use to differently-abled to help them in daily works.
Medical and healthcare: IOT can be used in setting up emergency notifications, medical reminders, and remote health monitoring systems making the lives easy for many.
Industry Growth Trend
The IoT professional services market is projected to grow from USD 79.0 billion in 2018 to USD 189.2 billion by 2023, at a Compound Annual Growth Rate (CAGR) of 19.1% from 2018 to 2023.
[Source - MarketsandMarkets]
Average Salary
Average Salary
$123,194 per year
The average salary for an IoT Engineer is $123,194 per year in the United States.
[Source - Indeed]
Which Skills will you learn in this Course
?
IoT Training in Noida will enrich your skillset with one of the most hyped and trending technologies which are becoming crucial every passing day to big businesses. The market demand for these technologies has grown manifold due to the increasing demand for automation every day. The below-listed courses are covered in detail as part of this training:
Taking up this training will help you in visualizing the basic knowledge of data and analytics.
Pre-requisites
Below mentioned are the prerequisites for this training:
Good internet connectivity since it is online training.
Good knowledge of C and C++ and Programming language
Comfortable with the English language since the course is designed in the English language.
Basic understanding of operating systems, servers, and Networking.
The ability to code using Python scripts or any programming language will be very helpful.
Target Audience
Students: Enthusiastic students who want to pursue their career in the challenging field of automation can enroll in for IoT Training in Noida to derive maximum learning out of it. These concepts than can be nurtured further with the help of practical sessions.
Experienced professionals: IT Professionals who seek to switch their technology to Automation can enroll in this course. This course is accessible online with relevant material delivered in a crisp format making it useful for professionals. This training comes as a full package containing online content along with certification which can be used to showcase in their CVs during interviews.
Beginners: Beginners who are seeking jobs in the IT industry can have a kick start from automation itself. As most of the code is now being automated with the help of various tools like Eclipse, Microsoft visual studio, etc. The high demand for employees in this field makes this course one of the most sought after.
Tech enthusiasts: This training is a shout out to all coders on the floor who wanted to learn something challenging in this era and aspire for good-paying, high-end technical jobs. As all the clients are migrating towards automation, the demand for techies with relevant skills has spiked up the graph. All the technical enthusiasts can grab this opportunity to add this skill to their portfolio and enjoy the benefit later.
IoT Training in Noida – FAQ's
---
Why should one take up IOT?
This training comes with a great opportunity for learners who seek to build their careers in automation. One can have a good salary, job satisfaction, good quality work environment along with a chance to play with the latest tools and technologies which are responsible for shaping the industry benchmarks in today's world. To gear up your career and seek these opportunities one should be ready.
Is it tough for someone working in other technology to get into IoT?
It is a bit challenging if someone is coming from a non-technical or non- CS background as this technology requires a background in programming languages. To provide equal opportunity to all the learners we focused to maintain the course structure in a way that this training starts with the basics and then covers advanced concepts like python, Raspberry Pi, etc. If one is dedicated to learning, then he/she can get a good grasp on IoT in less time.
I am currently working in different technology how beneficial it is for me to switch my technology to IoT?
If you are trained in some outdated technology and wish to have a marked shift in your career, then you should not leave this opportunity to learn automation. The traditional approach of coding from scratch is the reason that we waste a lot of time doing silly syntax mistakes. Rather we can concentrate on improving the logic and error handling then correcting syntaxes. One can have a change, salary hike, get more interesting work, and add colors to your daily routine job by working on to introduce some trendsetters.
Why should you take up the IoT Training in India?
India is the hot seat for all IT companies across the world is attracting a wide pool of organizations from the US, Canada, Europe, and Australia because of smart manpower. We can put in use this smartness to earn the skills which are beneficial for us. If we list the benefits of this training, then this article will never end but we can summarize the most important ones:
Many job opportunities for new joiners and skilled professionals in automation.
Job satisfaction as one gets to solve challenging and interesting challenges.
Get to work with big organizations.
Get to work with knowledgeable experienced IT professionals experiencing a collaborative environment.
Get to work with the latest tools and technologies which will keep one industry-relevant.
What is the IoT market trend in Noida?
According to the Gartner report, by 2020 connected devices across all technologies will reach 20.6 billion. Ans same analysis has been provided by different reliable organizations as well. Noida being the hotspot for various IT firms will be on-demand concerning IoT technology. There will be many opportunities and innovations going forward for automation especially in the field of testing.
Sample Preview
---
Career Benefits
Career growth and opportunities: Salary hikes and numerous job opportunities as this is still a niche skill set and is in demand by big organizations. As per market trends, this demand will spike up more soon too.
Training has a comprehensive structured education program: This training will help you in learning something new and the structure for IoT Training in Noida will help in registering the content in your minds for a longer period. The certification obtained after this training will help in getting more weight to your CV in comparison to others.
Get a chance to apply theoretical concepts to solve real-time business problems and if you show up your interest in learning automation, then it also verifies your adaptability and interest to learn new technology in the market.
Opportunity to interact with other technical experts in the field: You will get exposure to tech leads from various leading companies will be able to provide you real-life business scenarios and issues they handled while working in automation. This exposure is very useful when you start working on it.
It is beneficial for those who are trying to switch into IoT technology-based jobs who are coming from different technical backgrounds.
Reviews
---
Internet of Things Course
Very effective and well-organized topics to provide such training, I thank EDUCBA to provide such a platform and facilitate online learning opportunities to one. I have gone through a couple of more courses and found all are well explained and the quality of the materials is amazing. Thanks, Educba.
Linked
Kumar Gaurav Jaiswal
IoT Automation
I am a technology enthusiast. I like to learn about different technologies. I am very much interested in making a career in digital technology. By completing this training has learned a lot about IoT. This has raised more curiosity in me. I would want to learn more about it to have an even better understanding.
Linked
R RAVI KIRAN
Amazing Internet of Things Course
I enrolled in this IoT course in June and since then I learned a lot about IoT. IoT is a fast-growing field and hence I wanted to learn it for better career prospects. Before this course I never used python and I learned it here only. Now, I can execute many IoT based applications using Raspberry Pi and Python. I am very confident that soon I will get a job in this field as well.
Mark
Great learning experience
This IoT based training course is awesome. I have a very wide syllabus which covers almost all the required things. The teaching style is very interesting and hands-on exercises and examples are industry-relevant. I am very happy with the course and I shall recommend it to everyone who wants to learn IoT.
Mathew
IoT Training Course
When I joined for this Internet of Things Course, I was not quite sure if it will fulfill my requirements or provide me with content that I was looking for. Because I am not very comfortable with online courses so I was not very sure. But after some hesitation, I joined and I was never more wrong in my life. This course was what I was looking for. I read many books on IoT, but this course is on another level. It teaches what I book can never teach. The classes are very fun to attend and teaching material is regularly updated. I recommend this Internet of Things course to everyone.
Joseph Stanley