Learn from Home Offer TAKE THIS BUNDLE
IOT Course Bundle - 7 Courses in 1
43+ Hours of HD Videos
7 Courses
Verifiable Certificate of Completion
Lifetime Access
TAKE THIS BUNDLE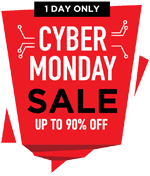 * One Time Payment & Get Lifetime Access
What you get in this IOT Course Bundle - 7 Courses in 1?
43+ Hours
7 Courses
Course Completion Certificates
Lifetime Access
Self-paced Courses
Technical Support
Mobile App Access
Case Studies
About IoT Training in Mumbai
| | |
| --- | --- |
| Course Name | IoT Training in Mumbai |
| Deal | You get access to all videos for the lifetime |
| Hours | 43+ Video Hours |
| Core Coverage | IoT Automation with ESP8266, Python for IoT Tutorials, Advanced Python for IoT & IoT based Data analysis, Raspberry Pi for Beginners. |
| Course Validity | Lifetime Access |
| Eligibility | Anyone serious about learning IoT Automation and wants to make a career in this Field |
| Pre-Requisites | Basic knowledge of data and analytics |
| What do you get? | Certificate of Completion for the course |
| Certification Type | Course Completion Certificates |
| Verifiable Certificates? | Yes, you get verifiable certificates for each7 course, Projects with a unique link. These link can be included in your resume/Linkedin profile to showcase your enhanced skills |
| Type of Training | Video Course – Self Paced Learning |
| Software Required | None |
| System Requirement | 1 GB RAM or higher |
| Other Requirement | Speaker / Headphone |
IoT Training in Mumbai Curriculum
---
MODULE 1: IOT Course Fundamentals

| Courses | No. of Hours | Certificates | Details |
| --- | --- | --- | --- |
| IoT Automation with ESP8266 with Projects | 6h 59m | ✔ | |
| IoT Raspberry Pi with Projects | 11h 19m | ✔ | |

MODULE 2: Projects based Learning

| Courses | No. of Hours | Certificates | Details |
| --- | --- | --- | --- |
| IoT Raspberry Pi for Programmers with Projects | 2h 24m | ✔ | |
| AWS IoT Case Study - Smart Parking Project | 5h 5m | ✔ | |
| IoT Cloud - Dweet and Freeboard | 53m | ✔ | |

MODULE 3: Python for IOT

| Courses | No. of Hours | Certificates | Details |
| --- | --- | --- | --- |
| Python Bootcamp | 10h 33m | ✔ | |
| Advanced Python for Data analysis | 6h 28m | ✔ | |
This encyclopedic online Internet of Things course has been specially crafted to help not only passionate learners who can easily spare time at their ease but also the working professionals who struggle to spare time at fixed slots. The flexibility that this course offers will help you to master this niche but imperative skill or to do a transition from your current profile, that too at your convenience and your speed. So, you need not worry about keeping your professional or personal life at stake for learning the Internet of Things.
IoT Training in Mumbai is a one-stop solution for everything a learner needs to deep dive into the fascinating world of the Internet of Things and become a part of the Industry 4.0 revolution.
The curriculum is designed and engineered in a manner that covers all the concepts of the Internet of Things, ranging from Raspberry Pi for Beginners to IoT Automation with ESP8266, tutorials on Python for IoT, Advanced Python used in IoT & IoT based Data analytics. Due to the depth and relevance of the topics covered, the course has been able to establish itself as a popular course amongst the IoT community. The details in which these topics are covered will ensure your transformation into the Internet of Things professional, ready to be embraced by your future employer.
IoT Training – Certificate of Completion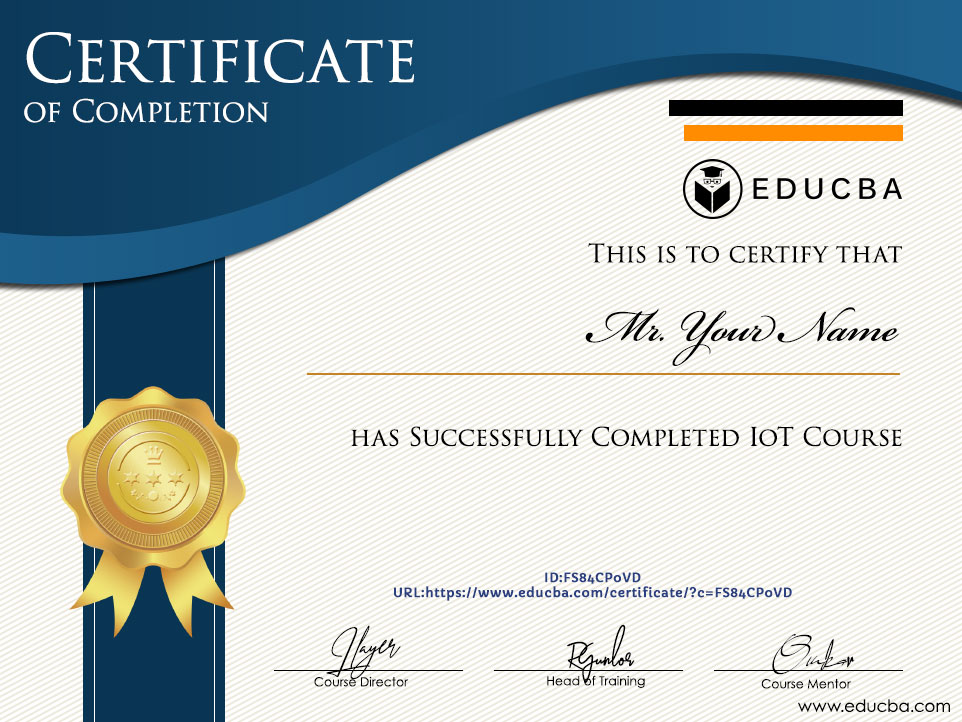 What is IoT?
Internet of Things (IoT) is an environment of physical objects which are connected and accessible by the internet. The word 'thing' in the Internet of Things could be an individual with a pacemaker or heart monitor or even a vehicle with in-built-sensors. These objects are assigned an IP address and can collect and then transfer the data.
This data is transferred over a network and does not require any manual intervention. For this interaction, embedded technologies in these objects are used.
Today there are more than 7 billion devices today that is connected as IoT devices and the number is expected to go as high as 10 billion by the year 2020 and 22 billion by the year 2025.
Example of IoT in the real world:
Smart IoT enabled transportation system enhances capacity, enhances a travel experience, and makes the movement of goods or people safe, efficient, and secure. The police and emergency services can utilize this smart traffic ecosystem to gain city-wide visibility which will help tackle congestion and respond rapidly to incidents.

Industry Growth Trend
The IoT professional services market is projected to grow from USD 79.0 billion in 2018 to USD 189.2 billion by 2023, at a Compound Annual Growth Rate (CAGR) of 19.1% from 2018 to 2023.
[Source - MarketsandMarkets]
Average Salary
Average Salary
$123,194 per year
The average salary for an IoT Engineer is $123,194 per year in the United States.
[Source - Indeed]
Which Skills will you learn in this Course
?
The program is developed and designed in such a way that it fits the needs of every IoT enthusiast, ranging from someone who is abecedarian in the field of Internet of Things to someone who is well familiar with the concepts but wants to take his understanding to expert level.
Topics which you learn as a part of this course are:
Python for IoT Tutorials
IoT Cloud comprising Sweet & Freeboard
Advanced Python for the Internet of Things & IoT based Data analytics
IoT Automation with ESP8266 with Projects
IoT Raspberry Pi with Projects
IoT Raspberry Pi for Programmers with Projects
Project on AWS IoT; AWS IoT Service & its Practical Integration (Project on Smart Parking)
So, IoT Training in Mumbai not only makes you adept in the theoretical part of the Internet of Things but also make sure that you become well familiar with the industry relevance of these topics.
Pre-requisites
This program is developed in a way that it best fits the learning need of every Internet of Things fanatic. An individual with limited to no knowledge of the tools and technologies mentioned above can benefit equally when compared to someone who has an initial understanding of these topics.
That being said, you will still have some upper hand in case there is some initial understanding of Python programming language. Also, initial knowledge of Amazon web services and Raspberry Pi will be an added advantage.
Target Audience
IoT Training in Mumbai is for every individual who has a zeal to learn new things, every professional who wants to upskill or reskill, every student who wants to kick start his/her carrier in the world of Internet of Things.
The topics and hands-on projects covered in this course will ensure that the audience will have an upper hand when it comes to ever-expanding, competitive job market. The students who are in the final year of their studies and willing to tap the field of the Internet of Things can get a kick start to their career with this course. For students, this course ensures that the gap between academics and industry requirements is diminished and they become more employable as compared to their peers.
IoT Training in Mumbai – FAQ's
---
Why should you take up the IoT Training in Mumbai?
Picture the world where everything in our ecosystem is connected to every other thing through the internet. Ranging from our smartphones, computers to lights in our home, windows, and even the water systems. An amazing world where all the devices are in constant communication and are remotely supervised by their users.
This is the world of IoT and based on market research, it is found that the Internet of Things is one of the sectors which has critical demand and supply imbalance. So if you are looking for a career field with never-ending opportunities and great future potential, IoT is the skill to learn.
What is the IoT market trend in Mumbai?
In India, the Department of Electronics & Information Technology (DeiTY) has published a report and a draft of IoT policy to ensure that India captures a 5 to 6% share of this booming field. IoT has been reported with a potential of USD 15 billion global markets by the year 2020.
There are 7.6 billion people on our planet, out of those, 3.7 billion are connected via the Internet. 50% of this connected population resides in Asia and 24% of those reside in India. The market potential of the Internet of Things in India is predicted to be USD 9 billion by the year 2020. Indian market is a key market all set for large scale implementation of the Internet of Things projects people and devices.
All the data points point towards a magnificent market for IoT in India.
Sample Preview
---
Career Benefits
IoT Training in Mumbai is comprised of all the topics that are required by an individual who wants to tap the market of the Internet of Things. This course extensively covers all the topics, tools, and technologies that are present in the ocean of IoT. As the learning is not restricted to the theoretical part but also extends to industry-relevant projects, the learner will be ready to start his/her IoT carrier as soon as the course is finished. The industry-relevant projects and hands-on experience will ensure that the learner will be able to work on IoT engagements all alone in the production environment.
If you are in search of a course, to tap a rewarding career that offers ever-growing opportunities, IoT Training in Mumbai will prove itself as your one-stop destination.
Reviews
---
Internet of Things Course
Very effective and well-organized topics to provide such training, I thank EDUCBA to provide such a platform and facilitate online learning opportunities to one. I have gone through a couple of more courses and found all are well explained and the quality of the materials is amazing. Thanks, Educba.
Linked
Kumar Gaurav Jaiswal
IoT Automation
I am a technology enthusiast. I like to learn about different technologies. I am very much interested in making a career in digital technology. By completing this training has learned a lot about IoT. This has raised more curiosity in me. I would want to learn more about it to have an even better understanding.
Linked
R RAVI KIRAN
Amazing Internet of Things Course
I enrolled in this IoT course in June and since then I learned a lot about IoT. IoT is a fast-growing field and hence I wanted to learn it for better career prospects. Before this course I never used python and I learned it here only. Now, I can execute many IoT based applications using Raspberry Pi and Python. I am very confident that soon I will get a job in this field as well.
Mark
Great learning experience
This IoT based training course is awesome. I have a very wide syllabus which covers almost all the required things. The teaching style is very interesting and hands-on exercises and examples are industry-relevant. I am very happy with the course and I shall recommend it to everyone who wants to learn IoT.
Mathew
IoT Training Course
When I joined for this Internet of Things Course, I was not quite sure if it will fulfill my requirements or provide me with content that I was looking for. Because I am not very comfortable with online courses so I was not very sure. But after some hesitation, I joined and I was never more wrong in my life. This course was what I was looking for. I read many books on IoT, but this course is on another level. It teaches what I book can never teach. The classes are very fun to attend and teaching material is regularly updated. I recommend this Internet of Things course to everyone.
Joseph Stanley