Learn from Home Offer TAKE THIS BUNDLE
IoT Training in India (5 Courses, 2+ Projects)
5 Online Courses
2 Hands-on Projects
44+ Hours
Verifiable Certificate of Completion
Lifetime Access
Advanced Python for IoT & IoT based Data analysis
IoT Automation with ESP8266 with Projects
IoT Raspberry Pi with Projects
IoT Raspberry Pi for Programmers with Projects
Offer ends in:
TAKE THIS BUNDLE
* One Time Payment & Get Lifetime Access
What you get in this IoT Training in India?
Online Classes
Technical Support
Mobile App Access
Case Studies
About IoT Training in India
| Course | | No. of Hours |
| --- | --- | --- |
| IoT Automation with ESP8266 with Projects | | 7h 3m |
| IoT Raspberry Pi with Projects | | 11h 21m |
| IoT Raspberry Pi for Programmers with Projects | | 2h |
| Python Bootcamp | | 10h 33m |
| AWS IoT Case Study - Smart Parking Project | | 5h 5m |
| Advanced Python for Data analysis | | 6h 28m |
| IoT Cloud - Dweet and Freeboard | | 52m |
| | |
| --- | --- |
| Course Name | IoT Training in India |
| Deal | You get access to all videos for the lifetime |
| Hours | 44+ Video Hours |
| Core Coverage | IoT Automation with ESP8266, Python for IoT Tutorials, Advanced Python for IoT & IoT based Data analysis, Raspberry Pi for Beginners. |
| Course Validity | Lifetime Access |
| Eligibility | Anyone serious about learning IoT Automation and wants to make a career in this Field |
| Pre-Requisites | Basic knowledge of data and analytics |
| What do you get? | Certificate of Completion for the course |
| Certification Type | Course Completion Certificates |
| Verifiable Certificates? | Yes, you get verifiable certificates for each5 course, 2 Projects with a unique link. These link can be included in your resume/Linkedin profile to showcase your enhanced skills |
| Type of Training | Video Course – Self Paced Learning |
| Software Required | None |
| System Requirement | 1 GB RAM or higher |
| Other Requirement | Speaker / Headphone |
IoT Training in India Curriculum
---
The main objectives of this training are to provide an overall knowledge of the concepts of programming skills, automation through electronics, and robotic technology. The training objective is to give a deep knowledge of programming languages such as python and electronic systems such as Raspberry Pi that can be connected to various devices and accessories to collect and analyze data.
In an ever-increasing demand for IoT skilled individuals, IoT Training in India would prepare you with skills that are in high demand in IT sectors.
What will you learn in this IoT Training?
This course consists of over 44+ hours of hands-on training material with video tutorials on the IoT module. Since IoT Training in India also provides 2 real-time hands-on projects it will provide a deeper understanding of the concepts and application of the learned technique would become easy.
The course provides over 10 hours of Python programming for IoT, and over 6 hours of Advanced Python and Data Analysis using python for IoT based devices. over 7 hours of IoT Automation training with Wi-Fi microchip ESP8266 along with projects.
The course also covers 13 hours of IoT Raspberry Pi projects and also an AWS project on AWS IoT Service with real-time practical integration and also valuable IoT dashboard applications like Dweet and Freeboard. All this comes with life-time access to the user.
IoT Training – Certificate of Completion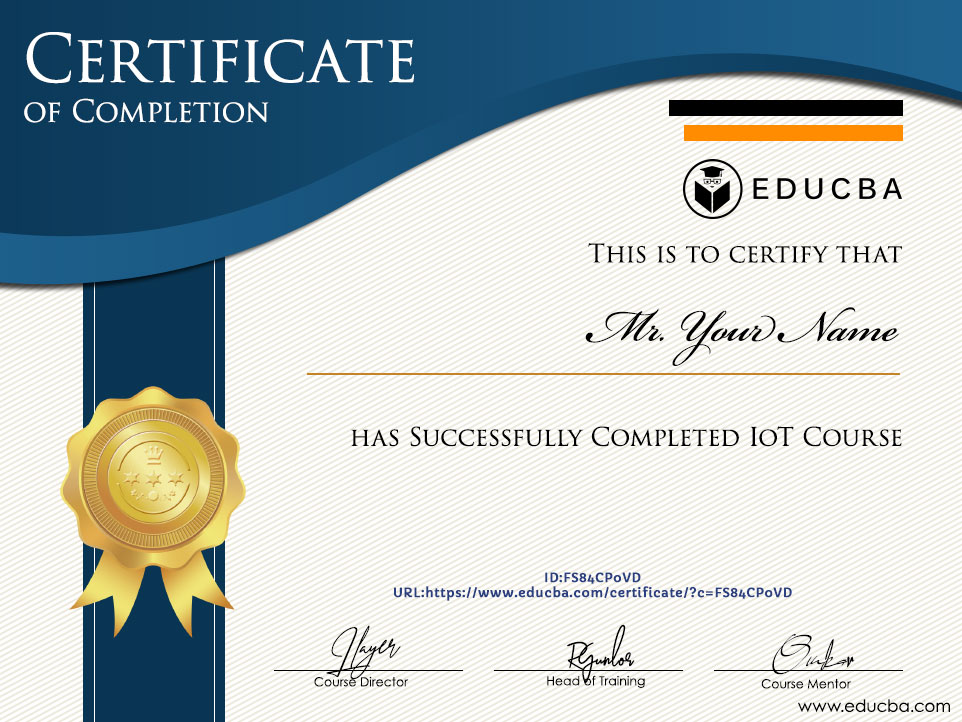 What is IoT?
IoT is the concept of connecting mechanical, digital, and electronic devices to the internet to collect, receive, or perform both the operations at the same time. Controlling a Mechanical device through instructions and commands from a software device is a point where IoT comes into the picture.
IoT is very important because since an application or a device when connected to the Internet it performs transmission of Data and reception of Data through the Internet and this, we can perform a network of operation between various isolated devices and technologies through software or an application.

Industry Growth Trend
The IoT professional services market is projected to grow from USD 79.0 billion in 2018 to USD 189.2 billion by 2023, at a Compound Annual Growth Rate (CAGR) of 19.1% from 2018 to 2023.
[Source - MarketsandMarkets]
Average Salary
Average Salary
$123,194 per year
The average salary for an IoT Engineer is $123,194 per year in the United States.
[Source - Indeed]
Which Skills will you learn in this Course

?
On successful completion of IoT Training in India, you will be fully equipped with all the necessary skills to get a more challenging role or a new job in the IoT domain with an increased paycheck.
Core Skills coverage:
Python Language
Advanced Python for IoT
Data Analysis of IoT based applications
IoT Automation knowledge on ESP8266 Microchip
IoT on Raspberry Pi platform
IoT on Cloud services like AWS IoT Service
Creating Dashboards for IoT applications
The much-demanded skill of IoT Automation will be covered through this course and this skill has a good demand in the IoT domain which can yield a very good employment opportunity.
Pre-requisites
Since this course covers concepts from basic to advance level there is a very little prerequisite required. All you have to do is to keep practicing the concepts and hands-on work out will give the skills that are required. Prerequisites are basic knowledge of the Information technology field.
Some of the prerequisites such are basic knowledge on C &
Java programming languages will give you an edge but it is not mandatory to know. Some understanding of the Linux operating system and its command-line interface would be an added advantage.
People exposed to microprocessors and microcontrollers will also be an added advantage.
Target Audience
Whatever course it may be the target audience is the people who are passionate to learn and excel. People from an educational background of Engineering and other Technology backgrounds are the primary audience. A minimum degree requirement of B.Tech is appreciable.
Working people, as well as fresh Job seekers IoT Training in India, could guide you to a successful career in the IoT domain.
For the students and entrepreneurs with theoretical knowledge on IoT, this course will fill the gap since the course offers practical and hands-on training and project knowledge.
IoT Training in India – FAQ's
---
Why should you take up the IoT Training in India?
IoT domain is one of the faster-growing domains in the field of IT and electronics. India has a lot of IoT training centers and institution which focuses on Embedded C and Python. There is a vivid growth in the Job market for IoT engineers and Firmware developers in India. This course would help you in building IoT interfaces like IoT Sensors, Raspberry Pi boards, Building an IoT Application on Linux platforms and deploying an IoT application in cloud network are all covered in this course and at a much affordable price
India is a global player in the technology sector since the growing establishments of IT, Electronics and Microprocessor industries and there is a large number of training centers that are available in India. It is a central place of demand for IoT skill set personals and there is a much demand ranging from small-scale to large-scale IT and Electronics industry, hence there isn't a better place to start the IoT course than India.
What is the IoT market trend in India?
The market of the Internet of Things in India is an exponentially growing market since in US IoT market is predicted to reach 9 billion USD by 2020. The IoT market in India will also benefit from this growth and the IoT units in India are predicted to reach 1.9 billion by 2020 which is a rapid growth rate.
At present, there is an approximate estimation of 3.7 billion people who are connected to the Internet and approximately 50% of these population that is connected to the Internet were residing in Asia and India contribute to a 24% of these people who live in Asia that are connected to the Internet.
India with a country that has nearly 120 IoT companies that have the potential to drastically increase the IoT sector with a leading player to take up global IoT projects. So, there is a vast demand in the IoT skilled Personals in India, and Job opportunities will be growing at a good rate. IoT Training in India will help you build a successful career in the IoT industry in India.
Sample Preview
---
Career Benefits
This program is designed by industry leaders in a clear and structured manner which has got 5 Online modules, 44+ hours of learning, and 2 projects and lifetime access. After completing the courses and 2 projects you will be awarded a verifiable certificate.
Important Benefits are you will learn a fast-growing and much demanded Programming Language like python and Knowledge on hardware tools like Raspberry Pi and Arduino which has a high scope in the field of system designing, robotics, and other IoT applications.
The average salary of an IoT engineer is $170,550 in the US according to Indeed and the market size of IoT engineers and Developers are growing exponentially.
Reviews
---
Internet of Things Course
Very effective and well-organized topics to provide such training, I thank EDUCBA to provide such a platform and facilitate online learning opportunities to one. I have gone through a couple of more courses and found all are well explained and the quality of the materials is amazing. Thanks, Educba.
Linked
Kumar Gaurav Jaiswal
IoT Automation
I am a technology enthusiast. I like to learn about different technologies. I am very much interested in making a career in digital technology. By completing this training has learned a lot about IoT. This has raised more curiosity in me. I would want to learn more about it to have an even better understanding.
Linked
R RAVI KIRAN
Amazing Internet of Things Course
I enrolled in this IoT course in June and since then I learned a lot about IoT. IoT is a fast-growing field and hence I wanted to learn it for better career prospects. Before this course I never used python and I learned it here only. Now, I can execute many IoT based applications using Raspberry Pi and Python. I am very confident that soon I will get a job in this field as well.
Mark
Great learning experience
This IoT based training course is awesome. I have a very wide syllabus which covers almost all the required things. The teaching style is very interesting and hands-on exercises and examples are industry-relevant. I am very happy with the course and I shall recommend it to everyone who wants to learn IoT.
Mathew
IoT Training Course
When I joined for this Internet of Things Course, I was not quite sure if it will fulfill my requirements or provide me content that I was looking for. Because I am not very comfortable with online courses so I was not very sure. But after some hesitation, I joined and I was never more wrong in my life. This course was what I was looking for. I read many books on IoT, but this course is on another level. It teaches what I book can never teach. The classes are very fun to attend and teaching material is regularly updated. I recommend this Internet of Things course to everyone.
Joseph Stanley