Learn from Home Offer TAKE THIS BUNDLE
HADOOP Course Bundle - 32 Courses in 1 | 4 Mock Tests
125+ Hour of HD Videos
32 Courses
4 Mock Tests & Quizzes
Verifiable Certificate of Completion
Lifetime Access
TAKE THIS BUNDLE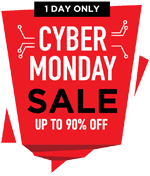 * One Time Payment & Get Lifetime Access
What you get in this HADOOP Course Bundle - 32 Courses in 1 | 4 Mock Tests?
125+ Hours
32 Courses
Mock Tests
Course Completion Certificates
Lifetime Access
Self-paced Courses
Technical Support
Mobile App Access
Case Studies
About Hadoop Training in Bangalore
| | |
| --- | --- |
| Course Name | Online Hadoop Training in Bangalore |
| Deal | You get access to all 32 courses, Projects bundle. You do not need to purchase each course separately. |
| Hours | 125+ Video Hours |
| Core Coverage | You get to learn MapReduce, HDFS, Hive, Pig, Mahout, NoSQL, Oozie, Flume, Storm, Avro, Spark, Splunk, Sqoop, Cloudera and various application-based Projects on Hadoop. |
| Course Validity | Lifetime Access |
| Eligibility | Anyone serious about learning data science and wants to make a career in analytics |
| Pre-Requisites | Basic knowledge of data analytics, programming skills, Linux operating system, SQL |
| What do you get? | Certificate of Completion for each of the 32 courses, Projects |
| Certification Type | Course Completion Certificates |
| Verifiable Certificates? | Yes, you get verifiable certificates for each32 course, Projects with a unique link. These link can be included in your resume/Linkedin profile to showcase your enhanced skills |
| Type of Training | Video Course – Self Paced Learning |
| Software Required | Ubuntu, Java, Open Source- Hadoop |
| System Requirement | 64-512 GB RAM |
| Other Requirement | Speaker / Headphone |
Hadoop Training in Bangalore Curriculum
---
This Hadoop Training in Bangalore has been developed in a manner that includes all of the topics that fall in the court of Hadoop. The course will begin with the module named "Big Data and Hadoop Training". This unit has been introduced to make it easier to understand the concept of Big data and how Hadoop can be leveraged to solve the processing issue. In this unit, you will also come across the introduction of Hadoop that will help you understand the purpose of the existence of this technology. This Hadoop Course in Bangalore is comprised of essential topics like Hadoop Architecture and HDFS. To work with Hadoop, you must need to understand its architecture and this unit will help you understand that.
Mapreduce is another important topic that you will cover in this Hadoop Training in Bangalore. The unit has been named "MapReduce – Beginners and Advanced". The unit is perfectly suitable for anyone regardless of their familiarity with Hadoop. This unit will entertain both the beginner and the folks who are at an advanced level in terms of using Hadoop. You will get to learn how Mapreduce is used to solve the massive data and processing based problems. In the next unit, you will learn about the HIVE and its functions. Similar to the last topic, this Hadoop Course in Bangalore topic is also drafted by keeping the advanced and beginner level trainees. You will be covering every single module of HIVE in this unit and after finishing this, you will be able to work proficiently using HIVE.
You will also be learning about the PIG in the next unit. This unit will begin with the beginner level topics and will continue to the advanced level. You will see how things work by the virtue of examples used in this unit. The next important things that you will be learning in this Hadoop Training in Bangalore are NoSQL Fundamentals, Apache Flume, Apache Storm, Apache Oozie, Splunk, and so on. This course also includes various projects that have been introduced to make you perform things practically. After finishing this course, you will be ample cognizant about the topics and will be having sufficient hands-on experience to work in the production environment.

Hadoop Training – Certificate of Completion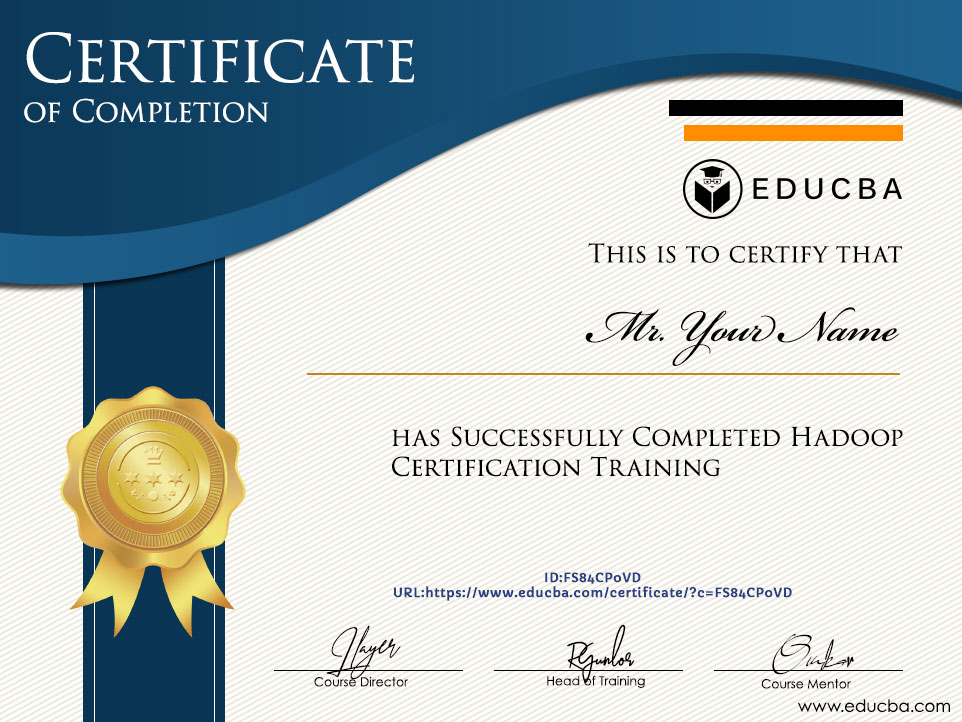 What is Hadoop?
Hadoop is the cluster of software that leverages the computer connected through the network to solve the problems based on massive data and complex computation. This can also be considered as a technology that enables businesses to process huge data to generate some useful information out of it. It is comprised of various modules like Mapreduce, HIVE, PIG, Apache, Splunk and so on that helps in implementing the Hadoop technology that operates over the huge data. The outcome of this processed data is used by the organizations to make business decisions. The reason for the existence of this technology is to serve the purpose of handling the massive amount of data and facilitating the complex computations. Hadoop is one of the hot technologies and the best one that helps businesses to process the data. It uses the computing devices connected in the network to make the computation easy.

Industry Growth Trend
The hadoop big data analytics market is projected to grow from USD 6.71 Billion in 2016 to USD 40.69 Billion by 2021, at a CAGR of 43.4% between 2016 and 2021.
[Source - MarketsandMarkets]
What skills will I learn from this course?
The purpose of this Hadoop Training in Bangalore is to make the trainees cognizant about Hadoop so that they can become able to work in the production environment right after finishing this Hadoop Course in Bangalore. There are several things that you will be learning here. Big data is something that you will start in this course and will cover all the important modules that come under this subject. In addition to that, you will be learning HIVE and PIG that are considered as the most essential part of Hadoop. You will also be getting skilled in working with Apache and Splunk as these are covered under this training. After finishing this Hadoop Course in Bangalore, you will be amply skilled to work with Hadoop in the development or production environment.
Pre-requisites
To learn Hadoop, there is not something that could be considered as essential but there are some of the technologies that you should be aware of before beginning this Hadoop Training in Bangalore. The first thing is big data. Before you begin this curse, you should know what is Big data from the perspective of Hadoop. It will help you to understand the concepts in Hadoop that need an understanding of this technology. Apache and Splunk are the next things that you should be aware of to make the learning easier for you. Additionally, if you have the idea about easily presenting data so that it could be understandable by everyone, that will make you present your outcome precisely. One who is aware of this topic can find it very easy to complete the course and will also take less time to master it.
Target Audience
For any of the courses, we welcome everyone willing to learn any technology. So the folks who want to master this technology are the best target audience for this Hadoop Training in Bangalore. Being more specific, the professionals who are working with the responsibility to handle the big data can opt for this course to master the skill of processing massive amounts of data. They will get to learn about this technology which makes it very easy to work with data. The students who are pursuing their bachelor's or masters can also be the best target audience for this Hadoop Course in Bangalore. Once they complete this Hadoop Training in Bangalore, they will be able to able to crack the interviews that are based on Hadoop and will also get preference when it comes to internships and similar programs.
Hadoop Training in Bangalore – FAQ's
---
Why should you take up the Hadoop training in Bangalore?
The demand for this technology is increasing exponentially. A few years back, data was not the center of focus for most of the businesses, but in the current period, data is one of the most critical parts of any business. Together with the importance of data, the importance of technology that operates over the data has also been increased. Completing Hadoop training in Bangalore will not just help you to get a good job but will also help you to secure a good compensation as Bangalore is considered as the best city for professionals who are in IT and skilled in any of the hot technology.
What is the Hadoop market trend in Bangalore?
Bangalore has always been the place where the trends in technology begin. If we talk about Hadoop, Bangalore has many of the organizations that are using this technology to handle their operations. Due to the amazing trend, the requirement of the professionals working in Hadoop is very high which makes the Hadoop professional to get attracted to the city. If you want to grow your career in this hot technology, Bangalore can be the best option for you to begin. You will not get a good job but will also come across various opportunities that the organizations in the city offers.
Sample Preview
---
Career Benefits
Hadoop is one of the amazing technology that is growing exponentially and all of the business that has the requirement of the process the huge amount of data are using it for their business purposes. Learning this Hadoop Training in Bangalore will open you to various opportunities that are very common to be witnessed in the current job market. The interesting this about this technology is, it is among some of the diamond technologies that help the professionals to secure good compensation. There are lots of things to learn in this technology and hence you will sustain on learning that will eventually endorse your professional growth. So if you are planning to learn Hadoop or to grow your career in this technology, you are in the right place. You can opt for this Hadoop Course in Bangalore and begin learning this to master the skills required to be Hadoop professional.
Reviews
---
Big Data and Hadoop Training
Valuable learning Hadoop introductory course and introduction to big data. We still need to learn more complex scenarios to realize the advantages of Hadoop in processing large amounts of data. It will be helpful to continue the advanced course of using a more complex algorithm to map and reduce processing. Will continue further.
Linked
Sivakumar Santharam
Nice Learning Experience
This course gives a great amount of information on big data. The explanation was very good and so the examples. I think that it would be interesting if the instructor shows how I can configure the Hadoop in the cluster to run the example proposed. Great learning experience. Thanks!
Linked
Mahfoudh Abkar
Hadoop overview training feedback
The Hadoop overview of training was very helpful. The content covered gives you a better understanding of the components of Hadoop and how the components work. Training is presented well and the examples used are easy to understand. Images or charts used gives you an overview of the components and helps you to relate well with theory. One who knows other file systems will be able to relate things very easily. Good job by the trainer!
Linked
Shiyas Cholamukhath
Bigdata basic introduction
It turned out to be one of the best courses taken so far on any platform, for several reasons. A wonderful course, excellently delivered. I am doing an MBA right now and taking this course to help me. This is an exceptional course. The class is great for sure, yet quite challenging because there is a lot of material covered in a short amount of time.
Linked
Shaurya Bhagat
Nice!
The instructor was pretty well in explaining the stuff. I hope this is useful to me. I found the course good at an introductory level. And I am Looking forward to more in-depth courses like this.

Anamika Shivhare
Hadoop Master Series Couse
It was a great learning Hadoop from the start. As a beginner, It gave me a clear picture of big data and Hadoop. Moreover, it enhanced my knowledge. the language chosen was simple and easy to understand. reading and writing anatomy was well explained. Hadoop Master Series Module is designed in such a way that any beginner will understand it and also understand the technicalities in it. I would appreciate educba for introducing such a course in it. Also, it has a different module which will help everyone to understand Hadoop very well.
Linked
Sushmita Mandal
Best short term course on BIG DATA and HADOOP
The course is awesome, I enjoyed a lot. The trainer had taught the course in very good and step by step format. Firstly we had studied about Big Data, its theoretical and practical definition, its uses, challenges. Then we studied about Hadoop framework, distributed storage- HDFS, Hadoop roles, Hadoop Distributions. Then the most interesting part of BIG DATA hands-on came, where we came to know about the practical approach. Overall very good practical exposure by a trainer. Keep going !!! 🙂
Linked
HARSHIT GUPTA
Nice videos
It was very informative. The instructor explained nicely. Understanding the same was very easy. Understanding the basic concept of Hadoop along with map-reduce and programming was explained step by step which was very simple to understand. Thanks for this video and will continue visiting other tutorials and comment on the same
Linked
Poorvika Awasthi